Why I Will Never Trust the Boy Scouts with My Son
I want my two-year-old to grow up loving the outdoors, but I also want him to be safe. 'Scouts Honor,' a powerful new Netflix documentary about the horrific history of child sex abuse in the Boy Scouts of America, left me feeling angry, sickened, and permanently doubtful that the organization should be part of his life.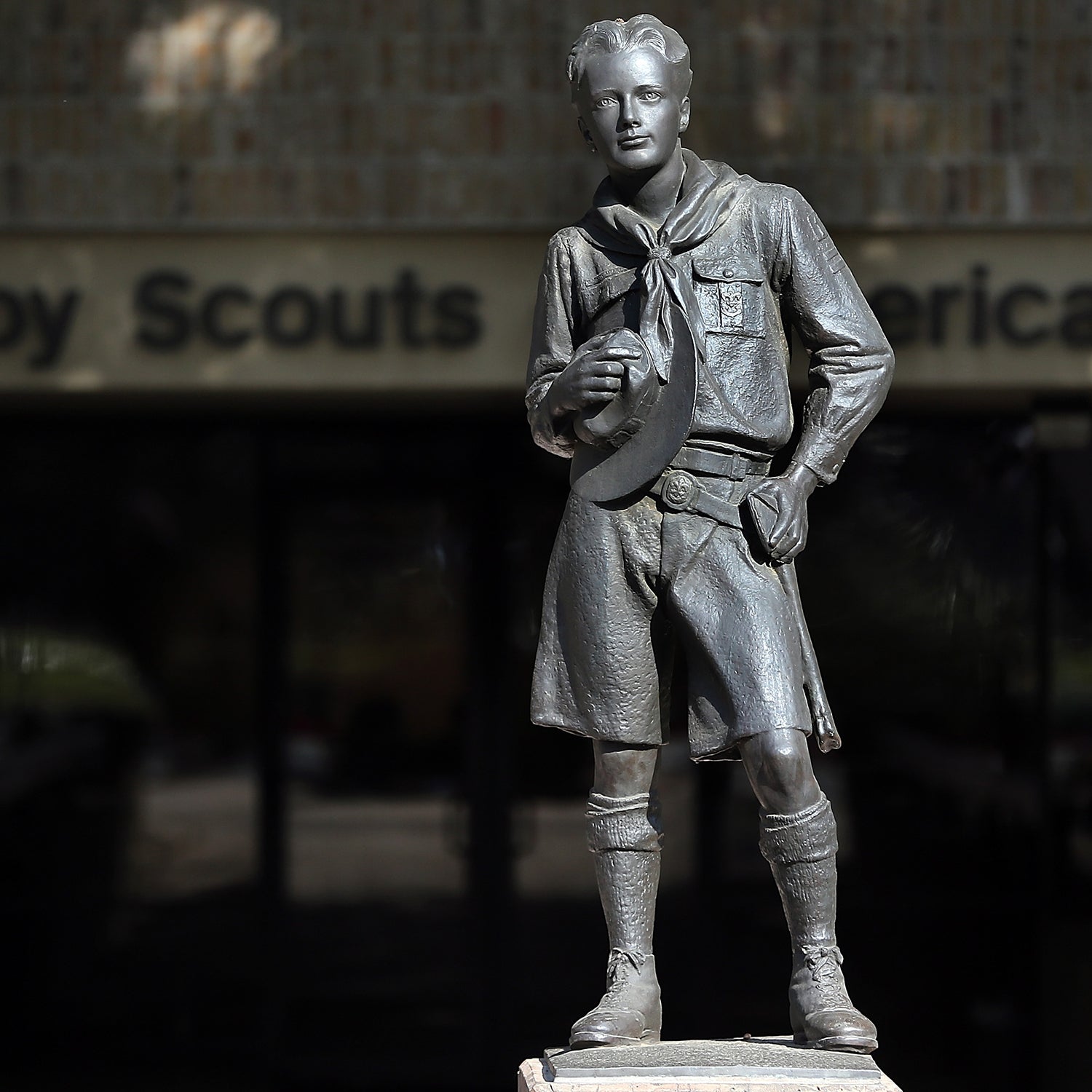 Tom Pennington/Getty
Heading out the door? Read this article on the new Outside+ app available now on iOS devices for members! Download the app.
At first, Mark Eaton thought Thomas Hacker was just a nice older man, a community leader who'd taken an interest in him. In the mid-1980s, Eaton was a Boy Scout in the suburbs of Chicago. Hacker was a schoolteacher and a deacon at his church. He was also the scoutmaster of Eaton's troop, and they went on a lot of campouts together.
"The touching," Eaton would explain years later, "it was pretty much every campout."
Eaton shares his story about Hacker's abuse—and the way it changed his life—in the new Netflix documentary Scouts Honor, which chronicles the extensive history of child sex abuse and cover-ups in the Boy Scouts of America. Eaton's abuse lasted years. Eventually, he earned the highest scouting rank, Eagle, and he was honored in an elaborate ceremony.
Hacker was there, too.
"How do you take this award ceremony," Eaton says in the film, "and then try to tie it together with this hidden-in-plain-sight type of abuse that's going on?"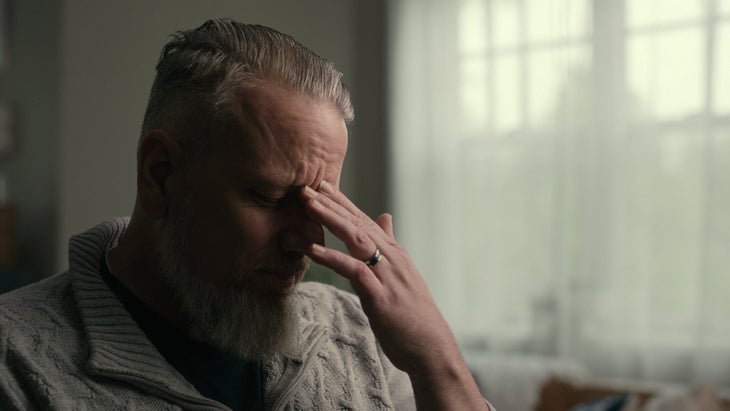 The film's production team includes executive producer/director Brian Knappenberger and executive producer Orlando von Einsiedel, as well as co-executive producers Clare Tucker and Anna Murphy. This film comes a year after the Boy Scouts settled the largest sex-abuse lawsuit in history. More than 82,000 men said they'd been abused as children, and the organization, its insurance companies, and some churches that sponsored troops agreed to settle for a total of $2.46 billion. The Boy Scouts of America has also publicly apologized to the victims a number of times, and even asked them for help moving forward in a way that will keep children safe.
The new film makes it clear that sexual abuse was a long-standing problem in the organization. Scouts Honor features journalist Patrick Boyle explaining the origin and nature of the Boy Scouts' so-called "confidential files"—referred to by critics as its "perversion files." The organization kept secret records going back decades documenting allegations of molestation.
Thomas Hacker's name is in those files. Before he became a scoutmaster in Illinois, Hacker already had a criminal record across the state line in Indiana. According to the film, the Boy Scouts knew about the accusations in Indiana, and despite that allowed Hacker to relocate and reenter scouting—the way Catholic churches moved predatory priests from one place to another—empowering Hacker to continue molesting children.
Hacker eventually confessed to sexually abusing hundreds of boys, sometimes dozens of times each. He died in prison at 81, but his crimes are still reverberating. Christopher Hurley, an attorney who has represented some 4,000 survivors who've sued the Boy Scouts, is also interviewed in the new documentary. He says that Hacker might be the most prolific pedophile in American history.
Hurley took a deposition from Hacker before he died. In what might be the most chilling moment in the film, Hurley says that he asked Hacker, this rampant abuser, why he chose the Boy Scouts.
Hacker's response: "Because they made it so easy."
---
There's something idyllic about the idea of scouting. It's Norman Rockwell and apple pie, fresh air and the rewards of nature. It's wholesome, patriotic, and God-fearing—and, sure, a bit hokey. But hokey always seemed forgivable in an institution as earnest as the Boy Scouts of America appeared to be.
I wasn't a scout, but I have a two-year-old son who may decide he wants to join someday. Two of his uncles are Eagle Scouts. We live in Texas, where scouting still matters. Nationwide membership has plummeted over the past few years—down more than 50 percent since 2019—but the patriotism, the reverence, the focus on manners? Those things are big in Texas. So is the ethos of can-do individualism. The organization's headquarters is in Irving, just outside Dallas.
My wife and I have talked a lot about what we might say if and when our son asks if he can join. We want him to grow up with the knowledge and skills to thrive outdoors, along with the confidence that kind of self-reliance yields. But it's more than this. My family admires the values the organization espouses.
If you're not familiar with the way it works: Every scout takes an oath to follow "Scout law." The code dictates that a scout must try at all times to be trustworthy, loyal, helpful, friendly, courteous, kind, obedient, cheerful, thrifty, brave, clean, and reverent. My wife and I want our son to be all those things.
But of course the Boy Scouts of America hasn't always lived up to those ideals. Millions of families trusted the organization with their children, and the Boy Scouts let down too many of them. The organization certainly wasn't loyal or helpful to the boys who were preyed upon, especially when higher-ups learned about previous accusations against troop leaders but allowed them to remain in contact with children anyway. The courageous move would have been to confront these issues head-on, referring every allegation to law enforcement, and doing whatever it took to keep every scout safe. So the organization damn sure wasn't brave.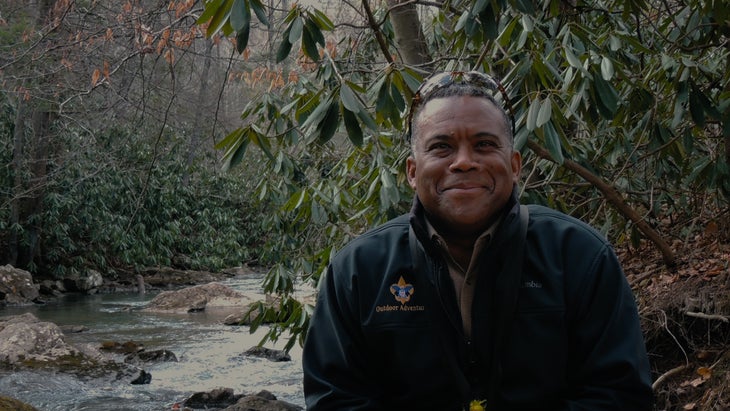 The main whistleblower in Scouts Honor is Michael Johnson, Boy Scouts of America's youth protection director from 2010 to 2020, who tells his story for the first time here. Before working for the Boy Scouts, Johnson was a police officer who investigated child sex crimes. (As a youth, he was also a scout.) Early on in the documentary, he's asked why he took the job at the Boy Scouts in the first place.
"Do you want the truth or what I was told to say?" Johnson replies.
Scouting has always been protective of its image. Parents were told that the organization had a rigorous process for screening volunteers, but for years that wasn't the case. The truth, as Johnson tells it, is that the Boy Scouts of America is by its very nature a high-risk organization. How many other groups allow adults nearly unsupervised access to children on overnight campouts, sometimes for days at a time? The rules explicitly instruct scouts to obey their adult leaders.
But instead of paying for extensive background checks, or creating serious protective protocols—at one point, a member of the organization's youth protection task force was arrested in a federal child-porn sting—the Boy Scouts spent years focused on banning gay members. It also publicly opposed the National Child Protection Act, which requires extensive background checks of adult volunteers.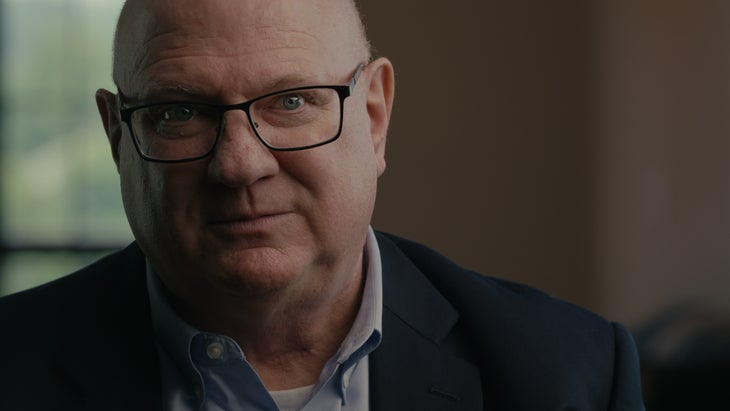 Steven McGowan, the former general counsel for the Boy Scouts, also appears in the documentary, as the organization's most vocal defender. His office oversaw nationwide youth-protection efforts. He contends to this day that the institution itself didn't abuse anyone, that it was a problem caused by "bad people that got in," and that the Boy Scouts had no way of identifying abusers ahead of time.
McGowan also stresses the obvious point that child sex abuse isn't a problem solely for scouting. He believes it's a broader social illness, and that the issues facing the Boy Scouts are emblematic of something bigger that's wrong in American society.
"We just happen to be the one with the deep pocket right now," he says.
---
The story of scouting's history of sex abuse isn't new. It's been covered in newspapers for years, books have been written, and the most recent lawsuit and the record-breaking settlement briefly made headlines around the world. Scouts Honor isn't even the first streaming documentary on the subject. (Hulu released the similarly themed Leave No Trace last year.) Even so, it seems to me that the scandal hasn't received nearly as much attention as other widespread instances of sex abuse—for example, those that erupted in USA Gymnastics and the Catholic Church.
A sizable swath of American society has fretted belligerently about absurd child sex-trafficking conspiracies—think QAnon and Pizzagate—but the truth about the Boy Scouts, which has been known for years, doesn't seem to have landed on many radars. Even before the massive settlement last year, there was a series of criminal and civil cases going back decades. Anyone who wanted to could learn the scope of the abuse and the nature of the cover-ups.
For reasons that could surely fill a doctoral dissertation, our culture has a difficult time discussing male-on-male sexual abuse. Often the allegations come years—even decades—after the abuse occurs, and the people disclosing the details of these heinous crimes are now adults. Most of the men who share their stories in Scouts Honor are tall and broad-shouldered. It's sometimes hard to remember that when the abuse was committed, they were just children, still growing physically and emotionally, desperately trying to figure out how the world works.
One man's abuse lasted nine years, until he turned 18. Another says he was abused at a large gathering, about 200 yards away from his parents. Another was passed around by his troop's leaders. And another was molested as he slept in a cabin at Boy Scout summer camp.
Despite the ubiquity of these incidents, however, American society barely has the vocabulary to talk about the issue. The phrase we use, sexual abuse, is a euphemism. It's our way of not discussing the painful details of the assaults that were happening in tents, cars, and cabins all over America. These moments fundamentally reshape a child's understanding of almost everything. They can fracture psyches for life. The men in Scouts Honor describe something vital being taken away, years of childhood stolen. Several describe thoughts of self-harm and suicide. The stories these men tell are horrific and heartbreaking.
Mark Eaton says he was in his forties before he understood that the abuse he suffered wasn't his fault, that he was a victim of Thomas Hacker. For decades, he lived with a deep, abiding anger that bubbled to the surface with little provocation. He talks about punching holes in walls. He says that the shame he felt hurt his relationship with his parents. And like thousands of other men, he's had to figure out a way through all of this.
---
My wife and I still have a few years before we need to make a decision about whether our son can join the Boy Scouts, but at this point we're both against it. The organization mandated new youth-protection training for volunteers, and the Boy Scouts' website contains testimonials claiming that the group is "one of the safest places for kids." But there are other ways to teach a kid how to set up a tent, spot poison ivy, and become a person with a True North. The more I think about it, the less sure I am that an organization that allowed these horrors to happen to tens of thousands of children should even exist.
In the end, insurance companies will pay the vast majority of the settlement with survivors. The Boy Scouts of America will cover less than 10 percent of the total. The organization agreed to give up to $80 million worth of property, another $80 million in a promissory note, and about $20 million in cash. The settlement was part of a massive bankruptcy filing—most of the litigation took place in a Delaware bankruptcy court—and the organization is now taking steps to evolve. The Boy Scouts no longer have a policy prohibiting gay members, and some troops allow girls.
As for the survivors, nothing can undo what they've experienced. And while $2.46 billion sounds like a lot, spread over 82,000 plaintiffs, the settlement averages less than $3,500 per person. Some of the attorneys stand to make a lot of money, but almost none of the victims will get enough to substantially change their lives. Contrary to Steven McGowan's quip about the Boy Scouts' deep pockets, the men who've come forward are obviously doing it for reasons other than money.
"I wanna take some of the stigma away from it, from boys being victims," Eaton says at one point. "It's not the boy's fault."
Men sharing their stories, attempting to face down society's stigma so others won't have to live with the same pain, there's a word for behavior like that: brave.
Michael J. Mooney writes for a variety of publications, including The Atlantic and Texas Monthly.
Correction: A previous version of this story incorrectly credited filmmaker Alex Gibney as the producer of the film. 
Lead Photo: Tom Pennington/Getty