The Daily Rally
Russel Palecek Serves Those Who Served
The Army veteran found a way to give back in retirement, through his love of dogs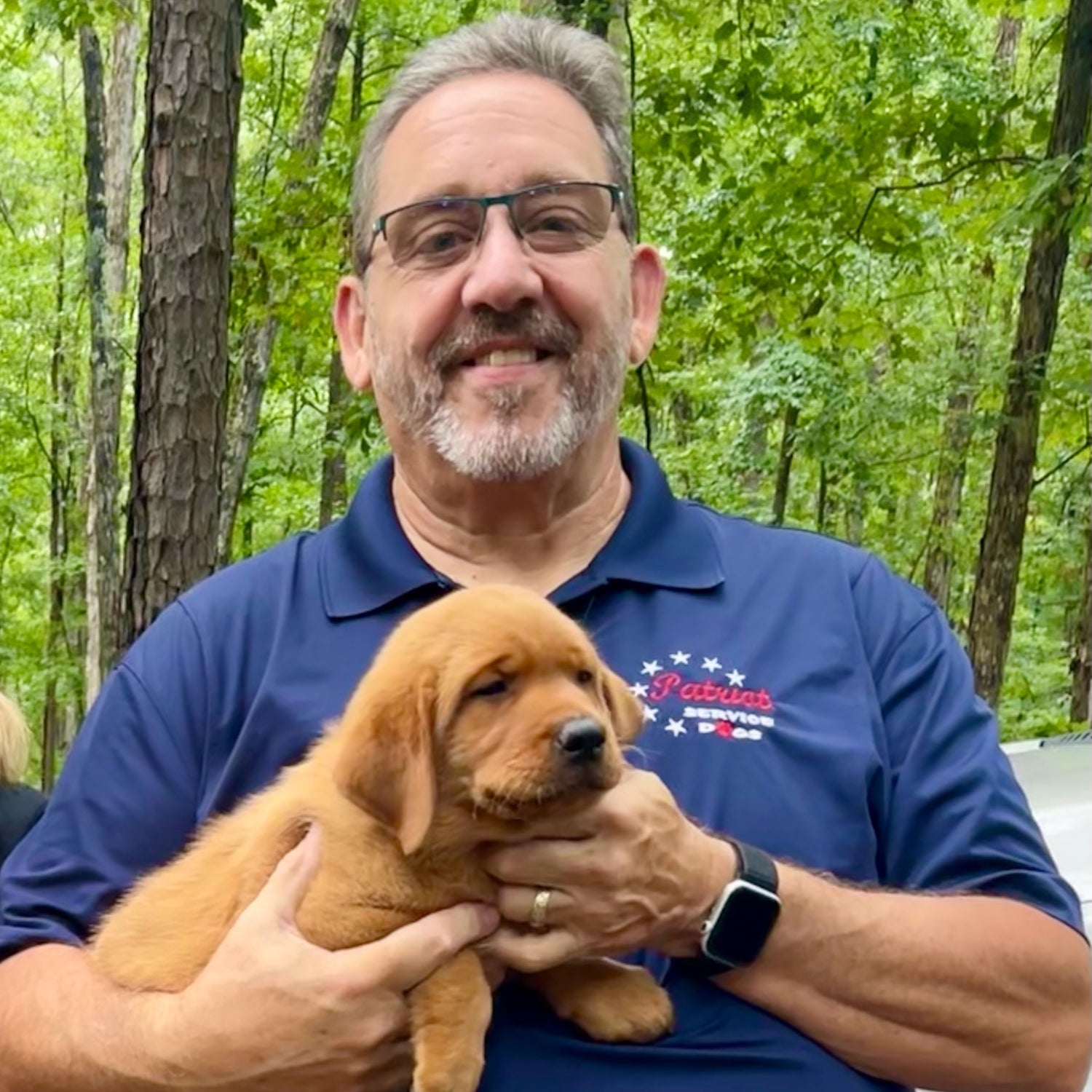 Courtesy Patriot Service Dogs
Heading out the door? Read this article on the new Outside+ app available now on iOS devices for members! Download the app.
Russel Palecek told his story to producer Sarah Fuss Kessler for an episode of The Daily Rally podcast. It has been edited for length and clarity.
A couple of officers that worked for me were in the Reserves and got deployed and came back, and you could see a change in them and you could see the struggling some of them went through.
Once you meet a veteran that went through what these guys go through now with the conflicts they've been in, you know how lucky you were. I volunteered in 1975, and was planning on graduating and joining the service whether or not Vietnam was still there. I just got lucky that I joined after it was over. So I felt I should be able to give back.
I live in the Villages, Florida. It's between Leesburg, Florida and Ocala, Florida. I am with Patriot Service Dogs. I am a board member and assistant trainer.
Before I retired, I worked for the New Jersey Department of Corrections as a corrections sergeant.
From 1975 to 1978, I was military police for the Army. During the Cold War, as most veterans say. During my service, it was more of a security capacity, escorting ammunition and missiles from bunkers to Air Force bases. So I feel uncomfortable if somebody tells me, "Thank you for your service," because I might have joined, but I didn't have to go through what the veterans I've met have. I feel that I should be able to give back to them because they have seen combat and I was lucky enough not to.
I had many dogs in my childhood. My first childhood dog was a golden retriever named Lady. I was one of four children, and I was always bringing a dog home that I would find as a stray somewhere. Even when I was in the service and I was stationed in Germany, I had a dog over there.
A dog will be your companion. Your best friend, without looking for something in return. So that's what appeals to me about a dog. A dog is loyal to the person that they live with, and nothing can change that.
I moved from the Philadelphia area to the Villages in 2019, basically for retirement. Our last dog passed away probably about six months before. So I was looking for something where I could still travel and not have a dog at home, but that I could still have a dog in my life.
I started working with Patriot Service Dogs after meeting an individual that spoke to me about him volunteering with the organization. I reached out with an application online, and they responded to me and explained what the program was doing.
The mission of Patriot Service Dogs is to train dogs for disabled veterans. Our program provides a veteran with a much-needed service, but it also provides some way for the women inmates in Lowell Correctional Institute to do something also to help veterans, and also for themselves.
They're actually the backbone of the training for the dogs. The women of Lowell Correctional do 90 percent of the work. The hard work I should say, especially when you have an eight-week-old puppy that needs to be potty trained and taught the basics.
My desire was to be a weekend raiser. Because the dogs can learn all the tricks, but they need to know how to do it in the world. You don't have sliding doors like you have at grocery stores in prison. You don't have cars riding by. You don't have trash trucks riding by, you don't have buses. So the dogs need to be exposed to all that.
They would drop off on a Friday, and you would have the dog and give it real world experiences, Friday, Saturday, and Sunday. Then the director would drive them back to their inmate trainers.
Now some dogs are proficient in areas of retrieval where if you drop your keys, they'll grab the keys and bring them to you. If you point to it and tell them, they'll grab your phone and give it to you. They'll grab the remote control. We teach the dog to retrieve canes if a person has a cane. They can brace if people need help steadying when they get up.
Lately there's been a lot of PTSD dogs, and for some reason you can't really teach a dog about PTSD, but their senses can tell, once they start bonding, that that person needs some calming or that person needs some attention.
And I've met veterans that had a dog for that specific reason. One of them had started getting Parkinson's, and the dog, itself, would put his head in his legs when he felt the guy was shaking. And then he would call his wife over and say, "I need my meds." Because the dog alerted them that he's starting to shake. So, dogs are phenomenal at just having the instinct to adjust to their owners and what they need.
The first placement I did with the veteran training was with a black lab. He was probably seven months old. I had him numerous times, and got to do a lot of firsts, like going to the airport with him, going to malls, going around buses at the airport. He was going to a veteran that never had a dog before. So, I got to see what it's like for somebody that really needs to be taught from the ground up on how to have a dog in his life.
Before he got the dog, he couldn't do crowds, he couldn't go out in public. It was a unique experience just to see him become more open as we did things. Even for him not being a dog person, you could see that dog was focused on him on day one. I had him for months. He was still focused on that veteran. So, it's just amazing to see that happen. These dogs that make it through our program, they know who they're working for once they get placed. It doesn't take that long before a dog becomes a bonded pair with their veteran.
That veteran, the first veteran I helped with, he was amazed at everything the dog could do. It's a comfort for them. They know that their buddy's there, their buddy is next to them, and nothing's gonna change that.
It doesn't matter who you are, the tears flow at graduation. It's hard to explain until you can actually speak to a veteran after he just gets his dog, after that week of training, and how he feels. It's so rewarding.
I can't tell you how many times I've been thanked. And you want to just say, "Stop saying 'thank you.' I'm thanking you because of what you did."
I'm getting a benefit just as much as they are.
Russel Palecek is an Army veteran and retired corrections police sergeant. He works with dogs and his fellow veterans at Patriot Service Dogs, a winner of the 2022 Defender Service Award. Established by Land Rover, these awards recognize the nonprofits doing selfless service for their communities every day. You can learn more about this winner at patriotservicedogs.org.
You can follow The Daily Rally on Spotify, Apple Podcasts, or wherever you like to listen. Subscribe to our newsletter and nominate someone to be featured on the show.
Lead Photo: Courtesy Patriot Service Dogs
Trending on Outside Online