Why Would You Walk from D.C. to New York?
For journalist Neil King, there's never been a better time to reflect on the nation's fraught history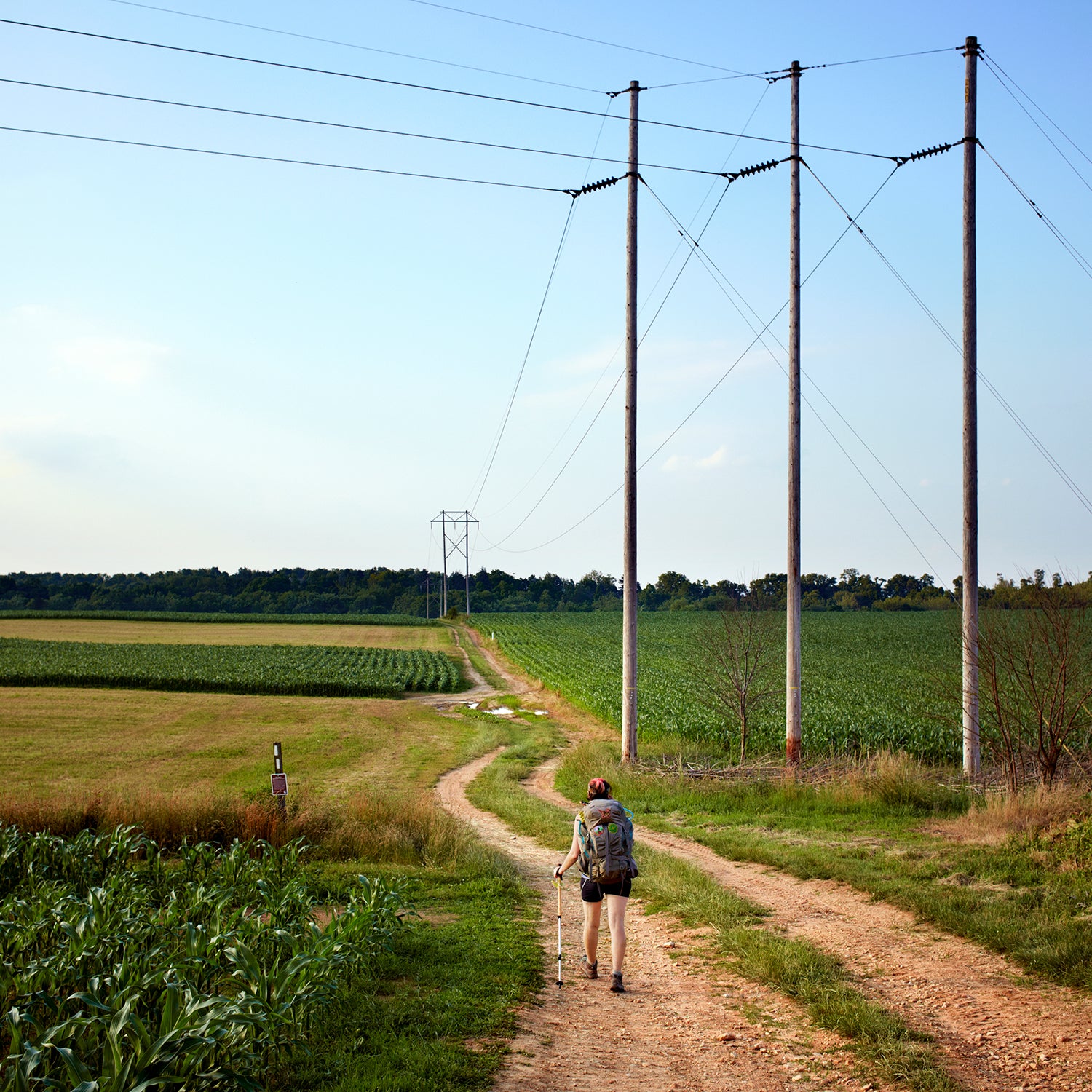 Michael Wilson/Cavan(Photo)
Heading out the door? Read this article on the new Outside+ app available now on iOS devices for members! Download the app.
In his essay "Walking," Thoreau wrote that "two or three hours' walking will carry me to as strange a country as I expect ever to see." The piece was published in 1862, but the sentiment feels contemporary. Perhaps it's that we've all just endured a year's worth of pandemic-induced travel restrictions. Or maybe it's because an increased awareness about the environmental impact of long-distance air travel has given rise to flight shaming. Why jet halfway around the world to seek out strangeness and adventure when strangeness and adventure can be found just down the road? Sometimes there's nothing so exotic as going for a long walk. 
Just ask Neil King. The 61-year-old former Wall Street Journal reporter set out from Washington D.C. on March 29, and is making his way, on foot, to New York City, where he expects to arrive later this week. Rather than cleaving to the I-95, King took an arching route through the pastoral idylls of Pennsylvania, which is where he was when I recently gave him a call. 
When he answered the phone, I could hear birds in the background. He was just walking through the last suburban stretch of Lancaster, King said, before adding rapturously that he was "smelling manure for the first time." He was entering "one of the most fabled and beautiful stretches of Amish farm country" and his destination on that particular day was the town of Ephrata, where he'd arranged to meet the main archivist at the Muddy Creek Farm Library, a repository of old Mennonite artifacts. When I asked King if he was at liberty to talk, he replied that he was "at liberty in pretty much every way." My kind of guy.
As King explained it to me, his walk started as a kind of personal joke: What would it be like to make a slow, ambulating journey from D.C. and New York—a journey that most commuters try to put behind them as quickly as possible? Once he decided that he was going to find out, he felt that the right way to do it would be to take a meandering detour to visit sites of historical significance. Valley Forge. Philadelphia. Trenton. 
Originally, King wanted to make the trek in 2020, but COVID forced him to postpone. The trip was always intended as a kind of history-infused exploration of our national psyche, but the events of the past year—protests for racial justice, the November election, the Capitol riot—gave the project an additional sense of urgency.
"We've gone through this period where, more directly than we ever have, we've wondered at our founding," King told me. "Was slavery one of our foundational principles? There's a huge debate about whether we should have Robert E. Lee statues, or whether we should have schools named after certain people. So this is a very potent moment to walk through an area where so many of those people lived." He noted that Lancaster was the final resting place of both James Buchanan, that "grim-faced caretaker before the Civil War," who served as the 15th President of the United States, and representative Thaddeus Stevens, Buchanan's ideological rival and a strident abolitionist. Stevens' grave, which King visited, is located at Shreiner-Concord Cemetery, which the congressman had specifically chosen because other cemeteries at the time were segregated. (Part of the epitaph reads, "I have chosen this that I might illustrate in my death the principles which I advocated throughout a long life.") 
As for the lingering threat of the pandemic, King says that he was recently vaccinated and figures that, now that the country is gradually emerging from its COVID hibernation, people would be more likely to chat with a sauntering stranger. There was another motivating factor: four years ago, he was diagnosed with cancer. He's OK now, but all the more aware that time is finite. 
"Even in the way we tend to look at any one day, we think we can pack all kinds of things in when we really can't," he says. "We never quite learn that the day doesn't contain time enough to do it all—and in the same way we go about our lives thinking we have this very long runway." 
What has he been doing to make the most of this fleeting existence? Some of his encounters over the past few days have felt like contemporary parables, King says. In an affluent suburb of Maryland, he hintingly asked the owner of a palatial residence where he might fill his canteen and was informed that there was a store two miles down the road that sold bottled water. One time, disoriented after his iPhone battery died, he asked an old Mennonite auctioneer for directions and was given an extended sermon (in a barn) about how the country had lost its way. 
King, for his part, is wary of expanding such anecdotes into a metanarrative about the corrupting influence of wealth or modern technology. As he put it: "A lot of these parallels are really fascinating to me, but what does it mean, really? It just means what it is. But that's the way these parables go. I take the people and the encounters along the way for what they are and who they are, but I'm not interested in trying to extrapolate and say: Therefore, the entire country is like this person, or that person." 
We've been on the phone for about 20 minutes when King encounters another one of central Pennsylvania's bucolic delights—"Holy shit, I've just come to this amazing covered bridge"—and politely says that he needs to let me go. Understood. Time is brief, and he's still got a lot to see.
Lead Photo: Michael Wilson/Cavan