Sponsor Content: YETI
DIY Cocktails to Elevate Your Next Backyard Hangout
We could all use a good drink right about now
With cooler temps, colorful leaves, and fewer crowds, fall is the best time to chill out outdoors, whether you're car camping or in your backyard. The best way to savor it? With a cocktail, of course. That's where Crystal Sagan, owner of Boulder, Colorado's Cocktail Caravan, comes in. For Sagan, who runs events out of a 1969 Skyline Aljo trailer called Lolita, it's all about keeping everything simple and fresh. "I always want the ingredients to speak for themselves," she says, "and never want my drinks to be too complicated." Here are three of her seasonal faves.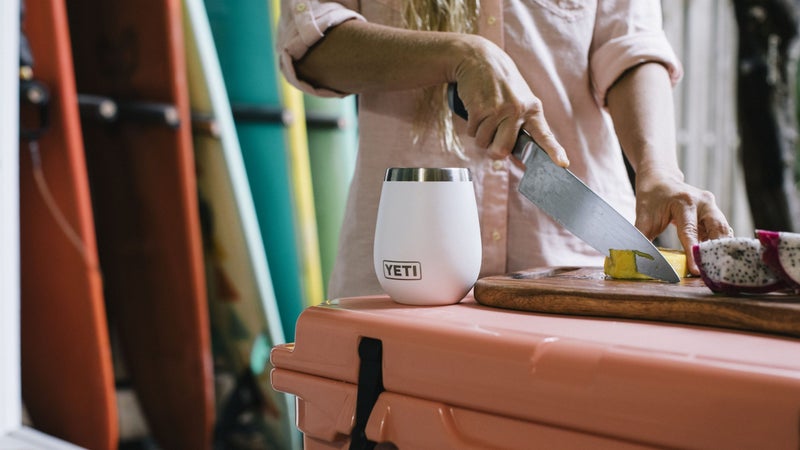 The Grapefruit Aperol Spritz
Sagan recommends this easy-drinking, not-too-alcohol-forward cocktail for earlier in the afternoon when it's still T-shirt weather. "I'm holding on to every last drop of the fall warmth," she says. She mixes fresh grapefruit juice into the classic recipe because it adds a touch of tartness that makes the drink even more refreshing. Preferred vessel: YETI Rambler 10-Ounce Wine Tumbler
Recipe:
3 oz dry prosecco
1½ oz Aperol
1 oz soda
½ oz grapefruit juice
1 orange slice
Add all liquid ingredients in a glass, top with ice, stir. Garnish with the fresh orange slice.
The Old-Fashioned
When temps dip later in the afternoon, Sagan likes to move on to something a little stronger. Her go-to is an old-fashioned, which is very alcohol-forward, meaning you can taste the alcohol immediately, so she makes hers with bourbon instead of whiskey because it's a little smoother and more approachable. Preferred vessel: YETI 10-Ounce Lowball 
Recipe:
1 orange slice 
½ oz simple syrup
3 drops Angostura bitters
1½ oz bourbon
1 Luxardo cherry
Add orange, simple syrup, and bitters in a glass and muddle (or use a wooden spoon to smash the orange). Add bourbon, top with ice, and stir. Garnish with the Luxardo cherry.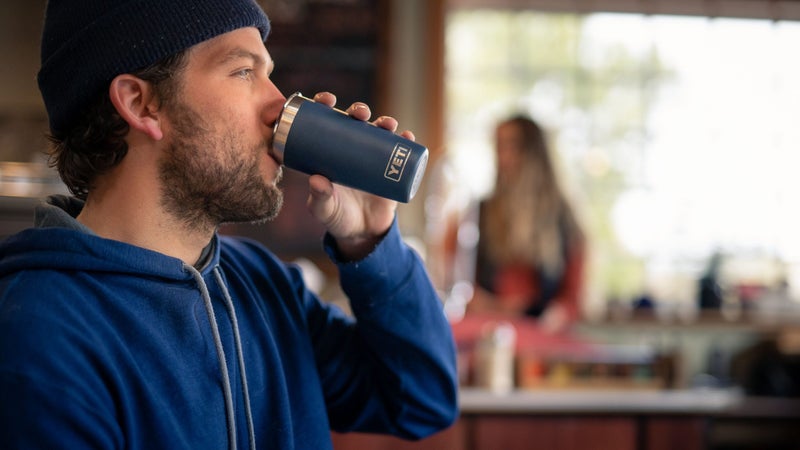 The Harvest Moon
This is a favorite autumn cocktail for Sagan because it features pears, which are harvested each fall where she lives in Colorado, plus cinnamon and cardamom. It can be made with vodka or tequila and, thanks to the pears, has a refreshing flavor unlike anything you've ever tasted. The drink takes a little work—there's some muddling and straining—but the Rambler 10-ounce Tumbler is perfect. The solid build is great for mashing, and the MagSlider lid helps when you pour the ingredients through a strainer and into your 10-ounce Lowball. Preferred vessel: YETI Rambler 10-Ounce Tumbler with MagSlider Lid
Recipe:
2-3 slices ripe pear
¾ oz fresh lemon juice
¾ oz simple syrup
1½ oz vodka
dash ground cinnamon
dash ground cardamom
1 cinnamon stick
Add pear, lemon, and simple syrup in a glass and muddle (or use a wooden spoon to smash the pear). Add vodka and ground spices and top with ice. Shake hard for ten seconds. Strain to remove pear pulp, then pour over ice and garnish with the cinnamon stick. 
To make simple syrup: bring ½ cup water to a boil and remove from heat. Stir in ½ cup sugar until dissolved. Refrigerate until needed.
---
From coolers and drinkware to backpacks and bags, YETI products are built to meet the unique and varying needs of diverse outdoor pursuits, whether in the remote wilderness, at the beach, or anywhere life takes our customers. We have an unwavering commitment to outdoor and recreation communities, and we are relentless in our pursuit of building superior products for people to confidently enjoy life outdoors and beyond.
Trending on Outside Online