Semi-Rad
Amazon Reviews of 'Moby Dick' As Free Verse Poetry
"The book was fine but I hated the story"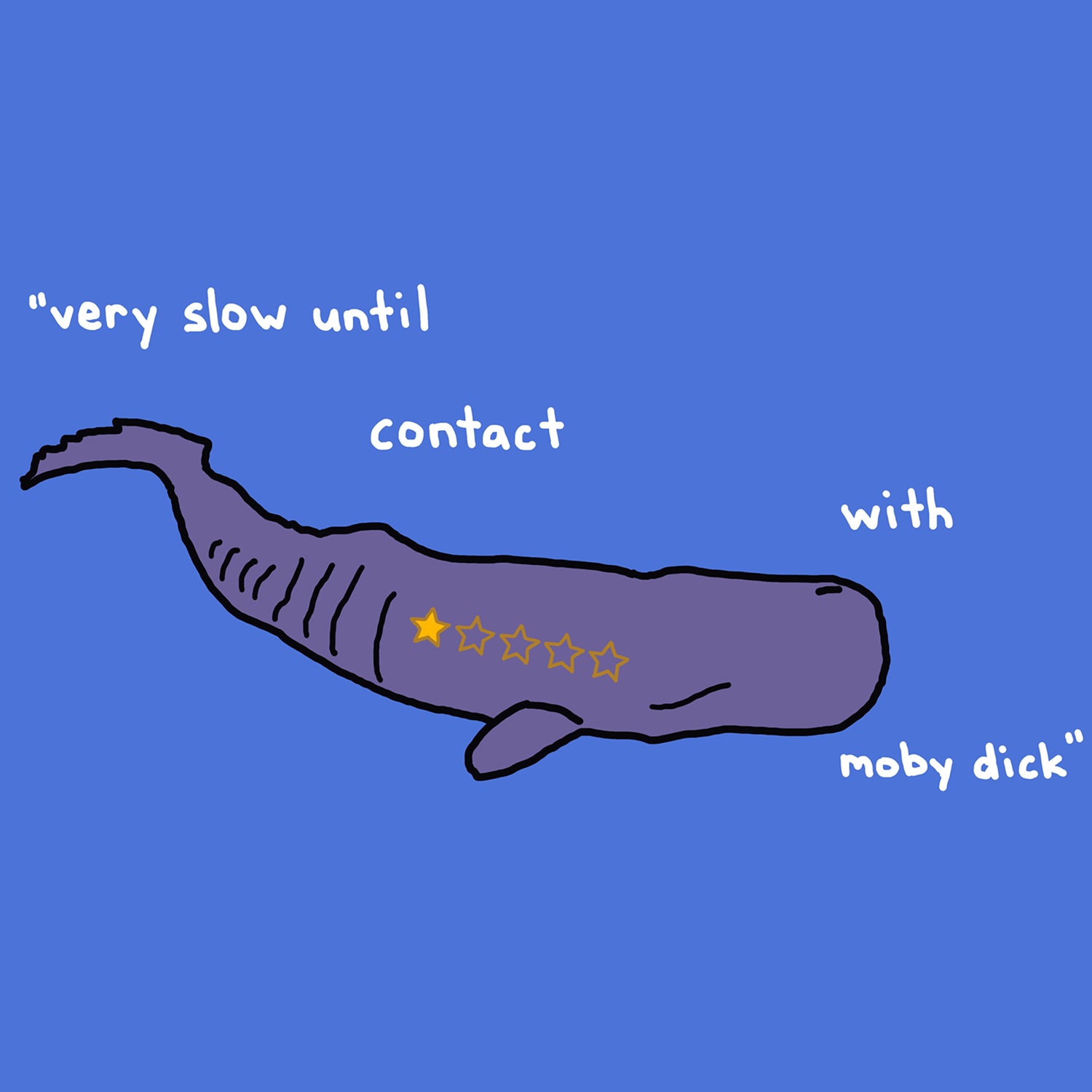 Brendan Leonard(Photo)
Heading out the door? Read this article on the new Outside+ app available now on iOS devices for members! Download the app.
Lots of people love Moby Dick, which has long been considered a classic of American literature and one of the best adventure books of all time. But lots of people do not love Moby Dick, too. They hate it. Hating Moby Dick, with the advent of online reviews on Amazon and Goodreads, has become its own art form. Reading the reviews is fun, but it's even more fun if you insert some spaces and format the reviews into free verse, which I have done below for your enjoyment. (All spelling and punctuation is quoted verbatim from the original reviews.)
---
Truth.
Jaws
is better
—Nicessist, July 31, 2015
---
Do not like how it is written in old English
Do not like how it is written in old English. 
Was not aware of that. 
Also, the print is extremely small. 
Tried to read it, 
but 
put it down.
—Eileen, August 29, 2016
---
Weak Plot Line
This book moves very slowly. 
She spent too much time 
having the characters moon over each other. 
It took a very long time 
for each step of the plot to happen. 
I finally skipped to the last chapter from about 50%. 
I don't think I missed anything.
—bjski, April 26, 2019
---
Slow and Boring Story
I could not wait to finish 
this book. 
The characters 
were not likeable 
and 
I found them annoying.
This should have been a short story.
—linda, April 2, 2019
---
One Star
Small letters, 
smelly pages.
—Florelis, January 3, 2018
---
Moby-dick not favorite book
I didn't like it 
because 
it was 
too long 
of a book.
I rate it 1 star 
because a lot of parts in the book I didn't understand.
—Tess, August 12, 2019
---
Bad fish porn
Not into fish 
porn
—bru, April 14, 2019
---
One Star
Author droned 
on 
and on 
and on. 
Couldn't get past 
the second chapter
—Laurie G. Williams, September 24, 2015
---
One Star
Horrible book, 
never means what he says. 
drives 
me 
INSANE.
—Amazon Customer, December 7, 2017
---
One Star
no
—S. Nyer, September 5, 2016
---
One Star
Horrible read. 
Ramble, ramble and ramble. 
I struggled 
to finish 
this book.
—Mark, May 25, 2016
---
One Star
Poor acting by lead character, 
the book was fairly good, 
the movie 
not so.
—janice kadushin, March 5, 2016
---
One Star
very slow until 
contact 
with 
moby dick
—john gerardi, February 20, 2015
---
I SURE HOPE YOU ENJOY LEARNING ABOUT WHALES
I SURE HOPE YOU ENJOY LEARNING ABOUT WHALES!!!! 
Listen 
I read this book hoping to get a pretty good story 
hoping to see some of the solidarity in man 
by reading about his voyages in water 
hoping to relate to some of the struggles from being solely focused on obtaining a certain goal etc. 
But honestly 
good Lord! 
I swear 85% of this book is various lessons 
on whaling 
the origin of whales, 
whale distinction, 
whale body parts, 
whale sperm, 
different color whales. 
Oh my goodness 
the book starts off quick with the appearance of Queepeg 
you think ok we might have something here 
but NO! 
this book drags on 
and on 
and on 
and on. 
Gets off topic ALL of the time. 
The majority of this book is about how Ismael feels 
and about whale parts. 
And when Moby Dick does show up AT THE END OF THE BOOK 
Captain Ahab vs. Moby Dick was as big a mitch-match 
since the Super Bowl between Denver and Seattle. 
It was anti-climatic 
some people might get this book 
but please don't put me down as one. 
SAVE YOURSELF THE TIME AND ENERGY 
READ THE OLD MAN AND THE SEA 
A MUCH BETTER BOOK
—Oliver, September 27, 2014
---
One Star
tedious
—Anne Wyatt, January 18, 2016
---
One Star
Outstanding!
—Rogelio Lozano, September 7, 2017
---
Obvious he was paid by the word
I tried. 
I really tried. 
Multiple times. 
But the page 
after page 
describing all the different types of whales in the most minute of detail, and the sentences that stretch so long that by the end of them I'd realize I couldn't figure out for the life of me what point he was trying to make. 
I finally decided 
life is to short to torture myself with a book 
I'm just not enjoying, 
and I moved on. 
Maybe I'll try again in another 10 years.
—Smurf, August 24, 2018
---
One Star
The book 
was fine 
but 
I hated the story
—Kasey Patton, April 15, 2015
---
Meh.
Taxing 
as well as underwhelming. 
So many unnecessary side notes, 
few of which really contribute to the plot itself, 
but I'm no scholar 
see for yourself.
—Kindle Customer, July 19, 2019
---
One Star
boreing
—paul weaver, February 28, 2015
---
I Could Be Wrong
But reading it 
feels like being trapped 
in a whale's belly 
with Chuck Klosterman.
—lori c. baughman, October 9, 2018
---
boring
i had to read this book for school 
it boring 
dont read 
why is this so famous. 
cant even understand writing. 
words too big i hate it not even interesting. 
they just sit on a boat then get killed by a whale 
stupid captian 
knew they were gonna die
—Denali, August 1, 2013
---
Moby Dick
AAAAAAAAAAAAAAAAAAAAAHHHHHHHHHHHHHH!!! 
It just went on and on and ON! 
About rubbish! 
SOme old guy 
with one leg 
hunts down a white whale 
and in the end he kills the thing, 
but at the expense of his life 
and lives of his whole crew,
 except one guy….
It may be liked by older people, 
but it really isn't for young people.
—atg, August 20, 2011
---
Tedious
Do we really need 
a 10 page analysis 
of the color white, 
or any of the other tedious digressions contained in this book? 
I say 
no. 
I loved the poetic language Melville uses, 
and there is no doubt 
he was a great writer. 
He did not, 
however 
have a great editor. 
Getting through this book was like running a marathon, 
where you are forced to stop every mile 
and listen to a lecture on running, 
running shoes, 
knee pain, 
gatorade, 
or any other subject remotely related. 
Finishing the marathon gives you bragging rights, 
but not much more.
—vikingslayer, November 25, 2010
---
Overhyped
Moby Dick is 
an overhyped, 
monotonous, 
pretentious, 
pseudo-intellectual 
piece of crap, 
in other words 
an English lit major's wet dream. 
It's the absolute meaningless ramblings 
of a half wit, 
not some great intellectual masterpiece. 
Maybe Melville was the Justin Bieber 
and "Twin Peaks" of his day, 
talentless and meaningless 
but few will admit 
they were fooled.
—Tom Adams, December 6, 2011
---
Not enough dicks
There were 
no dicks 
in this book.
—Ben Reser, March 21, 2015
---
Brendan Leonard's new book, Bears Don't Care About Your Problems: More Funny Shit in the Woods from Semi-Rad.com, is out now.
Lead Photo: Brendan Leonard
Trending on Outside Online