Semi-Rad
Destroy Your New Sleeping Bag with 11 Simple Steps
Including how to get that coveted wet-dog smell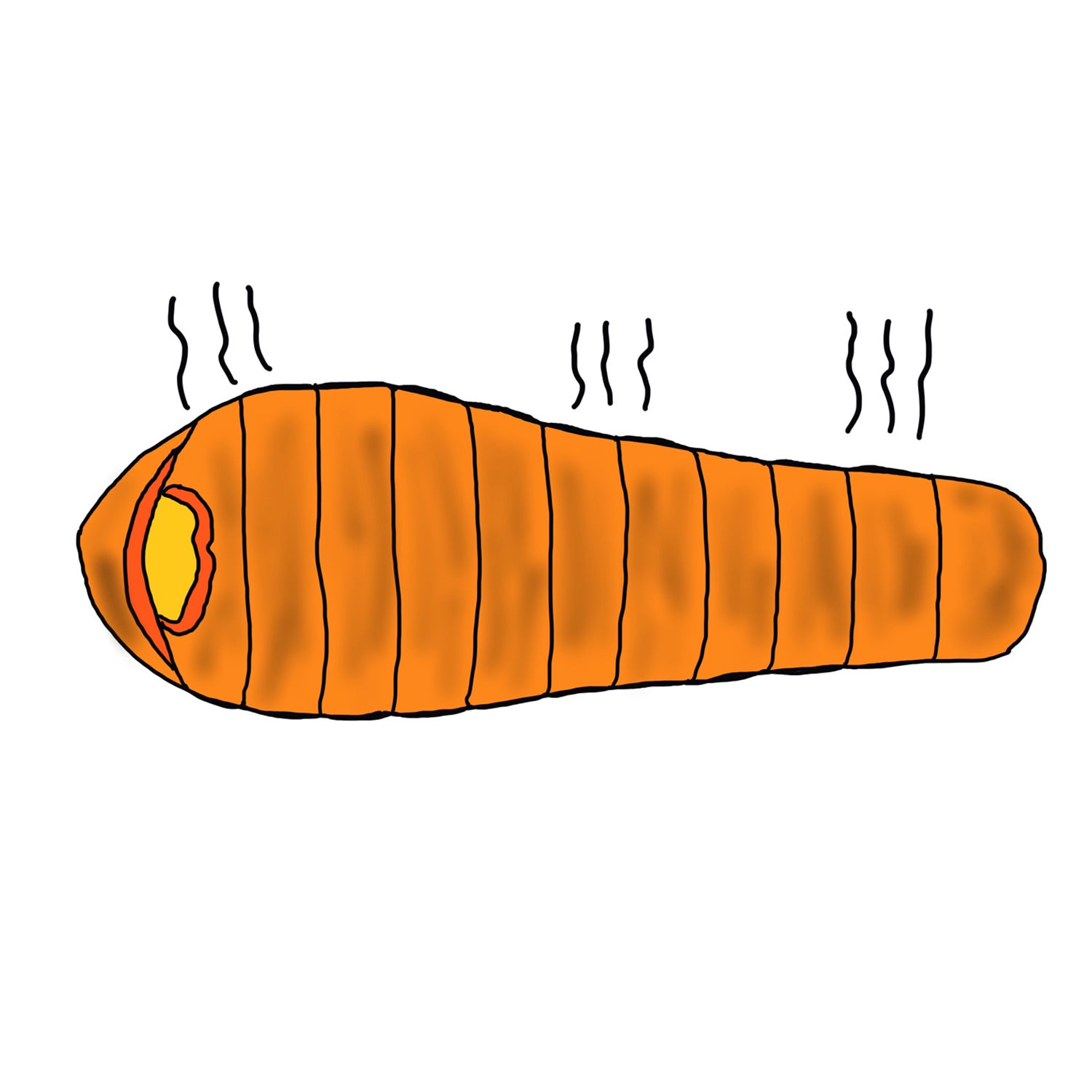 Heading out the door? Read this article on the new Outside+ app available now on iOS devices for members! Download the app.
Nothing's better than a brand-new sleeping bag, that miraculous cocoon of warmth that enables you to sleep under the stars. Nothing, that is, except an old sleeping bag—one that seems to somehow have lost 60 percent of its fill and loft, smells like a wet dog with chronic flatulence, and has the greasy sheen of the inside of a discarded Wendy's Baconator wrapper. Here's a solid plan to get your sleeping bag broken in for ultimate comfort/dismay of your tentmates this year:
Always store your sleeping bag in a damp or wet environment and compact it as much as possible when you're not using it. Ball it up in a wet corner of your backyard, basement, or garage, or, if you have a somewhat empty gallon jar of pickled pigs' feet, stuff your sleeping bag in there between trips. If you don't like the idea of your sleeping bag smelling like pickled pigs' feet, try a gallon jar of pickled eggs.
In order to get that "wet dog" smell, you're going to need a dog's help. If you don't have a dog, borrow a friend's dog. Take him or her on a nice hike with some opportunities to swim in stagnant ponds, and maybe roll in some mud or animal feces. When you're finished hiking, dry your canine friend off by wrapping them in your new sleeping bag. For the ride home, line the back seat of your vehicle with the sleeping bag and have the dog lie on it.
To fully break in the insulation of your sleeping bag, schedule your first camping trip for a wet and/or hot weather forecast. When finished with your trip, don't allow your bag to dry out in storage (refer to Step 1).
When zipping or unzipping the bag, yank the zipper in fast, long, reckless strokes.
Eat dinners that are extremely high in fiber to maximize your own flatulence and properly "season" your bag. Keep it zipped up throughout the night.
Wear your sleeping bag around camp. Although you'll have to take short steps, there's no cozier way to spend time in camp than shuffling around in your sleeping bag. Nothing says "broken in" like a shitload of holes from flyaway campfire embers landing on your new bag. Which isn't new anymore, and by this point should be acquiring a nice black patina on the outside and a smell that should ruin everyone's appetite.
Didn't bring anything to clean the macaroni and cheese out of your cooking pot? Bullshit you didn't. You've got a perfectly good (and absorbent) sleeping bag. Scrub that coagulated cheese with it! Also, if you can find a semi-clean spot, it's a great napkin to clean the corners of your mouth with.
Before getting into your sleeping bag for the night, toss a couple handfuls of sand and/or dirt into it. Make sure to apply sand along the zipper as well.
Just before bedtime, enjoy some crunchy snacks in your sleeping bag. Note that this may lead to your being killed by a bear in the middle of the night, but sometimes chile picante Corn Nuts in bed are worth paying the ultimate price.
As long as it's not going to get really cold at night, it's perfectly acceptable to pee in your sleeping bag. Urine will remain warm for at least a few minutes, and you can just wring it out in the morning. No one loves to get up out of a tent to pee in the middle of the night.
If you're noticing some small tears in your sleeping bag starting to appear throughout the break-in period, staple them closed with an office stapler or use a small amount of sap or Krazy glue to seal them back together.
Lead Photo: Brendan Leonard