Semi-Rad
The Great Dirtbag Pissing Contest
Who cares how you funded your nice van or thru-hike? What matters is that you're spending time outside.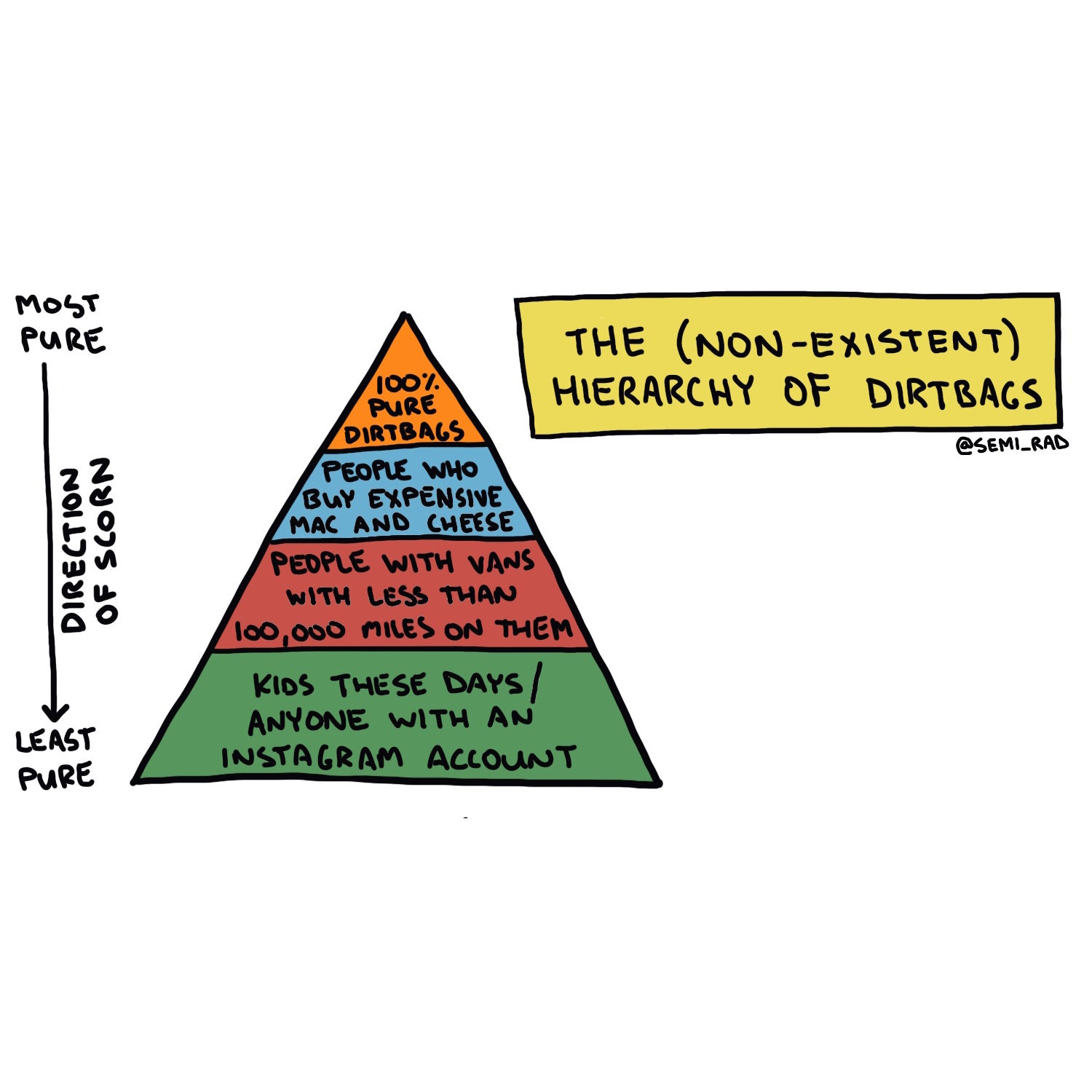 Brendan Leonard(Photo)
Heading out the door? Read this article on the new Outside+ app available now on iOS devices for members! Download the app.
A few weeks ago, someone put a sticker saying "Does this Sprinter van make my trust fund look big?" on my friend Thomas' van when it was parked on a street in Bozeman.
When Thomas texted me a photo of the sticker, I had two immediate thoughts:
Who is so angry about someone else having a nice van that they design and print (and pay for) stickers like this?

Thomas doesn't have a trust fund. He lives in a Sprinter van full-time, but he pays for it with photography and videography work, as well as, get this, building out vans and selling them—flipping them like some people do houses.
That same week, Adventure Journal published a story about Craig Fowler, the first person to complete the Double Triple Crown—thru-hiking the PCT, AT, and Continental Divide Trail, and bikepacking the Arizona Trail, the Colorado Trail, and the Great Divide Mountain Bike Route. Commenters on the story wondered how Craig funded his adventures, and Craig (and Craig's friends) responded, offering some details of frugality, couch surfing, and prioritizing adventure over things like a mortgage or 401(k). Other commenters were still skeptical.
Let's be clear: Craig spent about 450 total days completing all those thru-hikes and bikepacking trips over the span of 16 and a half years. Which leaves him, according to my rough math, about 15 years and three months to work, save for, and plan those trips. And we're not talking about a person buying a giant expensive boat and sailing it around the world while eating caviar and sipping champagne every night. We're talking about a guy who pinched pennies so he could live out of a backpack for a few months. Which is pretty cheap, even if you're buying the fancy ramen noodles.
There's no Hierarchy of Dirtbags arranged by purity of intentions, with, I don't know, Chris McCandless or Fred Beckey (or Daniel Suelo) at the top of the pyramid and someone who just bought a brand-new van last year at the bottom. You don't get more points if you pay for gas with seasonal work and odd jobs instead of doing sponsored Instagram posts. Spending a few months of your life thru-hiking or riding a bike is just as great if you're a penny-pinching twentysomething or if it's your early retirement gift to yourself after 35 years of the daily grind.
So why does anyone give a shit how someone paid for a nice van or a backpacking or climbing trip?
Maybe: If you're unhappy about your life and you see someone you think is having more fun than you, wouldn't it make you feel better to find out they were able to do it because someone gave them a bunch of free money? You wouldn't have to wonder why they did it and you didn't.
This doesn't usually seem to be the case, though. If you spend much time in outdoor adventure circles, you rarely meet someone who is not working in some capacity. I sure haven't met very many people cruising around in vans, climbing five days a week, and showering once a week because they won the Powerball or because their grandmother died and made them sole heir to a fortune made from a hair products company. I'm sure that happens, but I haven't seen many instances of it. Maybe they're just really good at keeping it a secret, but I think most folks you see out there just have a story of different life priorities—giving up security and comfort to be in the outdoors more. Which is a privileged position to be in. Even if you don't have a trust fund.
I lived in a van for three years, technically "homeless," but by choice, not by necessity. I was well aware the whole time that I was sacrificing a home to see sunrises and sunsets around the western United States, and it would be a far different story if I were sleeping in my car or a shelter because I'd been bankrupted by medical bills. I worked remotely the entire time as a marketing writer and a freelance outdoor writer, paying for my health insurance, but also well aware if shit really hit the fan and I ran out of money, I could stay on a friend's couch until I got on my feet again. Or, worst case, move back in with my parents, who are not what you'd call "rich" but have two bedrooms at their house in the Midwest that are vacant most of the year unless my brother and I are visiting. I never had a trust fund—but having a home to go back to is a safety net that a lot of people in America don't have.
I used to volunteer and help lead backpacking trips for urban teens with a nonprofit called Big City Mountaineers. In 2008, on my first trip, the website Stuff White People Like was popular, and one day while hiking we started cracking jokes on the topic. The trip leaders, Darin and I, were both white, and all the teens were African-American and Latino. One of the kids, Denzell, said, "White people like to do hella dangerous shit, like rock climbing and skydiving." As a white person who had been both rock climbing and skydiving, I laughed. That sentence has always stuck with me, because Denzell was really saying something like this: If you don't grow up with a certain level of comfort, you usually don't tend to seek out discomfort as an adult. The kids I led on those trips often had unstable family situations, sometimes had to walk through gang-controlled neighborhoods on their way to school, and sleeping in a tent in the mountains for four consecutive chilly nights was a totally different experience for them than it was for me.
One afternoon a few years later, late in my van-dwelling stint, my girlfriend and I climbed a two-pitch route outside the west entrance of the Zion-Mt. Carmel Tunnel in Zion National Park. From the top, we looked down and saw our Astrovan, which we'd parked behind someone's Sprinter van. That Sprinter van dwarfed our little van, which I'd spent my life savings of $6,000 on a couple years earlier. The people who owned the Sprinter probably had more storage, maybe a fridge inside, a cooktop instead of a backpacking stove, and they could probably stand up inside of their van. That sounded pretty dreamy. Were the people who owned that Sprinter van rich? Who the fuck knows. I figured we were both rich if we were able to spend a Monday afternoon climbing rocks.
A newish Sprinter van is expensive. So is a roof over your head. And I really hope the people living in vans are having a blast doing whatever it is that a mobile lifestyle affords them.
As long as people are having fun, I don't care how they achieved the means to do what they do. If you can spend any time outdoors, you're lucky, whether you're driving an $80,000 van or a beat-up old Honda Civic.
If you can get it, go get it.
Lead Photo: Brendan Leonard
Trending on Outside Online