Tough Love
How to Adventure Solo
Feel safe and embrace your time outdoors alone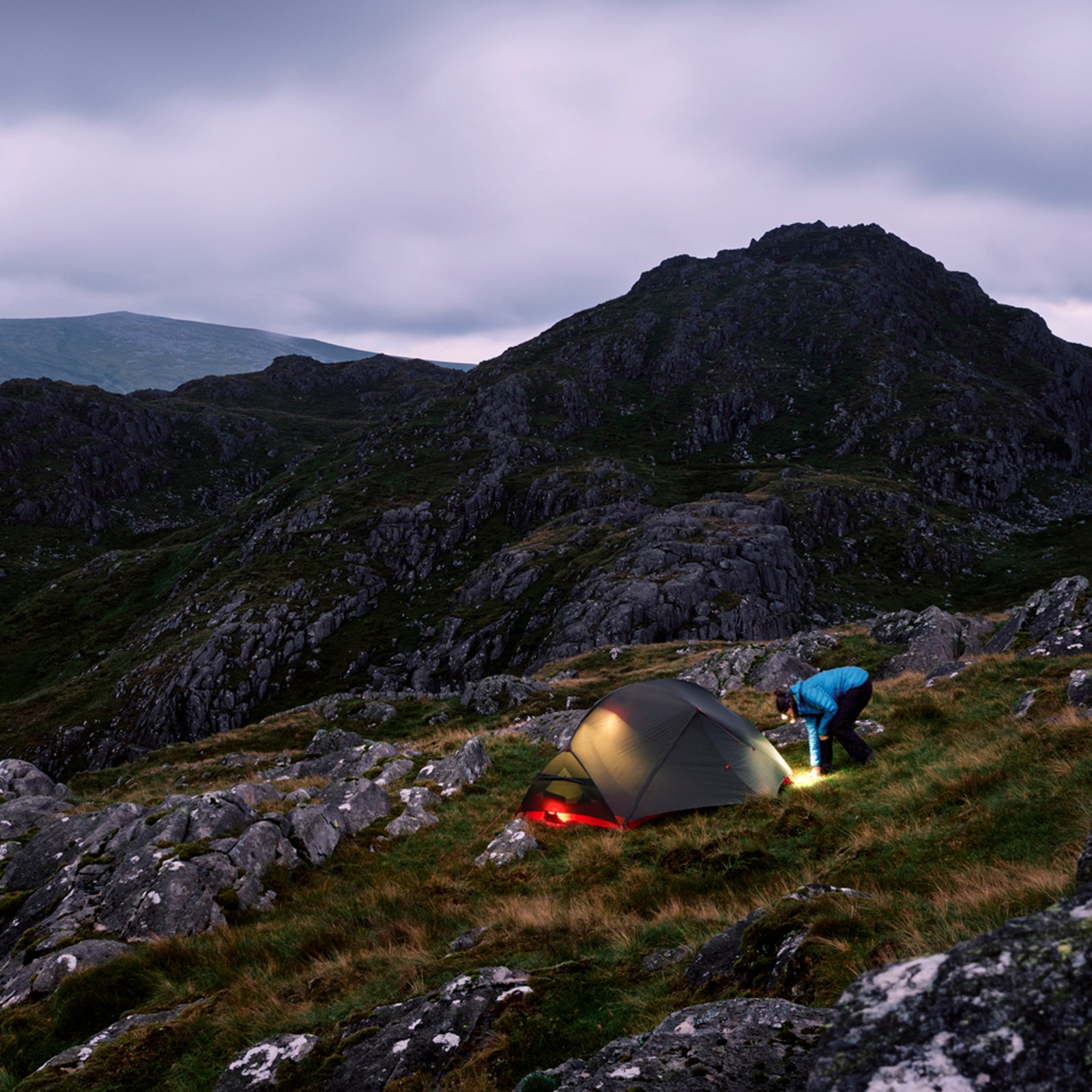 Liam Grant/Stocksy(Photo)
Heading out the door? Read this article on the new Outside+ app available now on iOS devices for members! Download the app.
Welcome to Tough Love. We're answering your questions about dating, breakups, and everything in between. Our advice giver is Blair Braverman, dogsled racer and author of Welcome to the Goddamn Ice Cube. Have a question of your own? Write to us at toughlove@outsideim.com.
---
During the COVID shutdowns, I have become highly motivated to get outdoors. In particular, my heart is set on a rim-to-rim hike of the Grand Canyon. I have minimal outdoor experience, but I have been doing my research (I am a nerd by trade), and have plans to start with smaller day hikes and overnight trips to build up endurance and experience. I don't have any friends or family who would want to go with me, and everyone I have floated the idea by reacts like I've told them I'm skydiving without a parachute.  None of them are outdoorsy either, so I don't know how much weight to give their criticism. I feel nervous, due to inexperience, but I'm not particularly afraid of the goal.  
So my question is this: Just how dumb is it for a small, twenty-something woman to hike alone? Is it really as stupid as my family makes it out to be? What advice should I absolutely know before I get out there?
I can't promise you that it's safe to hike alone. But I can tell you that I enjoy it—and I know a lot of other female hikers do, too. As long as you consider the dangers of a particular adventure, do what you can to minimize them, train appropriately, and make backup plans for if things go wrong, then you're not being foolish; you're being true to yourself.  
Danger and safety in the outdoors are, in many ways, subjective and variable. For instance, I'd feel comfortable heading out on a multi-week trek in the northern climates I know best, but if you asked me to walk five miles alone in the Arizona summer, I'd probably opt out, because I know that I'm sensitive to heat. It's not that one trip is inherently safer than the other; it's just safer for me. It all comes down to your skills, your body, and how well you know the environment.
In order to hike the Grand Canyon in a way that's relatively safe, you should aim to reach levels of competence in those three categories. You'll want to build your hiking and camping skills in general, mainly by practicing—which it sounds like you're already doing. You should train your body to complete a steep 20-odd-mile hike with a heavy pack. And you can study the Grand Canyon itself—routes, plants and wildlife, terrain. (Optional homework for a self-professed nerd: learn about the region's history and geology, and learn to identify a few plants by name. That knowledge isn't strictly necessary for this adventure, but it can bring depth to your experience.)
The last factor in your question is that you're female, which means your safety concerns may be less about nature and more about other people. Personally, when I'm outdoors alone, I'm most comfortable in places where there are either frequent passersby or basically nobody (I prefer the latter). You might consider planning your trip for a time when there will be more or fewer people on the trail, depending on your preferences. You could also buy or rent a satellite tracker for emergency communication.
If you do decide that you'd feel better with a partner, or just have more fun that way, I'd turn to the internet: check out hiking forums, hashtags, and social-media groups. You don't need to convince someone you know to undertake a wild adventure—you can find someone who dreams of the same adventure, and make friends that way.
And whatever you do, whoever you go with, I'm excited for you. You're planning something extraordinary, and you're definitely not going to be inexperienced for long.
How can I get excited about planning a solo outdoor adventure this fall or winter? I've been dutifully isolated in my studio apartment since March. Over the last six months, I've completed an advanced degree, bought a car to expand the radius I can explore safely, signed a lease on a one-bedroom apartment since it appears I'll be isolated at home for the foreseeable future, and studied for a professional licensure exam. All of those have been exciting, and I'm so grateful for the opportunities and privileges that they represent, but it's also been very hard to do all of that alone. Now, the biggest exam of my life is almost here and I desperately need something to look forward to afterwards. Usually, I'm happy to plan an adventure on my own and have gone on many solo vacations, hikes, and camping trips with just my dog. A couple of years ago I even flew to the west coast on my own to go downhill skiing for the first time. I truly don't mind taking a solo adventure, but the last thing I want to do right now is schedule more time to be alone. I've asked friends if they'd like to plan a safe weekend trip together this fall, but none of them have been particularly interested. I'm the only one of my friends who lives alone, doesn't have a significant other, and isn't close with their family. I know spending time outside will be good for my mental health and be a welcome respite after the last few months, but I'm having a hard time getting excited about any plans. I'm worried I'll end up cold and miserable, sitting alone in the woods and unable to enjoy the experience. Am I looking at this totally wrong? Are there outdoor activities I'm not considering that I could try out safely on my own?
How do you feel about finding a partner to hike the Grand Canyon rim to rim, at least once it's safe to do so? Tough Love has never been a matchmaking service before, but just saying, I have both your email addresses. Hit me up.
It sounds like you've spent the past months as an absolute model of pandemic productivity and self-awareness, and your sense of adventure and can-do attitude are freaking awesome. And also, wow, this time is hard. I'm amazed by you, and I'm also sorry that you've had to do all this alone.
As for something to look forward to this winter: you mentioned having a dog, and you mentioned being cold, and I think you should lean into both those things. You should go mushing.
Depending on where you live, it might not look like the kind of mushing most people picture, with huskies and a wooden sled (although dogsled tours are actually a fairly viable option for social distancing). But if your dog likes to pull their leash, you can get them a harness and teach them to pull on cue—whether they're pulling you on a scooter, bike, cross-country skis, or even on foot. And if your dog doesn't like to pull, you can still plan a trip based on what you and your dog would have fun doing together. I'm not saying you should plan an extravagant outdoor adventure for your dog, and then bring yourself along for the ride, but I'm not not saying that, either.
Whatever you end up planning, I'd recommend finding a way to document it. Keeping a journal, taking photos or videos, or making art about your adventure can make it less lonely, even if no one's with you at the time. And someday you'll be able to share those records with whoever you want—whether it's friends, family, or your future self. 
Lead Photo: Liam Grant/Stocksy