Buy One of These NFTs and You'll Get Discounted Wellness Drinks for Life
Leisure Project is selling NFTs to consumers who want a chance to "cocreate" a beverage brand—and a community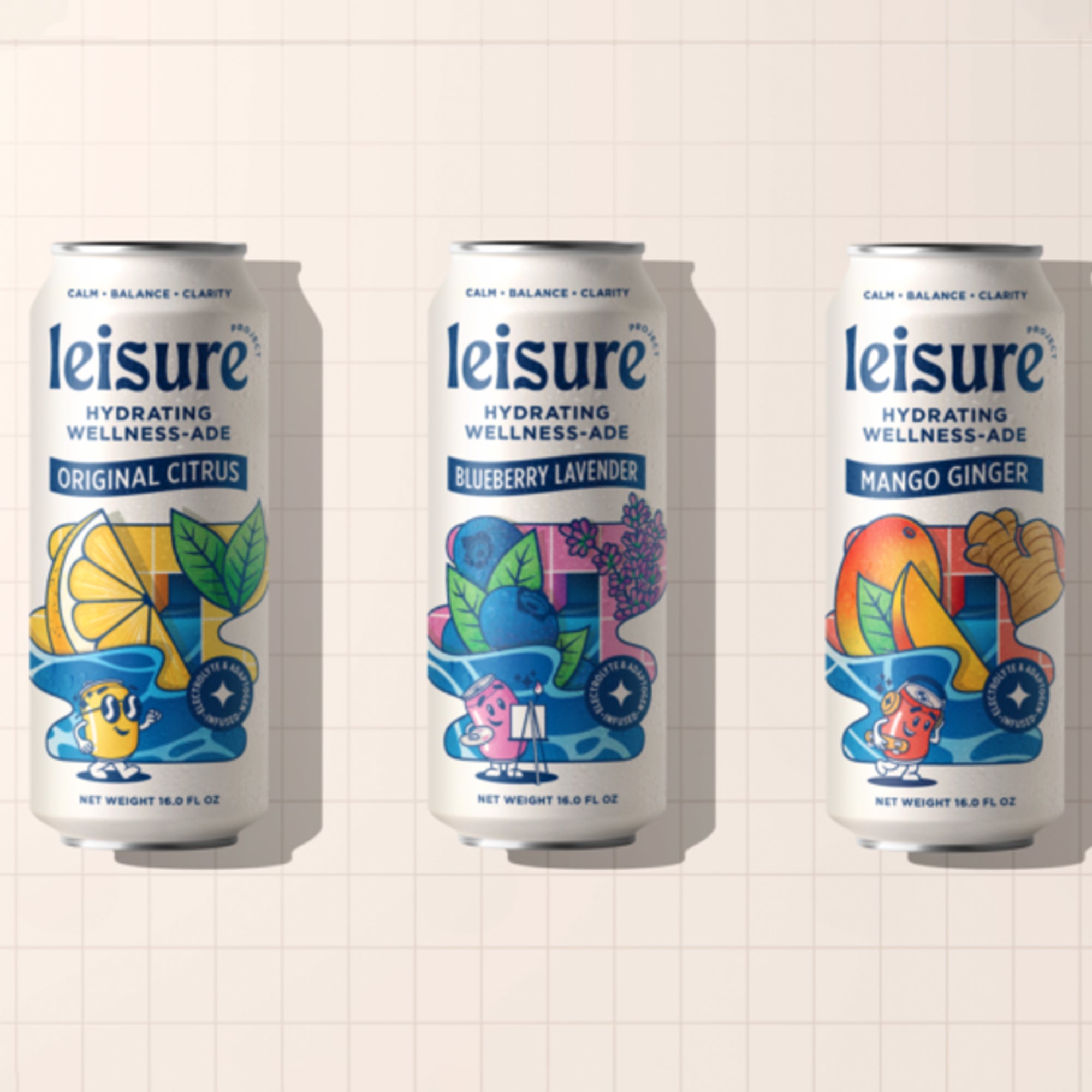 Heading out the door? Read this article on the new Outside+ app available now on iOS devices for members! Download the app.
Lots of start-up founders reach out to friends and investors to help bring their products to market. But the creators of Leisure Project, a new wellness beverage, are going about things a little differently. They're selling a limited-edition run of NFTs that will grant the buyers the opportunity to "cocreate" the brand with them from the ground up. In December, one of the company's founders stated on Twitter that they believed they were building the first consumer packaged goods company to use NFT and Web3 technology in this way.
Leisure Project's drinks promise hydration along with a variety of mental and physical health benefits. Available in original citrus, blueberry lavender, and mango-ginger flavors, the drinks include electrolytes, adaptogens, ocean minerals, vitamin D3, and other functional components formulated to enhance calm, balance, and mental clarity. "The Gatorade for creatives," as one tweet from the company pitched the product.
While you can't buy a can of Leisure Project just yet—more information about when its products will be available will be announced soon—you can buy one of 4,567 Leisure Creature NFTs. The original NFT art features anthropomorphic beverage cans wearing various cute accessories. The NFTs are priced at 0.08 ETH (Ethereum cryptocurrency)—about $241—and come with the opportunity to "cocreate" the brand along with its founders.
"When we say cocreate the future of the brand, we mean that we are building a brand that mutually incentivizes our NFT holders to engage and support Leisure over time," says cofounder Steve Michaelsen. "The strongest and most relevant brands of all time have always been rooted in the needs of a community. However, consumers of today want to be more involved with how brands show up and how they develop over time for their community. NFTs and Web3 fundamentally change this, and that's why we believe the brands that we will know and love tomorrow will be cocreated by the communities that consume their products and services."
To build that community, Leisure is creating what Michaelsen describes as "a membership model for the future" for NFT holders, dubbed the Leisure Project Hydration Club.
"You get amazing transactional benefits from the beginning—like free products and lifetime-employee pricing from our e-commerce site," he says of club membership, "but you also have opportunities to input into the future of the brand with new flavor and product recommendations, with events and experiences on the horizon once we sell out of our NFTs."
There's also a Discord community where Leisure Creature holders can meet up, and Leisure Project has tweeted that it intends to fund five Creators and Doers Grants of $10,000 each, with the funds going to members of the Leisure Creatures community working on innovative and creative projects of their own.
Michaelsen says Leisure is making efforts to ensure that it won't wreak havoc on the planet, from how they're handling the NFT technology to not caving to industry insiders who pushed for the drinks to be bottled in plastic.
"We've worked with an extremely talented development team, which has enabled us to reduce Ethereum Gas transaction fees on the Ethereum blockchain network to be as low as possible. We are very proud of the work that has been done by our team on this topic. Additionally, we are going to assess the overall impact over time to see if there are ways that we can offset any carbon emissions," he notes.
The NFTs went on sale March 21, 2022, and will remain available until Leisure Project starts its first production run of drinks in April.
From Vegetarian Times
Lead Photo: Courtesy Leisure Project