Ten Women Leading the Outdoor Industry
At the recent Women's Outdoor Summit for Empowerment, we talked to outdoor enthusiasts and change-makers about the future of the industry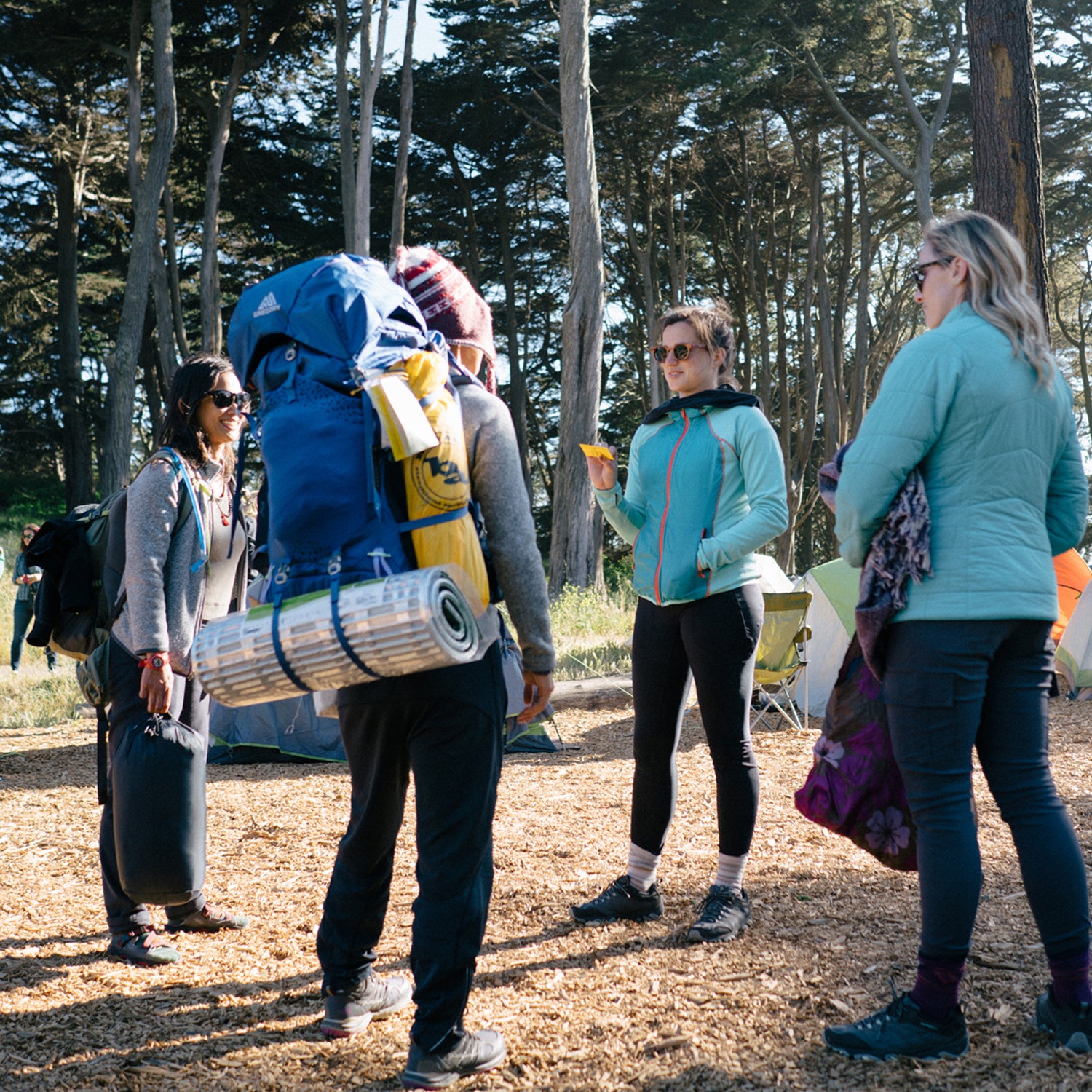 Nic Castellanos(Photo)
Heading out the door? Read this article on the new Outside+ app available now on iOS devices for members! Download the app.
For two days in June, more than 100 women—and a few men—gathered at the Presidio on San Francisco's leafy northern tip for the inaugural Women's Outdoor Summit for Empowerment.
Teresa Baker, founder of the African American Nature and Parks Experience, helmed the event. She was largely inspired by Kelly Martin, chief of fire and aviation management at Yosemite National Park, who testified before Congress in September 2016 about sexual harassment and gender-bias issues within the park. Spurred by Martin's courage, Baker convened an impressive group of established and emerging leaders to talk about issues of gender equity and diversity—and to start moving toward substantive change.
For a window into the wide-ranging conversations, we asked attendees what it will take to create a truly equitable outdoor industry. Here's what they had to say.
---
The Biggest Challenges They See 
Ava Holliday
Founding partner, the Avarna Group
The biggest hurdle for companies is actually the internal work, because they experience this resistance that the public doesn't see. [Diversity, equality, and inclusion] is also the least sexy work; the really fun stuff for people to see is amazing advocacy and ambassadors. I think that internal work is something that organizations forget about and that they can't tout as something they're really proud of.
Aparna Rajagopal-Durbin
Founding partner, The Avarna Group
[The] idea of leading with "diversity" has been really dangerous because it's almost like one step forward, two steps back. Outdoor companies that have attracted people of color have realized that they haven't worked to cultivate an environment within their organizations or in the industry as a whole that's inclusive, so people of color have left and told their friends, "Do not work for this company or do not work for the outdoor industry, because I was the only [person of color]. I experienced micro-level aggressions every day. There was a combination of 'bro culture' on top of unintentional things people say and do every day that disempower people based on their marginalized identities. That felt like death by a thousand tiny cuts."
Alyssa Ravasio
Founder and CEO, Hipcamp
The industry is run by men. So, one would assume for the most part that collaboration with these men is a requisite to success in this industry. However, should you as a woman collaborate with a man, all the credit will be given to the man. What are you supposed to do? I mean—it's so messed up. I got over that one by creating my own company, but a barrier to starting your own company is access to capital. The average funded company started by a black female raises $36,000; the average failed company started by a white male has raised $1.3 million. That's a huge barrier.
Elyse Rylander
Executive director, OUT There Adventures
People don't like to be told that they're wrong, and that the way that they have been living their entire lives is incorrect or harming another group of people. We feel very uncomfortable owning our own shit, especially folks that have been able to walk through the world with a lot of privilege. The outdoor industry is made up of a lot of those people. So I think that one of the biggest barriers is just getting people to a place where they can be real.
---
The Real Changes They Want to See
Hannah Malvin
​Recreation policy associate, The Wilderness Society
A big piece of the inclusivity discussion is making sure that we're serving all the ways that people like to be outdoors—there's no right way or wrong way. Oftentimes we focus on certain iconic ways of being outside, but people can enjoy any number of [experiences], from picnicking in a local park to taking their dog for a walk.
Rose Marcario
President and CEO, Patagonia
We tend to just look to our friends, because it's just such a congenial kind of industry, you know? Your friend gets you a job, and then—that's sort of how the industry works. So, I think we need to look outside of our usual networks for employment, for design, for all kinds of issues.
Georgina Miranda
Founder, Altitude Seven
If you really want to see change, you've got to change the dynamics of who's at the table making the decisions. So how do you change that? That goes deep. That's companies having a good development pipeline to have a robust group of potential leaders being developed in your organization to hopefully move up the ranks. From the entrepreneurship side, that's getting more female investors and more investors of color. That has to happen. When those numbers change, you'll probably see the change level out on the other side, too.
---
What Gives Them Hope
Teresa Baker
Summit organizer and founder of African American Nature and Parks Experience
The fact that I'm starting to see more communities of color in the outdoors. That when I go [outside] here in the Bay Area—the Golden Gate National Recreation Area, Muir Woods, if I go to the Oakland Hills hiking—I'm starting to see me, and that's important. All too often, I'll see a person of color, and I'll be like, "Wow." We don't have to speak, but we'll just acknowledge to one another that we're in that space. For me, that's what it's about—creating connections so that ultimately, when it comes to defending places like our monuments, you'll have more people in that fight.
Paulina Dao
Blogger at Little Grunts and social media coordinator for Bay Area Climbers Coalition
I am hopeful because summits exist like this one, where conversations and connections occur outside of the regular faces seen at trade shows. Customers are starting to hold their favorite brands accountable for the messages and stories in their campaigns.
Carolyn Finney
Author and professor at University of Kentucky
When I see people who are new to the outdoor industry and have these ideas of diversity already—I get excited when I don't always have to say anything; I can just be in the room. Sometimes people will say, "These businesses have the money and the resources, they really should be doing more." And I say, "They're people, and you have to meet them where they are." Because we treat these companies sometimes as entities—and I know they operate with a certain amount of power, but they're made up of individuals. We don't have to worry about trying to bring down Goliath; let's talk to all the Davids who work there and find out how we can build relationships and see what they're doing.
Melanie MacInnis
​Director of outdoor activities, Sierra Club
When I look at the Sierra Club and think, "Gee, we have so far to go," I also look at the Sierra Club and think, "Holy shit, we have come a long way!" Because if the Sierra Club—with its deep roots in racism, sexism, and systematic oppression, can start making these systematic changes—you know, we have a frickin' equity department now with volunteers and staff! It's huge! So, if this organization can do it, why not anybody else?
Hannah Malvin
I think there's sort of a tide rising with people who are getting that it's not about being lucky, it shouldn't just be that those of us that were lucky to have outdoor experiences get to fall in love with it and get to enjoy it—everyone should have the chance. I think the outdoor industry and the community are getting that, so we're on the cusp of some really good changes.
Kelly Martin
Chief of fire and aviation management, Yosemite National Park
What gives me hope is that this summit was sold out so quickly. It was like people just know that this is the hope for our future, this is the hope for young people wanting to make careers in natural resources. I hope we look back on this as a pivot point that, when we all return to our home units, we have the hope to carry on, literally, the flame from this summit to really help make a change.
Aparna Rajagopal-Durbin
I left the outdoor industry because I was told they weren't ready for the kind of conversations I wanted to have, and knowing now that they're having those conversations with me gives me hope. [Another] thing that gives me hope—and this might seem like a hopeless piece—is that there are people with marginalized identities who have been in this industry and decided, "I am trying to work within a system that was not set up with me in mind, by people who don't identify the way I do." So people are just leaving this system, or this industry we're calling the "outdoor industry," and doing their own thing. Unfortunately, unless the folks who are now calling themselves the "outdoor industry" get on that bandwagon, they're going to be left behind.
Lead Photo: Nic Castellanos
Trending on Outside Online