Climbers of Color Brings Diversity to the High Alpine
Most of mountaineering's teachers are white, but one group wants to change that through new hands-on workshops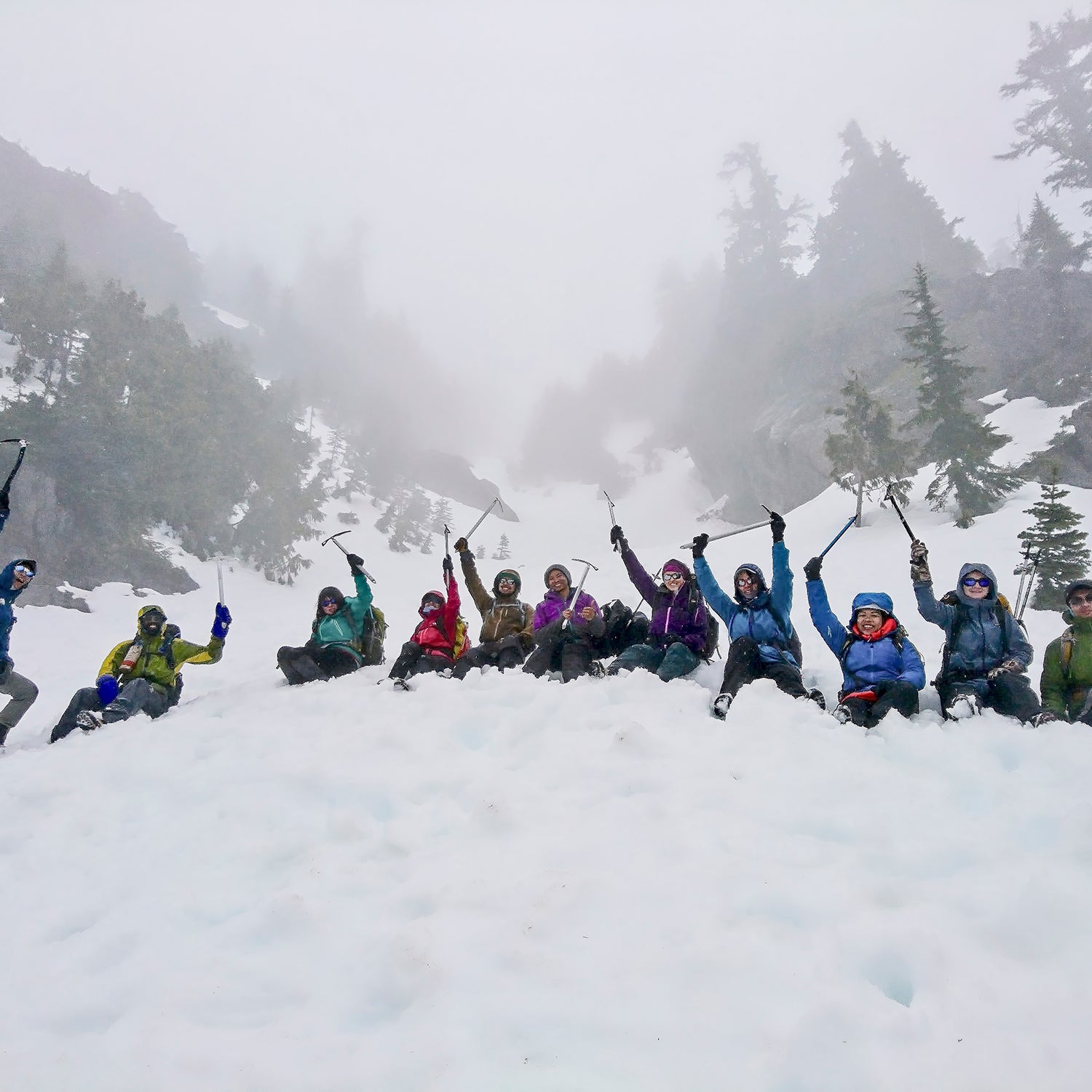 Courtesy Mariko Ching(Photo)
Heading out the door? Read this article on the new Outside+ app available now on iOS devices for members! Download the app.
A black man, a Mexican American woman, and a Filipino American man walked into a park. On a gloomy April afternoon in Seattle, they'd been given a set of coordinates and were instructed to find each one, in sequence, using their maps, compasses, GPS apps on their mobile phones, and, on occasion, their wiles. This meant locating numbered poles planted in wetlands, brambles, and soccer fields. As they bantered about being among the only nonwhites living in rural towns, the trio located the landmarks and, before long, were down to the last one.
Gabe Juzon, a yoga instructor and Lululemon ambassador from Eatonville, Washington, decided to stash his compass, declaring that he'd eyeball the final checkpoint.
"Practice your orienteering," urged Denver-based climber Monserrat Matehuala. "I am Oriental," Juzon quipped. "I was born this way."
They laughed, because they could. The weekend was meant to be a safe space for outdoorsy people of color, carved out of a large swath of whiteness. The participants were halfway through a workshop that kick-started Climbers of Color, a Facebook meetup founded with the goal of creating a solid foundation of nonwhite mountaineering leaders. Juzon pocketed his navigation device, and the group quickly found the last checkpoint. They were to reassemble, mountainside, early the next morning.
But first, dinner: northern Chinese biang biang noodles, served at a hole-in-the-wall joint near the University of Washington. There, Climbers of Color founder Don Nguyen joined a group of mostly other Asian Americans, clad in plaid shirts and moist boots. The party included his workshop partners Christopher Chalaka and Mariko Ching, who together founded Outdoor Asian in 2016 to connect people of Asian and Pacific Island descent by organizing outdoor activities across the country. It was Nguyen's insight and persistence that united them. Another partner, Nicco Minutoli, provided technical support during preparation for the gathering.
In 2016, Nguyen started a guiding career with International Mountain Guides in Washington, eventually landing with Alpine Ascents. On the mountaintops where he made his living, the racial composition of fellow leaders and climbers was predominantly white. Nguyen saw climbing culture as generally closed and judgmental and, after moving to the Pacific Northwest from a small community in Oklahoma City, Oklahoma, he continued to note an absence of climbing mentors, particularly for people of color.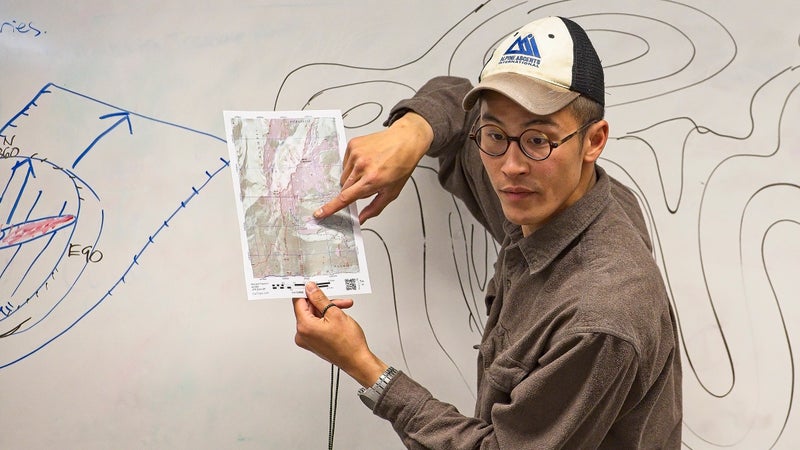 But Nguyen, 30, seldom balks at barriers. He is the son of a doctor from Vietnam who was a prisoner of war for four years. Thuong Nguyen told his son tales of surviving the ordeal by subsisting on rice and pumpkin. Thuong and his family fled to the United States after he was released from prison camp in 1979; Saigon had fallen four years earlier. They eventually relocated to Oklahoma City, which, because of the influx of war refugees, has one of the largest Vietnamese communities in the country. His family's experience, Don Nguyen says, is a reminder that "people have done better in worse situations. They didn't have a choice."
Improving inclusion at altitude didn't seem like a choice for Nguyen. It was more an imperative whose mission began to crystallize during conversations he had with Minutoli at a wilderness survival skills camp they taught in 2016. The Outdoor Asian founders brought social media savvy and organizational skills that prompted the group to stage its first workshop, meant to "teach the teachers," as Nguyen says. They hoped the inaugural cohort could form the beginnings of a wave of nonwhite guides, mentors, participants, and advocates that could help alter the face of mountaineering.
Alpine Ascents, Outdoor Research, Patagonia, and Petzl either discounted or loaned the meetup gear, which helped Nguyen keep the April clinic free. Applicants were recruited solely through Facebook outdoor groups for people of color, then vetted for skill level and their commitment to paying the training forward. For Nguyen, Chalaka, and Ching, that meant a spectrum of a dozen participants, including everything from professional guiding to inspiring and mentoring friends to simply wanting advanced skills to attempt more challenging outdoor adventures.
The climbers consequently had varying levels of recreational and outdoor leadership experience. Matehuala is an outdoor educator and leader in the affinity group Brown Girls Climb. She flew in from Denver for the opportunity to acquire more skills in, as she said, "a space with other people of color." Doug Barclift, a veteran from Orting, Washington, is an experienced sport climber and backpacker seeking to become the second African American man in the country to open a climbing gym. "Mountain" Dieu (pronounced "dew") Nguyen (no relation to Don) is a mother of two Boy Scouts; she went from doing her first sunrise hike with a glow stick and cellphone flashlight to self-taught mountaineering that helped her summit Mount Adams, Mount St. Helens, and Mount Hood with her friend Hannah Hanson, who also attended the workshop.
The two-day training began at a neighborhood library branch in north Seattle and focused on navigational skills and trip planning. Amid talk of declination, waypoints, and terrain association, Nguyen also imparted his do-as-I-do approach to outdoor leadership. He told to the group that "you are ambassadors for people of color outdoors" and should emulate the highest standards expected from professional guides, right down to a tidy backpack and impeccable form. "If people see you doing it the right way, they'll do it too." They ended the day tracking down waypoints in a slight drizzle at Magnuson Park.
The second day was spent in the field, at Mount Ellinor, on Washington's Olympic Peninsula. There, the group held a mock guide meeting, practiced breaking trail in the snow, and, with Ching's assistance, learned to self-arrest falls with their ice axes. Nguyen continued to stress pacing, his pet peeve in guiding. In a typical scenario, he explained, the strongest move to the front and the weaker members fall back and, soon, everyone is spread out. He told a cautionary tale of a snowshoe trip at Mount Rainier where leadership assumptions went badly awry and two clients fell to their deaths in near-darkness.
Nguyen hammered in the point: In the mountains, everyone rises together. This may as well be the Climbers of Color motto. Inclusion is paramount, in every way possible. "We want to be guides for everyone," Nguyen says.
Climbers of Color plans to host its Mountaineering Leadership II workshop August 8–10 on the slopes of Mount Baker.
Lead Photo: Courtesy Mariko Ching
Trending on Outside Online