Indefinitely Wild
Why Swamp Monsters Support David Bernhardt
The Acting Interior Secretary's confirmation hearing was already absurd. Then the Greenpeace protestors showed up.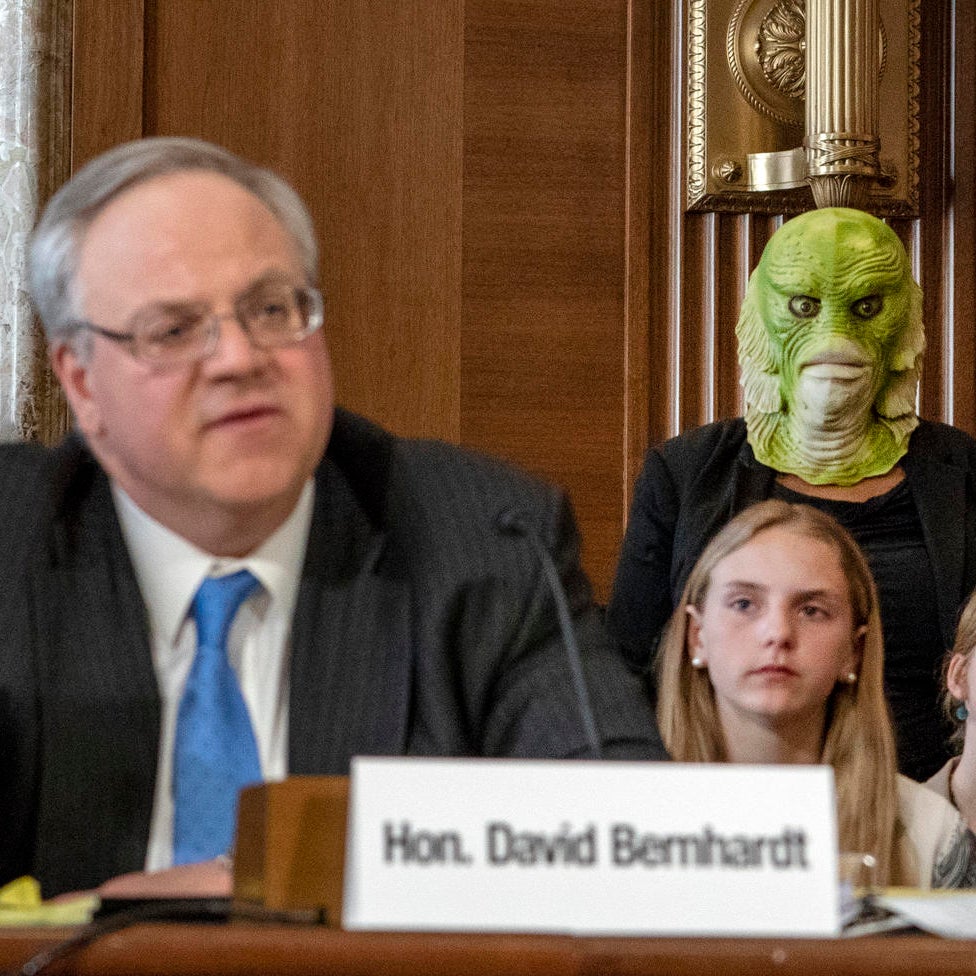 Heading out the door? Read this article on the new Outside+ app available now on iOS devices for members! Download the app.
Let's just say it: Thursday's Senate confirmation hearing for acting Interior Secretary David Bernhardt was absurd. The former lobbyist for the oil, gas, and agriculture industries has barely tried to cover up the fact that he's spent his tenure at the Department of the Interior working in the sole interest of his former clients. Just this week, news broke that he'd not only kept oil and gas permits flowing for his former clients during the recent 35-day government shutdown, but also risked the fate of over 1,200 endangered species by suppressing a scientific report that could have been detrimental to the pesticide industry. Yet Republican Senators at the hearing fell over themselves to laud Bernhardt as a model of ethical behavior. 
Heck, Colorado Senator Cory Gardner (who's taken $47,000 in campaign donations from Bernhardt's former lobbying firm), even apologized to the acting secretary after Oregon Senator Ron Wyden asked the nominee if he could explain the above as anything other than flagrant corruption.
As far as swamps go, the hearing was basically knee deep in muddy water. So, when three audience members donned rubber swamp monster masks and sat behind Bernhardt in silent protest, the absurdity felt fitting. 
The protest was carried out by Greenpeace activists Adrienne Lowry, Layla Anthony, and Irene Kim. For two hours, they sat silently in their masks, before security escorted them away. Eager to hear what they had to say, in character, I reached out once the hearing had wrapped up. 
OUTSIDE: How should we refer to you? 
SWAMP MONSTERS: We're just swamp monsters. Three of many. 
Why does the swamp monster coalition support the nomination of David Bernhardt?
Us swamp monsters, we got a little worried when Trump was saying that he wanted to drain the swamp. Like, that's us. But, when Bernhardt was nominated to run the Department of the Interior, we were overjoyed. He's really someone who can bring our corporate interests into the government. Now there's nothing in the way of drilling for more oil and gas. The biggest swamp monster of us all is about to become secretary of the Interior. 
Wouldn't a swamp-dwelling monster benefit from clean water? 
What we really benefit from is money. With all the money that Bernhardt is going to make us, we can buy all the bottled water we need. We don't really care about anyone else.
Is corruption something inherent in being a swamp monster or is it something swamp monsters seek out? 
I don't think swamp monsters start out corrupt; I think it's something we're exposed to, then adopt as our own. 
As a relatively rare creature, do you not feel some sympathy for endangered species?
Maybe it's their fault that they're going extinct? Couldn't they have just worked harder at avoiding becoming endangered? As swamp monsters, we really just care about ourselves. 
How does one swamp monster recognize another? Is there a secret handshake?
You can really see it in their eyes, one swamp monster can definitely recognize another. Also, Google is really great. Being able to just look up someone's background, you can tell pretty quickly if they're a swamp monster or not. 
Do you think other swamp monsters in attendance today appreciated your show of support?
Bernhardt did not seem very happy about it. He didn't say hello. He didn't turn around. I'm going to be honest, it was a little hurtful. 
What qualities does the swamp-monster community look for in a leader?
I mean, to work as a senior lobbyist for oil and gas, and then be put in charge of public lands and water? I think it's pretty clear that we've found our leader.
One of Bernhardt's main achievements so far is a proposed budget that would slash national park funding. What specific beef do swamp monsters have with that agency? 
They're something we can't make money off of. The parks are beautiful, but if I defund them, then I can open them up for drilling and make money. Which is the entire point of being a swamp monster. 
Is there one achievement of Bernhardt's for which you're most proud? 
The fact that a man who once sued to dismantle the Endangered Species Act is now in charge of implementing it is just the con of all cons. As a swamp monster, I think that's great. 
Lead Photo: Ken Cedeno