When to Have Kids When You Work in the Mountains?
Women who work as guides and professional athletes face a tougher go than their male counterparts if they also want to raise children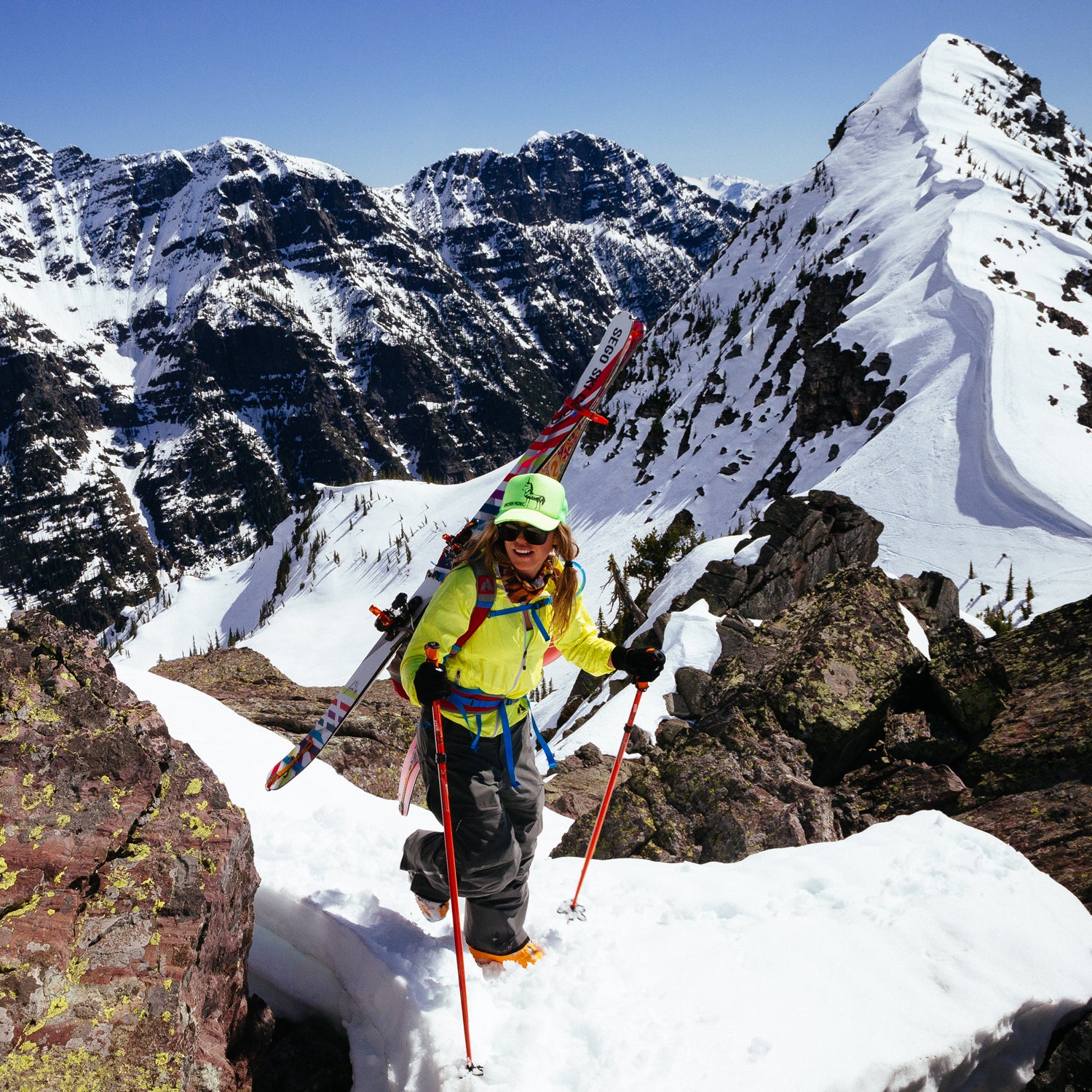 Heading out the door? Read this article on the new Outside+ app available now on iOS devices for members! Download the app.
In January 2018, a helicopter lifted off the ground in British Columbia's Purcell Mountains, leaving a knot of 11 skiers crouched in its wake. Shannon Werner stood up and led the group down the slope, tasked with finding the best powder turns—and keeping them alive in the remote backcountry terrain.
Werner is a ski guide with the Canadian Mountain Holidays–run wilderness lodge Bobbie Burns. She works at the lodge for two weeks at a time, and each day is packed. It starts at 6:30 a.m. with a guides meeting, then she spends the next eight hours skiing up to 40,000 vertical feet; making calls about runs, conditions, heli drop-offs and pickups; managing the group; and ending at 8:30 p.m. On her days off, Werner is an avalanche forecaster with Avalanche Canada, putting in long days analyzing snowpack across the country. From the time the snow starts falling until well into spring, Werner rarely has a day off.
In the midst of all this, at 38 years old, she's deciding whether or not to have a child.
This decision can be uniquely weighty for women who are big-mountain professionals, including mountaineers, pro skiers, and guides. These jobs are particularly rife with logistical hurdles for mothers: They are heavily male-dominated, centered on risky endeavors that require top physical fitness, and often involve multiday, potentially high-consequence missions in the backcountry. While there's been some progress over the past few decades, women are still fighting for workplaces that don't revert to the status quo of requiring them to choose motherhood or career, especially if they want to move up the ranks.
Werner is part of the Association of Canadian Mountain Guides (ACMG), in which only 9 percent of ski-trained certified guides are women. In its U.S. counterpart, the American Association of Mountain Guides (AMGA), 8 percent of ski guides are women. Worldwide, only 105 of the 6,937 mountain guides certified by the International Federation of Mountain Guides Association (IFMGA) are women. Forecasting programs also tend to have few women in top positions; Werner is the only woman in a full forecasting role at Avalanche Canada.
She knows that having kids would mean major changes to her career trajectory.
"Of course [the decision to have kids] is why the numbers are smaller. It's not about women being fit enough or strong enough or not having the right academic background," Werner says. "I know motherhood is possible, but for me personally at this point in my career, I have to be strategic and plan it. It's not an easy industry to just let it happen." She knows that having kids would mean major changes to her professional life.
A ski or mountain guide's career path is a particularly intense illustration of the logistics facing any big-mountain professional. It's a lengthy process requiring several years of dedication to top physical fitness and nearly continual stints in the backcountry during winter. For most national associations, certification involves demonstrating several years of backcountry skiing experience, belaying experience, and basic alpine climbing systems. According to AMGA requirements, guides must also demonstrate the physical fitness to ascend and descend 4,500 vertical feet per day.
Those are just the prerequisites. Training then involves several seven- to ten-day courses and certifications, including an alpine skills course, ski guide course, avalanche training, and backcountry medical training; a one- to three-year stint as an apprentice guide; and, finally, passing a multiday guide exam to become a fully certified guide. To become an IFMGA mountain guide, candidates must complete all three certifications in rock, alpine, and ski. It can take anywhere from two to ten years to complete this process, with most guides estimating an average time of four years. And it's difficult to take time off in the middle of the process.
Some associations have tried to develop maternity policies that fit into this long process. For example, the New Zealand Mountain Guides Association (NZMGA) has what's called a lapsed member policy. "This means you can hold your professional development requirements while taking a leave of absence for as long as you need," says Anna Keeling, an IFMGA-certified mountain guide who works as a trainer and examiner for NZMGA. "You can pick up where you left off in terms of guide exams. But the danger, of course, lies in the loss of fitness, hard skills, or confidence. You'll need to train back to proficiency." But NZMGA is unique in having such a codified policy; ACMG and AMGA don't yet have formal maternity-leave policies for pregnant members or aspirants.
Beyond the lack of official policies, other obstacles remain for new mothers trying to return to this work. Once certified ski guides like Werner join a heli-ski or cat-ski operation, they're headed up by a lead guide who directs all logistics for running the program on the mountain. It generally takes four to seven years of experience at any given operation to become a lead guide there. "If that's something you want to work towards, you have to be there full-time," Werner says. "So if you got pregnant and had to leave your operation for a stint, and they didn't find a town-based job for you for those first couple of years, you'd have to start all over at another operation—and even if you're an experienced guide, it would take another several years to get to lead guide."
Danyelle Magnan, a 39-year-old ACMG-certified ski guide and avalanche technician who's training to become a full avalanche forecaster, remembers sitting down with a mentor early in her career to talk about her professional aspirations. She recalls being asked whether she planned to start a family. "At that point, I hadn't really thought about whether I wanted children," Magnan says. "But I remember them saying that if guiding were in my future, having kids would be a setback. That the ACMG certification requires a lot of commitment, and you wouldn't want to give up something you'd worked so hard for." Magnan says that didn't steer her away from her commitment to a big-mountain career, which was something she'd wanted to do her whole life, whereas having children has never been one of her life goals.
Both Magnan and Werner are enjoying high points in their careers, trained to the unique level of knowledge and field time required for avalanche forecasting. "You're in your late thirties by the time you're a major contributor to the industry as a pro guide or forecaster," Werner says. "That's why the choice of starting a family absolutely steers your professional decisions. Having a child would definitely affect my career for a few years, and that's how it should be, because I'd want to give my child and family 100 percent. But it would be a hard transition with my career."
"Pregnancy is akin to an injury in the sense that you have to look after your body and prioritize things other than your sport."
For pro skiers, that career peak—as a formidable competitor, as coveted talent in ski films and brand content, and for expeditions—generally happens smack in the middle of prime childbearing years.
Lexi DuPont, 29, is a pro skier sponsored by Eddie Bauer and K2 who's been featured in films like Tracing Skylines and Wintervention. "I have friends who are getting married and having kids, and I haven't even touched my full potential. Every season, I get better. I don't want to interrupt that constant progression; I want to maximize it as long as possible."
Several female pros are on the same page with waiting to have children for physical reasons. "Pregnancy is akin to an injury in the sense that you have to look after your body and prioritize things other than your sport," says Kim Vinet, a 34-year-old pro skier based in Revelstoke who has already interrupted her career for a couple winters due to multiple knee injuries. "I'd always planned to adopt even before I became a professional athlete, and so I've never had to worry about losing my capacity for fitness with pregnancy."
DuPont points out that a mother would be likely to take at least a year off from intense skiing while having a baby, "whereas a father's going to keep hard-charging every day until the baby comes and likely get to keep skiing while a mother attends to recovery, breastfeeding, and all the other biological realities of having a baby."
Lynsey Dyer is a pioneer in amplifying women in the big-mountain industry. She founded SheJumps, which aims to increase the participation of women and girls in outdoor activities, and Unicorn Picnic, the production company behind the only all-women ski film Pretty Faces. Dyer has watched many of her industry role models transition to motherhood. "I had this vision that those skiers got what they needed out of the pro ski life and were ready to have kids. I wanted to tell myself that everyone makes this beautiful transition from wanting the glory and the freedom. But it isn't the pretty story we want to hear; it's hard, and it's uglier and messier and more real than I ever wanted to see it. They still want the glory and the freedom, and that transition is hard."
For one thing, Dyer feels that many women aren't given the option to prioritize their career after having kids, because they can't make the travel and training work if their partner isn't willing to take care of kids and everyday logistics full-time. "If you don't have a supportive husband, the question becomes whether you can afford for someone to take your place for your kids," Dyer says. "It's the unsaid truth about this whole industry. Lots of people could climb mountains if they could afford it."
Almost every woman I interviewed used the word "selfish" at some point in the conversation with regard to wanting to put their career and ambitions first. It's a common narrative in Western culture. But when taking into account the heavy factors that big-mountain professionals weigh in thinking about whether to bring children into their lives, the question arises: Can we create another narrative? It may be time to make room for alternative trajectories of motherhood—as well as the trajectories that don't involve children at all.
Dyer feels that female big-mountain professionals wouldn't have to give up their careers to the same degree if we flipped the industry concept of "adventure wives" on its head. In the male-dominated mountain world, it's often the case that while the husband is out on expeditions, missions, or working in the backcountry for long stints, the wife usually stays behind to care for the children and everyday logistics. It's still rare for both partners in a relationship to split childcare evenly, let alone for the man to take on the majority of care while the woman pursues an outdoor-based career. "We should celebrate that role of the supportive man, because it's new and not necessarily 'cool,'" Dyer says.
"We can continue to grow the sport in other ways beyond being just the gnarliest chick."
DuPont believes it would also help if pro skiers felt more valued in the ski industry beyond always finding the next big line, shooting films, and keeping up a nonstop adrenaline-filled social media presence—she would like to find additional ways to enrich her career if she started a family. "I wouldn't continue my ski career the way that I am now if I had kids. You want to be there and dedicate your time to them, and the skiing takes a backseat," DuPont explains. "But then you have to go back to your definition of what it means to grow as an athlete. Maybe it means developing product, creating, or getting that next generation involved, and that's just as important as a medal or getting the next best trick. We can continue to grow the sport in other ways beyond being just the gnarliest chick."
While professional skiing doesn't require certifications and courses the way guiding does, it does call for a tremendous amount of dedication to develop and maintain the skills and strength necessary to stay relevant in the big-mountain world, which generally means pushing limits in the backcountry to deliver the content that sponsors and media expect. Adding the equally tremendous dedication of the traditional model of motherhood into the mix can often seem like an impossible proposition.
Diny Harrison, the first Canadian woman to become an internationally certified mountain guide, talked over the idea of kids with her husband just after she finished her last guide exam, in 1992. "I was with someone who I felt secure with and could support a family. But then he said, 'Of course, if you have children, you can't work as a guide anymore,'" she says. "And that was the end of that conversation, as I had just worked so hard to become a full guide that I wasn't going to give it up."
Harrison muses that if she had children, she might have made the decision herself to step back from her career, but to be told from the get-go that she had to choose between the two meant she sided with her career—which has been an illustrious one, and she has no regrets. Harrison has skied and guided all over the world and now guides with Mustang Powder in British Columbia. She also works as an instructor at the SheJumps Alpine Finishing School, an all-female ski mountaineering course, passing on her knowledge with an aim to bring more women into the sport—whether motherhood is in the books for them or not.
Lead Photo: Jay Goodrich