Is Instagram Ruining the Great Outdoors?
Social media can expose tens of thousands of people to places in an instant. That's a double-edged sword.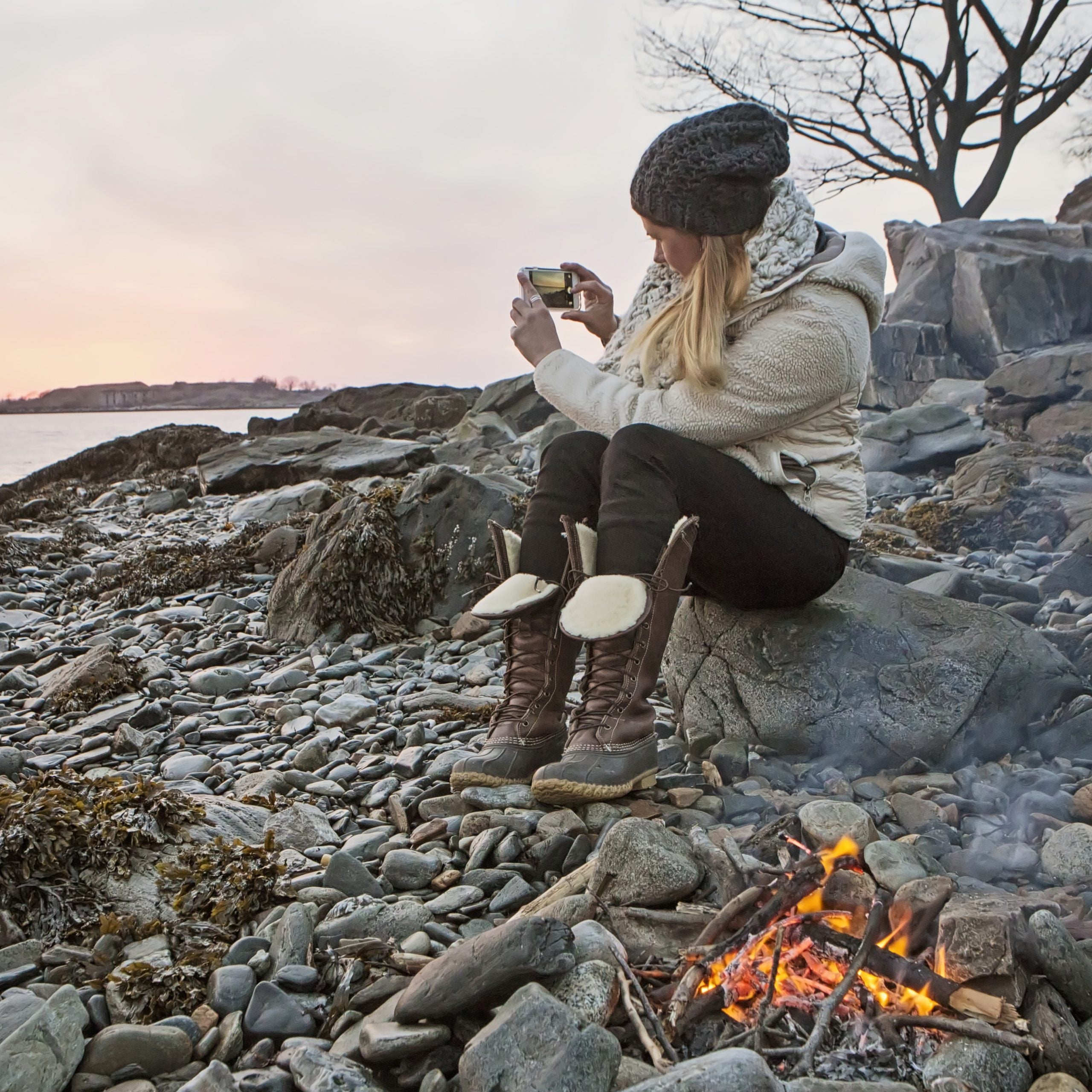 Heading out the door? Read this article on the new Outside+ app available now on iOS devices for members! Download the app.
The great outdoors is all over social media. On Instagram, the hashtag #nature has been used more than 20 million times. Attach a geotag to your photo of last weekend's campsite, and your followers can tramp to the exact same spot.
Some nature lovers worry about the downside to this: Is Instagram funneling hordes of people to places that can't handle this crush of admirers? Are those filtered, perfectly tinted pics sending a message that people can always go where they want, when they want, and how they want?
In September 2015, photographer Scott Rinckenberger posed a similar question to his then 44,000 followers on Instagram. "Should we all be sharing the locations of the beautiful photos we share on social media, or should we withhold the locations in an effort to protect these fragile places and keep the outdoors a place of exploration and discovery?"
Rinckenberger, a 38-year-old Seattle photographer, had noticed that certain alpine lakes in the Cascades would trend on Instagram. A longtime backpacker, he watched as shares of images of a few high lakes would spike, followed soon by noticeable increases in hiker traffic to those lakes, even though many weren't previously well known. The trend intrigued and concerned him: alpine areas that could handle only three or four parties were now overflowing with "ten times that many people on a given weekend," Rinckenberger says.
This isn't just happening in the Cascades, of course. In Virginia's George Washington and Jefferson National Forests, a nondescript swimming hole called the Devil's Bathtub was all but unknown to outsiders until it was posted on Instagram about three years ago. After it caught fire on the platform, a place that might see ten or 20 people per day during peak season suddenly began to see 400 per day, say U.S. Forest Service officials.
In 2015, rangers at Denali National Park, which has only a handful of formal hiking trails, began asking backcountry hikers not to post precise maps or GPS coordinates of their adventures on the web, the Alaska Dispatch News reported. The goal was to avoid further creation of "informal trails" and the damage they bring, as well as to preserve the trail-less, choose-your-own-adventure philosophy of the park, the story said.
That same year, photographer and national park ranger Christina Adele Warburg wrote about finding a photo on Instagram that featured a person camping with an open fire on the shore of famed Schwabacher Landing, in Wyoming's Grand Teton National Park. Though the activities were against park regulations, the photo had been liked more than 10,000 times. "People see that and say, 'That's so cool. I want to go do that,'" says Warburg. "It's just a giant snowball effect. It's out of control."
---
This tension—between wanting more people to enjoy the outdoors while preserving their wildness—isn't new, says Ron Judd, a longtime writer for the Seattle Times who has written a half-dozen guidebooks on camping and hiking in the Pacific Northwest. When guidebooks hit the outdoor world in the 1960s, some railed against the new democratization, claiming the authors were pointing too many people to places that had been hard-earned secrets. In defense, many of those authors "made a big argument that all those boots on the ground created a political constituency of voters" that helped to conserve wild places, Judd says.
Yet social media's spotlight is exponentially brighter and more focused than that of the guidebooks. Judd's book sold about 40,000 copies over five years and was considered wildly successful, he says. "Now you can put 40,000 eyeballs on a place in five minutes. That's kind of a scary thing when you think about it."
"This tension—between wanting more people to enjoy the outdoors while preserving their wildness—isn't new."
We live in an increasingly urbanized society. Social media is "how a lot of people of my generation and younger are getting introduced for parks to the first time," says Casey Schreiner, founder and editor-in-chief of Modern Hiker and author of Day Hiking Los Angeles. "Because there's a low barrier to entry, you get a broader audience [with Instagram]," people who in the past might not have felt as welcome in places like parks or national forests, Schreiner adds. That's a good thing, he says.
Managers of public lands are desperate to engage young people with big new marketing campaigns targeted toward the demographic. At Glacier National Park, staff has made a conscious effort to use Instagram, Facebook Live, Periscope, and Snapchat "to connect with a different generation," says Bill Hayden, the park's interpretive specialist. Glacier's Instagram account has 458,000 followers. The goal isn't just to drive visitors to the park, but also to form or maintain a bond with people who have been here "and stay connected," Hayden says. The Instagram account of the Department of Interior, with its sumptuous photos from the nation's refuges, parks, and monuments, is followed by 1.3 million people.
When you have that many eyeballs looking at beautiful places, it's only natural that more people will feel inspired to see them. "Instagram tends to drive people to the same locations," says Stephen Matera, an outdoor sports and landscape photographer in Seattle who has noticed the phenomenon. Frequently, one reason these places are so photogenic is because they are not frequently visited. They're often fragile.
Consider a photo that Glacier National Park previously posted on its Instagram feed of Clements Mountain. It was a gorgeous shot, says local photographer Tony Bynum, vice president of the Professional Outdoor Media Association and a critic of the park's approach to social media. The problem? That area of the park was closed due to overuse prior to the photo being taken. Yet "if you read the comments, and you go down through them, everyone is saying, 'Where is this? I want to go there,'" says Bynum. Lower still in the comments were directions about how to reach Clements, despite the closure, he says.
As Ben Lawhon, education director at the Leave No Trace Center for Outdoor Ethics, put it, "Most people do not wake up and say, 'How can I harm the earth today?' What it boils down to is a lack of awareness, a lack of knowledge."
---
To protect these places, says Schreiner, the gulf must be bridged between those who manage lands, the outdoor agencies and groups, and the people who want to experience nature and also care for it.
With Instagram, national parks and other agencies have an amazingly powerful tool for education, says Bynum. They need to wield it more consistently and aggressively to teach a land ethic. That picture of a scenic campsite? Tag it with a brief, friendly note about the park's regulations about campfires or the proper distance to camp from a lake, he says.
"Technology moves in interesting ways," Hayden says. "I guess our job is to make sure that we're doing that in a thoughtful way, and hopefully we are."
Yellowstone National Park recently began the #YellowstonePledge campaign, a new strategy to foster both a sense of ownership toward the park and a respect for it. The campaign encourages people to read and take the pledge ("Practice safe selfies by never approaching animals to take a picture," for example, or "Stay on boardwalks in thermal areas"), and then post the hashtag #YellowstonePledge to Instagram, Twitter, and Facebook. The campaign has been reaching out to influential outdoor photographers and Instagrammers. The hope is to start a groundswell of interest that's based on education and building up the community—not on chastising people, the park says.
"If we're constantly shouting rules at people in their face, they're going to get tired of it," says Warburg, the former ranger at Grand Teton who recently completed a stint as interpretive media assistant at Yosemite.
For others, such as Rinckenberger, one solution has been simply to stop geotagging every post with GPS coordinates or even semispecific locations. Instead, he decides on a case-by-case basis whether a spot can handle many more visitors.
Not long ago, Matera posted a stunning photo of a person staring out at a landscape of drippy red-rock hoodoos. "The Southwest is so huge that there are still tons of place to be 'discovered,' including this one I'm calling Canyon X," he wrote below the picture. "The point here is to get out and do some exploring of your own. Find some places and keep them to yourself. It's not about capturing the same shot you saw on Instagram, but to find your own special spot and make your own images."
The picture was tagged, vaguely, "Sedona, Arizona."
Lead Photo: Aurora Photos