Indefinitely Wild
Patagonia Wants You to Vote
The Time to Vote campaign, which includes almost 150 companies, gives employees time off to vote in the midterm elections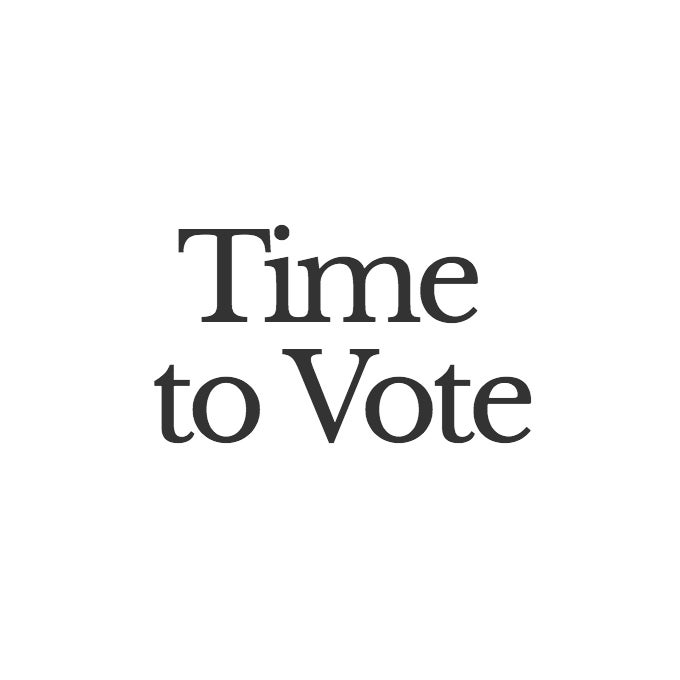 Heading out the door? Read this article on the new Outside+ app available now on iOS devices for members! Download the app.
On November 8, 2016, Patagonia shut down its U.S. operations so that its employees would have time to vote. This year, ahead of the November midterms, Patagonia went ahead and enlisted almost 150 other companies—including Walmart and Lyft—to follow suit. "This is the single most successful program in the history of Patagonia," brand spokesperson Corley Kenna says. 
While Patagonia plans to again give all its roughly 1,500 U.S. employees a paid day off on November 6, Time to Vote looks different at other participating corporations. Lyft, for instance, plans to provide discounted rides to polling stations and free rides to people in underrepresented communities. So, rather than give its one million plus drivers the day off, it's instead making sure they have the information they need to to file absentee ballots. 
The campaign's other big success is that it's managed to enlist CEOs from both sides of the political spectrum. In addition to Walmart's 1.5 million American employees, companies like Tyson Foods (which employs 122,000 people), Kaiser Permanent (216,199), and VF Corporation (70,000) have signed on.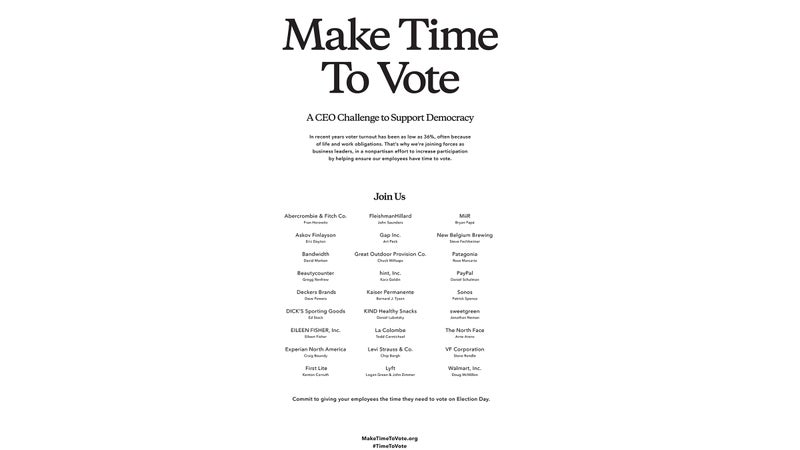 The seeds of the campaign were sown back in June, when Patagonia CEO Rose Marcario announced her plan to again close the company for the midterm elections, then called on other CEOs to do the same. She noted that just 36 percent of eligible voters participated in the 2014 midterms and that "35 percent of eligible voters said scheduling conflicts, either with work or school, kept them from the polls on Election Day." 
"We can fix that," Marcario wrote. Patagonia began reaching out to other corporations, while others approached the company on their own to volunteer. In addition to giving their employees the tools they need to vote, Time to Vote participants are also buying ads aimed at encouraging even more employers to sign up. And individual brands are putting ad budgets behind voter turnout efforts. Levi Strauss and Co., for instance, will begin running this television ad during NFL games:
"We're long overdue for a greater number of voters to exercise their right to make their voices heard, for politicians to empower and not disenfranchise prospective voters, and for we as employers to do our parts in making that happen," says Ian Golden, the CEO of Finger Lakes Running, one of the brands participating in Time to Vote. 
Marcario has an even simpler call to action. "Let our people go vote," she writes.