America's Search and Rescue Is in a State of Emergency
With Americans surging onto public lands like never before, search and rescue operations are becoming overwhelmed—and help is not on the way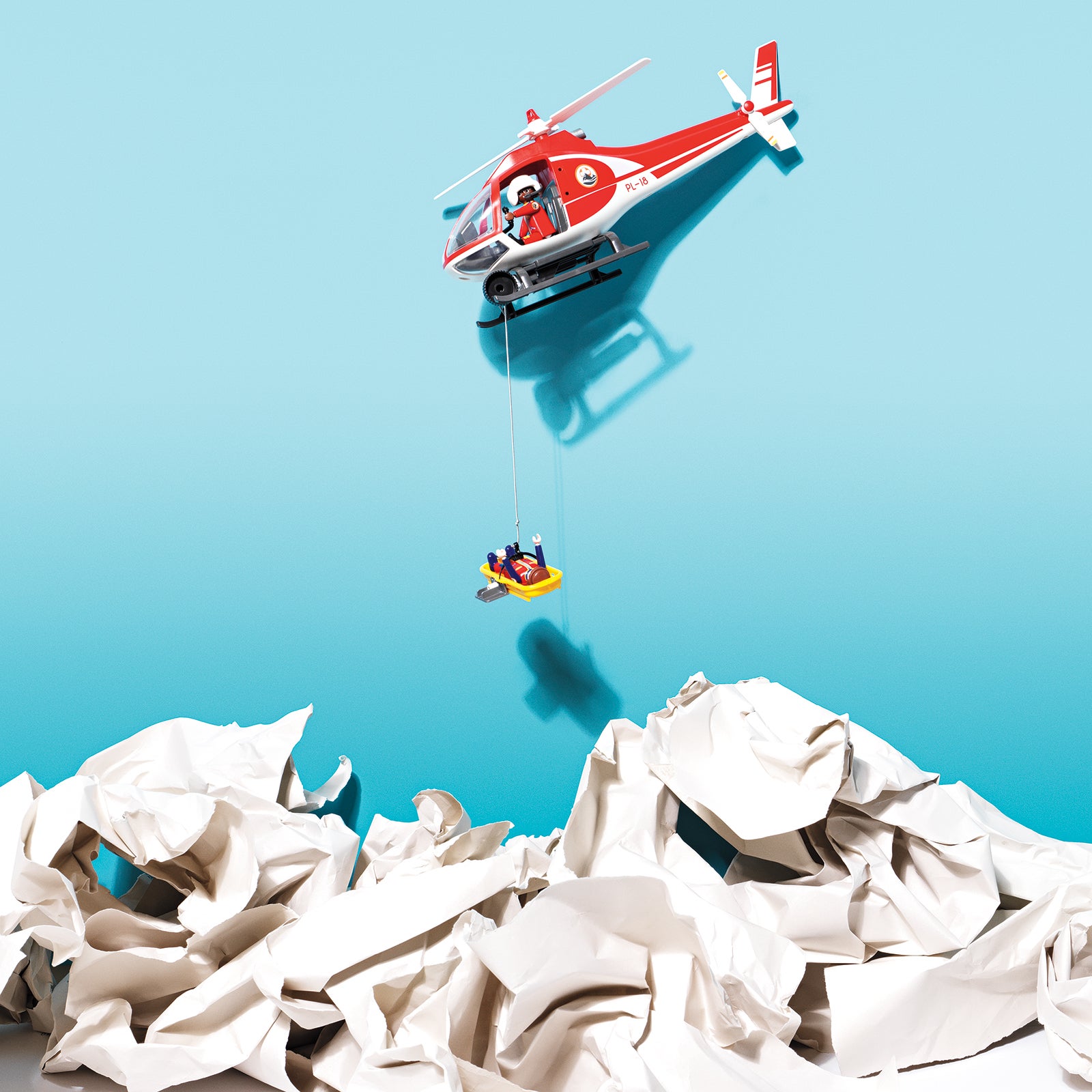 Heading out the door? Read this article on the new Outside+ app available now on iOS devices for members! Download the app.
On a warm July day in 2013, a 48-year-old Texan named Nancy Allen and her 18-year-old daughter, Sara, set out to climb Mount St. Helens from the Climber's Bivouac trailhead. The five-mile hike to the 8,365-foot summit of this famous Washington State volcano, which became 1,300 feet shorter after it erupted in 1980, is a strenuous route up rough terrain. But the pair reached the top without incident, presumably gazing into the crater with wonder and a sense of accomplishment.
Unfortunately, the Allens got lost on the way down, and Nancy fell from a small outcropping, injuring her leg. At 8 P.M. she called 911, and the Skamania County sheriff's office dispatched a well-trained crew of search and rescue volunteers called the Volcano Rescue Team. A few hours later, SAR specialists reached the Allens and assessed the situation. According to subsequent news reports, the hikers were still high on the mountain, with temperatures already dipping into the low fifties. They were wearing shorts and T-shirts, and Nancy was unable to walk.
The rescuers decided to give the women extra clothing and blankets and called additional team members to hike up with a litter, so they could carry Nancy down the mountain. The trailhead was just a few miles away, but the physical rigors of hauling out an adult meant that the extraction would take anywhere from seven to fifteen hours. After a couple of hours of this, Nancy asked if it would be possible to call a helicopter.
It was: there was a private heli service in Oregon, based just over the state line. But the county sheriff's office decided the situation didn't warrant a lift. If she wanted a helicopter, she'd have to call one herself. "I have a credit card," she reportedly said. By 6:30, the Texans were in a private bird. Now unburdened, the SAR team quickly descended. They wouldn't say whether they cracked celebratory beers that night, having dodged a tough slog.
All in all, it was a happy ending—until the story made the news, with reporters taking aim at Nancy Allen's choice to pay for the easy way out. "Rich Texas woman hires private helicopter to get her off 8,000-foot mountain after deciding rescuers lugging her down on stretcher are 'too slow,' " the UK's Daily Mail announced. Cue the social-media firestorm.
The derision was patently unfair. If Allen had been in similar circumstances 50 miles north in Mount Rainier National Park, the climbing rangers may very well have called in a helicopter that wouldn't have cost her a dime, because Rainier has a contract that covers such expenses. Same goes if she'd been in Yosemite, Grand Teton, or a handful of other national parks that pay to have helicopters on call. Nancy's problem wasn't that she was too spoiled to tolerate a painful extraction from the wilderness. It was that she ran into trouble in a place where air support was limited.
SAR operations in the United States are a patchwork. Depending on where you are when bad luck strikes, you might be saved by a commando squad with a chopper on speed dial, carried out quickly by a talented group like the Volcano Rescue Team, or forced to wait for hours, even days, until well-meaning volunteers with limited resources reach you in the backcountry. Historically, this was a reasonable approach, with the level of rescue services available in a given area generally matching the demand. These days, though, demographic and cultural shifts have led more people into the wild, putting emergency operations in some places under enormous stress. Which is why it's time to reevaluate our approach to SAR before things get worse.
---
With outdoor recreation surging, it's no surprise that we're in this pickle. The Forest Service reports that in 2016, some five million more visitors hit the 193 million acres of public land it manages compared with a decade earlier. The fastest-growing residential areas in the country are in so-called wildland-urban-interface zones, where locals have easy access to adventure. Outdoor tourism in places like Colorado's Front Range is spiking as people seek out whitewater rivers and alpine peaks. Meanwhile, some SAR leaders report changes in the kinds of rescues they're doing: there are more Instagramming adventurers getting in over their heads, more mushroom hunters in flip-flops losing their way in the woods, and more people navigating with their phones until the battery dies.
Responses vary by situation. In a handful of national parks, climbing rangers (or their equivalents) can call on contracted helicopters capable of short-hauling injured parties off hanging faces and out of glacial terrain. (That's the dramatic stuff. The truth is that most rescues are far more mundane, usually involving lost or tired hikers.) In good weather during daylight, SAR can be on the scene in as little as 25 minutes on Mount Rainier's trade routes or an hour on the West Buttress of Denali, the standard way up the Alaskan peak.
Public-land rescues outside national parks depend largely on volunteer teams under the command of a sheriff's office, and some of these outfits are exceptionally skilled. Oregon's Mount Hood, for example, is serviced by two famed volunteer groups: the Crag Rats to the north and Portland Mountain Rescue to the south, both packed with alpinists certified by the Mountain Rescue Association, a national organization that requires members to pass stringent field tests. Like other volunteer units across the country, these rescuers don't have immediate access to a helicopter, so they turn to the military or private operators for air support, which can dramatically slow response times. Over the past three years, the fastest that Portland Mountain Rescue has gotten a helicopter to the scene is 45 minutes. Sometimes it can take four hours.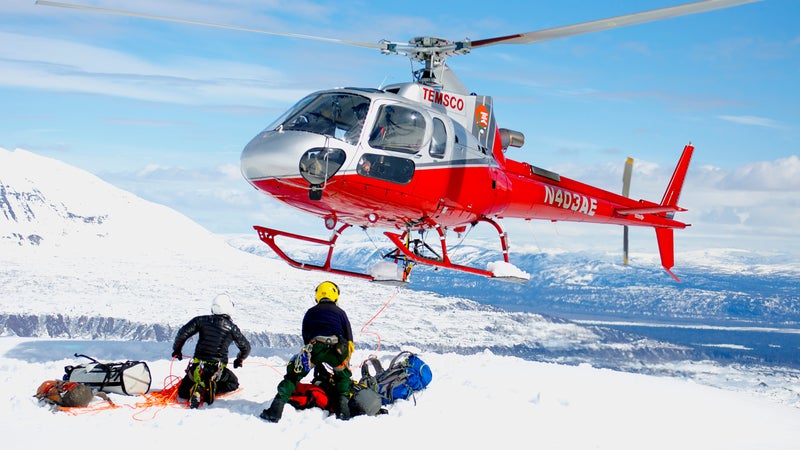 "The difference is that at Rainier, we have more of a limo with a driver parked in front of our house and ready to go. On Forest Service land, the sheriff's office has to call a taxi," says Glenn Kessler, Mount Rainier's aviation manager.
In some of the nation's most popular outdoor playgrounds, operations are becoming overwhelmed. The 70-member Rocky Mountain Rescue Group, in Boulder County, Colorado, is the most active volunteers outfit in the nation, and one of the most talented. But it's now handling close to 250 missions a year, up from an average of 170 over the past decade. Jeff Sparhawk, a longtime team member who's also president of the Colorado Search and Rescue Association—a nonprofit that helps coordinate and support the state's many local teams—told me in the fall that 2019 was shaping up to be the group's second busiest on record.
"People who work nine-to-five jobs are getting paged out of work at least 150 times a year," he said. "That's a tall ask." Not surprisingly, the team can have problems getting members to join multiple missions.
In more rural and remote areas, SAR services tend to be limited. Again, this used to make sense. In the past, the relatively small number of adventurers who planned a climbing expedition to, say, a faraway mountain like Montana's Granite Peak, the state's highest summit at some 12,800 feet, were typically more capable of saving themselves, or at least of stabilizing their situation until help arrived. In Stillwater County, home to one of four sheriff's offices that might get called to coordinate rescues on Granite Peak, the ten-person volunteer SAR team is now called for about 35 missions annually, a big jump from the ten or fewer the group used to do in the early 2000s. Helicopters are hard to come by—the closest available private-rescue option is 400 miles away in Whitefish. Rescuing someone on foot in the rugged Absaroka-Beartooth Wilderness around Granite Peak can require a two-day walk just to reach the victim.
Other places simply lack capable personnel. Multiple sources told me that in some locations, volunteer teams just don't have adequate skills for certain kinds of rescues. Economics can be a factor. SAR experts estimate that it costs volunteers anywhere from $1,000 to $10,000 a year—mostly for gear, gas, and meals connected to rescues and training—just to be part of a team. In rural communities where incomes are lower, that's a huge sacrifice. "Ranchers, farmers, and foresters might not have the time or money available," says Marcel Rodriguez, a board member with Pacific Northwest Search and Rescue, an Oregon City volunteer group.
---
Unfortunately, there's no easy fix for all this, and having rangers with helicopters on all our public lands isn't realistic. Cost is one hurdle, though the price tag isn't as insurmountable as you might think. In 2017, across all our national parks, we spent only $3.4 million on rescues. Even if the cost to develop a nationwide approach to SAR was 100 times more, that's only a fraction of the country's $400 billion outdoor-recreation economy.
Still, the logistics of such a system are likely out of reach. The national parks that employ rangers with strong climbing skills and contract with helicopter services have centralized command centers that can handle the relatively manageable chunks of terrain under their watch. But covering, say, Colorado as a whole would require a network of stations and a massive staff of professional rescuers. Even then, response times would be relatively slow in remote wilderness areas.
Outside the U.S., there's an enviable model to aspire to. In Switzerland, you can spend about $30 per year for a rescue card issued by the legendary nonprofit group Rega, which was created after World War II. In many cases, the card covers the cost of extracting you from the mountains on a helicopter, with a doctor onboard, and delivering you to a hospital.
In 2018 alone, Rega orchestrated 12,500 missions with helicopters, and today it maintains a fleet of 18 helicopters and three ambulance jets, and it's currently testing a reconnaissance drone. "My friends doing that work whine that they are only making $500 a day," says veteran guide Martin Volken, a Swiss native who trained in Switzerland and founded the Pro Guiding Service, an international company based in North Bend, Washington. "Meanwhile, in the U.S., the volunteers might get a deal on a Gore-Tex jacket."
A nationwide Rega-style organization is unlikely in the U.S., mostly because of the same geographic realities that prevent us from expanding the Park Service ­climbing-ranger model. "Switzerland is a little country," says Renny Jackson, a retired Grand Teton National Park rescue specialist. "Compared with the Alps, we have vast sections of terrain with very few people. Look at the Red Desert of Wyoming or the Beartooths in Montana. Connecting helicopters and professional rescuers to those places is inherently challenging."
Ultimately, America isn't likely to get a major search and rescue overhaul until more people die.
Besides the daunting logistics of the American landscape, there's another issue: Americans still don't require the sheer number of rescues needed to support a nonprofit like Rega or compel the federal government to deal with the problem. The French government, by contrast, runs excellent SAR operations because it desperately needs to. Every summer, the Chamonix Valley, France's extreme-sports capital, is inundated by more than 100,000 tourists, including a large number of mountaineers, paragliders, and BASE jumpers. It's been widely reported that 100 people a year die on the greater Mont Blanc massif alone. Even if that number is inflated by avalanches that took out villages, it's still considered one of the world's deadliest ranges. In comparison, the U.S. national park system sees an average of 150 to 170 accidental deaths annually.
But that doesn't mean we shouldn't do everything we can to improve our approach to SAR. The volunteer teams that serve as the backbone of operations in the U.S. need additional support. "Search and rescue at the community level is headed in the wrong direction," Sparhawk says. If changes don't happen in the next five to ten years, he warns, the Colorado SAR system will no longer be sustainable.
---
In an effort to turn things around, the Colorado Search and Rescue Association has been gathering data from the state's teams and studying SAR models in numerous locations around the country. It's investigating the possibility of getting more state and federal funding to cover the cost of rescues and mental-health support for volunteers. This would at least allow for the compensation of overtapped volunteers when they're deployed on challenging multi-day missions. Sparhawk says they've also looked at adding full-time paid professionals to the busiest volunteer crews. As this story went to press, the board was preparing to present its preliminary findings to the state legislature, requesting more funding for a comprehensive study that could help inform fundamental changes in how Colorado pays for and manages SAR.
In the meantime, fee-based initiatives can at least help reimburse volunteers for gas, sandwiches, and gear. For well-intentioned reasons, people are only rarely charged for their rescues in the U.S. Emergency professionals have long argued that charging fees would lead to delayed calls for help and thus more urgent and dangerous rescues. But states shouldn't shy from encouraging outdoor adventurers to drop some money in the hat. Starting in 2015, New Hampshire, one of a handful of states with laws enabling it to bill people for rescues in the event of negligence, has offered a $25 Hike Safe card, with proceeds supporting state SAR operations. In 2018, the card brought in $134,000. A similar program in Colorado generates about $350,000 a year.
Eventually, the free market could play a role. Annual memberships with New Hampshire's Global Rescue start at $329. For that, the company will take charge of orchestrating your evacuation from all kinds of dangerous locations around the planet. In the U.S., it typically coordinates rescues much like sheriff's departments do: by working the phones. Mount Rainier's Kessler says that creating private—and, like Rega, prepaid—SAR outfits, complete with helicopters, has been a frequent topic of conversation among rangers. And where the market won't save the day, philanthropy might: in Whitefish, a wealthy benefactor named Mike Goguen launched Two Bear Air, offering his helicopter to any SAR outfit in the region at no cost.
The most achievable short-term improvements in American search and rescue will probably come from smarter utilization of existing resources. A standout example exists in Teton County, Wyoming, where a partnership among the sheriff's office, the Forest Service—which manages all the terrain on Teton Pass—and Grand Teton National Park allows the groups to share a helicopter during summer months that the Forest Service originally brought in for wildland firefighting.
Ultimately, America probably won't get a major SAR overhaul until more people die in the outdoors. That's a cynical take, but it's the same gruesome calculus that motivates road crews to add guardrails only after enough drivers plummet to their deaths on dangerous mountain highways. On St. Helens, a unique agreement among three surrounding counties uses property-tax revenues to help fund emergency services, including salaries for the coordinators of the Volcano Rescue Team that respond to Nancy Allen. The inspiration for this setup? The 1980 eruption, which killed around 60 people.