The Sexual Harassment Report Is the Tip of the Iceberg
The National Park Service findings, released last week, are troubling. The reality is even worse.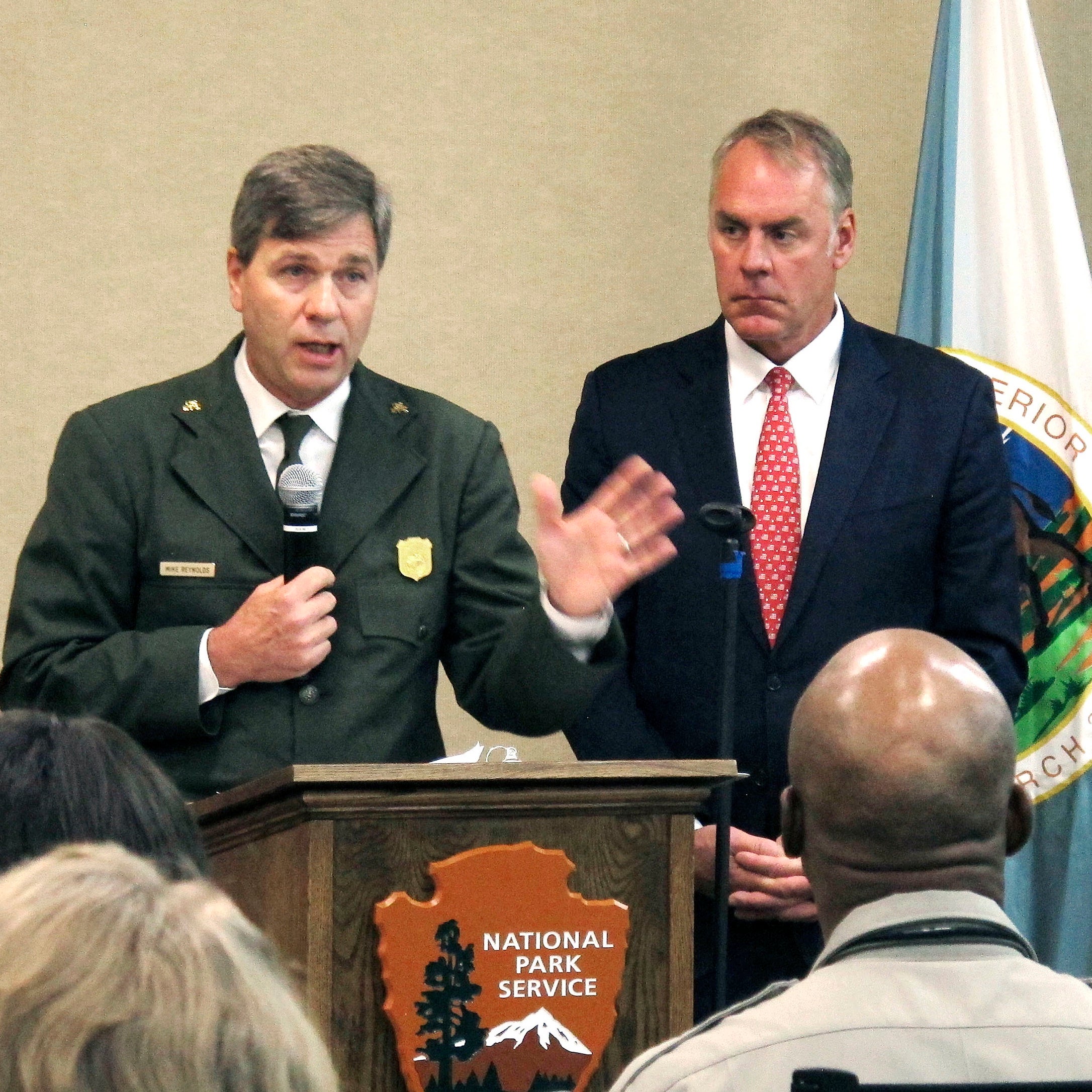 Heading out the door? Read this article on the new Outside+ app available now on iOS devices for members! Download the app.
Last Friday, Secretary of the Interior Ryan Zinke stood in front a group of 75 employees at Grand Canyon National Park to talk about sexual harassment.
It was a fitting venue. In January 2016, an explosive report revealed that women at Grand Canyon had suffered years of sexual harassment and discrimination at the hands of several boatmen. The allegations rocked the park, leading to the dissolution of its famed "river unit" and the resignation of superintendent Dave Uberuaga. More significantly, though, the women who came forward inspired legions of other women to share their own stories of sexual abuse in U.S. national parks and monuments. In one investigation, High Country News reporter Lyndsey Gilpin talked to nearly 50 current and former National Park Service employees who experienced sexual harassment or assault on the job. She found that the Park Service often failed to support such women and knowingly ignored their complaints.
The recent sexual harassment meeting, broadcast to Park Service employees across the country, came as response to a survey released last week that re-affirmed widespread harassment in the agency. Zinke's response has been to update the Park Service's sexual harassment policy for the first time since 2011, and make the kind of predictable comments that politicians usually make when they're in the spotlight because of sexual misconduct. "Under my leadership we're going to hold people accountable," he said. "We are also fixing the problem of victims being afraid of retaliation or inaction by codifying the right for victims to report abuse to any manager in any location… and by bringing on an independent, investigative partner."
The changes are a step forward for an agency with a history of sweeping harassment under the rug. But "codifying" victims' right to report their abuser barely scratches the surface of a culture of sexual misconduct that stretches far beyond our national parks. From the Appalachian mountains to the canyons of Zion, sexual abuse permeates nearly every corner of our public lands and affects everyone from elite athletes to field scientists. 
From 2014 to 2016, for instance, I investigated the challenges faced by female wildland firefighters. In the U.S. Forest Service, women make up 39 percent of the workforce but hold just 11 percent of permanent firefighting jobs. Many female firefighters find themselves in remote places where they're the only woman for miles—an environment ripe for sexual misconduct. One woman, Alicia Dabney, saved lewd voicemails left by co-workers and told me a supervisor tried to force himself on her during a training. She's part of the latest class-action complaint against the Forest Service—the fourth such complaint in four decades.
While Zinke's changes to Park Service policy are welcome, they're hardly going to solve the legacy of sexual harassment lurking within his own agency and within the broader space of our public lands.
Sexual abuse also plagues private outdoor industries and sports. Over the past year, I've talked to two dozen whitewater guides who shared stories of being groped by their supervisors or co-guides, repeatedly propositioned for sex, and denied promotions or otherwise retaliated against when they refused such overtures. (This story will appear next spring in Outside.) I also heard from dozens more women who have been catcalled, belittled, stalked, threatened, intimidated, and assaulted while hiking, skiing, biking, and climbing. In one survey conducted by Runner's World, 43 percent of the 2,500 female runners who responded said they regularly received unwanted sexual attention. Another survey of 1,500 climbers by women's climbing community Flash Foxy found that 64 percent of women felt uncomfortable, insulted, or dismissed at some point while learning to climb, compared to 29 percent of men. In yet another survey of more than 500 female scientists, a staggering 71 percent reported that they'd been harassed in the field.
The list goes on and on.
In comparison, the numbers from the latest Park Service survey are fairly low: 19 percent of employees who worked for the agency between 2016 and 2017 reported gender-related harassment, while 10 percent reported sexual harassment, and around 1 percent reported sexual assault. Those figures may be accurate. But it's equally likely that many women are afraid to report their experiences, perhaps because Park Service employees who previously tried to report harassment anonymously had their identities ousted. Other federal employees who file complaints may wait months or even years for a resolution.
While Zinke's changes to Park Service policy are welcome, they're hardly going to solve the legacy of sexual harassment lurking within his own agency and within the broader space of America's public lands. "Sure, they're doing something, but it's the same thing they've done for years," says Lesa Donnelly, who worked as a Forest Service administrator for 18 years and is now vice president of the advocacy group USDA Coalition of Minority Employees. "They focus on policies and procedures. They want to make it look good so they'll quit getting complaints and quit hearing about it from Congress. But they're not actually addressing the problem."
Zinke says his administration will do more than past administrations to support victims, but President Trump has already proposed merging the federal Equal Employment Opportunity Commission with another agency to save money. Another Trump official, Education Secretary Betsy DeVos, rolled back Obama-era regulations on campus sexual assault to better balance the rights of accused perpetrators with those of victims, as she's put it. 
And then there's President Donald Trump, who has been subpoenaed for sexual assault and infamously caught on tape saying he'd grab women "by the pussy." After Zinke walked out from his October 12 meeting at Grand Canyon National Park, protestors from the Sierra Club, the Center for Biological Diversity, and other organizations hurled questions at him. Many were about his conservation policies, but one woman alluded to Trump's alleged sexual misconduct.
"Will you talk to your boss about sexual harassment?" she asked as Zinke climbed into a white Chevy Suburban with tinted windows. The Secretary of the Interior didn't respond. The SUV whisked him off into the clear autumn day. "Have a good tour!" another protester called cheerfully. 
Lead Photo: AP