Indefinitely Wild
Trump's Interior Pick Is the Last Hope for Our Public Lands
Former Navy SEAL Ryan Zinke opposes the Republican land heist. He may be the best environmental hope we have in this administration.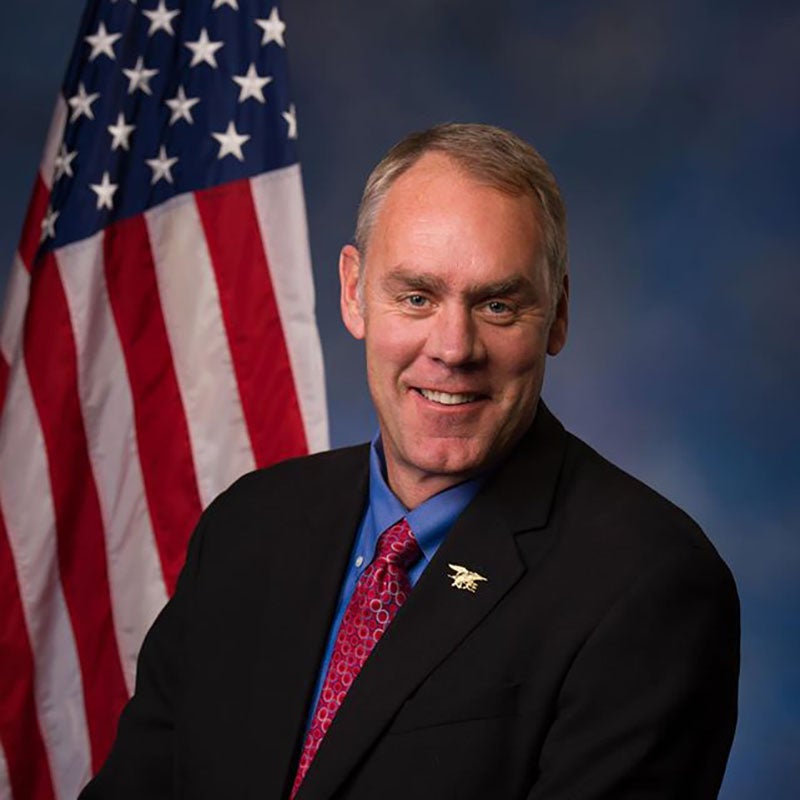 Heading out the door? Read this article on the new Outside+ app available now on iOS devices for members! Download the app.
It's the Republican party's official policy to steal 640 million acres of public land from the American people. And with both the legislative and executive branches of the federal government soon to be under their control, there appeard to be little that could stop them. But then President-elect Donald Trump announced that he was nominating Ryan Zinke, a former Navy SEAL who voices strong opposition to the great public land heist, as the Secretary of the Interior. 
Zinke is a first-term Republican Congressman from Montana who has twice bucked the party line and voted against measures to transfer ownership of public lands from federal to state control. In fact, he's made the issue something of a calling card. "The sale or transfer of our land is an extreme proposal and I won't tolerate it," he said in a June press release. 
"I never have, and never will sell your public land," Zinke wrote in the Billings Gazette.
If confirmed for the cabinet position, Zinke will head the Department of the Interior, which manages federal land and its resources. It's in charge of agencies like the Bureau of Land Management, the U.S. Geological Survey, and the National Park Service. As Interior Secretary, Zinke would be uniquely positioned to advocate for preserving public lands and able to work to save them. 
To briefly recap, you, I, and every other American owns vast tracts of land throughout the American West. It's managed on our behalf by the federal government. The priority of federal land management is to facilitate multiple uses—energy extraction, mining, forestry, recreation, wildlife conservation—while preserving the land for future generations. It's an expensive proposition, but one that gives our country the vast expanses of wild places that make it so unique. We go to our public lands to camp, hunt, fish, and hike, they're where our wildlife lives, and they're what provide our country with critical resources, like clean water.
Not only does state management prioritize profit over preservation, the states also can't afford to manage the public lands within their borders—virtually guaranteeing their sale to private interests. It's those energy and mining companies that are playing the long con here, conjuring up states' rights arguments to empower Republican lawmakers to try and reduce the lands' protection by transferring control. It's one of the most dastardly and un-American things taking place in this country right now, and it's been repeatedly proven that there is no upside for the American people in this sale. 
Zinke is a fifth-generation Montanan who grew up in Whitefish. There, outdoor activities like skiing, mountain biking, hunting, and fishing are crucial to the local economy. The state's economic reliance on outdoor recreation is a perfect microcosm of the contribution that industry brings to the nation. "We use our land for hunting, fishing, hiking, and to create jobs," Zinke has stated. "Our outdoor economy is a billion dollar economic engine for the state that creates jobs."
Nationwide, the outdoor recreation industry is estimated to be worth $646 billion annually. (An effort to determine its exact amount is underway.) That's a third larger than the auto industry, but it frequently flies under the radar because it's composed of numerous small companies rather than three big ones. It's an industry that would be irrevocably damaged by the loss of public lands—people won't buy backpacks if there's nowhere left to go backpacking. 
News of Trump tapping Zinke for Interior Secretary has drawn praise from organizations that are working to protect our land. "He really prides himself on being a Theodore Roosevelt Republican and he lives that a little bit more than other people," Land Tawney, the CEO of Backcountry Hunter and Anglers, told the Washington Post. Zinke is both a hunter and an angler.
It's his participation in those activities that's said to have drawn the interest of Trump's team. The President-elect's son, Donald Trump Jr., is a prolific hunter and also an advocate for protecting public land. The ability to hunt on public land and the animal conservation that activity provides in this country is fundamental to the egalitarian identity of the American hunter. That Trump's sons hunt, and that through hunting they are exposed to such a strong pro-public lands message, is possibly what's going to keep this land in federal hands. 
Zinke isn't universally lauded. While he advocates for retaining federal land management, he also wants to see that land opened up for more resource extraction. "The need to keep dirty fuels in the ground is urgent, especially on public lands," stated the Sierra Club, in response. "We cannot afford to have someone in charge who traffics in climate denial and acts accordingly."
Still, he may be the best environmental hope we have in this administration, given the other choices. The Theodore Roosevelt Conservation Partnership is "very supportive" of Zinke. Its president, Whit Fosburgh, stated, "He's shown courage and commitment to public lands and conservation and is someone we think would be an excellent secretary of Interior."