Indefinitely Wild
What Hurricane Hugo Can Teach Us About Florence
Hugo was the worst hurricane to ever hit the U.S. Florence could be worse.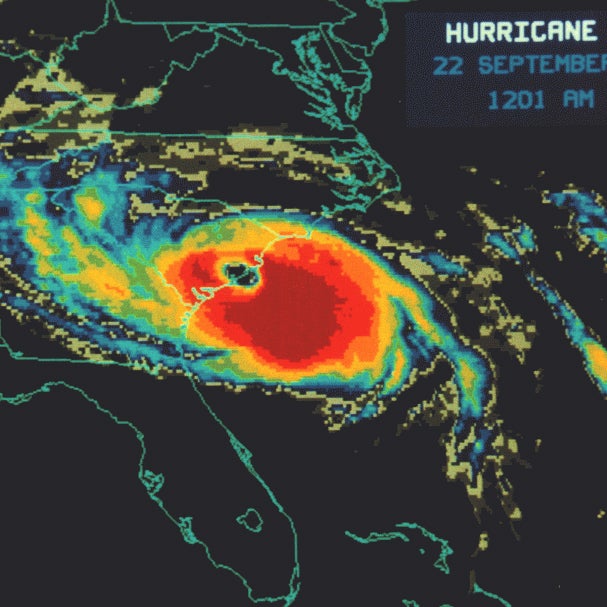 Heading out the door? Read this article on the new Outside+ app available now on iOS devices for members! Download the app.
All signs point to Hurricane Florence causing immense damage when it impacts the East Coast somewhere between Georgia and Virginia on Friday. But just how extensive could it be? Well, the region has a model for just such an event. Its name was Hugo. 
Like the forecasts for Florence, Hugo was a category four hurricane when it made landfall just north of Charleston, South Carolina, shortly after midnight on September 22, 1989. And, also as is anticipated for Florence, Hugo tracked inland, bringing wind and rain far beyond the coastline. 
When Hugo made landfall, its sustained winds measured 135 to 140 miles per hour. That was bad enough to flatten entire forests. But what caused the most damage was Hugo's immense storm surge, which measured 19.8 feet in Bull's Bay, north of Charleston—the highest surge ever recorded along the East Coast. This decimated coastal property and infrastructure in the storm's path. 
As it moved inland, Hugo carried hurricane force winds as far as Charlotte, North Carolina—150 miles from the ocean. Impacts from the storm's wind and rain would continue to be felt as the storm tracked north into Canada. By the time the storm reached Montreal, its winds were still gusting up to 59 miles per hour, knocking out power to 13,400 homes. 
It was eventually calculated that Hugo had damaged or destroyed 108,658 homes, trailers, or apartments in South Carolina alone, killed 13 people, and caused $5.9 billion in damage. In North Carolina, six people were killed and another $1 billion in damage was done. 
At the time, Hugo was the most destructive hurricane this country had ever experienced. Downed trees and storm damage are still visible in the region 29 years later. Yet it was far from a worst-case scenario. By impacting just north of Charleston, it spared that city and its dense population the worst of the storm surge. Hugo was also a fast-moving storm, leaving rainfall totals of just five to ten inches in its wake. "As devastating as Hugo was, much of the area did not experience the full fury of a category four hurricane," states Robert Bright, a hurricane researcher at the National Weather Service. "It certainly could have been a lot worse, certainly in Charleston."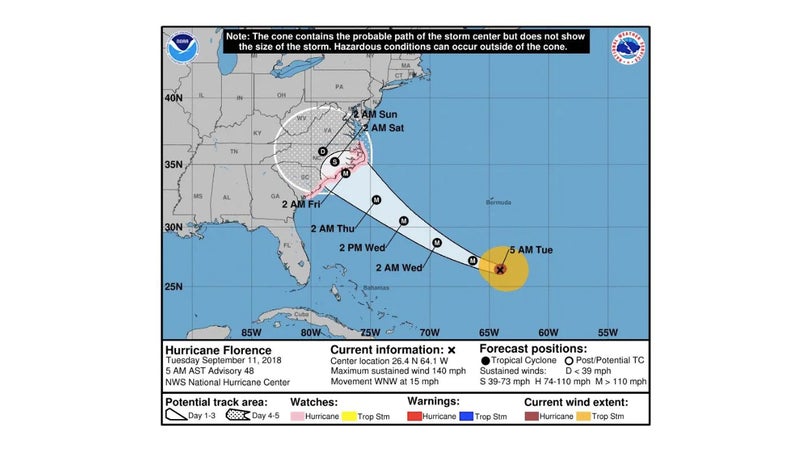 Florence's damage could be much more extensive.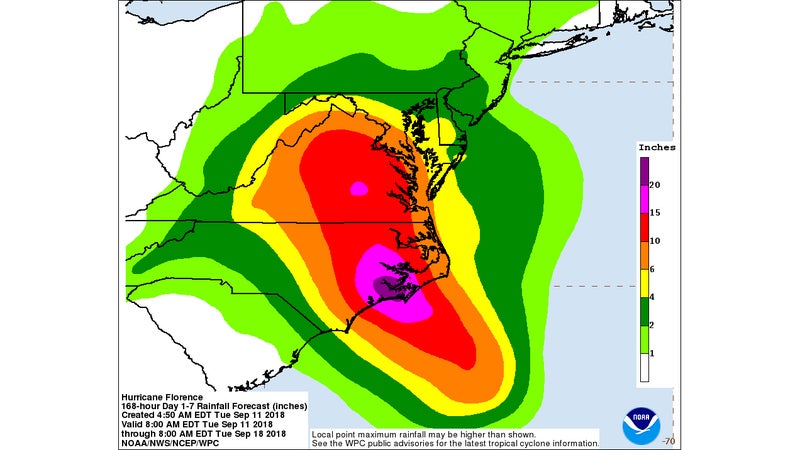 At the time of writing on Tuesday, coastal cities from Charleston, in the south, to Virginia Beach, in the north, lay in Hurricane Florence's cone of uncertainty. Same goes for pretty much all the beach communities throughout the Carolinas. A direct impact to any of them could cause major flooding. Farther inland, major population centers like Charlotte, Fayetteville, Winston-Salem, Greensboro, the Raleigh-Durham area, Norfolk, and Richmond, are all likely to experience high winds and huge rainfall totals. Unlike Hugo, Florence is currently forecast to slow when it hits land, dumping what could be feet of rain in some inland areas. In states already inundated by immense rainfall, this much rain in high elevation areas could lead to major flooding downstream.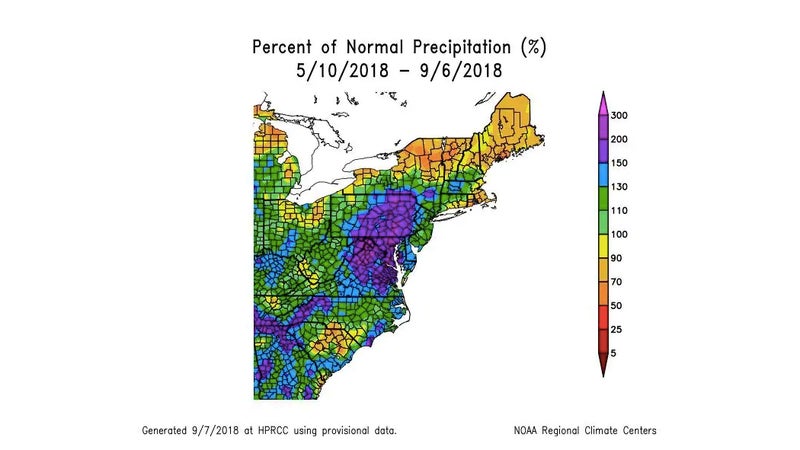 Some storm watchers and emergency management professionals fear that people who lived through Hugo might be inclined to take Florence too lightly. "Yes, [Hugo] was a category four, but if you lived in Charleston, you did not go through a category four," cautions Cathy Haynes, of the Charleston County Emergency Management Agency.
"People have never seen anything like this in their lifetime," says Charleston-area meteorologist Rob Fowler.
In response to the storm's approach, South Carolina, North Carolina, and Virginia have all declared states of emergency. South Carolina has ordered a mandatory evacuation of its entire coast line. Starting Tuesday, state officials will reverse east-bound lanes on all major roadways leading toward the coast, in order to maximize traffic flow inland. Government offices and schools will close Tuesday in 26 South Carolina counties. North Carolina is evacuating the Outer Banks and Virginia has ordered 245,000 to leave the state's eastern shore. In anticipation of destructive flooding, Virginia has already mobilized its entire National Guard. 
Hurricane Hugo was the first major storm of the cable news era and images of its unprecedented destruction were taken live to households nationwide. But just like the limited graphics and shaky video quality look quaint today, so do the storm's impacts. Three decades later, Hugo has been eclipsed by 12 other Atlantic hurricanes. In that time, storms like Katrina and Harvey have taken damage totals above $125 billion. Let's hope Florence doesn't make that list.