What We Can Learn from Climbing's Bullying Saga
Pro climber Joe Kinder lost his job for harassing fellow pro Sasha DiGiulian on Instagram. Where do we go from here?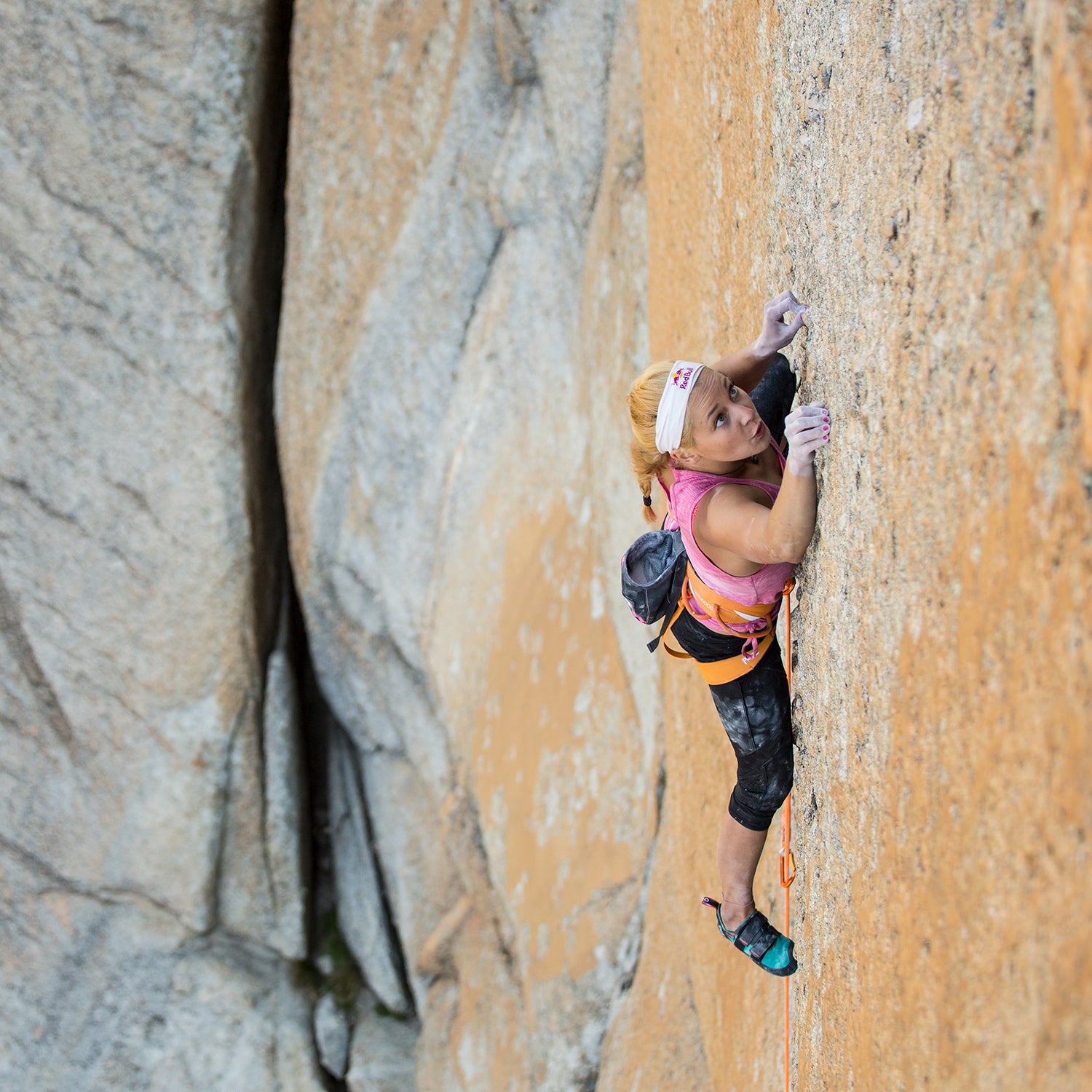 Christian Pondella/Red Bull Cont(Photo)
Heading out the door? Read this article on the new Outside+ app available now on iOS devices for members! Download the app.
On Thursday, May 3, rock climber Sasha DiGiulian detonated a virtual bomb on the climbing community. In a lengthy Instagram post, she shared that another professional rock climber had disparaged her body on a private Instagram account by posting a photo of an obese woman and insinuating that it was her. She also said that the climber, Joe Kinder, ridiculed her in other unspecified instances over the years. "I am hurt and broken-hearted to say that I am a victim of a bully and it has crossed the line," she wrote. DiGiulian says she had asked Kinder privately to stop, but he didn't, so she posted about it on her own Instagram feed. Last week, in response, both Black Diamond and La Sportiva announced that they dropped Joe Kinder as a sponsored athlete, effectively rendering him jobless.
The incident has brought out the best and worst in the internet public. DiGiulian's post garnered more than 9,000 likes and 900 comments. Many of the comments were supportive, but numerous people also wrote nasty missives attacking DiGiulian's character as well as criticizing her for being "fragile," for publicity mongering, and for ruining Kinder's career by calling him out. Kinder apologized on his own feed, which garnered its fair share of supportive and unpleasant comments, and to DiGiulian, who accepted his words and asked that the public do the same. On Monday, he apologized again on Instagram. "I blame no one but myself and I own my mistake," he wrote. "I'm going to do everything I can to earn back the respect and the trust of the tribe."
Last year, I wrote a story about cyberbullying of professional athletes for Outside and interviewed Kinder about his own experience of online harassment. Several years ago, while putting up a new route in the Lake Tahoe area, he cut down two juniper trees, which, unbeknownst to him, was illegal. Another climber called him out for the offense in an Instagram post, and the climbing public excoriated him, even to the point of threats. "I was fucking scared. I was really upset, really sad, really depressed," Kinder told me. "Being the target of a hate mob was the worst experience I've ever had in my life." Although critics were calling for his sponsors to drop him, they stuck by him.
When I interviewed Kinder last year, he was reflective and insightful about the experience of being pilloried online, which is why it surprised me to learn that he had harassed others. Recently, Courtney Sanders, another rock climber, also posted on Instagram calling out Kinder for a degrading post about her appearance and wrote a story on bullying for the Outdoor Journal last week.
Some in the outdoor community took issue with the way in which Kinder's poor behavior was called out publicly and online, arguing that DiGiulian should have made more of an effort to resolve the matter privately. But ultimately it's clear where culpability lies. Kinder made a series of mistakes, he behaved badly, and his sponsors had no choice but to drop him in accordance with the ethical standards in their athlete contracts. (Both companies told me they have such clauses in their contracts but declined to share the specific wording.)
Joe Kinder has been made an example of, but Georgie Abel, a climber and writer, theorized in an article on Medium that this is just one crack in an entire system that afflicts climbing culture. "What becomes important is not that a 38-year-old man created a fake Instagram in order to bully at least two young women, but the fact that he felt supported in doing so," she wrote. "Climbing culture is the thing that gave him that support."
Culturally sanctioned misogyny isn't limited to climbing or even the outdoor industry, of course. It seeps through all aspects of our culture. But when an incident like this stirs up so much conversation, we in the outdoor community should see it as an opportunity to lead the way in uprooting it.
First, we must reflect more deeply and ask ourselves how this culture is constructed and how aggressions are perpetuated. How did Kinder allow himself to perpetrate this meanness on multiple occasions? He politely declined to speak with me for this story, but from talking with him last year, I know that he is not stupid, inherently mean, or sociopathic. Sasha DiGiulian agrees. "He's not a bad person," she told me. "He just made bad decisions and repetitive mistakes."
No one can help the identities they're born into, but we are responsible for the effects of our ignorance.
That really only leaves one explanation: Kinder was astonishingly oblivious to his own privilege. This includes his responsibility as a public figure, as well as the inherent privileges of his social identities. (Chances are Kinder's social location is a mix of advantage and disadvantage, but two aspects—being male and white—afford a lot of privilege.) While Kinder's barbs on body image could have hurt people of any gender, they were directed toward women and perpetuate broader cultural assumptions, whether Kinder was consciously aware of that or not. The tyranny of beauty ideals and a cultural fixation on women's appearances help to keep us disempowered. This is mirrored to us every day on both subtle and overt levels, from the way a new acquaintance at the crag treats us to whether we have a real shot at a job. That is why it's so painful when it comes from within our own community. Joking is a particularly effective and insidious form of reinforcing dominant power structures, as it leaves the butt of the joke few options except to laugh at their own expense or risk looking uptight and unlikeable. (For example, one critic wrote on DiGiulian's feed, "People that can't take a joke are a waste of space. Selfish, overly sensitive, incapable to handle life.") "Why for so long have women been told to take a joke when it's not funny?" DiGiulian says.
No one can help the identities they're born into, but we are responsible for the effects of our ignorance. Kinder's jabs (now deleted) reflect the cultural waters in which we all swim. Online, women are disproportionately targeted by bullies, and according to Jimmy Sanderson, author of It's a Whole New Ballgame: How Social Media Is Changing Sport, the criticism is more often based on gender and appearance. Men are more often criticized for performance. According to a 2017 Pew Research Center Survey, women are twice as likely to say they have been harassed online because of their gender and more than twice as likely to be sexually harassed online. Among the athletes I interviewed for last year's cyberbullying story, I noticed that women who experienced bullying almost couldn't win. Either they were criticized for taking advantage of their looks and somehow sleeping their way to the top—a surprisingly common (and, I'd argue, rather uncreative) accusation—or for not being pretty enough.
As a collective, we have a lot of work to do. Inclusiveness is good for the long-term sustainability of our sports, and it's good for us as individuals. "We need the powerful entities in this community—brands, professional athletes, media makers, and white men—to start using their privilege to promote something better," wrote Abel in her Medium post. Equally important, as individuals, we also need to actively educate ourselves about our own privilege, which is invisible to those who hold it, and about the experiences of others, not just spout lip service and on-brand communication. It's not a question of whether implicit bias lives inside your own mind (take these tests to find out), but whether you are willing to examine, understand, and dismantle it from the inside out.
The most important piece in the effort to heal—and the piece that is most glaringly missing in this brouhaha—is civility. Reading through the threads on both DiGiulian's and Kinder's posts, I was struck by the disparaging comments on both sides—comments that were quick to judge and perpetuate cultural assumptions, to forget that there are human beings behind these Instagram accounts, and to turn the entire episode into a firestorm of opinions, accusations, and defensiveness instead of an opportunity to learn for all.
The way forward isn't to vilify those who make mistakes—although it's important that we are held accountable for our actions. We need to call each other in as opposed to calling each other out—to borrow activist parlance—and be willing to listen when we have caused harm. DiGiulian reported to me that through this exceedingly difficult time, she has taken a close look at her own behavior in the past and how she can be a more aware ambassador for the sport. "In a way, it's a positive thing," she says. "I think real change only happens in times like these."
Lead Photo: Christian Pondella/Red Bull Cont
Trending on Outside Online