Bike Snob
Whatever Happened to Singlespeed Mountain Bikes?
They may not be for everybody, but they were always awesome—and even more so now that they're totally uncool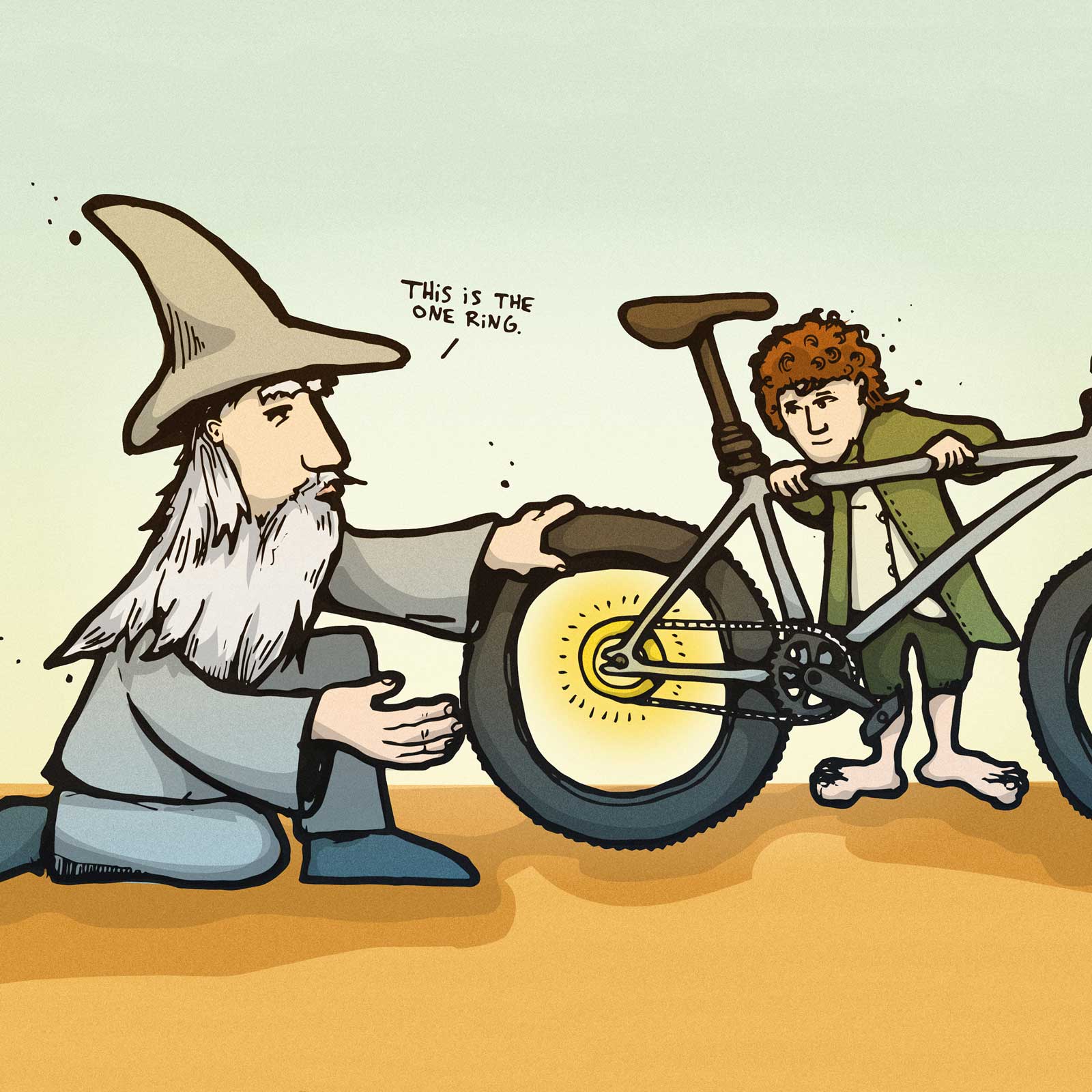 Heading out the door? Read this article on the new Outside+ app available now on iOS devices for members! Download the app.
Sometime around the turn of the last century, I was mountain biking in New Jersey when the eight-speed XTR rear derailleur exploded. The pulleys were nowhere to be found, and with no chain tool I had no choice but to hoof it. Pushing my bike back to the car (I hadn't yet learned the importance of riding to the ride), I cast my gaze heavenward, dropped to my knees, raised my fist, and cried out, "There has to be a better way!"  
Indeed there was. It so happens the Klein Rascal I was riding (already a relic by that point, what with its silver-to-purple fade, its primitive cantilever brakes, and its 1" quill (!) stem) had horizontal dropouts, thus making it an ideal candidate for a singlespeed conversion. So that's what I did.
Returning to those same trails post-conversion was a revelation. The bike was lighter and quieter. I could still ride everything; in fact in a way I could ride everything better, because instead of grinding my way up climbs I'd come flying into them at top speed and let the momentum carry me the rest of the way. Most importantly, riding the bike was fun—really fun. The last time I'd felt such untrammeled joy on a bike was when I'd go tearing around the neighborhood on my BMX as a kid.
So I committed to singlespeeding in part for all reasons listed above, but also because I couldn't afford another bike anyway. (Why do you think I was riding a used purple Klein Rascal in the first place?) It was a backlash against the expensive gimmickry so pervasive in the cycling world, and I was all for it.
Of course, singlespeed mountain biking had already been a thing long before I happened upon it. Not only did it already have its own ironic World Championship, but both Surly and Bianchi already offered dedicated singlespeed bikes, and in those days once Bianchi ratified your subculture with an off-the-rack model it had officially arrived. (See: the Bianchi Pista.) There was even the obligatory cringe-inducing New York Times trend piece in 1999:
Serious road cyclists and mountain bikers are turning to single-speeds as a training aid because, they say, the bikes help improve fitness, efficiency, pedal stroke and bike handling skills. Chris Carmichael, who coaches Lance Armstrong, the Tour de France champion, and was named the United States Olympic Committee's 1999 Coach of the Year, recommends single-speed riding for all of his cyclists during the off-season.
Once Chris Carmichael chimes in you're officially in bro-ville.
Even so, I did shed my derailleur before things got really crazy. Soon pretty much every bike company got on board, and in the ensuing years the whole singlespeed mountain bike phenomenon entered a period of decadence that was inversely proportional to its ostensible austerity. Boutique hubs, exotic freewheels, ostentatious show bikes… Singlespeeds were so hot that engineers seemed to be putting more effort into coming up with new ways to maintain chain tension on fixed-ratio bikes than they were into improving the derailleur itself, and soon there was a bewildering array of sliding dropouts and eccentric bottom brackets that made singlespeed component compatibility at least as confusing as it was for the multi-speed drivetrains they replaced. It also helped that by now 29-inch wheels had more or less completely taken over, and their increased ability to roll through rough terrain meant that foregoing derailleurs was even less of a sacrifice.
These were heady days indeed, but in retrospect it was all a bit much. Granted, the advent of the two-speed "singlepseed" drivetrain should have tipped me off that we had hit Peak 1×1, but the truth is it was all very intoxicating at the time. Only when they tried to make belt drives happen did it become obvious to me that a crash in the singlespeed mountain bike market was imminent, and while it was never wiped out entirely, it did enter into a recession from which it still hasn't quite recovered.
We're all doing this for fun and the only person keeping score during your rides is you.
So what happened? Well, some might argue that when the whole fixie craze collapsed it took the singlespeed mountain bike down with it. However, the truth is there was relatively little overlap between them, as fixies were essentially a streetwear phenomenon, whereas very few people were riding singlespeed mountain bikes around trendy downtown areas just for show. (It's tough to look cool when you're frantically spinning a 41-inch gear in order to maintain a cruising speed of like 9 miles per hour.) A much more logical explanation is that the finicky components that drove many to ditch them have gotten much, much better in recent years: clutch derailleurs and single-ring cranksets run nearly as quietly and reliably as singlspeed drivetrains do, while at the same time allowing you to, you know, shift.
Even so, my singlespeed mountain bike continues to be probably the most fun-to-ride bike I own. No, I'm not riding the Klein anymore. I sold that years ago to oddball mountain bike collector for a considerable profit and went full custom at the height of the bull market. I have no regrets. We've all got a bike that puts us in touch with the thing that made us fall in love with riding in the first place, and for me it's this one, since whenever I ride it I immediately revert to that kid in tube socks trying to catch air off the edge of curb cuts. It also helps me keep perspective on bike tech and conspicuous consumption by reminding me of two crucial facts:
You can do a hell of a lot more than you think on a singlespeed mountain bike;
If you can't do it and you have to get off and walk here and there it really doesn't matter anyway.
We're all doing this for fun, and the only person keeping score during your rides is you.
Lead Photo: Taj Mihelich