Why I Took My Teenage Son to the Women's March on Washington
If we want to create a new generation of activists who care about the environment and women's rights, then children need to be exposed to political controversy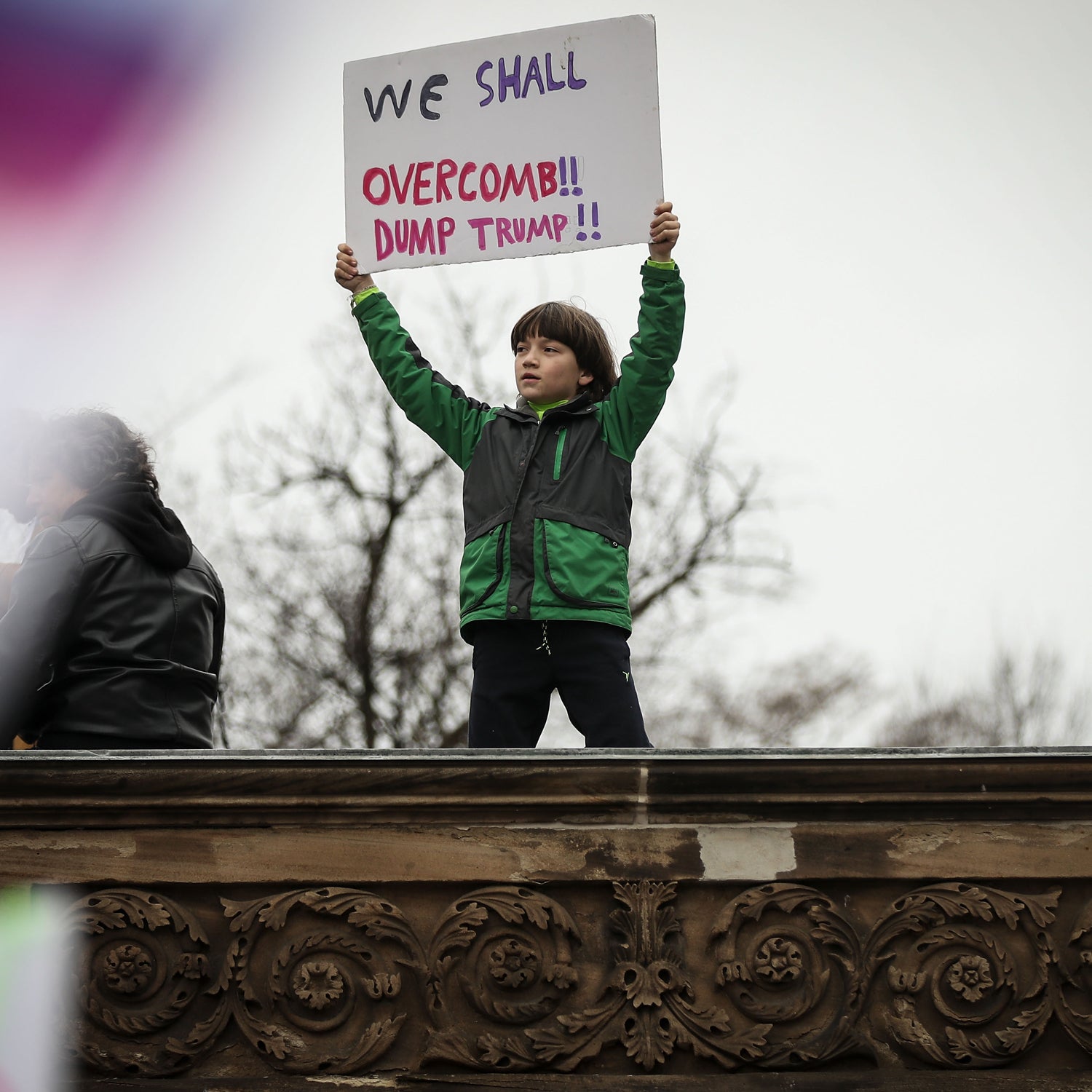 Drew Angerer/Getty Images(Photo)
Heading out the door? Read this article on the new Outside+ app available now on iOS devices for members! Download the app.
On the day my son, Hatcher, became a 14-year-old receptacle for democracy, we walked toward the smoke of a burning limousine in downtown Washington D.C. It was January 20th, the day of the inauguration. We had just come from watching the 45th President of the United States take the oath of office. Afterward, we walked the streets and found ourselves amidst a protest. Near McPherson Square, protestors had lit the limousine on fire, and D.C. riot police responded by launching tear gas and flash bangs. We coughed on the gas. We made our way toward a park and another protest, where a man was trying to be heard over the thwap of a circling helicopter. It was Michael Moore, the film documentarian and political activist. He roiled the crowd with dark humored jokes about the new president before imploring them to take action.
Eventually we headed to a large tent with dozens of people in it and a table full of different art supplies with a sign that said: Kids Create the Future. 
There, Hatcher began making a poster. He was overcome with the events of the day and wanted to say something. He is a heady kid, smart, hyper-attuned to the news, and an exuberant student of history. He had a slogan in mind: "If the freedom of speech is taken away then dumb and silent we may be led, like sheep to the slaughter—George Washington". The quote was so long, he had to draw the letters small, making them nearly unreadable, and Hatcher wasn't happy with it. He carried the sign, which he'd mounted on craft sticks, out of the tent. Yet as we walked away, he filled with sadness.
We coughed on tear gas. We made our way toward a park and another protest, where a man was trying to be heard over the thwap of a circling helicopter.
At an old oak tree, though, a gift appeared to us. It was a large black board, with its slogan facing away from us. Hatcher turned it over, where we saw in bold, white letters the words CLIMATE JUSTICE. After deciding that the poster had been abandoned, he hoisted it.
It was like the sign had found the boy to show the masses its message. And like the boy had found the sign to learn a lesson in democracy.
---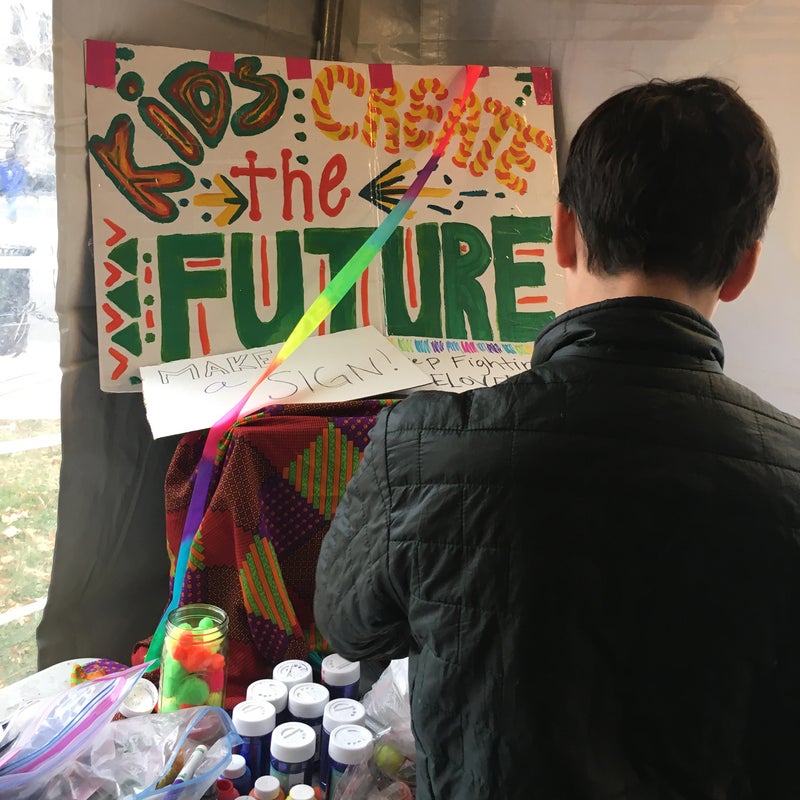 Hatcher and I came to Washington from Nederland, Colorado. At first I thought we'd just go to the Women's March, but as the date of our flights drew nearer, I decided we'd attend the inauguration and post-inauguration activities, too. I'm not a political activist, but I care deeply about many issues. Rights for women and minorities. Respect for the marginalized and disabled. Affordable healthcare for Americans. And, as a resident of the west, whose family prizes clean air, protected lands, and free flowing rivers more than almost anything else, the environment.
My family's reaction to the presidential election was shock followed by horror. By then we already knew President Trump's plans for the environment—to gut the EPA, revive the Keystone XL Pipeline, and withdraw the U.S. from the Paris climate agreement. The morning after he won, Hatcher cried on the way to the bus stop. I didn't know that he knew enough about the consequences of what happened to feel so deeply. My stepfather somehow surmised from Hatcher's political Facebook posts that Hatcher wanted to become an agitator. He texted me to say that I was raising Hatcher wrong because Hatcher wanted to join the "protest crowd" and his views were too one-sided. Within weeks of hearing about the march, I clicked yes on its Facebook page that I was going. And I decided to bring Hatcher to teach him about activism. I wanted us to walk the crowds and compare the moods of day one (the inauguration) to day two (the march).
Later on the night of the inauguration, Hatcher and I stopped for a sandwich. He held up his sign outside of a Jimmy John's sandwich shop, listening to the things people said to him as they walked by.
Here's his report: One man in a red hat called him a "dumbass," another told him to get a job, and several shot him disgusted looks. But just as many people—actually more—stopped to take his picture, or to tell him good work, or to hug him, because they, too, believed in protecting the environment.
It turns out, luminaries, people I respect, agree with this method of parenting. When I told the author and environmental activist Terry Tempest Williams what I'd done, she said immersion, especially in this time of screens, best imprints experiences on kids' psyches. It applies even more so to teaching them about activism. "Once a child in those formative years feels the power of the open space of democracy, the privilege of holding up a sign in a demonstration, they will never allow that open space to be closed up again," she says. "It's visceral. So now there's a memory that is cellular in your son's body."
---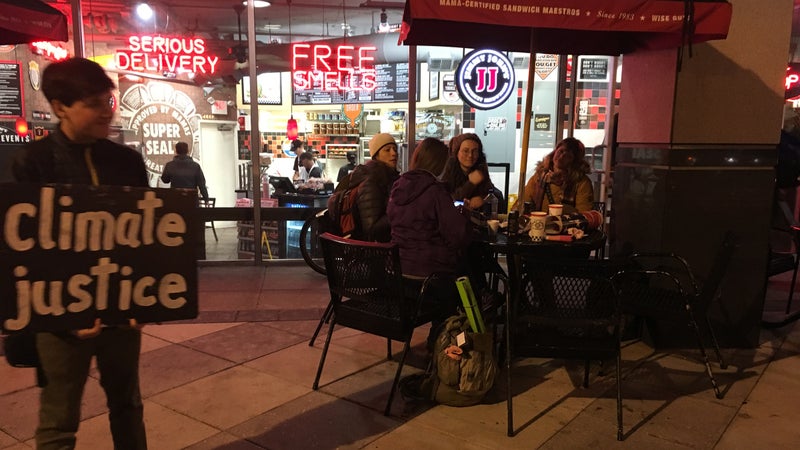 Here's another thing that will deeply impact our children. The plans, if enacted, that President Trump has for the environment. Jamie Williams, President of the Wilderness Society, says, "The dangers are extraordinary. We're looking at a potential rollback of 40 years of bedrock environmental law. Trump and congress are walking away from the biggest environmental challenge of our time, climate change. If they do, it will be an impoverished world biologically. Future children will come into a world where adapting will be their primary focus."
I don't want this, and neither does Hatcher. When pressed to explain why he came to march he says, "Well, you were going, and it sounded exciting. But I'm also afraid for my future. That's why one poster I thought of writing was 'Let me live.' I want my kids to have fresh air, and snow, and a fun existence. I don't want to live in a Lorax world. But sometimes I feel like doing something, especially as a kid, is pointless. Who would listen to me? I don't have that big of a voice."
And yet he does. All kids do. Williams says that children can make an extraordinary difference because they "get the issues, which aren't really that complicated. Kids don't understand why we would rob our future for some present need. They're also what's at stake [if we mess up the environment] so they have enormous authority."
Hatcher carried the sign to our cousin's house on the night of the inauguration and laid it next to the fold out bed where he slept. Throughout the night, he got sick to his stomach. In the morning, I gave him the option of staying while I went and marched. But he'd have nothing of it, and we traveled to the New Carrollton Metro station. At 7 a.m., we met a friend, and, after two hours standing in a line of exuberant marchers, finally boarded. The day before, we'd taken the same train to the inauguration and barely anyone made eye contact.
We joined the crowd, and almost immediately people flocked to him. There was something in the way they reacted that gave me hope.
On this train, people erupted in spontaneous cheers. When we got off, the streets were clogged with marchers. They were majority women, yes, in pink hats, but they were many other things. They were every shade of color, every gender, every changed gender. They were women who'd been abused; women who'd been disaffected; women who believed in vastly different issues. They were babies and young girls. There weren't very many other teenage boys. I counted four all day. I also didn't see that many climate change-specific signs, which made Hatcher's stand out.
We joined the crowd, and almost immediately people flocked to him. There was something in the way they reacted that gave me hope. They not only wanted to take his picture, but they wanted to hear what he had to say. "They" included a reporter from Sierra Magazine, who wrote his words down after taking his picture. He says he told her his name, age, and that he wanted to be a politician. He said, "Because I am the future, I am hope, and I am change."
---
The crowds were so vast that moving was difficult, but we wanted to hear the leaders of the movement. We snaked through to large screen. That's when our day filled with hope and promise. The all-women lineup of speakers included feminists Gloria Steinem and Angela Davis. Actor Scarlett Johansson spoke of the role Planned Parenthood had played in her life. Ashley Judd read a poem. And three of the four co-chairs of the march—Arab American activist Linda Sarsour, African American civil rights activist Tamika Mallory, and Latina criminal justice reform advocate Carmen Perez—spoke about why we must bond together to fight for freedom, citizen safety and equality, and equal rights for all.
Hatcher found a spot near a railing to rest. He was exhausted from his night of sickness. Later, when I asked him what was his favorite part of being in D.C. was, he said: "Michael Moore, and the whole afternoon after the inauguration, and then the march itself, everything about it. Riding the train in, how energized everyone was. Marching with my extended family. How people treated us when they found out we were from Colorado. I felt it gave more purpose to us going, because it showed that we really cared, and I didn't realize that aspect until I was given attention for it. That made me feel like I was important, and that I was giving a voice to the people who couldn't come." 
The march drew Hatcher and me closer. At one point, we became separated, our phones both on the verge of dying. Instant dread washed over me at the thought of my child lost among the hundreds of thousands. But we found each other and hugged tight, and then marched on. 
Terry Tempest Williams and others say that what we need now is an "intersectional feminism." Intersectionality is a term first coined in 1989 by an American civil rights activist named Kimberlé Williams Crenshaw. It's when overlapping or intersecting social identities join to fight systems of oppression, domination, or discrimination. "We need to stress the climate justice part of that," Williams says, "the one that transcends race and gender and speaks to the health of the planet." 
I now think Hatcher is one of intersectionality's identities. We walked as far as we could. It wasn't to the end of the march, but that was okay with us. We'd come, we'd spoken, and we'd represented. 
So what do we do now? What do children like Hatcher do? The Wilderness Society's Williams says that we need to "give them hope, that their voices do make a difference." That's why he takes his kids, ages 13 and 15, to marches. "They need to engage politically," he says. "They need to show up. They can do that through a march, through a letter to congressional leaders, through becoming part of a campaign around an issue they feel is important."
Hatcher says he wants to do other marches. He wanted to bring his Climate Justice sign home and use it at his next demonstration. But after the march, we took a break at the Smithsonian Museum of Natural History. There was a box stationed outside to leave posters, because you aren't allowed to bring political messages inside. We stowed ours near the back hoping to easily find them. But while we were resting, someone took them.
I like to think that the sign chose yet another kid to spread its message. 
Corrections:
(10/03/2023) After publication, Outside changed the word incumbent to President Trump for clarity.
Lead Photo: Drew Angerer/Getty Images
Trending on Outside Online