Outside's "The Game Show" with Elias Cairo Teaches You Everything You Need to Know About Cooking Game Meat
Chef and butcher Elias Cairo of Portland's Olympia Provisions is launching a six-episode cooking series about the unique thrill of cooking wild game in the outdoors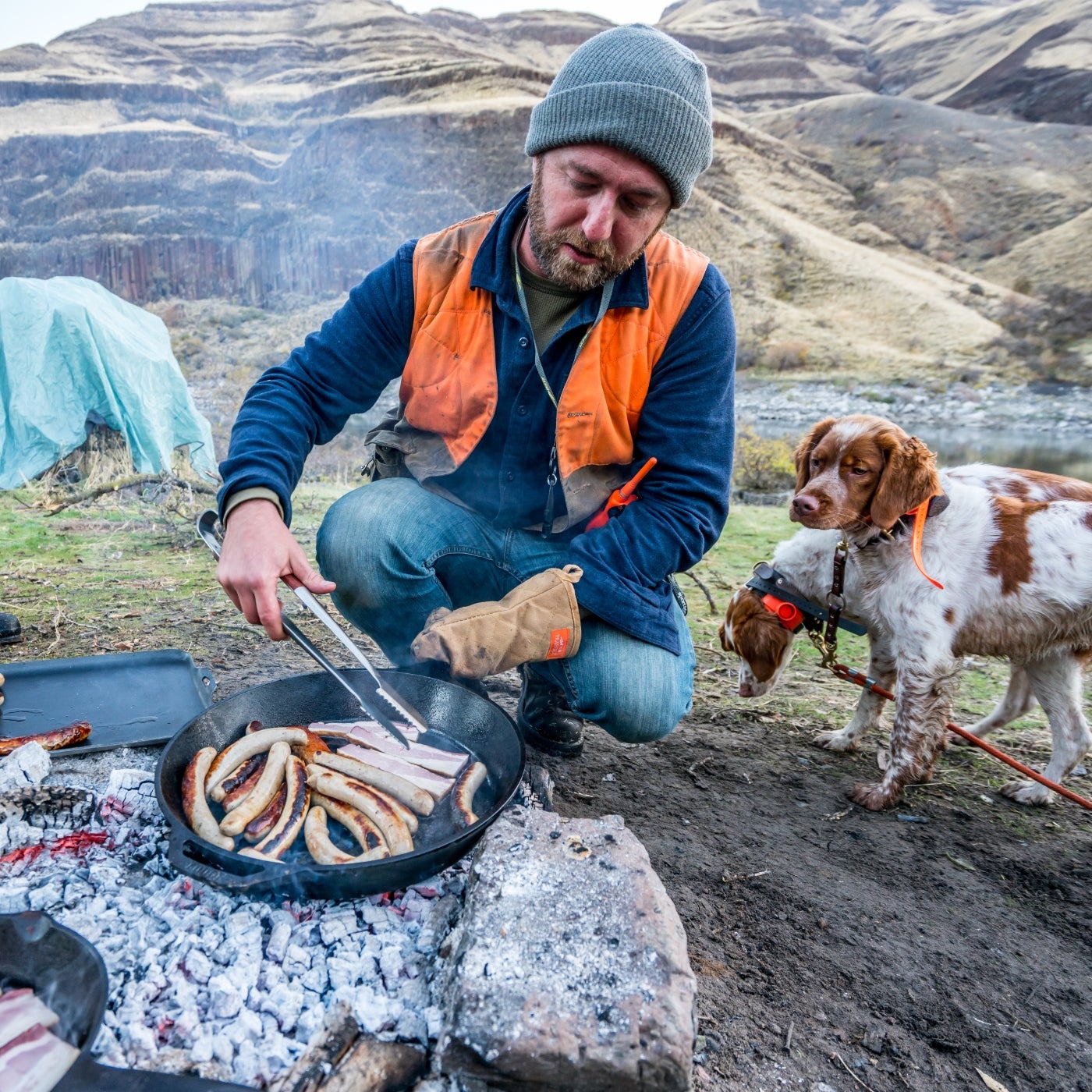 Elias Cairo
Heading out the door? Read this article on the new Outside+ app available now on iOS devices for members! Download the app.
In "The Game Show," the new cooking series from Outside, chef and butcher Elias Cairo combines his love of the outdoors with cooking wild game—often over an open fire. From rabbit and quail to venison and turkey, he clearly explains butchery and whole-animal cooking where nothing goes to waste.
Based in Portland, Oregon, Cairo grew up in a Greek family outside Salt Lake City. His dad, who immigrated from Greece when he was in his twenties, brought his Old World lifestyle with him. "My dad did his darndest to turn his property and house into a green village," Cairo explains. "We raised all of our own meats, had gardens, preserved everything, kept bee hives, harvested glue, made our own wine and liquor, and had two restaurants" And they would venture into the surrounding mountains and hunt and fish.
Some might call Cairo a maker or a man who lives close to the land. Cairo would say he's just following in his late dad's footsteps. "I grew up with what people now call DIY; most folks like my dad just called it 'life,'" he writes in the introduction to Olympia Provisions, the cookbook that serves as an ode to Cairo's restaurants and world-famous handcrafted meat and charcuterie business.
Cooking as a Way of Life
Everything Cairo learned about food and the land came from how he grew up. When his father was cooking or gardening or hunting or fishing, Cairo was right by his side. His father passed away when Cairo was 15 but he has chased and honored his legacy ever since. This is something Cairo is especially aware of when he ventures into the wild to hunt and fish. "I realized hunting is just a pastime for some people, but it was in my dad so deep." And for Cairo, it isn't just the end result, it's the experience and the time spent in the woods, the grasslands, and the open air. "It's physically demanding and there's the solace and peace of mind that comes from nature," he explains.
Cairo, who learned the art of charcuterie when he apprenticed and worked in Switzerland, has since become the face of American salumi. He is also a huge proponent of hunting and cooking wild game. Case in point, in 2018, he appeared in a video series with Bon Appétit detailing a pheasant hunt, complete with animal butchery and cookery. "It was the first time the magazine had ever shown what it really means to have meat on a plate," he says.
If this sounds potentially chest-thumping and testosterone-infused, you're wrong. Cairo is down-to-earth, knowledgeable, and even funny. The reverence for the animals he hunts and subsequently cooks and eats, is front and center, and that deep respect informs his meat-eating philosophy. "As a meat maker that owns a meat company. I think the vegetarians are right: The current way we make meat on a mass scale is horrible," he explains. But when it comes to hunting, "it's very hard to find a more positive impact than getting a year's worth of meat from an animal like an elk. And your only carbon footprint is getting to and from the hunting ground."
During the course of "The Game Show" the show, Cairo offers readers tips and tricks—try serving whipped cream over stew instead of sour cream; insert your knife here for an easy cut; use duck fat instead of butter or oil for a natural, delicious, and keto- and paleo-friendly alternative, for example. Most importantly Cairo wants you to get outdoors, cook something new, and lean into the process. "Every time I get the opportunity to cook outside, "he says with his characteristic smile, "I kinda get to cheat because I know ambience is one of the best flavors in the world."
With small exception, recipes on "The Game Show" are simple, and even if you're not the hunting or butchering type, you can still make many of the dishes with store-bought proteins. Or better yet, befriend someone who is a hunter and promise that, if they share a little bit of the wealth, you'll make them an Elias Cairo-approved dinner.
Lead Photo: Elias Cairo