How to Create the Ultimate Party Patio
Equipping yourself to be a one-person A/V Club should be a point of pride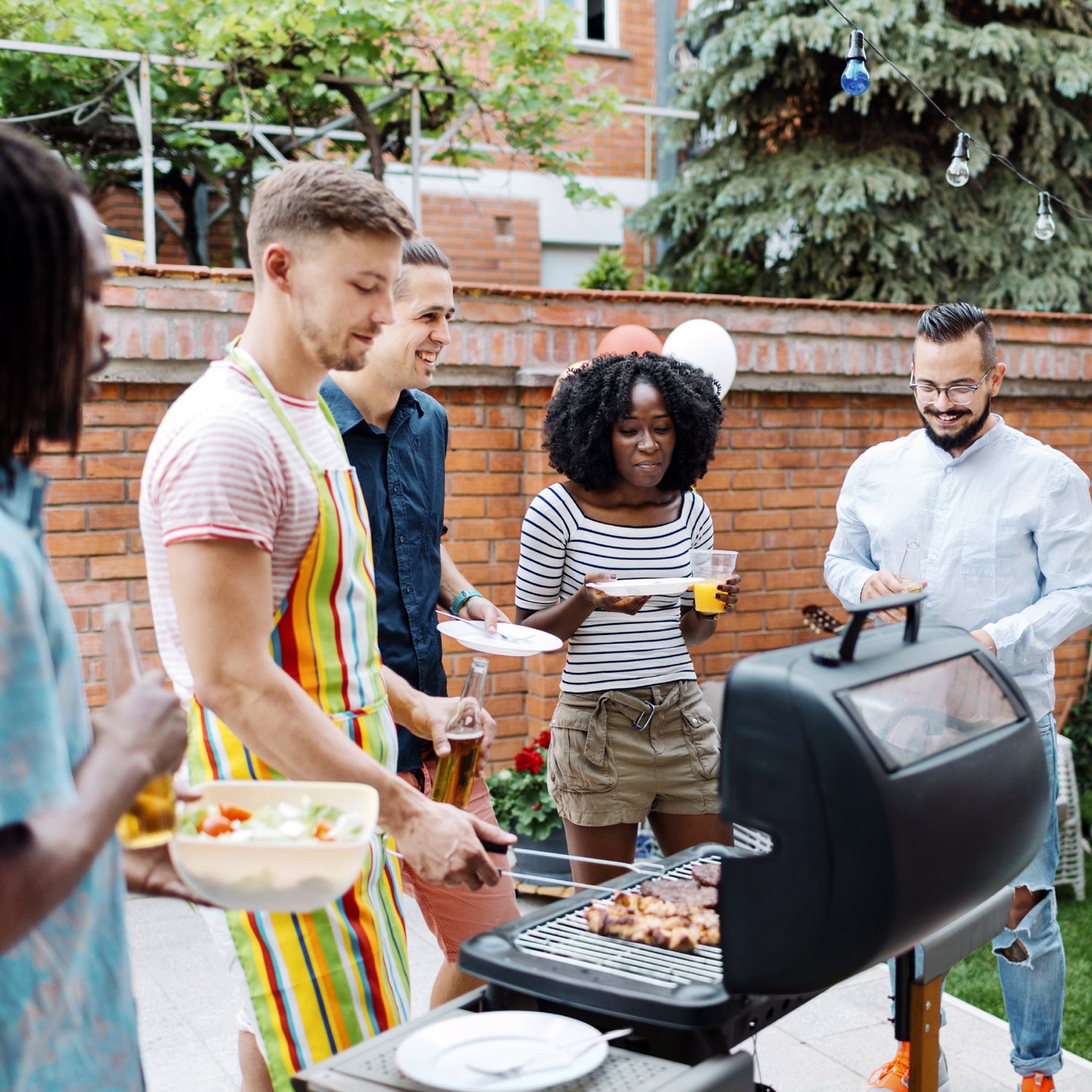 Heading out the door? Read this article on the new Outside+ app available now on iOS devices for members! Download the app.
Isn't technology wonderful? Used to be that playing music or a movie in the backyard meant wheeling out coils of sound cords and duct-taping them along the fence and warning people about tripping over them on the patio. But no more. 
Thanks to some smart innovations, there are now far better ways to wire your yard for summertime dance parties and film screenings. Here's our DIY instruction manual.
Power It Up
Even if you have a ready supply of electricity in your backyard, it'd be niftier to run the whole show off solar power? Goal Zero's Yeti 150 generator ($430) takes five hours to juice up, using a pair of Boulder 30 solar panels ($200). It pumps out 12 volts so you'll have plenty of juice to run the following setup. 
Lighten the Mood
Hurricane lanterns are pretty, but kerosene is a smoky pestilence that you don't want to unleash on your crew. Ditch the gas-fed flames and string up a chain of Goal Zero's new Light-a-Life LED lanterns ($40) instead. They're like holiday lights, just better. They come with both magnets and 'biner clips so improvising mood lighting is very simple, and the power draw is low. A single LAL can run for 50 hours off the Yeti 150 generator. 
Turn It Up
Music is key to making any party a success. Grace Digital Mini Bullet II ($100) speakers are handy because they're self-powered and they power down automatically when you're not using them. Plus they're weatherproof—just leave them on the back deck and forget them until you need music. And you can daisy chain up to 10 speakers together wirelessly. 
For the coolest effect, combine audio and lighting together with Sengled Pulse bulbs ($150). Yes you read that correctly. These are combination lightbulbs and speakers. Use the iOS/Android app and wireless bounce music from a phone or tablet to a pair of Pulses (and add up to six more bulbs for true surround sound). You can also dim the bulbs as the night goes on, and independently crank the volume. Of course if you want to keep it simple, there's also Outdoor Tech's Big Turtle Shell ($200); one wireless, weatherproof Bluetooth speaker you can crank up to 11.
Project Yourself
You've probably been in at least one boring conference where someone's lame pico (read: handheld) projector rendered a washed-out video. Well, the ultra-portable Celluon's PicoPro ($360) is worlds better and only about the size of a VHS tape. For best results, position the projector such that the image on your display surface is roughly four-feet along the diagonal. You don't need a traditional projector sheet. The surface can be the stucco wall in back of your house, a bed sheet, or even a light-hued tent rain fly. The projector's 720-pixel HD resolution comes through clear enough on whatever you're projecting onto. The PicoPro also has a built-in battery good for up to two hours of battery life. Extend that life by plugging it in to external juice.
Lead Photo: vgajic/iStock