How to Elevate Your S'mores Into the Perfect Campfire Desserts
Our twist on a classic camping sweet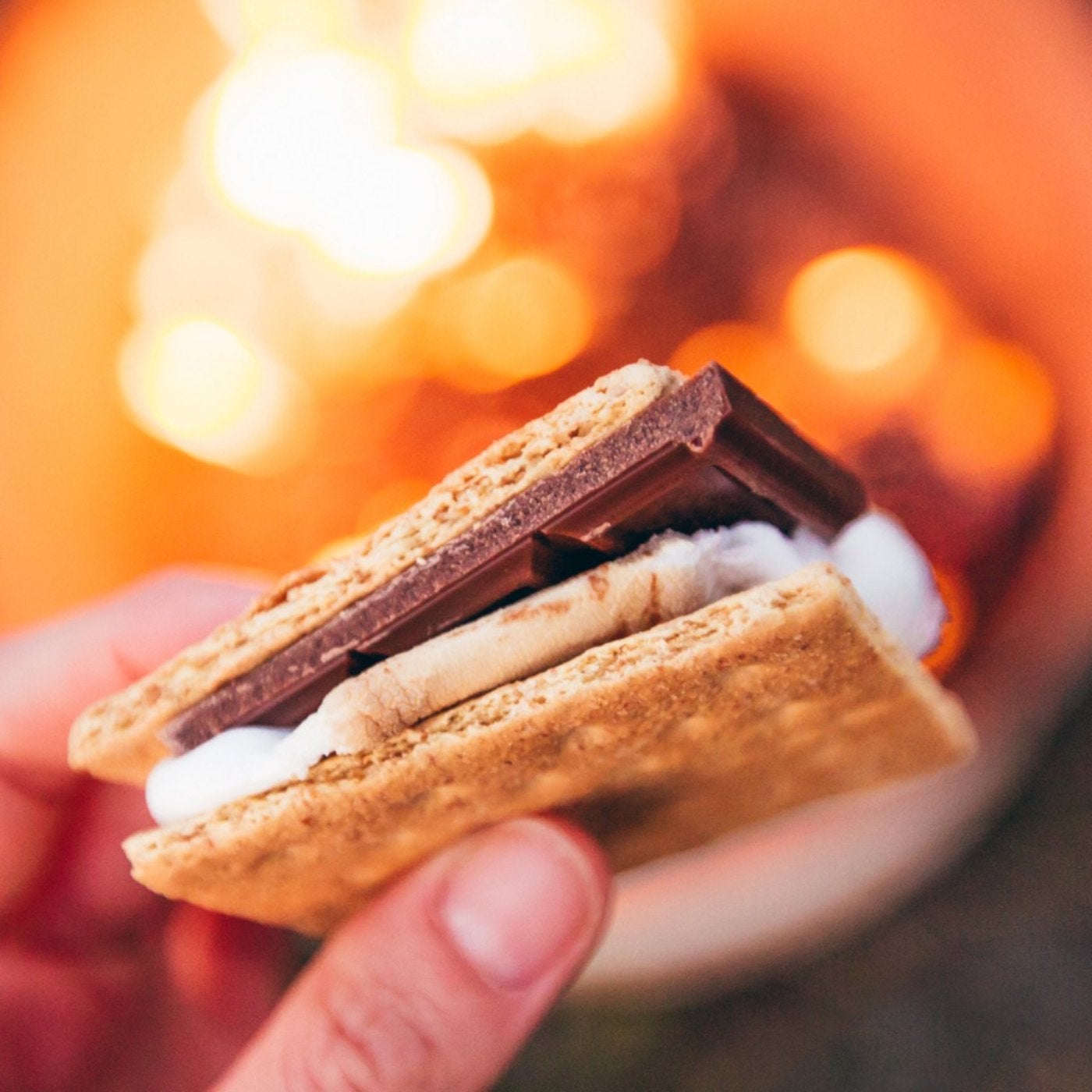 Jena Ardell, Getty
Heading out the door? Read this article on the new Outside+ app available now on iOS devices for members! Download the app.
This story was originally published July 27, 2013 and updated on August 22, 2023. 
Bad-mouthing the classic campfire dessert known as the s'more is just plain wrong. It's tantamount to dumping on the Girl Scouts, who published the first s'mores recipe in a 1927 handbook, not to mention the magic of summer nights outdoors, camaraderie around an open fire, woodsmoke, sugar rushes, our kids and our memories of being kids, and the American tradition of sickeningly sweet junk food. 
As much as we love a traditional s'more, we also know there's always room for improvement. Here are three of our favorite ways to give this classic campfire dessert a makeover. And if something here doesn't inspire you, we tested the viral TikTok s'mores cookie to take this fan favorite up a notch.
3 Ways to Level Up the Classic Campfire Dessert
Banana Boat S'mores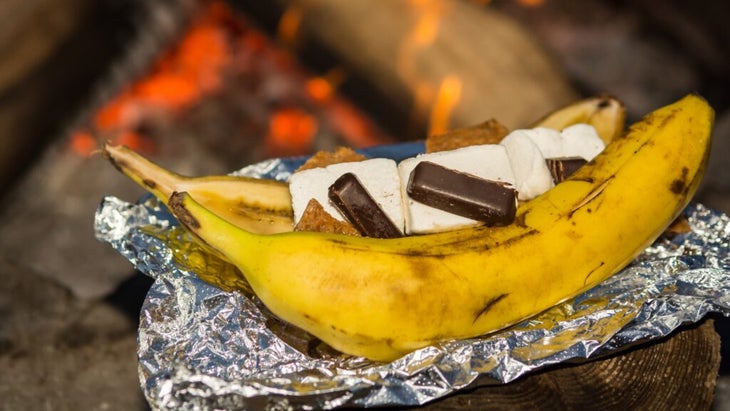 This recipe is one you might read and think, "Duh! Why didn't I think of that?" Because the concept for this campfire dessert is bananas, that's why. 
Think s'mores-turned-banana-boat. You'll need bananas, semisweet chocolate chips or a bar, marshmallows (full-size or mini), aluminum foil, and, of course, a campfire. To begin, slice an unpeeled banana lengthwise so it opens like a hotdog bun. Stack your desired amount of chocolate and marshmallows into the "bun" and close. Then wrap it in foil, making sure to pinch the top closed. Place over the embers on your campfire's edge, making sure the seam in the foil faces the top. Cook for about five minutes, carefully remove from the coals, and open the foil. Allow a minute to cool and dig in. 
Cream Cheese S'mores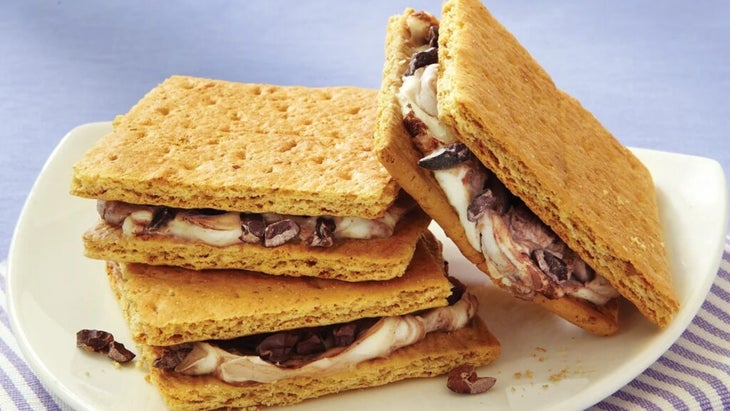 If you're a fan of cream cheese frosting, you'll love this dessert. While it resembles a classic s'more, the elevation lies in the substitution of marshmallow and chocolate. Hang in there and keep reading—we promise, it's worth it. 
You'll need one container of low-fat plain cream cheese, raw honey, dark cocoa powder, graham crackers, and raw cacao nibs. As for equipment, this recipe requires a campfire grill grate and a baking sheet. To start, combine cream cheese and honey into a small bowl and mix until smooth. Then stir in cocoa powder until blended. Spread about a teaspoon of the cream cheese mixture onto each cracker and arrange on a baking sheet. Place onto grate for a few minutes, until warm and soft. You'll know they're done when the cream cheese is melted and almost oozing out the sides. To finish off the dessert, sprinkle with cacao nibs. (Here are two more cheese-filled s'mores recipes if parmesan or mozzarella are all you've got on hand.)
Whisky S'mores Lollipops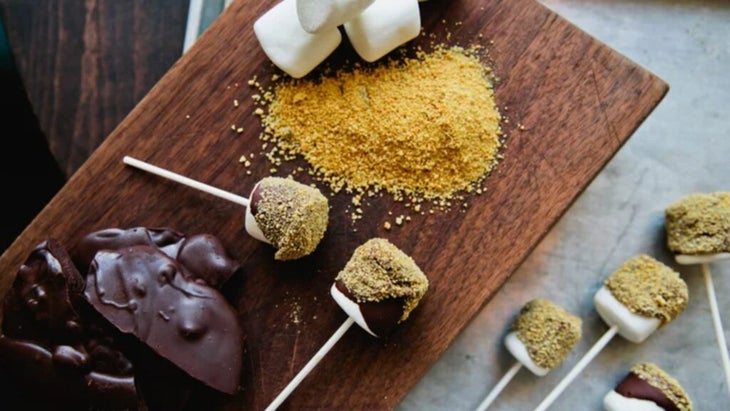 This recipe has a bit of a kick that makes camping feel more like glamping. You'll need heavy cream, bittersweet chocolate, whiskey of your choice, marshmallows, graham crackers, a 2-quart sauce pot, and lollipop sticks. To begin, crush graham crackers into crumbs, spread onto a plate, and set aside. Bring heavy cream to a simmer in a large sauce pot and mix in chocolate until incorporated. Whisk in whiskey (use about 1 tablespoon) and remove from heat. Quickly, so the mixture doesn't cool, skewer marshmallows with lollipop sticks and dip into the ganache. Then roll them in the graham cracker crumbs until coated. Once the lollipops have cooled, you have the option of lightly toasting over the campfire.
Recipe courtesy of Chicago-based chef Cory Morris.
Our Favorite Coolers to Keep Perishable Ingredients Fresh
Elevating s'mores to the next level of deliciousness also means that some of your ingredients are going to need to be kept cold. That's where a cooler comes in handy, and we have a few recommendations to choose from.
Yeti Tundra 65
Yeti tops the list of our favorite coolers. The Yeti Tundra 65 ($375) fits about 58 pounds of ice and is durable, leak-proof, non-slip, and well-insulated. The Tundra 65 weighs about 30.3 pounds, which is surprisingly light for its size. A single person can manage this cooler, making it accessible and easy to use. 
Cabela Polar Cap 80
For those who are looking for a larger cooler, the Cabela Polar Cap 80 ($349) is a great choice. This cooler can carry a whopping 80 quarts and weighs about 40 pounds. It can take a beating without leaking, which makes it ideal for long journeys in the back of a truck. Best of all, the Cabela Polar Cap is made with a rotomolded body and freezer-grade gasket lid, so ice stays cold for days. 
For more of our favorite coolers, check out these tested and approved weekend coolers.
Do's and Don'ts of Cooking Over a Campfire
Do Build Your Campfire the Right Way
The perfect campfire dessert starts with a quality fire. If you have an existing fire pit, this part is easy. If not, you need to scout for an ideal location: choose a level space free of debris like brush or decaying leaves. If possible, pick a spot that's protected from wind. Then, follow these tips to build a better campfire where we cover how to prep your fuel, the pros and cons of using a tepee or log cabin structure, and the proper way to put out your campfire.
Don't Cook Directly Over the Flames
Specific techniques for cooking over a campfire will vary depending on the recipe, but in general, avoid cooking food directly over any flames. You're more likely to burn whatever you're cooking to a crisp under direct heat. Instead, use a low-burning fire or the embers on the edge. This allows for more control.
Lead Photo: Jena Ardell, Getty