The Search for the Perfect Backcountry Brew Is Over
Ditch your backpacking French press. We've found something better.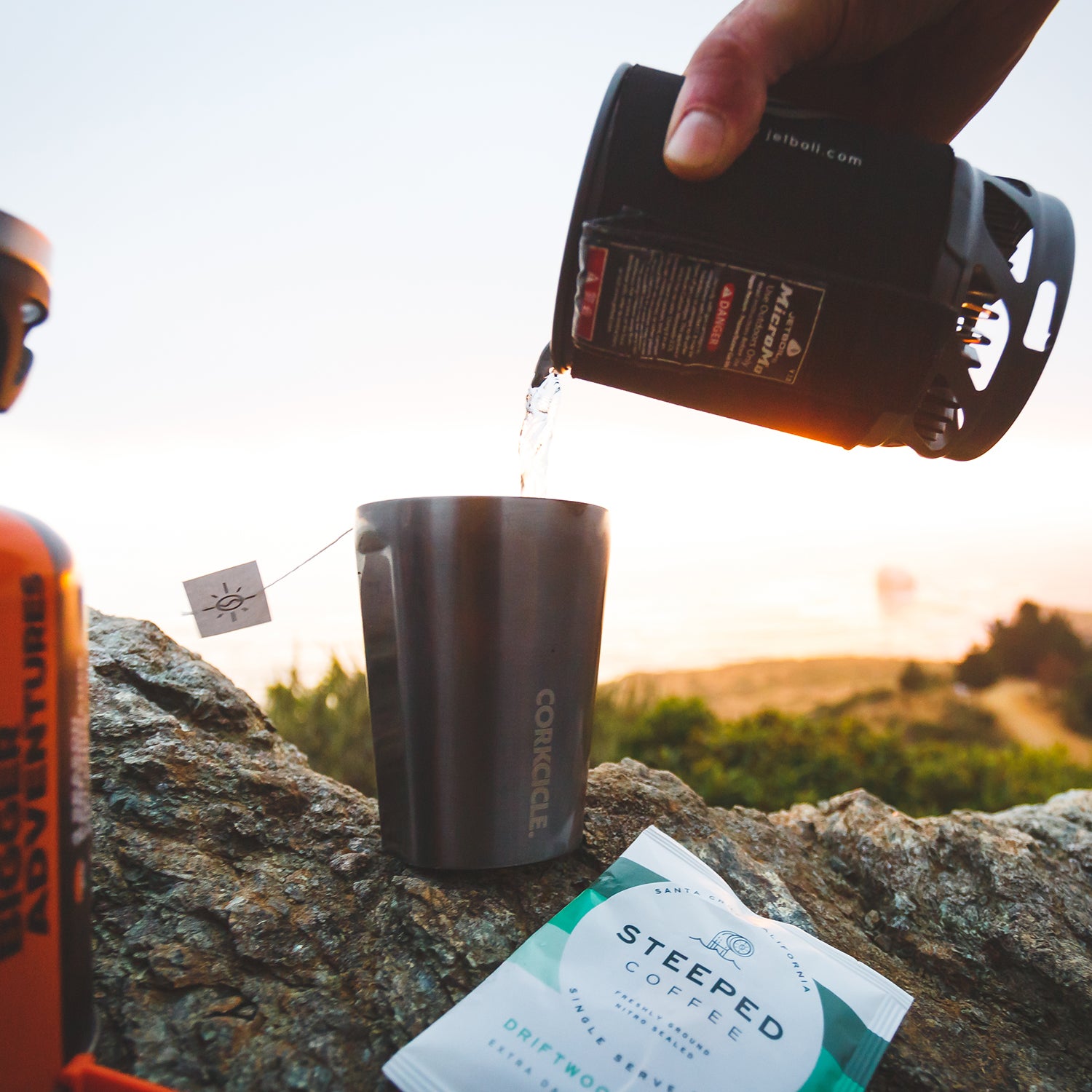 Courtesy Steeped Coffee(Photo)
Heading out the door? Read this article on the new Outside+ app available now on iOS devices for members! Download the app.
For years I've toggled between being one of two types of backpacker: the no-fuss minimalist who drinks instant coffee, and the snotty brat who trundles her AeroPress all over the wilderness.
Neither approach is great. Sure, instant coffee has gotten better, but it's still got that sticky-stale taste. And while an AeroPress isn't exactly heavy, it's still got bulk, and it's fiddly and inefficient for making multiple cups.
We've finally found our solution: steeped coffee.
Coffee roasters have long wondered whether they could package their products like tea. They were interested in opening up more options for when and where people could drink great coffee. "However, historically, it has been difficult to execute effectively," says Tamas Christman, founder and CEO of Dragonfly Coffee Roasters, a small-batch operation in Henderson, Nevada. One big problem, in particular, has been producing a bag "that can hold enough coffee while still being permeable enough to saturate the grounds and allow sufficient extraction," Christman explains.
Finally, someone's done it. Josh Wilbur, CEO and founder of Steeped, a roaster in Santa Cruz, California, says he started experimenting by simply putting coffee into tea bags. It didn't work. Too fine of a grind and the grounds go rogue, ending up in your cup; too rough and it doesn't steep well. Seven years of trial and error later, Steeped went to market with a compostable bag that doesn't let any grounds through and makes a pretty darn good cup.
While Steeped roasts its own coffees, it's also selling packaging to many microroasters, like Dragonfly. That means there's suddenly a diverse offering of near instant choices. And when I say near instant, I mean it. Brewing with single-use bags is essentially like preparing a cup of tea. You plop the bag in your cup, pour hot water over it, jostle it around for about 30 seconds, then let it sit for five minutes. (My one pro tip is to resist the urge to overfill your mug—jostling the bag around will send coffee over the edges.)
I brewed 18 different cups in an attempt to find the best steeped coffees out there. (BRB—gonna go clean my whole house and then bag a peak.) These were the stars of the bunch.
Mr. Espresso Seven Bridges Blend
Based in Oakland, California, Mr. Espresso roasts its coffee over an oakwood fire. You'd think the result would be a smoky cup—it's not. According to the company, heat from a wood fire has a higher moisture content. That translates to beans that roast slower and a final product with low acidity but plenty of deep baritone notes. Mr. Espresso tags this blend as having a caramel finish, and I tasted dark chocolate, too. It's a perfect cup for someone who wants the richness of espresso out on the trail. $14 for eight servings
---
Chamberlain Coffee Careless Cat Blend
All you cool cats and kittens will like this super-chill medium roast from Los Angeles–based Chamberlain Coffee. It brews up a half-caf cup, which is rare to find in the single-serving world. The Careless Cat blend walks that fine line between bitter and smooth that you'd expect from a blend of 100 percent Arabica beans from Guatemala, Mexico, and Peru. I noted hints of raisins and nuts—meaning it will pair perfectly with your morning handful of GORP. $20 for ten bags
---
Steady State Magdalena
Fans of bright, sunny, and ever so slightly sour coffees will love this single-origin roast from the Pitalito area of Colombia. One thing I love about Steady State's offerings is that each variety gives you the name of the farmer and the farm that grew your coffee. It's nice to drink a brew that's so easily traced back to its source. $2 per packet
---
Tinker Coffee Conduit
Rich and tinged with the sweetness of dates and milk chocolate, this is a cup that would make me want to pack a slug of half-and-half—not because it needs it, but because a swirl of cream would be heavenly in an already-rich sip. Tinker, an Indianapolis-based roaster, has imparted Conduit with just the right amount of body and bitterness at the finish. That bite is there, but in a pleasant way. $17.50 for ten
---
Steeped California Blend
I have to give a shout-out to the brand that made mass-market steeped coffees a thing. If you need to make coffee for your whole crew, this brew from Steeped is the one to buy. It's a classic, balanced, not too dark and not too sour crowd-pleaser. $15 for ten
Dragonfly Coffee Terre Celesti
Falling slightly on the light side of a medium roast, Terre Celesti makes a cup with truly elegant floral notes. I kept finding myself holding the mug up to my face simply to sniff the lovely aroma. It's equally delightful to sip, though, with notes of nougat and just a touch of bright acidity. $25 for ten
Lead Photo: Courtesy Steeped Coffee
Trending on Outside Online