Check Out These Beautiful Shots from a Southern African Ski Resort
Long a popular tourist destination, Lesotho's Afriski Mountain Resort is slowly gaining traction with local residents, too
Photographer Kari Medig knows snow. His hometown of Nelson, British Columbia, gets more than 450 inches of the white stuff every year. So Lesotho, a small highland country nestled entirely within the borders of South Africa (average annual snowfall: about four inches), seemed an unlikely destination for a ski trip. With climate change making for drier winters in the region, the only flurries Medig expected to see were those coming from the snowmaking equipment at Afriski, a six-run resort in the Maluti Mountains. Initially intending to capture the contrast of a single strip of white in an otherwise arid landscape, Medig was forced to recalibrate when he woke up the day after arriving in August of last year to the biggest powder dump the area had seen since 2016. "I had to push open my door," he says. "It had snowed a foot and a half."
Instead, Medig turned his lens on the local ski culture—such as it is. Many people on the mountain with him that day had never seen snow before, let alone squeezed into a pair of ski boots. Throughout its 21-year history, Afriski's single T-bar lift has served mostly South Africans and international tourists seeking out the novelty of skiing so far south on the continent. But in recent winters, especially after the resort began offering discount passes during the pandemic, that has been changing. Previously, the locals "were barely buying into the snow idea," says tour operator Stephan Morake, who lives in the capital city of Maseru. Morake notes that heavy snowfall was usually considered a disaster by the pastoral mountain population and the government, since it can kill livestock and trap people. Now, he says, area residents are beginning to embrace ski and snowboard culture, though it may take a while to catch on. As one 23-year-old first-timer put it to Medig that day, "This is unlike anything I have done before."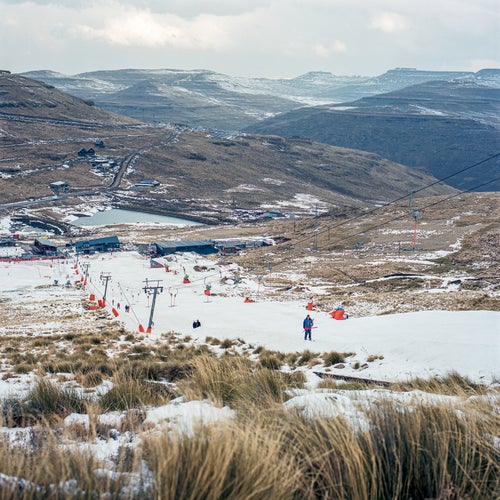 Patrons of Afriski ride the t-bar up the 192m vertical drop main slope at the resort in Lesotho's Maluti Mountains.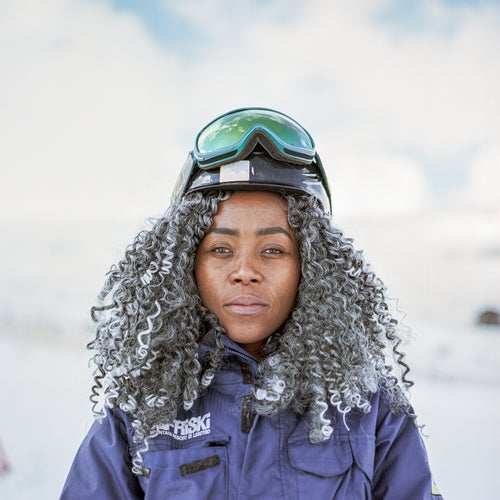 Manini Fokoko, who works in the mountainside café, has ridden Afriski for 13 years.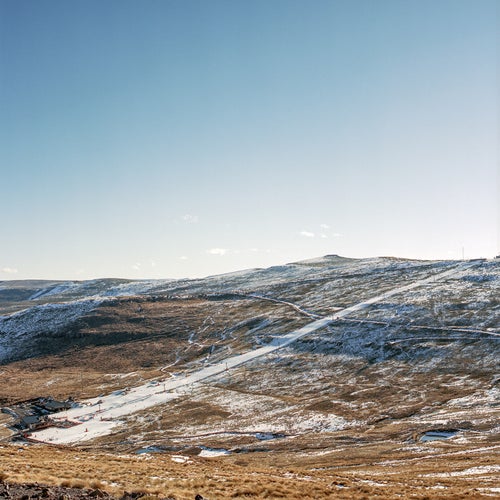 The resort seen from the highway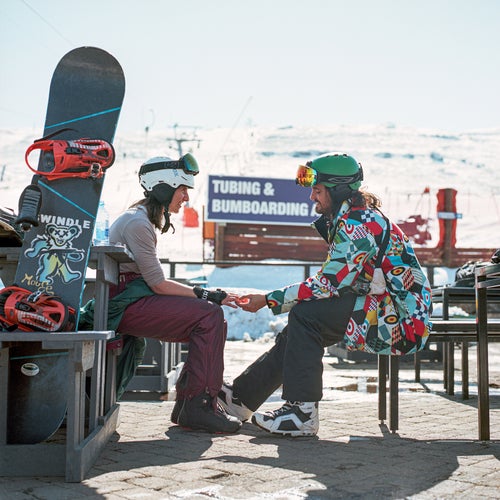 Snowboarders Jade Abbott (left) and Chris Fourie share a moment.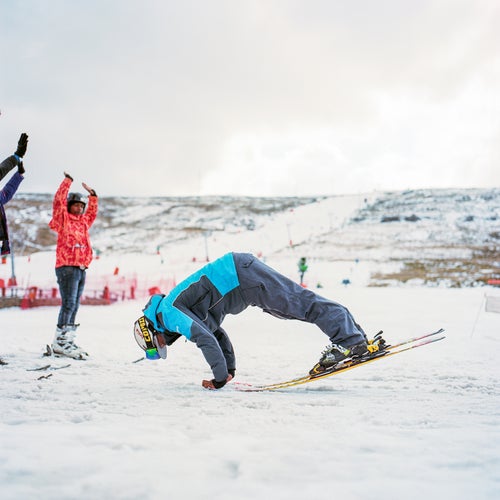 Ski instructor Hope Ramokotjo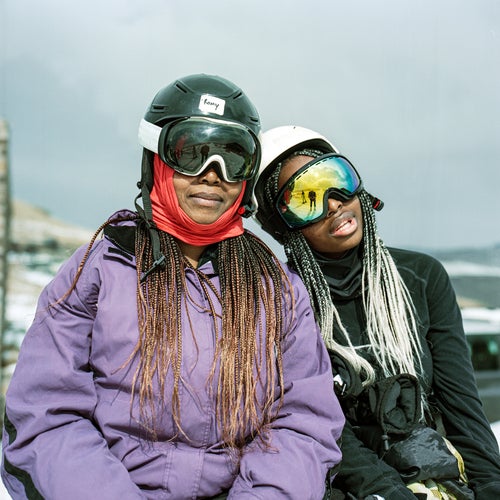 Mother and daughter Hloniphile and Katleho Ramonotsi take a break.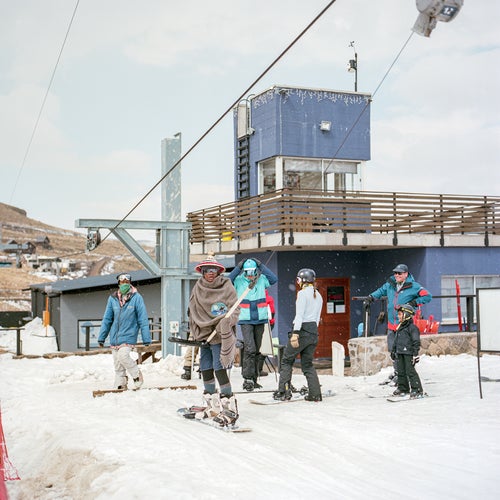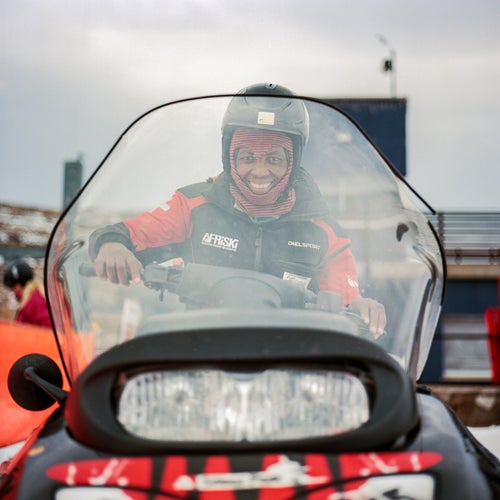 Ski patroller Chouk Ramabanta on a snow machine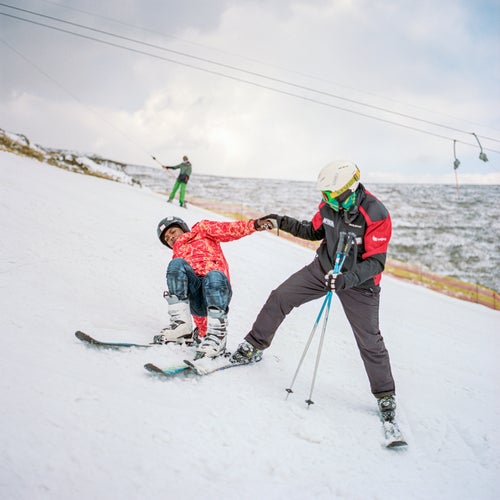 Ramabanta helps a first-timer on the steep upper slope.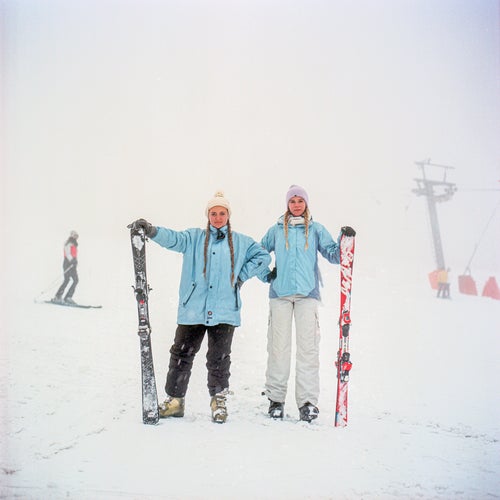 Gené van Niekerk (left) and Mila Henning at the base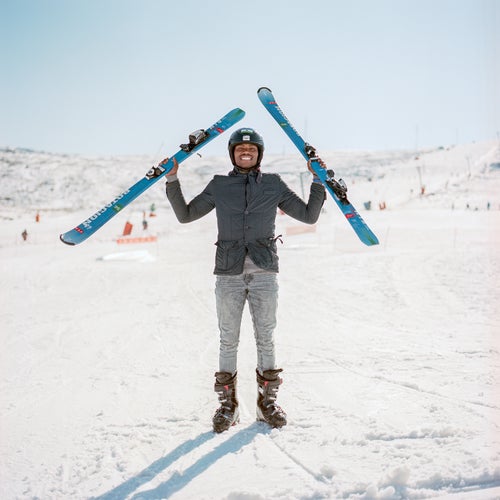 Julius Mosholi Molise, a student at the National University of Lesotho, skiing for the first time since 2017.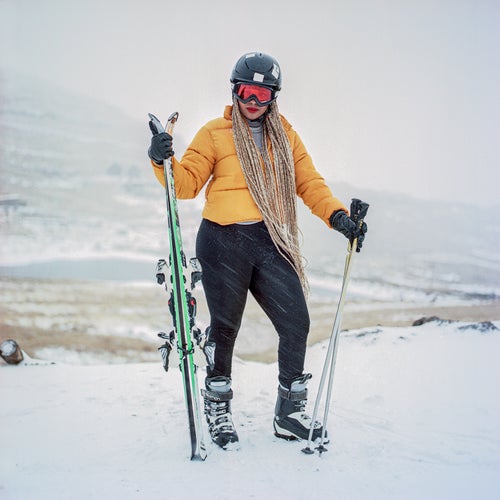 Gugu Nyatsumba giving the sport a try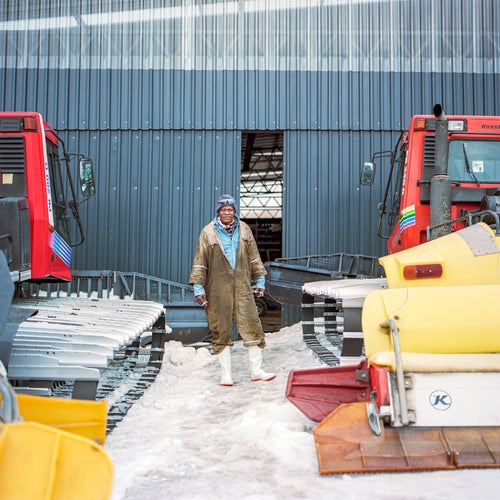 Mabare with the resort's groomers