Off the Wall: Dancing 3,000 Feet Above Yosemite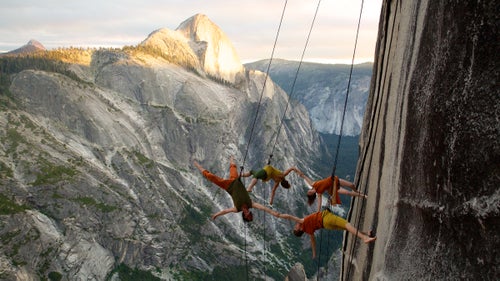 In 1989, choreographer Amelia Rudolph was clinging to a sheer granite wall in California's Sierra Nevada when she wondered what it would look like to dance there. Soon after, Rudolph founded Bandaloop, a dance group that has performed on numerous rock walls, as well as Seattle's Space Needle, skyscrapers in South Korea, and dozens of other sideways stages, sometimes for public audiences numbering in the tens of thousands. Beginning this June 16, six dancers and a nine-person support crew headed into Yosemite's wilderness for ten days of hiking and pirouetting. The pinnacle of the journey was a performance on the face of 8,500-foot Mount Watkins, a stage that offers a rare perspective of Half Dome and an audience of birds, bugs, squirrels, and perhaps a bear or two.
Photo: Bandaloop dancers on Mount Watkins, nearly 3,000 feet above the valley floor. Rudolph's goal with the group has been to challenge preconceptions about modern dance. The performers make it look easy to fly off the wall, but their abdominal muscles are often screaming as they fight gravity to hold their bodies perpendicular to the face.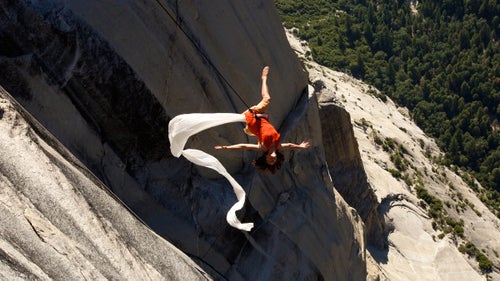 Artistic director Amelia Rudolph leaps into midair, trailing a ribbon of white silk. For Rudolph, Bandaloop's Yosemite performance, dubbed "Crossing" and largely funded by the National Endowment for the Arts, is an opportunity to explore the idea of dance staged as a journey.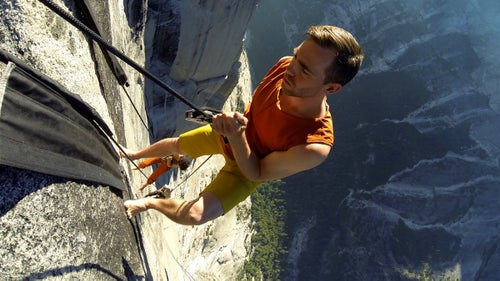 Andrew Ward descends for his quartet with Roel Seeber, Meghan Mullin, and Jessica Swanson. During this rehearsal, dancers call out the names of various moves, like "crystal break" and "long line." Watch a video of them in action here.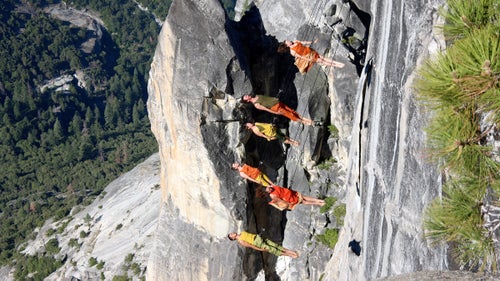 The performances on Mount Watkins were crafted back in Bandaloop's studio in Oakland, California, but as always, they have to adapt the choreography to the specific location. Here, the dancers contend with jagged surfaces, crumbling rock, and exposure to the blaring sun.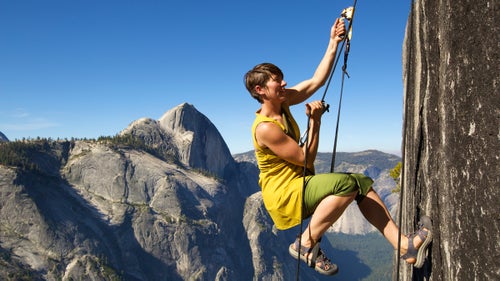 Mullin ascends to the top of Mount Watkins after a performance. While hiking with some friends the previous year, she took a 25-foot tumble, breaking her pelvis and wrist. She was all nerves during a scouting trip to a nearby mountain this spring, but on Watkins, exhilaration triumphed over fear.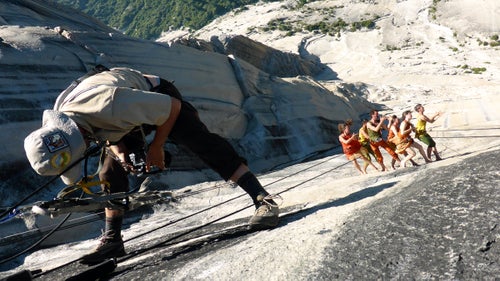 Rigger and cameraman James Adamson lowers himself into uncomfortable positions to get the perfect shot. He's often in the perfect spot to get stepped on, whacked by flying limbs, and have his rope plucked like a guitar string. Adamson says the hardest part is keeping his knees out of the shot and his legs from going to sleep while crouching against the wall. Click here to watch Rudolph and Melecio Estrella dance with Adamson crouched between them.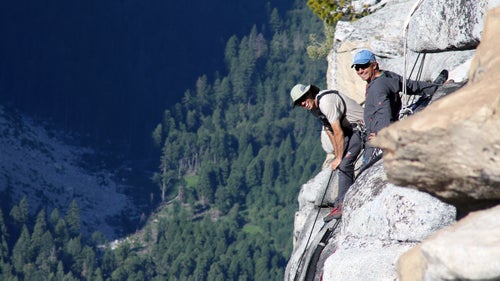 World-class climbers like Peter Mayfield and Hans Florine have helped rig for Bandaloop projects since Rudolph, an old friend of theirs, created the group. It was at Mayfield's CityRock climbing gym in San Francisco that Bandaloop staged its very first public performance, in 1991. Here, Mayfield works side by side with his son Braden to ensure the dancers' safety.
Bandaloop executive director Thomas Cavanagh wears many hats. When the performances were underway on Mount Watkins, he acted as stage manager, cueing the dancers and riggers. When Rudolph asks for the moon, it falls to Cavanagh to reconcile her creative aspirations with technical and logistical realities.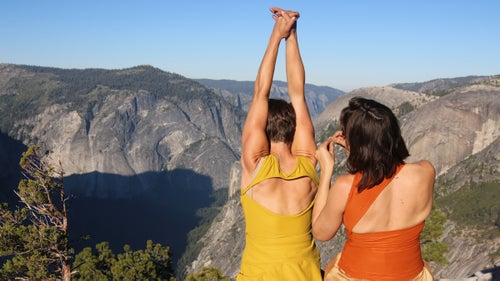 During their ten days in the wilderness, each of the dancers carried 40-pound packs holding everything from food-filled bear cans to toilet paper to sewing kits for fixing costume malfunctions. Here, Swanson whips out her needle and thread to stitch up Mullin's outfit under the shadow of Half Dome.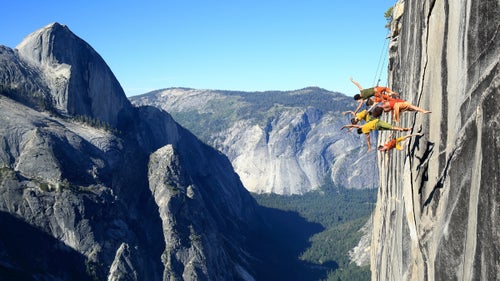 According to the group, performing without an audience doesn't feel as odd as you might think. "I'm dancing just for the pure joy of it." says Estrella. "And it's really freeing."