First Look: Franco Grimes R1 Road Bike
What's old is new and sexy again with this steel all-road ride.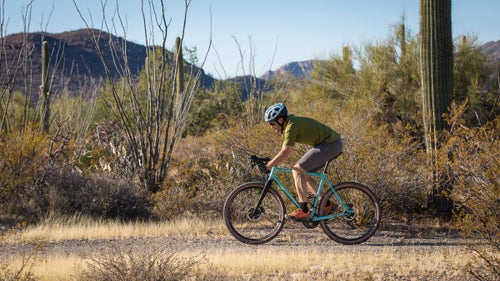 The gravel phenomenon has pushed road bike designs to become more versatile than ever, but in many cases we've lamented limited tire clearance. Made in California, the chromoly Franco Grimes R1 takes the age-old steel road bike frame design and, with clearance for up to 2.1-inch tires on 650B wheels, transforms it into a machine that will be stopped by no road or surface. No matter where we took it during Outside's 2018 Tucson bike test—from the silky pavement at Saguaro National Park East to hard-pack corduroy on Redington Road and even the screaming fast singletrack on sections of the Arizona Trail—we came back grinning.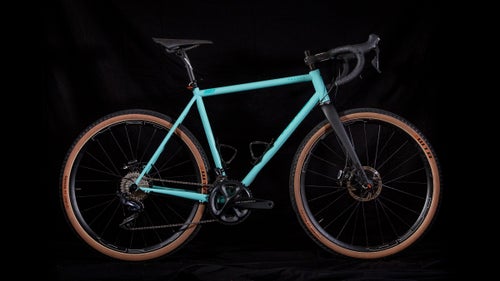 The Grimes R1 looks a bit like your father's steel frame, but it hides all the goodies we crave: oversize head tube, 12mm thru axles front and rear, routing that accommodates Di2, disc brakes, and a threaded English bottom bracket. The bottom bracket is high enough that you could race cross, but still low enough for stability cruising dirt roads. One thing a few testers noted: the reach is fairly long, so expect a fairly stretched out position (or plan accordingly with a shorter stem).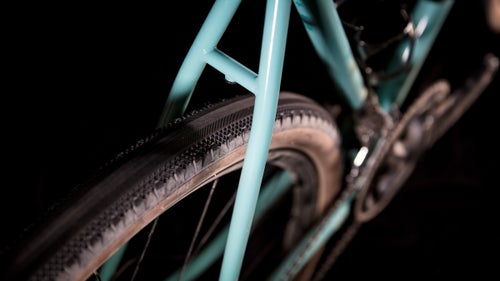 Other than the supple ride provided by the steel frame, the best thing about this bike is the massive tire clearance. We rode it primarily on 650Bs with the excellent 47c WTB Byway semi-slick tires (love!), and there's miles of space for more. Still, with a set of 700c Enve 3.4s and 28c tires, the bike still looked great (which isn't always the case on all-road bikes with skinny tires) and was plenty fleet for everyday pavement.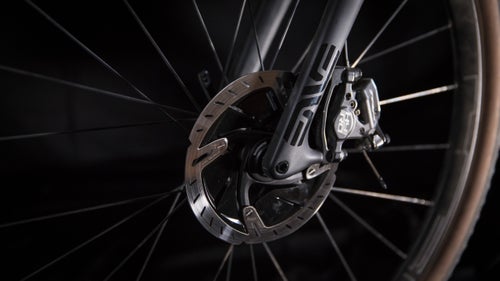 Franco offers several spec builds, but all of them get the Enve Cross Disc Fork, which is incredible value. Because of some timing issues, we ended up with TRP Hy-Rd brakes, which worked fine, but honestly aren't as sensitive, and refined as the new Shimano gear (though we love those sleek new Shimano rotors).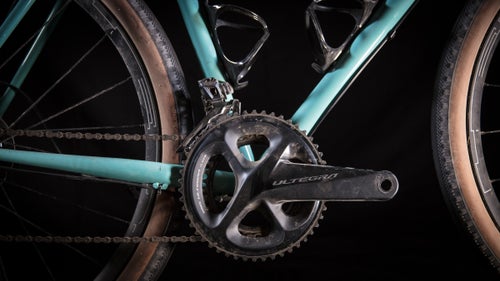 Another limitation of many gravel bikes is that in order to get enough tire clearance for truly meaty rubber, you have to give up a front derailleur. The Grimes, however, gets you both the chunky tires and two rings up front, in this case a complete Shimano Ultegra mechanical drivetrain. It worked as flawlessly as we expect, though I've come to really appreciate electronics for mixed-terrain and would probably spend extra if I were building this for myself.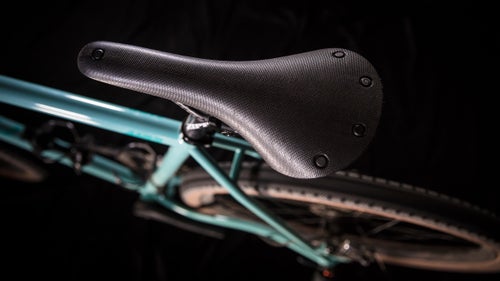 Other than the brakes, everything on our bike was perfectly chosen, from the Zipp cockpit bits to the new HED wheels. But my number one favorite part on the bike was the Brooks Cambium C13 saddle, which is so mercifully forgiving that I consider it the ultimate for gravel riding. Paul Components Set N' Forget thru axles and seat post clamp, which allow you to choose the right skewer position and never have to worry about it again, were a close second.
Tucson is an outstanding spot for a bike like the Grimes because the desert-baked pavement is often rutted and beat, the shoulders can be hard-packed dirt and sand, and there's tons of flat, fast, sinuous single track that's probably more fun on this than any mountain bike. At 21 pounds, this isn't the lightest bike, nor is it the most cutting edge, but I love it because it's pretty affordable (complete builds start at $2,950; ours goes for $5,600), hard-wearing, and just as nice to look at as any of the carbon super machines. It's also high-performance without being pretentious. If I were looking for one bike that could do it all, this would be high on my list.