How Jimmy Chin Photographed a Mission to Snowboard Mount Everest
In an excerpt from his new book, 'There and Back: Photographs from the Edge,' the renowned climber and filmmaker recounts a 2003 expedition with snowboarder Stephen Koch
Stephen Koch had one summit left in his quest to snowboard the Seven Summits. An early pioneer of snowboard mountaineering, Stephen conceived a bold plan to snowboard Mount Everest: he'd climb and descend the direct north face, connecting the Japanese Couloir to the Hornbein Couloir. This 9,000-foot line bisects one of the biggest faces on the tallest mountain on earth. It was an audacious goal, but Stephen wanted to make it even more challenging by climbing it alpine style—in a single push, without the use of supplemental oxygen, fixed ropes, or preestablished camps.
I'd met Stephen in Jackson, Wyoming, where he was a fixture in the Tetons. When he asked me to join him on his expedition, I, naively, said yes. At 28, I'd had just enough expedition experience—and ambition—to get myself in over my head.
In August 2003, we recruited Kami Sherpa and Lakpa Sherpa to join us and our friend Eric Henderson to manage base camp. We were the only team on Everest. Borrowing the strategy of Jean Troillet and Erhard Loretan, who had scale the north face alpine style in 1986, Stephen and I intended to hyperacclimate to 23,000 feet, and then go for it in the small window between the monsoon and post-monsoon seasons, when the face would be caked with snow and the jet stream winds would be manageable.
After studying the weather and avalanche conditions on the face for more than a month, we made our first attempt. We roped up in the dark to navigate the giant crevasse fields below the face. At 1 A.M., we stopped for food and water. I heard a tiny "crack" in the distance followed by slight rumbling, which grew in intensity until the earth shook. Stephen dropped to his chest and jammed his axe into the ice, hoping to survive the massive avalanche that was rushing down from the darkness above. I stood facing the oncoming explosion of snow with my arms outstretched, preparing to die.
---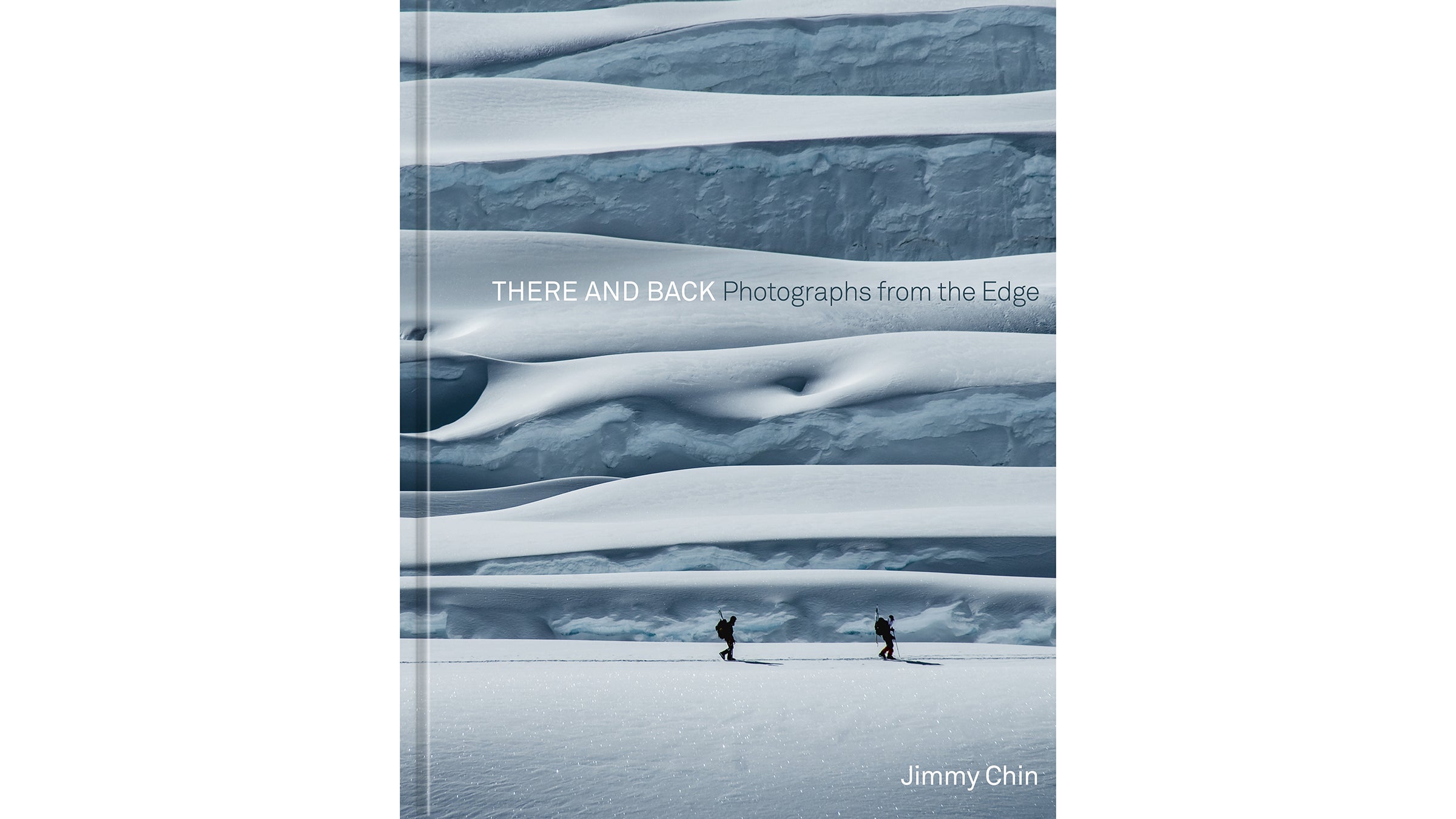 ---
The air blast blew me off my feet, but Stephen's ice axe somehow held. The rope between us pulled taut as I flapped in the air like a kite. When the avalanche ended, I fell to the ground on my face. Miraculously, Stephen and I were both okay. Refrigerator-sized avalanche debris had stopped just short of us. We staggered back to our camp to gather our wits.
A week later, we returned. I'll never forget the feeling I had as I climbed over the bergschrund and gazed up at the north face. It looked like Valhalla, shining in the moonlight. We climbed for 12 hours, kicking steps in knee-deep snow. As the midday sun baked us and the avalanche conditions grew dangerous, we needed to make a decision. We weren't moving fast enough to get a spot safe from avalanches. Reluctantly, we turned around and descended. The next day, we woke to find that an avalanche had erased our tracks in the Japanese Couloir. If we hadn't retreated, it would have erased us too.
We abandoned Everest and headed for home. Although our two months of anticipation culminated in failure, the expedition was revelatory nonetheless. This attempt at Everest's direct north face made every other mountain I've visited since feel a little less daunting. It also taught me an important lesson: if you turn around and come home alive, you made the right decision. The goal is to make it there and back.
Stephen Koch approaching the north face of Everest. Central Rongbuk Glacier, Tibet.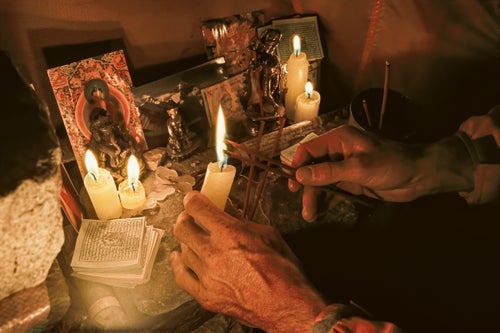 Stephen lighting candles at our makeshift altar. Neither of us was a practicing Buddhist, but when you spend two months staring up at the 9,000-foot north face of Everest, praying for safe passage doesn't seem unreasonable.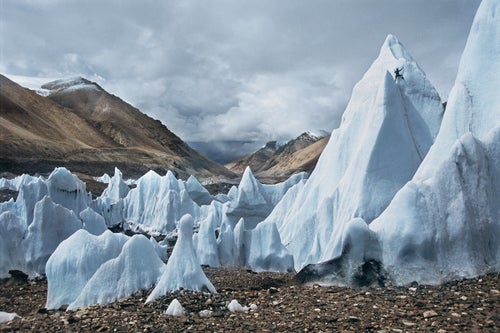 Stephen climbing one of the ice towers near our advanced base camp.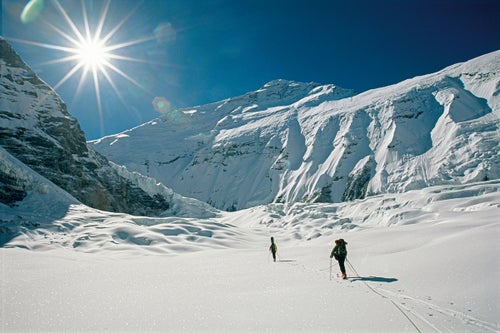 Stephen and Eric Henderson carrying loads toward our camp below the north face of Everest.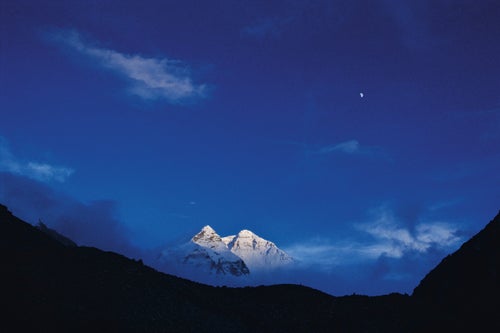 Last light on Changtse Peak and Mount Everest.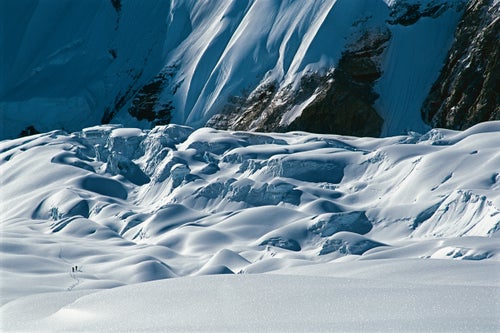 Stephen and Eric assessing the crevassed approach to the base of the north face of Everest.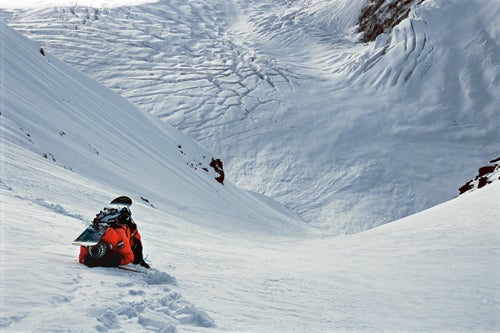 Stephen fighting a losing battle against the altitude in the Japanese Couloir.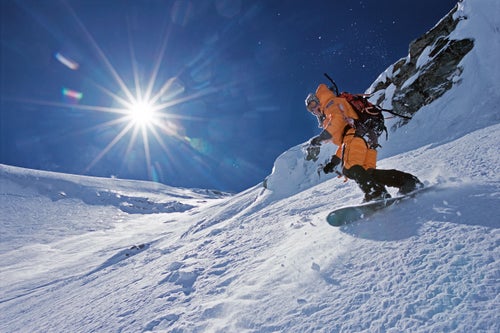 Stephen making his first turns in the Japanese Couloir on the north face of Everest.
---
From the book THERE AND BACK: Photographs from the Edge by Jimmy Chin. Copyright © 2021 by Jimmy Chin. Published by Ten Speed Press, an imprint of Random House, a division of Penguin Random House LLC.
Want to take better photos on your climbing trips? Check out our Climbing Photography with Jimmy Chin online course on Outside Learn, where Outside+ members get full access to our library of more than 50 courses on adventure, sports, health, and nutrition.