You Probably Shouldn't Be Backcountry Skiing Right Now
Yes, getting outside is good for anxiety, but you should think twice about crowding backcountry trailheads and risking getting hurt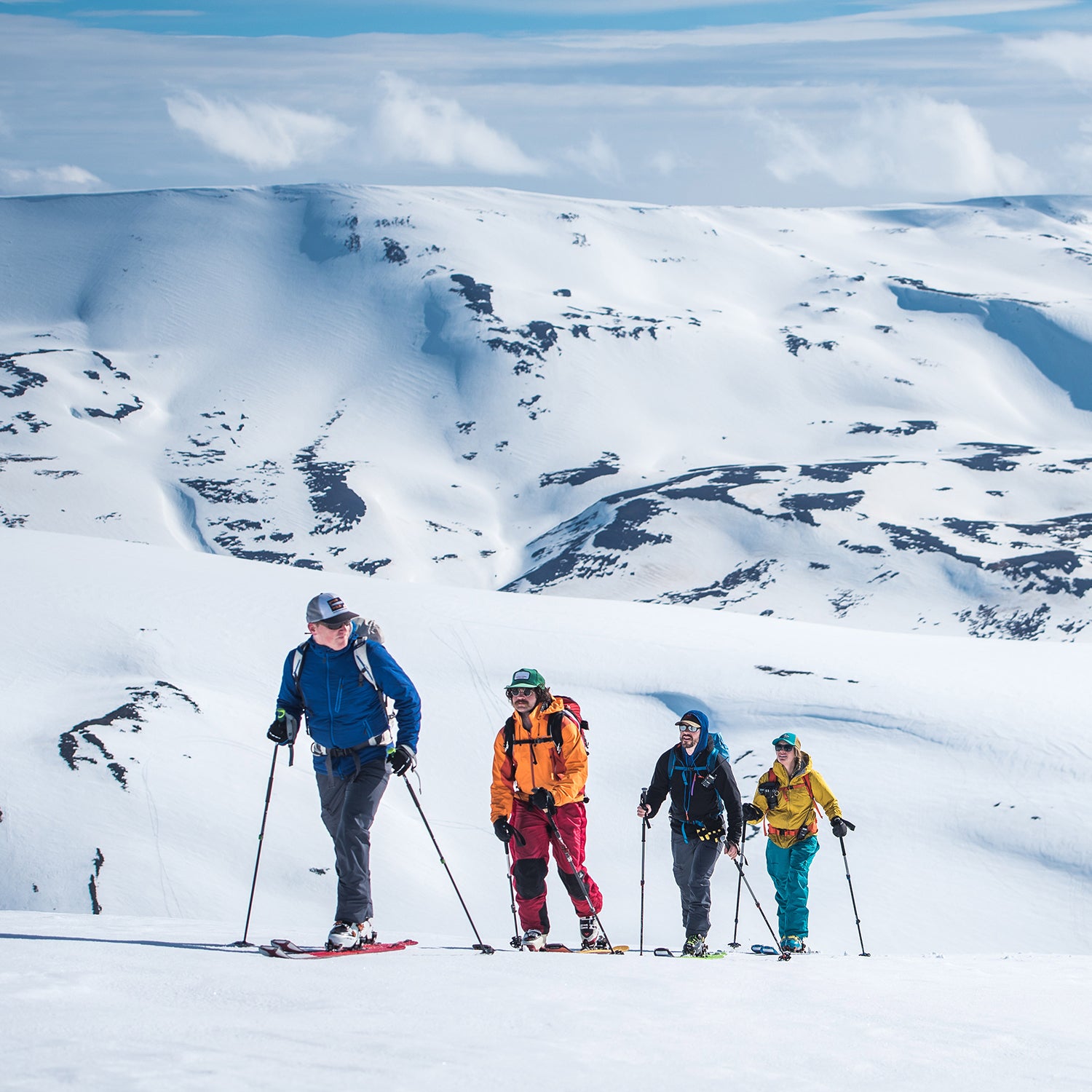 Brent Doscher/Cavan(Photo)
Heading out the door? Read this article on the new Outside+ app available now on iOS devices for members! Download the app.
On March 15, ski resorts across the country shut down over fears of the spread of coronavirus. It appeared that the ski season, despite plenty of snow, was over. Then everyone started backcountry skiing. In fact, the niche sport is experiencing what could be the biggest bump in users ever.
"Our store immediately got overrun," says Brendan Madigan, who owns Alpenglow Sports, a backcountry-centric gear shop in Tahoe City, California. "We were doing sales like we only see at Christmas." Madigan soon shut down rentals of backcountry gear and, due to crowding in the shop and health concerns over the spread of the virus, he closed the store to in-person sales and switched to phone orders and curbside pickup only. 
"I still have anxiety over the way we're doing it and the sales we're seeing for backcountry gear," Madigan says. "Shelter in place doesn't mean shelter in place and go ski touring. It means stay in your damn house."
Even if you technically are able to go backcountry skiing and maintain the social-distancing precautions set forth by our public-health officials—staying six feet away on a skin track, driving your own car to the trailhead, standing apart on the summit—a bigger ethical dilemma remains. If you hurt yourself, you're straining a health care system that's desperately needed for other patients right now. 
Popular backcountry access points, like Wyoming's Teton Pass, Lake Tahoe's west shore, and Utah's Little Cottonwood Canyon, have seen an uptick in users and major parking issues, according to skiers local to the areas. (Check out the crowded and illegal parking at Colorado's Loveland Pass and Berthoud Pass.)
In Colorado's San Juan County, the local sheriff's department recently implemented a policy that prohibits out-of-town skiers and discourages locals from accessing backcountry spots out of concern for taxing the area's search and rescue volunteers and first responders in the case of an accident. California's Inyo County, on the east side of the Sierra Nevada, has issued an order prohibiting high-risk outdoor activity, including backcountry skiing and climbing, that could result in a rescue. As of March 25, those are the first regions to issue formal statements discouraging it.
According to the Colorado Avalanche Information Center, 33 recorded avalanches have been triggered by backcountry travelers in Colorado since Friday, 15 of which were large enough to kill a person. Other avalanche centers, like Avalanche Canada and the Northwest Avalanche Center, have shut down forecasting. "After we received stay-at-home orders in Washington and Oregon, it seemed like we probably shouldn't be equipping and enabling the public to go into high-risk backcountry environments," says Scott Schell, executive director of the Northwest Avalanche Center. "This is our way of contributing to the collective solution we all need to work toward." 
Plus, Schell added, input from partners like ski resorts and guiding outfitters is now limited, which would impact the quality of forecasts, and his organization doesn't want to put staff forecasters at risk of exposure to the virus. Ethan Greene, director of the Colorado Avalanche Information Center, said they plan to continue issuing forecasts for now in Colorado, but that they are constantly evaluating the situation.
Maybe your local ski area allows uphill travel, but that doesn't solve the problem. Hordes of people are congregating in places like Snow King, in Wyoming, and Aspen Snowmass, in Colorado. There's no ski patrol, which means there's no avalanche mitigation, and you're on your own if something goes wrong. Vail Resorts recently closed its Colorado ski areas to uphill traffic, after initially allowing it, as did Colorado's Loveland Ski Area, New Mexico's Ski Santa Fe, and others.
"You have a lot of people who rarely ski outside of the resort who are now looking for an outlet," says Jordan White, president of Mountain Rescue Aspen, the area's search and rescue organization. "Most of these people are being responsible and conservative, but there are always exceptions. We would like to see people making the most conservative choices they have ever made in the backcountry." Which means if you've never made decisions in the backcountry or ski-toured uphill, now is not the time to start.
So how do you decide if it's OK to go backcountry skiing? There are a few things to think about before you go. Can you safely ski near your house, or would it involve nonessential traveling? Can you choose terrain that's ultraconservative to reduce your chance of injury? Do you already have avalanche training, a partner who wouldn't be increasing your risk of exposure, and the proper gear? If you're thinking about skinning at your local resort, check in on—and respect—its current policy about uphill travel.
"We all want to go outside," says Matt Hansen, communications director for Wyoming's Teton County Search and Rescue Foundation and the former editor of Powder magazine. "There's still a ton of snow, and we want to go skiing. But we need to respect the current situation. Embrace the casual. Now is not the time to get after the gnar. We're all in this together, and it's imperative that the backcountry community do its part to not further stress the system with preventable accidents."
Lead Photo: Brent Doscher/Cavan
Trending on Outside Online