A Secret Skier's Paradise in Norway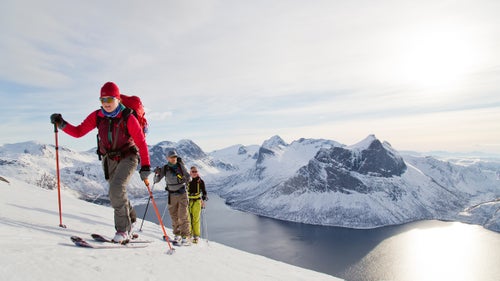 This past March, I flew to the island of Senja, Norway, to take part in one of the many self-powered backcountry programs offered by Pure Ski Touring. The island is part of a 612-square-mile archipelago that sits in one of the northernmost, least-populated counties in Norway. Camilla Antonsson, founder of Pure Ski, says that of all the touring trips the company offers around the globe, Senja is definitely the most isolated.
It's also the most inviting, with hundreds of low-angle approaches, no high altitude requiring acclimation, and relatively little avalanche danger—gusts of warm air from the ocean make the layers of snowpack dense and reasonably stable.
During five days of skiing, our group was treated to mind-blowing views of young, jagged, shark-tooth spires of rock that form battlements against the Arctic Ocean. All we could see were the blue-black sea, white peaks, and the kind of sharp light found only near the poles.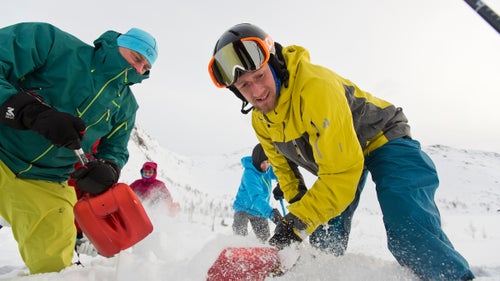 Antonsson stresses safety: our group's initial training includes mock rescues using probes, shovels, and beacons. On our first day, we warmed up after a lunch break by sprinting around as a team to find a beacon one of the guides had buried.
In Norway, national law gives a right-of-passage permit to anyone who wants to bag a peak or go for a hike, making it perfectly legal to skin a line through someone's backyard. With zero concerns about finding fresh snow—Antonsson's UIAGM-certified guides assured us that it would last all week and into next—we could pick any peak in sight and have it to ourselves. On the day we skinned up a mountain called Littlemoa, our Opel van was the only vehicle we saw, save for a few other Pure Ski vans.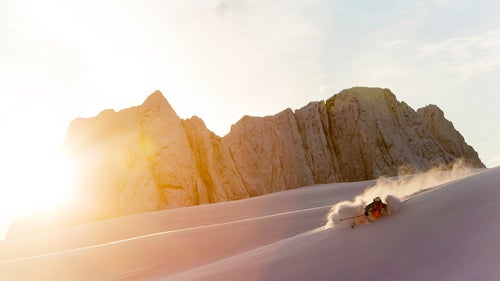 At this latitude, it's almost impossible to tell the time of day using the path of the sun. It lazily pops above the peaks by noon and tracks only a few degrees across the horizon before falling back down by 4 p.m. But the sun plays another astonishing trick: as the golden twilight melts into a purplish bruise, visitors enjoy a halo that lingers for two hours.
One afternoon, we broke late for lunch, but our guide, Tovo Spiral, guaranteed we'd still have enough light to take another lap. He was right. As the wind died, the snow changed from spring corn to a light dust. We sprayed rooster tails in our wakes while chasing the last light down to beers in the van.
Home base for the Senja trip is a converted fishing lodge in Hamn, which now serves as Pure Ski's hub during its annual March visits to northern Norway. The cove where the lodge is located is protected from the wind by a small fjord that falls gently to the sea. Twenty or so houseboat-style condos provide comfortable guest quarters.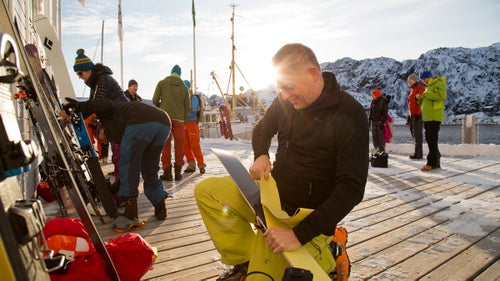 "Backcountry touring is serious business," says five-time Pure Ski client Kirsti Lord, an executive for a shipping company in Stockholm. "It can be dangerous. You have to think about how to dress, and since you're moving in a team, you should also be considerate and efficient and not hold others up."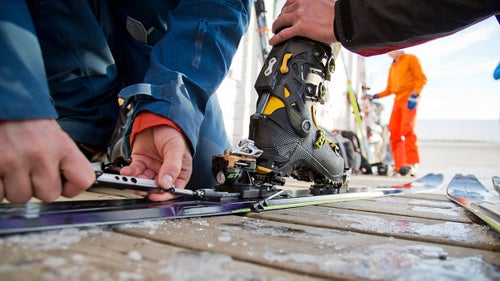 All the guides made sure everyone's equipment was dialed in at the lodge. Besides advice about the day's dress, we reviewed how our air bag packs worked and when to use them, as well as the fundamentals of using our skins, binding risers, and ski crampons.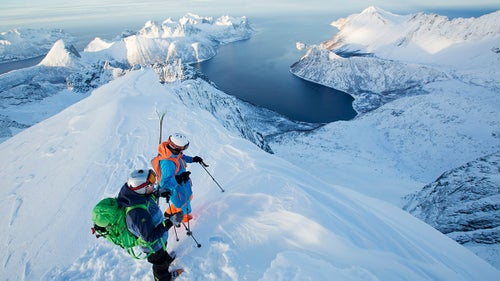 At one point during the trip, I sat after lunch and just stared at my surroundings, witnessing overlapping planes of ocean, mountain, snow, and sky and hearing not a single sound produced by human activity. I saw zero evidence of a populated planet. That kind of gift is rare.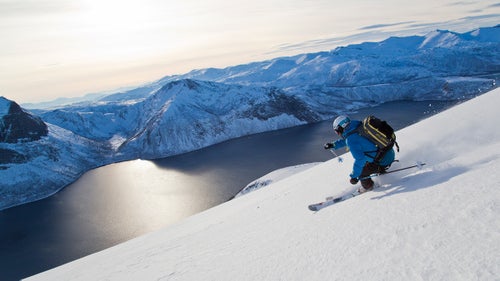 The penultimate day of our tour brought the softest conditions. The top crust that we penetrated on the skin up was buttery by the time we skied back down. That night, the skies remained clear and entertained us with a dance of green and pink northern lights until 2 a.m.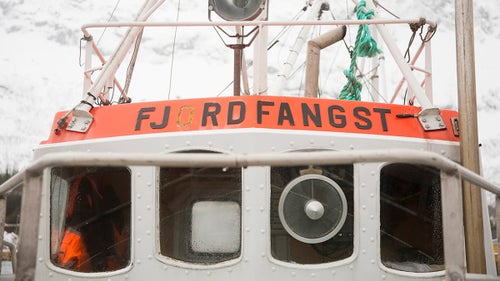 If you want to break up your touring vacation, you can book a whale-watching trip. There's even a chance to try some tours that are accessible only from the ocean, so you can step directly from a boat onto a snowy shore, skins on.