The Secret Culture of Ski-Jumping in the Midwest
As his dreams of going pro faded, photographer Cooper Dodds fell back in love with ski jumping in an unexpected place. His new photo book, 'Jumper: Flying in the Heartland,' documents the Midwest's surprisingly popular, no-frills tournament circuit.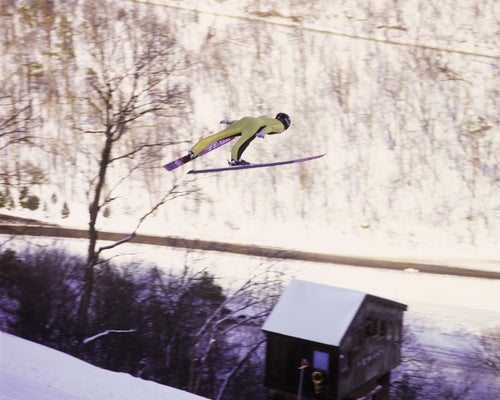 When photographer Cooper Dodds first "flew" the upper Midwest's jumps in 2009—to use the parlance of the sport—he was 19 years old and already burned out. A jumper since childhood, Dodds had moved from New Hampshire to Colorado in hopes of making the Junior World Ski Championships team. He didn't qualify. So he took off for the Five Hills Tournament, a two-week amateur competition in the Midwest with events across Wisconsin, Minnesota, and Michigan. It offered a small cash prize.
Dodds and a friend tied for first place, but what he found at Five Hills was more valuable than prize money. He'd never encountered anything like the homegrown enthusiasm for ski jumping that he found in the Midwest, where Scandinavian settlers introduced the sport about a century ago. In small towns of around 2,000 people, Dodds estimates that nearly that many spectators show up to competitions. That energy brings competitors from across the country and the world. "It reignited my love for the sport," Dodds says.
In the years that followed, Dodds returned to the tournament as a competitor, fan, and, ultimately, as a photographer. In 2015, he began to document it using a large-format camera, a hefty piece of equipment that takes images on four-by-five-inch slides of color film. Those efforts became a book of photography, Jumper: Flying in the Heartland, published in November.
Jumper is not a typical sports-photography book, because Dodds's camera of choice is better suited to still life than fast action. Rather than creating a highlight reel of the jumpers' athletic prowess, Dodds chose to focus on the tight-knit subculture of Midwest ski-jump tournaments. "It's really easy to get caught up in the action and the excitement," he says. "But I was curious about documenting the culture of the sport and the places that had left a mark on it."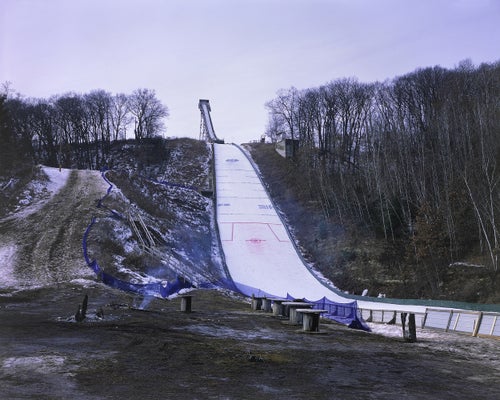 Silver Mine Jump, Eau Claire, Wisconsin
Dodds took this photo the day after a nighttime competition, in a small town about 100 miles east of Minneapolis. Competitors had jumped onto a painted target on the hill during the final event; in the photo, the target has been slashed by all those landings. Dodds approached photographing the jumps as he would approach formal portraiture: by returning at different times of day, in different lights, to bring the hills to life.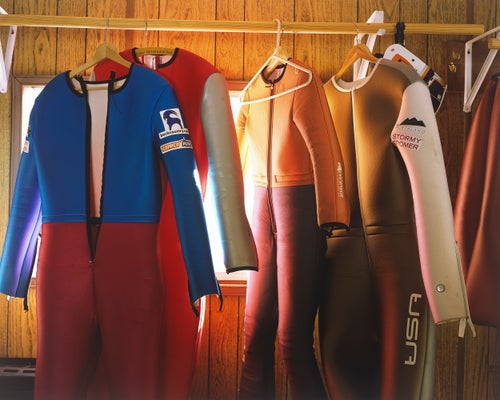 A warming hut at Silver Mine Jump
Dodds photographed these ski suits in a warming station just before a competition at Silver Mine. It was "extremely DIY," he says—this construction trailer at the base of the hill was, ironically, unheated. The suit in the center of the photograph was for a child, while right behind it is a uniform for the U.S. national team.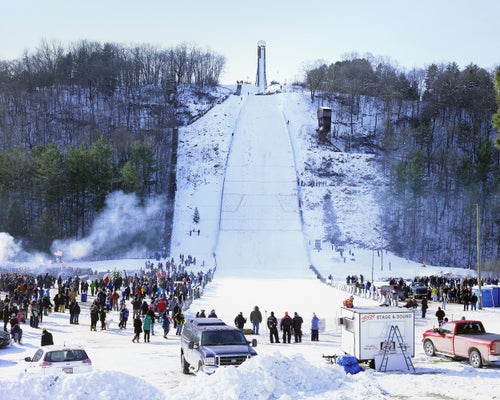 Snowflake Jump, Westby, Wisconsin
Crowds gathered before a competition in Westby. Snowflake Jump is an example of what makes upper Midwest tournaments unique, according to Dodds. "There aren't hills in the Midwest," he explains. "So these Norwegians came over and said, 'We'll build huge towers to jump from.'" Standing on top of Snowflake, jumpers can see for miles in every direction.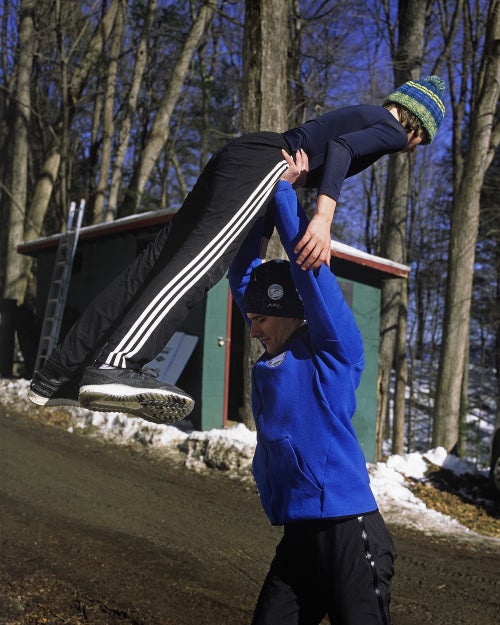 Jump training with Colin
Colin (being raised), a New Hampshire athlete who traveled to Eau Claire for the tournament, practices a jumping imitation with a coach who happens to be an old friend of Dodds's. This exercise teaches jumpers to throw their hips in the air, just like they must do each time they launch off the lip of a jump.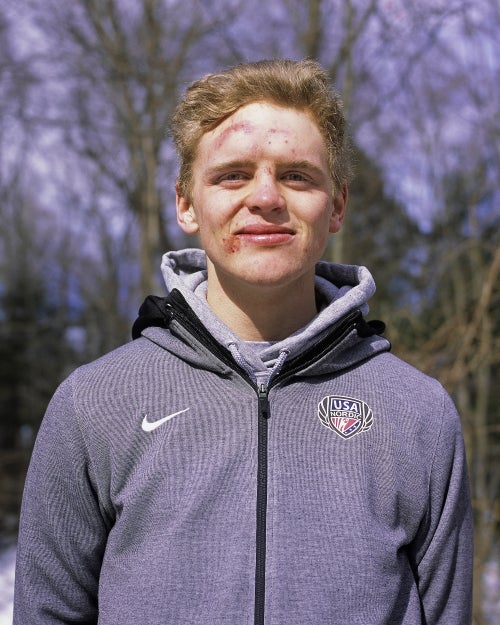 Hunter after a fall in competition
Hunter learned to jump at Norge Ski Club, which is among the oldest ski clubs in the country and is just outside Chicago. Dodds says Hunter fell in competition after outjumping the hill. "You're designed to fly with the hill," touching down smoothly, Dodds explains. If, instead, a jumper lands near the bottom, where the hill flattens out, "it's more like jumping off a three-story building."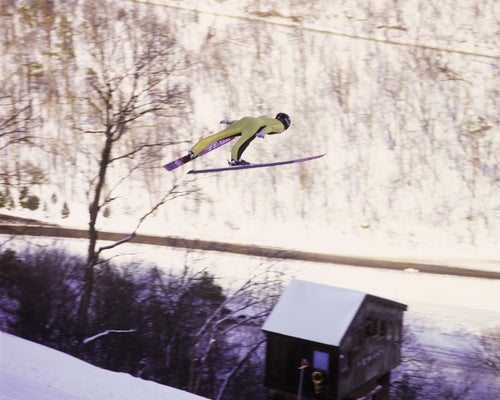 Jorgen, a competitor from Norway, in Westby
Westby attracts jumpers from all over Europe, often those who haven't made their national teams and are looking for a change of scenery. Jorgen ended up winning the night's Last Man Standing event, in which athletes aim for pure distance in their jumps rather than the combination of distance and form that's usually judged. "He's one of those guys who's more comfortable in the air than on the ground," Dodds says of Jorgen.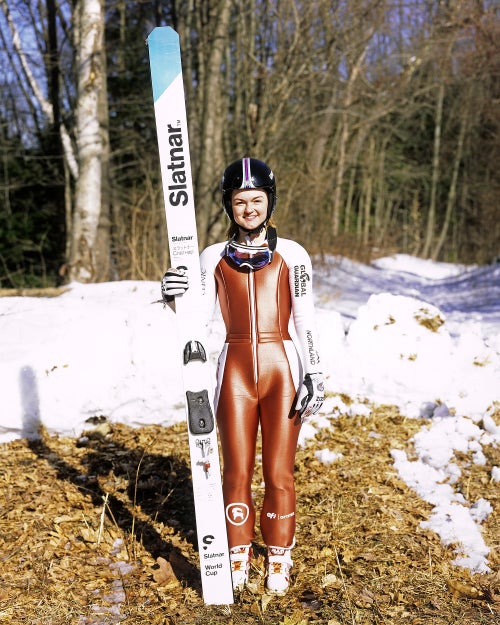 Anna, a local competitor
Anna is an athlete from Madison, Wisconsin, who is now training in Park City, Utah. She's part of a growing number of women ski-jumping at the highest levels. "Women weren't allowed to compete in the Olympics until after the 2000s," Dodds notes. (In 2005, the president of the International Ski Federation told NPR that ski jumping "seems not to be appropriate for ladies from a medical point of view.") "In my era, I knew women who sued the International Olympic Committee over not being allowed to go to Vancouver," Dodds continues. After losing a lawsuit on the matter, the IOC reversed course in 2011, and 30 athletes from 12 countries competed in the women's ski jump at Sochi.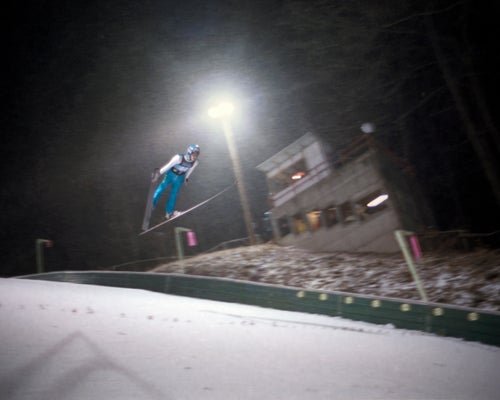 Nate at Silver Mine Jump
Nate's competition flight on Eau Claire's Silver Mine Jump is one of the few photos in the book shot on a conventional 35-millimeter film camera. To Dodds, the photo is the closest he's come to capturing the feeling of flight. "When you actually take the jump, you aren't thinking about the fear, or the speed, or anything," he says. "It doesn't feel fast—it feels slow. That's what keeps you coming back year after year. It doesn't feel like a competition, it feels like a quiet moment. It feels angelic. It's just you in the air and nothing else."