The World of Weird Competitions, from Ostrich Racing to Bog Snorkeling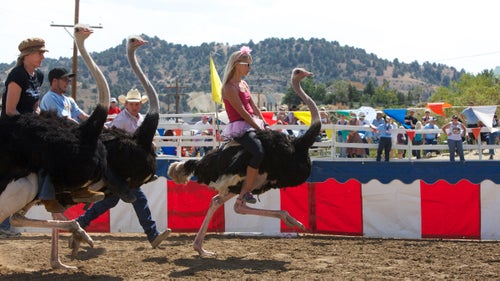 When people ask why I love photographing weird sports and games, I tell them I love photographing people having fun. Pretty simple. (Okay, it's also an excuse to travel and see friends in different parts of the world.) What started as a modest goal of finding a couple cool, under-the-radar sports to shoot in 2005 slowly turned into a pastime, then an obsession. During the past decade, I've documented over 200 different weird competitions, producing two coffee table photo books with Kehrer Verlag.
Thankfully, people's imagination continues to grow, with new games popping up all the time. I hope this is a lifetime project, because I can't think of anything that is more fun to be around.
Photo: The annual International Camel & Ostrich Races in Virginia City, Nevada, are a huge draw for a small, wild-west tourist town largely known as the home of the TV show Bonanza.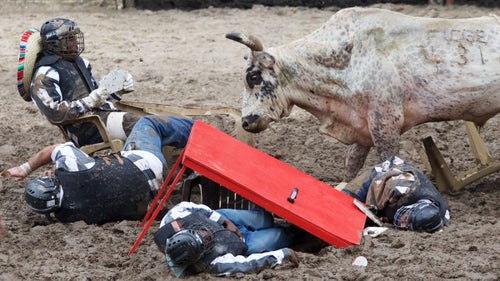 The most popular event at the Louisiana State Penitentiary's annual Angola Prison Rodeo may very well be Convict Poker. After a bull is released into the arena, the last inmate not to leave the poker table is deemed "the winner."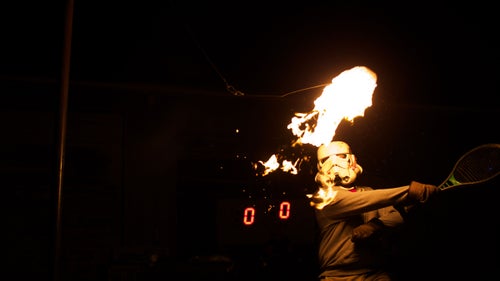 The "ball" in flaming tetherball is a roll of toilet paper soaked in three ounces of white gas, the stuff that saner people use in camp stoves and lanterns. It burns nice and bright, but without the fumes of gasoline. That said, it's wise to avoid applying hairspray before playing and to keep a fire extinguisher or four nearby. And a liability waiver or two.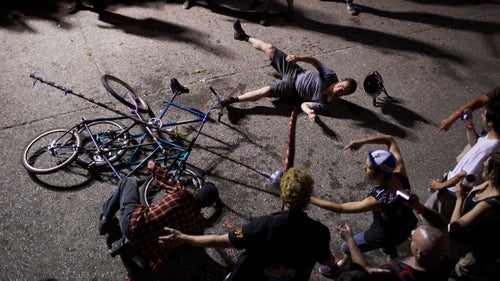 Tall bike jousting is a popular—and sometimes hazardous—competition held each summer as part of the Dead Baby Downhill bike festival in Seattle. It's like the medieval sport with the huge, pointy sticks, but instead of horses, jousters' steeds come in the form of bikes that have been welded or otherwise altered to be, well, taller. Bruised bodies and egos are often soothed with copious amounts of cheap beer.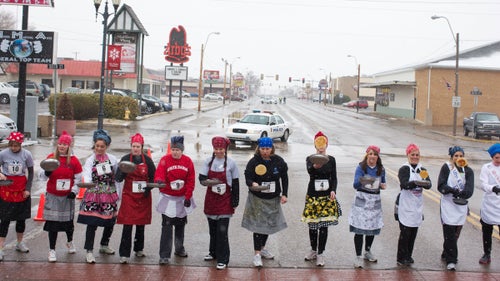 For more than 60 years, the towns of Liberal, Kansas, and Olney, England, have had a friendly competition—women run down the streets of each town flipping pancakes, and the fastest one wins. However, the first Pancake Day Race started way back in 1445, when a woman, who was late for church in Olney, ran to the service with skillet and pancake still in hand.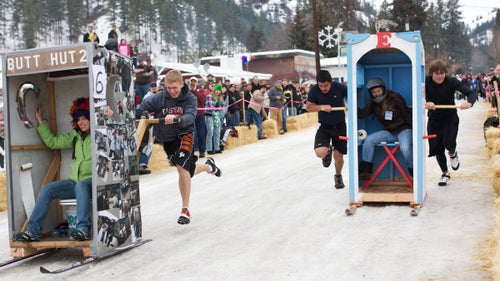 One thing not in short supply for fans and athletes at the annual Outhouse Races in rural Washington state: Porta-Potties. The toilets are often loaded with ice, used to keep beer chilled between heats.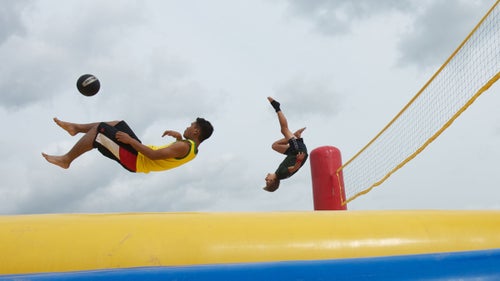 Similar to volleyball, the Belgian sport of bossaball also includes elements of soccer, gymnastics, and the martial art capoeira. Each side of the court has an integrated trampoline, allowing players to bounce high enough to spike the ball. In this photo, players warm up prior to a training session in Holland.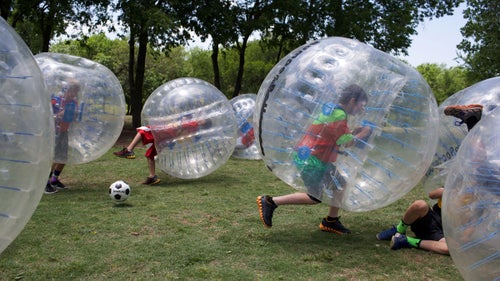 It's not surprising that kids playing Bubble Soccer at a birthday party often spend more time trying to knock over their friends than actually chasing the ball.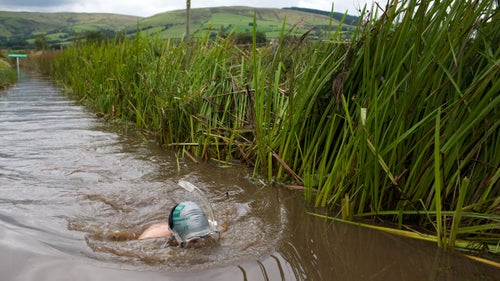 The home of bog snorkeling is Llanwrtyd Wells, the smallest and weirdest town in Wales. Competitors at the World Bog Snorkeling Championships must wear snorkels and flippers, and they must complete the course without using conventional swimming strokes. Wetsuits are not mandatory, but the smarter swimmers sport them.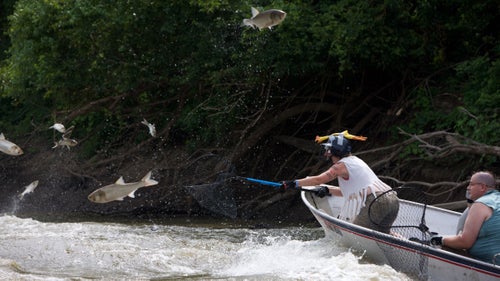 The annual Redneck Fishing Tournament along the Illinois River is a fun event meant to help clear out invasive, flying Asian Carp. The fish jump out of the river in response to the sound of the passing motorboats.