Ironman Andy Potts Talks Training
For Potts, the fastest American finisher at the 2012 Ironman World Championship, breakthrough performances mean paying attention to the little things. Even your socks.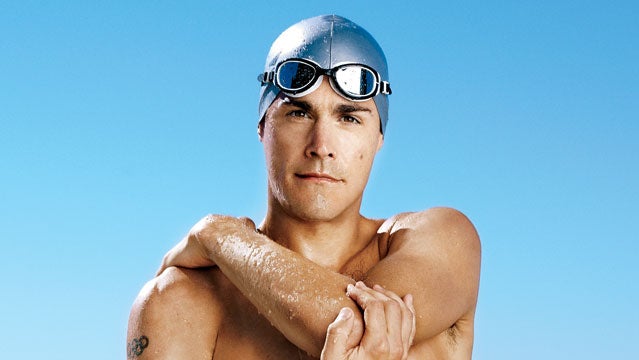 Heading out the door? Read this article on the new Outside+ app available now on iOS devices for members! Download the app.
When 36-year-old Andy Potts turned to triathlon in 2002, after a swimming career that included a fourth-place finish in the 400-meter individual medley at the 1996 Olympic trials, he realized immediately that he would need to be a quick study to catch up with the younger, seasoned pros. Together with Mike Doane, who coaches Olympic and Ironman athletes, Potts developed an exercise-monitoring program that he and Doane call feedback training, which examines each day's workout according to three variables: power (measured in watts or speed), distance (measured in length or time), and heart rate. That data is then used to generate the following day's training routine. If Potts' wattage is low or his heart rate is high, he could be overtraining, so the next day he'll back off. The approach enabled Potts, who lives in Colorado Springs, to qualify for the Olympics in 2004—only his second year in the sport. Here, he shares with Gordy Megroz the training wisdom that helped earn him multiple Ironman-distance wins:
Getting Motivated
I use motivating cues when things get rough on the course. I'll say things like "Push, push, push" or "Go, go, go." It could be "Make Dad proud." I'll also compliment a guy I just passed, tell him he's doing great. In my mind, if I just passed somebody who's doing great, then I must be doing awesome.
Eat for Success
Eat like a little kid. If you watch young children, they eat whenever they're hungry and stop when they're full. They never overeat. Eating that way helps with sustained energy.
The Importance of Your Core
Your core is imperative for everything, and it's often the first thing that fatigues. If mine is strong, I can use all of my energy to propel me forward, rather than using some of it to stay upright. Three days a week I'll do 20 different kinds of sit-ups and back raises on a physio ball, targeting the core in 360 degrees—20 to 30 reps each.
Avoid the Bonk
If I'm close to bonking, I eat a PowerBar. I stash them everywhere. They have a lot of glucose, and that's the sugar the body burns first. I'm a double-chocolate guy.
Pass on the Water and Booze
Water doesn't get it done. What you need is an electrolyte drink with sodium, potassium, magnesium, and carbohydrates, so the fluids absorb better.
I don't drink alcohol. My race weight is important to me, so I'm calorie conscious. I can't afford to consume those unnecessary, empty calories.
Remember to Rest
I take every Sunday off. We do a family breakfast with chocolate-chip pancakes, go to the pool, and that's it. I do as little as possible. The mental change of pace helps me get fired up for the coming week.
Focus on Efficiency
Efficiency is key. There are little things you can do to make sure you don't waste energy. In the swim, I try to focus on keeping my fingertips pointed down. Just doing that helps keep your hips and shoulder in the same plane, so you're more efficient. On the bike, I keep my shoe parallel to the ground, fixing my ankle in that position. This allows you to apply much more power through the pedal stroke. And it's important to stand tall when you run, not bend at the waist. I envision somebody pulling me by a string that's attached to my belly button.
Keep Things Simple
I was classmates with Patriots quarterback Tom Brady at the University of Michigan, and I've followed his career ever since. The thing he does best is keep things simple. I've learned from him to take that same approach. Don't think about the finish when the gun just went off.
Crosstrain
I ski sometimes in the winter at Copper Mountain, and I'll tell you this: the better I'm riding my bike, the better I ski. Biking is great training for those ski muscles.
Focus on Recovery
I'm a big proponent of compression stockings for recovery. Wearing them helps push blood back to the heart, where it can become more oxygenated. I use the CEP brand.
I don't take naps, but I do try to sleep at least 11 hours a night.
Shoe Secrets
If you're an endurance athlete, buy your shoes a half-size too big. Your feet swell, and that way you'll avoid blisters and your feet falling asleep.
Stretch
Buy or build a slant board. Use it after workouts to stretch your calves, Achilles' tendons, back, and IT bands.
Going to the Limit
Have you ever pushed yourself to your limit? Do you remember how much that hurt? Well, you'll never have to hurt more than that. But if you want to continue improving, you have to reach it more often.