Eat Like a Pro During the Holidays
Even the pros indulge. Take a plate off of their tables, and learn how to prepare the ultimate fruitarian, vegan, vegetarian, and gluten-free holiday meals.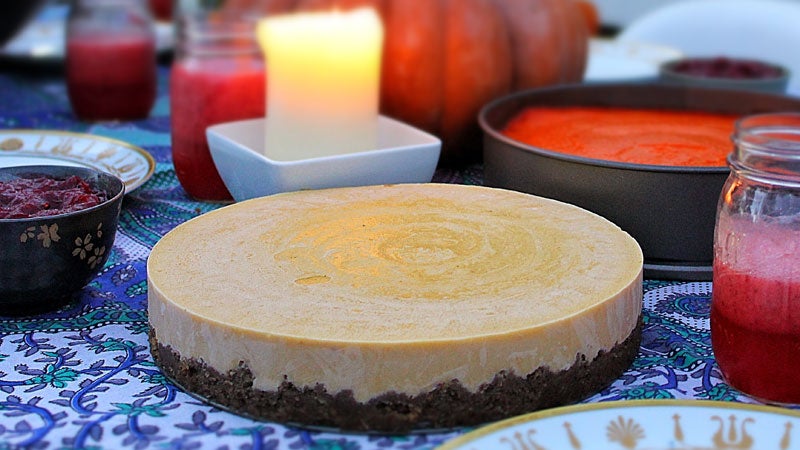 Heading out the door? Read this article on the new Outside+ app available now on iOS devices for members! Download the app.
Turkey and stuffing might be favorite holiday menu items, but not for everyone. For personal or health reasons, some people give the bird the bird in favor of dishes that meet specific dietary requirements.
Here, five pro athletes share some of their favorite non-traditional holiday meals. From freshly juiced Valencia oranges to vegan pumpkin pie, you'll find a recipe for every course—maybe even one that will become a staple on  your Thanksgiving table. Bon appétit. 
---
Vegetarian: Quinoa Salad with Artichokes and Parsley
From: Hannah Teter, snowboarder
"I am a huge fan of quinoa, not only for its health benefits, but because it tastes the best out of all the grains," says Teter, who has been a vegetarian for six years. "I try to incorporate quinoa in unique and fun ways into most meals."
Teter will spend Thanksgiving in Copper, Colorado, with the U.S. Snowboarding Team, "training in the halfpipe and eating tons of food."
Recipe:
1 tablespoon olive oil
1 cup chopped spring or sweet onion
½ teaspoon chopped fresh thyme
1 (9-ounce) package frozen artichoke hearts, thawed
1 cup vegetable broth
1 tablespoon Braggs liquid amino
½ cup uncooked quinoa
1 cup chopped fresh parsley
5 teaspoons grated lemon rind
1 ½ tablespoons fresh lemon juice
¼ teaspoon kosher salt
Heat oil in a medium saucepan over medium-high heat. Add onion and thyme; sauté five minutes or until onion is tender. Add artichokes; sauté 2 minutes or until thoroughly heated. Add broth, Braggs liquid amino, and quinoa; bring to a simmer.
Cover and cook 18 minutes or until liquid is completely absorbed.
Remove pan from heat. Stir in parsley, rind, juice, and salt. Serve warm or at room temperature.
---
Fruitarian: Shredded zucchini with creamy blended mangos … and more
From: Michael Arnstein, ultrarunner
Michael Arnstein is holding just one apple in this photo, which is somewhat misleading. Come mealtime, he usually eats ten at a time.
But not during Thanksgiving—that's when he really gets fancy with his fruit, blending, shredding, and dicing different combinations into meals that even carnivores might love.
After 16 years in New York City, Arnstein recently moved to Hawaii with his family. "I hope to be spending the rest of all my Thanksgivings under papaya and mango trees," he says.
Here's a peak at his Thanksgiving menu:
Starter:
Freshly juiced Valencia oranges, blended with fresh mint.
Blended ripe persimmons drizzled over romaine heart leaves.
Main Course:
Shredded zucchini (looks just like pasta) with blended mangos for a creamy dressing. If you want to get wild, add some diced tomatoes or hot peppers and basil on top.
Dessert:
Frozen durian (a South Asian tropical fruit) blended into a creamy fruit lovers ice cream.
Learn more about Michael Arnstein and the fruitarian diet here. 
---
Gluten Free: Stuffed Peppers
From: Dana Vollmer, swimmer
"My husband and I both loved this recipe," Vollmer says. "Doesn't take too long to cook this up, just the chopping time, maybe 10 minute prep in the skillet, and baking for 25 minutes."
4 large bell peppers (Vollmer uses yellow or orange)
1 pound ground beef
1 large onion, diced
3 handfuls fresh spinach
1 garlic clove, diced
1 bag shredded four-Italian cheeses
1 handful fresh cilantro ("We have a fresh cilantro plant in our kitchen, so I pulled off some leaves and threw it in," Vollmer says.)
2 tablespoons gluten-free taco seasoning
Preheat oven to 350 degrees
Place ground beef into a large skillet and cook over medium heat.
Mix in taco seasoning as beef begins to brown.
Add onion, garlic, and a handful of fresh cilantro.
Slowly stir cheese into the mixture until fully melted
When beef is fully browned, add three large handfuls of spinach to skillet and simmer.
Cut tops off bell peppers and clean out insides to make four "bowls"
Place peppers on a cookie sheet and fill each with the beef mixture.
Place the cookie sheet in the oven, and bake for 25 minutes.
---
Peanut/Egg/Dairy-Free: Cooked Cabbage
From: Maya Moore, basketball player
This Thanksgiving, Olympic gold-medalist Maya Moore is on the road. The Minnesota Lynx star is currently traveling through China with the Shanxi Flame. "I'm anticipating a grand team dinner with all of my teammates and staff but instead of mashed potatoes, I will probably be offered some fried rice," she says. "Even though I will miss my family back home I am very thankful for the unique experiences I am having in a different culture."
But if Moore was at home, she'd be fixing her family's version of cooked cabbage. "While I was in college my mom taught me a healthier version of a southern favorite," she says. "Enjoy!"
Recipe:
1 large head of green cabbage, cut into inch-wide pieces
¼ medium head of purple cabbage, cut into inch-wide pieces
½ diced green pepper
3 green onions
1 tablespoon extra light virgin olive oil
1 cup water
Salt and pepper to taste
Red pepper flakes (optional)
1 tablespoon dairy-free butter, such as Earth Balance
2 teaspoons natural sweetener, such as sugar or honey
2 slices of turkey bacon
Heat olive oil in a large pot over medium heat.
Sauté turkey bacon until cooked
While bacon is cooking, add in green onions, cabbage, and green pepper.
Add a cup of water (more if a soupy texture is desired), and bring mixture to a high boil.
Quickly reduce heat to a simmer.  
Add in salt, pepper, and option red pepper flakes.
Add in non-dairy butter
Add a couple teaspoons of a natural sweetener, if desired.
Let simmer until cabbage is tender but not soggy (10 to 15 minutes)
---
Vegan & Gluten-free: Almost-raw Pumpkin Pie
From: Rich Roll, ultra-athlete
"Thanksgiving is the day before the Ultraman World Championships, so recent years have found me in Hawaii spending the day getting race ready," says Rich Roll, an ultra-endurance athlete and author of Finding Ultra.
But because Roll is not competing this year, he and his family plan to enjoy a more traditional holiday. "I plan on starting the day early with a long trail run in the Santa Monica Mountains, after which I'll join my wife, four kids, and our golden retriever for a nature hike," he says.
Preparing the meal is an all-afternoon family affair—everyone works together to create a variety of plant-based recipes, including almost-raw pumpkin pie, which was created by Roll's wife, Julie Piatt.
The best part of the day? "Going around the table sharing what we are grateful for," Roll says. "It is Thanksgiving after all!"
Filling:
1 small pumpkin (or 4 cups mashed pumpkin)
2 cans coconut milk refrigerated until firm
1 cup organic maple syrup
2 tablespoons pumpkin pie spice
Crust:
2 cups raw organic walnuts
8-10 organic soaked and pitted dates
½ cup ground flax seeds
1 pinch sea salt
½ tablespoon coconut oil
Preheat oven to 350 degrees.
Place the entire pumpkin as is—with stem intact—inside the oven on a wire rack. Yes, the whole pumpkin.
Bake pumpkin until soft, approximately about 45 minutes.
While pumpkin bakes, pulse walnuts in a food processor until mealy. Add a pinch of sea salt and pulse a few more times.
With the processor motor running, add the soaked dates (remember to remove the pits) one at a time until the mixture forms a ball on one side of the processor.
Grease a spring form pan with coconut oil—not too much—just a smidge to cover the surface.
Press the mixture from the food processor evenly across the bottom of the pan to form a crust. Place pan in freezer.
Remove pumpkin from oven and place on a cutting surface. Carefully slice out a section of the pumpkin, remove the skin and scoop out the seeds. Repeat until you have four cups of pumpkin mash.
Place pumpkin mash in a high-powered blender. Puree until smooth.
Pour blended mash into a medium mixing bowl to cool.
Remove both cans of coconut cream from the refrigerator, turn upside down and open. Pour off the liquid at the top and scoop out the firm cream; add it to the pumpkin puree and mix will.
Add maple syrup and pumpkin pie spice to the mix.
Return mixture back to blender and blend until smooth.
Remove pie crust from freezer. Pour smooth puree filling into the springform pan, swirling the top with a spatula.
Place pie in freezer for at least three hours.
Remove from freezer one hour before serving.
Trending on Outside Online