Healthy Ingredient Swaps for Thanksgiving
Butter? No. French-fried onions? Nah. Potatoes? We're gonna say...you can do better.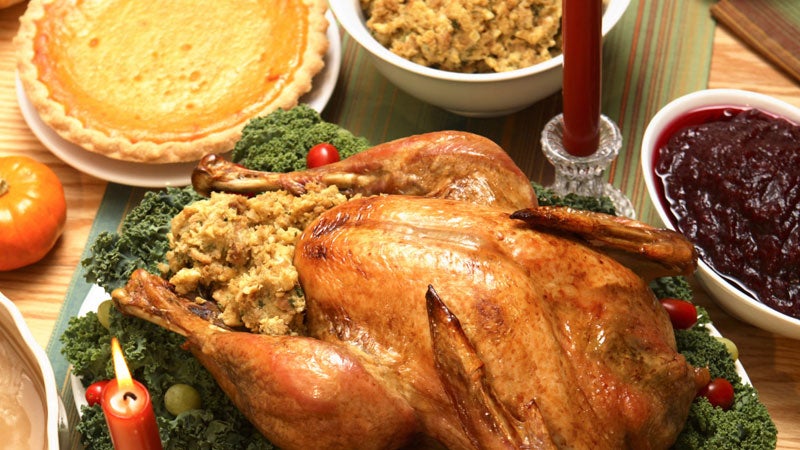 Heading out the door? Read this article on the new Outside+ app available now on iOS devices for members! Download the app.
Thanksgiving: A time for families to gather round—all groomed, sharply dressed—and discreetly tuck away immense amounts of food. A recent study by Duke University found that when we prepare food for others, as many are likely to do this time of year, we get caught up in an intricate political correctness matrix: If I prepare healtheir foods, will Uncle Ben think I'm calling him fat? If I serve tofurkey, will Cousin Jeff think I'm playing his physician? The result is a table of buttered everything, with heaps of whipped cream—because you don't want anyone getting the wrong idea. But what if you could have a healthy Thanksgiving without such oddities as turkey that is actually tofu? Don't compromise on taste; try these subtler solutions to make this holiday's spread better for you.
---
Rubbing your turkey with butter?
Ease up on the animal fat; all that saturated nonsense isn't good for you—and it isn't necessary, either. New York registered dietitian Mary Hartley recommends using lemon and herbs instead: They'll flavor your bird without forcing you to answer, "Butter," when your unassuming grandmother asks, "What's that wonderful taste I'm tasting?"
For a 16-pound turkey, you'll want one half of a lemon. Rub its juices on the raw turkey, followed by 2 tablespoons of fresh chopped thyme, 2 tablespoons of fresh chopped sage, and 2 teaspoons of rosemary (fresh and chopped). Next, massage your turkey with one tablespoon of extra-virgin olive oil; then, give it some zing with two ounces of kosher salt. (Air-drying the turkey will make the skin super crisp when roasted.)
Preparing your turkey this way instead of rubbing, say, half a cup of unsalted butter all over it, will save that 16-pound turkey some 817 calories, amounting to a deduction of some 12 calories per 4-ounce slice.
---
White bread crumbs in your stuffing?
This should be obvious. White bread is "a grain product that has been highly processed and stripped of many nutrients," says Las Vegas registered dietitian Andy Bellatti. Bellatti recommends wild rice instead—a nutrient-dense substitute that will fill you with fiber, B vitamins, and many of the minerals that white bread loses after it undergoes processing, like potassium, magnesium, and zinc.
For a stuffing recipe that serves 8–10, try 1.5 cups of (dry) wild rice.
---
Mashing potatoes?
This may sound sacrilegious, but for mashed potatoes, you don't really need potatoes. Cauliflower will do just as well, says dietitian Cassie Bjork, a registered dietitian in the Midwest—you likely won't even notice the difference. And Cauliflower, as a non-starchy vegetable, is a lot lower in carbohydrates.
To wit: One cup of mashed potatoes contains 35 grams of carbohydrates, where one cup of mashed cauliflower contains 8 grams. The 35 grams of carbs break down to 8.75 teaspoons of sugar in your body; the latter break down to 2 teaspoons. Not terribly difficult to grasp, right?
---
Buying canned cranberry sauce?
Swapping out canned cranberry sauce for your own healthier concoction is as easy as spending an extra six minutes at the grocery store.
Buy a bag of frozen cranberries and at least half a cup of reduced-sugar, low-calorie juice, recommends Rachael Dunn, a clinical dietitian at Loyola University Medical Center. Combine the berries and the half-cup of juice with one cinnamon stick (broken up), ground cloves, and nutmeg, then stir them together in a sauce pan, boil till the mixture simmers and thickens, and you have cranberry sauce. Buying your berries frozen will ensure they're full of nutrients like vitamins A and C—unlike the canned stuff, which loses nutrients in processing and contains preservatives to stay fresh. Plus, you won't have to worry about sugar concentrate, which packs on the calories.
---
French-fried onions?
That tangy, french-fried crunch in your green bean casserole may make you happy, but why dwell on brief emotions when your body is thinking, "What are you doing?" Those crispy little morsels contain a lot of ingredients you'd probably have trouble pronouncing. Fortunately, Toby Amidor, a New York registered dietitian and author of the upcoming cookbook The Greek Yogurt Kitchen, has a substitute in mind that won't compromise on taste: fresh onions with whole-wheat panko bread crumbs.
You can either add the chopped onions and the panko crumbs to the casserole separately, or, if you feel inclined, bread the onions first. And if you don't have access to panko, buy whole-wheat bread, crumble it up, and bake the crumbs at 350 degrees for 8–10 minutes until brown. If you're craving a little more flavor, feel free to add just a little Parmesan cheese, says Amidor.
---
Using sour cream?
Casserole recipes are often guarded by families, or else so indulgent they don't bear repeating without embarrassment (especially if you're from the Midwest), so what you do with your sour cream is probably none of our business. But know that there is a much healthier substitute—if that doesn't amount to a kind of disrespect. Chef Biju Thomas recommends a dollop of Greek yogurt and chopped herbs in place of sour cream. "Even the low-fat versions of sour cream have more fat and calories than a full-fat Greek-style yogurt," says Thomas. Add to that the helpful probiotics and the palatable flavor of yogurt, and you have a sour cream substitute to feel good about.
To warm up the flavor a bit, Thomas recommends a touch of all-natural mayonnaise. At a maximum, added ingredients should include: oil, eggs, vinegar, water, and lemon juice. With sour cream containing as many as 30 calories per tablespoon, the extra preparation is probably worth it.
---
Using oil in cake?
Sweet breads and cakes are good for celebrations. But when you're celebrating the things you're thankful for, you probably shouldn't regret what you eat. Luckily for everyone, there's an easy way to cut down on the fat in your favorite stodgy masterpiece: use applesauce or prune purée in place of oils, says Hartley.
For every 1/4 cup of oil, substitute 1/4 cup of applesauce. (Substituting applesauce for butter or margarine doesn't work as well, as it will typically affect consistency.) This can cut down on a tremendous number of calories. For example: One cup of applesauce contains around 194 calories, while a cup of canola oil contains as many as 1,931 calories. For boxed mixes, alternative directions for applesauce are often on the box.
---
And what about pie…?
It may sound absurd to try to make pie healthier, but a little can be done. Pumpkin pie recipes often call for light cream, such as half and half, and you can reduce the fat while maintaining the pie's thickness by using evaporated skim milk instead, says Hartley. Simply substitute evaporated skim milk for light cream at a 1:1 ratio. Fifteen grams of light cream, for example, will amount to around 30 calories and 1.5 grams of saturated fat, while 15 grams of evaporated skim milk will typically yield up to 10 calories, with no saturated fat. Evaporated skim milk also boasts more concentrated milk protein.
Of course, when it comes to pie, the true healthy substitute will be one piece instead of two.
Lead Photo: Daniel Hurst/Thinkstock