Sponsor Content: HYDRO FLASK
How to Eat More (and Better) Meals Outside This Summer
With a little planning and some inspiration, you can make this the summer of alfresco dining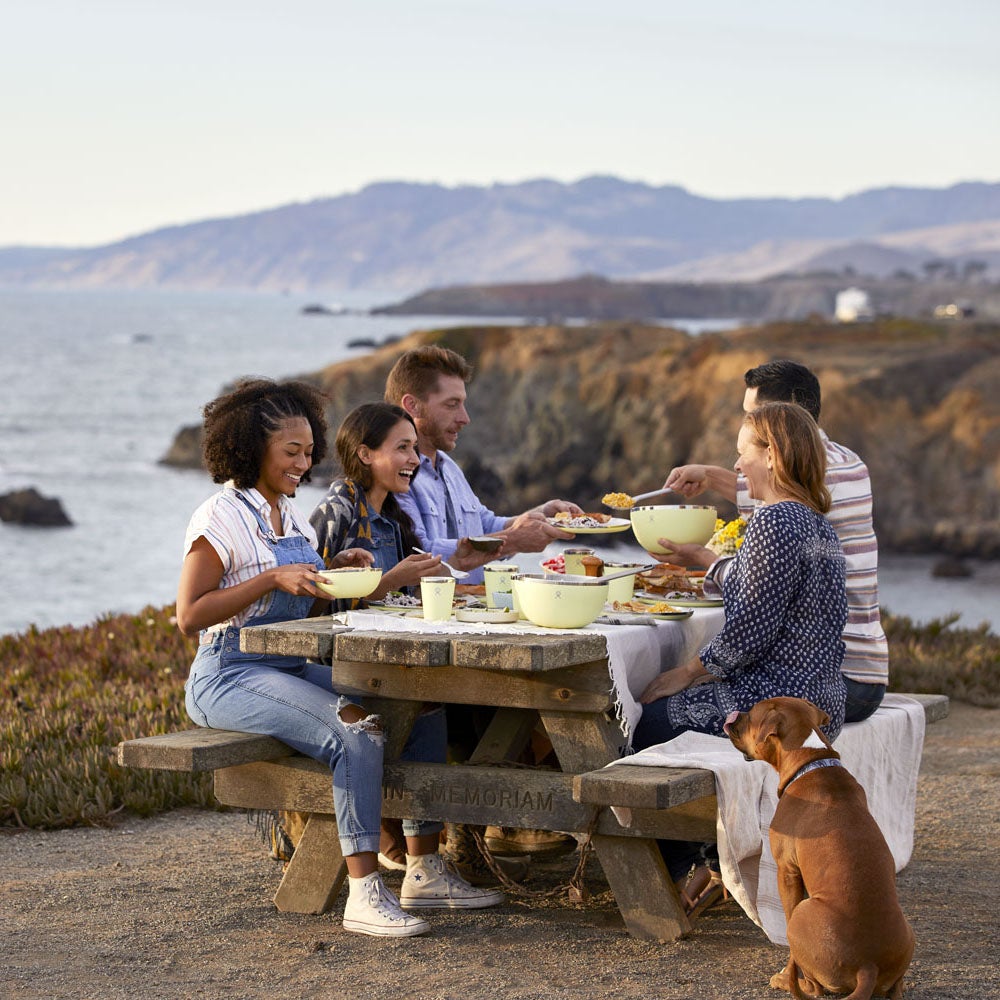 Kathryn Barnard(Photo)
If there's one thing this last year has taught us, it's that life is better outside—especially when you're eating a tasty meal. Whether you want to elevate dinners in the backyard, master the art of the picnic, or spice up meals at the campsite, we've got strategies (and recipes!) to help you maximize your outdoor meals this summer.
The Setting for Any Setting

Introducing the all-new Outdoor Kitchen by Hydro Flask: durably stylish dishes for cooks who are going places.
Eat Better on a Picnic
Picnics are the perfect way to practice the art of the outdoor meal because you're doing all of your cooking and prep at home and only spending a couple of hours munching at a scenic location. "Al Fresco Dining is all about vibe," says Jessica Monty, professional chef and all-around outdoors person living in California. "It's one of my favorite ways to entertain and connect with nature and humans. The simplicity of a picnic in the great outdoors is really satisfying." Monty recommends keeping things simple and focusing on easy-to-eat foods that travel well. Mediterranean food is a natural choice for picnics because it's heavy on spreads, dips, and easy-to-eat snacks. Here's a perfect picnic recipe that can be packed away in the new Hydro Flask serving bowls—which have press-in lids for spill-free travel—and served on their new 10-inch Plates.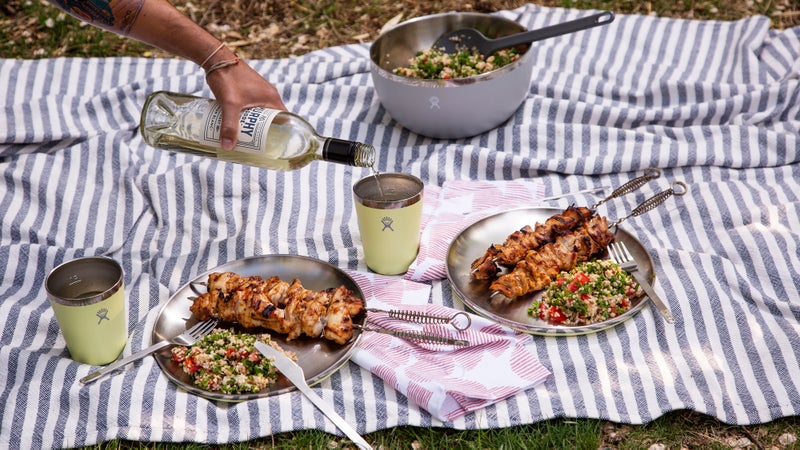 Chicken Kababs
Marinate chicken thighs in a Middle Eastern sauce for food-on-a-stick fun
Ingredients
1 c. plain Greek yogurt
2 Tbsp. olive oil
2 tsp. paprika
½ tsp. cumin
⅛ tsp. cinnamon
1 tsp. crushed red pepper flakes
zest from 1 lemon
2 Tbsp. lemon juice
5 cloves minced garlic
salt and pepper
2½ lbs. chicken thighs
Instructions: Combine all ingredients except the chicken in a large 5 qt serving bowl and mix well. Cut the chicken thighs into large pieces, trimming fat in the process. Thread the chicken onto metal skewers and place the kebabs on a foil-lined pan. Generously spoon and brush the marinade onto the kebabs, coating thoroughly. Let sit overnight in the fridge if possible. Grill over medium heat until the chicken is done. Pack the kebabs onto a plate and cover with Bee's Wrap until ready to eat. Once it's time to dig in, enjoy with a chilled Sauvignon Blanc served in a Hydro Flask Outdoor Tumbler.
Tabouli
This traditional meze leans heavily on fresh parsley and whole-grain bulgur
Ingredients
1 bunch de-stemmed parsley
½ c. bulgur wheat
1 bunch scallions, sliced thin
1 bunch de-stemmed mint
3 medium tomatoes, diced
juice of 1 lemon
⅛ c. extra-virgin olive oil
salt and pepper to taste
Instructions: Cook the bulgur according to the package's instructions. Chop the herbs fine, then mix all the ingredients and store in a medium 3 qt serving bowl. Serve with the Hydro Flask Solid Serving Spoon.
Charcuterie grazing plate
This fancy finger food complements the tabouli and kebabs.
Instructions: Grab a Hydro Flask Plate and layer thinly sliced prosciutto and capocollo alongside a mound of goat cheese, a pile of Castelvetrano olives, and a stack of sliced pita bread.
Eat Better in Your Backyard
Your backyard is the perfect place to eat alfresco because it's just steps from your kitchen, so preparing and transporting the food are super easy. "You can add a little more flair to the scene because it's close to your house," Lauren Kimmons, founder of Pop Up Picnic, a company that locates, designs, and caters care-free picnics in Southern California, says. "Add some candles. Move a small table or two outside to help with presentation."
Grilled Citrus Agave Shrimp
Sweet and spicy shrimp makes perfect summer fare while showing off your grilling skills
Ingredients
zest of 2 lemons
zest of 2 limes
juice of 2 grapefruits
juice of 2 lemons
juice of 2 limes
salt
1 jalapeño pepper, chopped
8 garlic cloves, minced
½ c. agave syrup
2 Tbsp. brown sugar
18 jumbo shrimp, peeled and tails off
Instructions: Using a Hydro Flask Outdoor Tumbler, measure the agave syrup and combine it with all other ingredients except shrimp in a food processor. Pulse until smooth. Transfer to a small pot and boil until the sauce starts to thicken. Coat shrimp with olive oil and salt and grill until pink. Transfer the shrimp to a large 5 qt serving bowl and top with the warm citrus agave syrup. Serve out of the bowl with a Hydro Flask Slotted Spoon.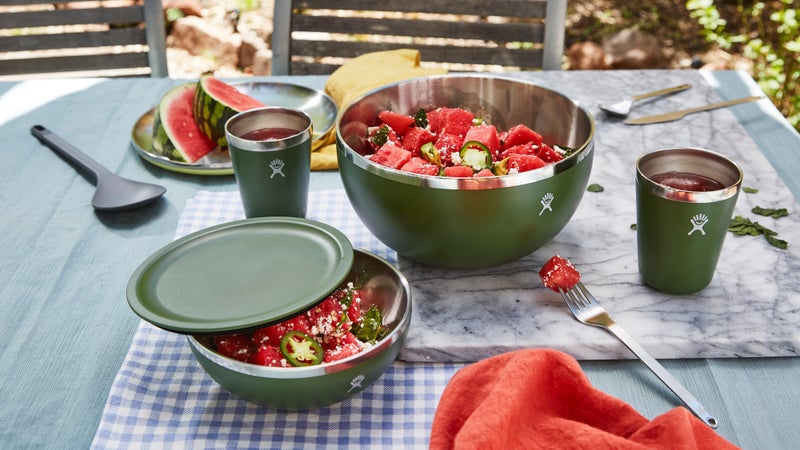 Watermelon Salad with Lime Dressing
This fruit salad screams summer and looks beautiful on the plate, too
Ingredients
2 Tbsp. olive oil
3 Tbsp. lime juice
1 garlic clove, minced
salt
5 c. cubed watermelon
1 avocado, cubed
⅓ c. crumbled feta cheese
⅓ c. torn mint leaves
1 jalapeño pepper, sliced thin
Instructions: In a small 1 qt bowl, combine olive oil, lime juice, garlic, and salt and stir until combined. In the large 5 qt bowl, mix together watermelon, avocado, feta, mint, and jalapeño. Add the dressing and mix together well. Serve with two slotted spoons.
Eat Better at the Campsite
Car camping is your chance to bring a little bit of the comforts of home into the wild, and the Hydro Flask Outdoor Kitchen Line helps you blend the best of both worlds, with a stainless-steel build made extra durable and no-slip by a powder coating. The dishes and flatware store perfectly in the Hydro Flask Outdoor Tote and can handle the wear and tear of traveling into the countryside while looking as elegant as anything you have at home.
Shruthie Lapp and her partner Peter have perfected the art of blending home-style comforts with wilderness dining. The duo lives full time in their van and cook and eat the majority of their meals in the wild. "We're not sure why this is, but food is so much more satisfying when you're eating it outside. That first meal or snack when you've been hiking all day really hits different."
Time your campsite dinner with sunset and Shruthie says the meal with be especially magical. "At the end of the day, we make a point to stop what we're doing, disconnect from our devices, share a meal and connect with each other. A great meal outside is just another way to make everyday moments special."
For cooking in the wild, lean into the foil packet—tinfoil packed with goodness and cooked on the edge of the fire—but don't limit yourself to standard meat and potatoes.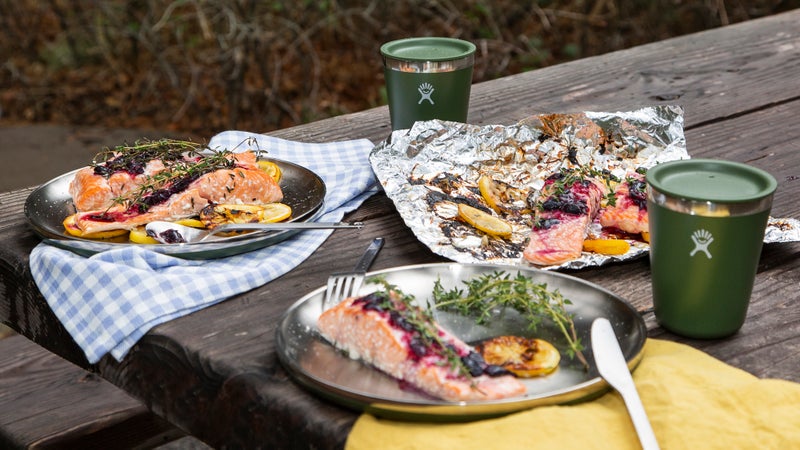 Foil-Packet Salmon
Honey and blueberry combine for a sweet and tart salmon that is out of this world
Ingredients
¼ c. fresh blueberries
2 tsp. honey
1 Tbsp. lemon juice
2 lemons, sliced into thin rings
4  wild salmon filets, about 6-oz. each
salt and pepper
8 sprigs of thyme
Instructions: In a medium 3 qt bowl, combine blueberries, honey, and lemon juice, muddle together with the back of a Hydro Flask Solid Spoon, and set aside in a cooler to chill. Line the center of a 12-inch-square piece of foil with lemon rings and add a salmon filet on top of the lemons. Salt and pepper the filet and add 2 sprigs of thyme. Wrap the foil around the filet into a packet and cook on the edge of the fire until the fish easily flakes apart with a fork. Transfer the salmon to a plate and scoop the blueberry syrup on top of the fish with a solid spoon.
Chicken and black-bean nachos appetizer
This twist on the foil packet gives you a cheesy delicacy you wouldn't expect to find at the campsite—plus if you want to add something sweet, this dish goes great with churros for dessert
Ingredients
3 c. shredded rotisserie chicken (pick it up at the store on the way to the campsite) ½ c. chopped onion
1 c. red enchilada sauce
1 can black beans, rinsed
12 oz. shredded pepper jack cheese
salt and pepper
tortilla chips
fresh cilantro and lime wedges for serving
Instructions: Mix chicken, onion, enchilada sauce, black beans, and half the cheese in a large 5 qt bowl. Season with salt and pepper. Place a handful of chips inside a 12-inch square of aluminum foil and ladle chicken mixture onto them with a solid spoon. Fold the foil over the nachos to create a packet that traps heat. Repeat with the rest of the chips and filling so everyone at the site has an individual nacho packet. Cook on the edge of the fire until the cheese is melted. Sprinkle with cilantro and serve with lime wedges on plates.
---
Since 2009, Hydro Flask has designed gear that happily goes where you do and stays the perfect temp til the outdoor adventure is over. Today is wide open. And we're up for anything. #HeyLetsgo
Lead Photo: Kathryn Barnard
Trending on Outside Online