The Believer
Ryan Hall has been touted as the savior of American distance running since 2007. So when's he going to win a race?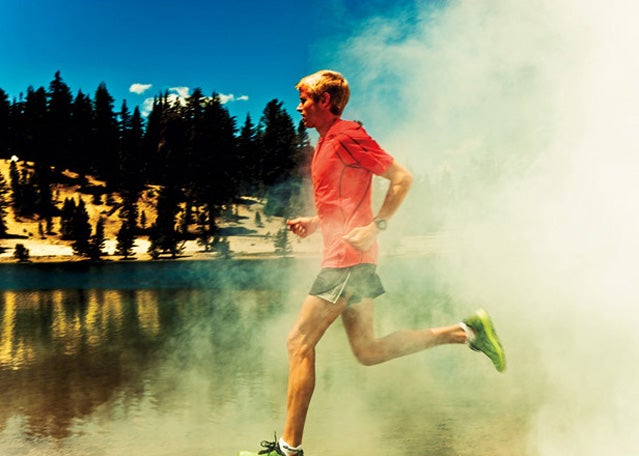 Heading out the door? Read this article on the new Outside+ app available now on iOS devices for members! Download the app.
RYAN HALL WAS LYING AWAKE last night when God spoke. "This time He was telling me, 'Less is more'—scale back the caffeine, the supplements, even the intensity of my training."
Raceography
Boston, 2010: 4th(2:08:41)
New York, 2009: 4th(2:10:36)
Boston, 2010: 3rd(2:09:40)
Summer Olympics, 2008: 10th(2:12:33)
London, 20080: 5th(2:06:17)
U.S Olympic Team Trials, 2007: 1st(2:09:02)
London, 2007: 7th(2:08:24)
Ryan Hall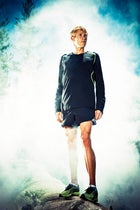 Ryan Hall in Mammoth Lakes, California, in July 2010
Ryan Hall

"Ryan's faith takes the edge off his ego." says Terrence Mahon, Hall's coach.
The 28-year-old marathon star is explaining his spiritual pillow talk to his younger brother, Chad, as they run a stretch of singletrack at the base of the Snow Summit ski area, in Big Bear, California. Ryan already put in ten miles and did drills this morning. Now he's on his afternoon run—25 to 30 minutes, at 7,000 feet of elevation, at a shake-the-legs-out pace of seven and a half minutes per mile. Chad, who's keeping up, is an accomplished NCAA runner in his own right. I'm following on their mother's townie bike. "There's this temptation to do more," he says, "as if hammering all the time is the way to improvement. As if winning is everything."
It's a peculiar credo for a man who had the distinction, three years ago, of being hailed as the most promising up-and-coming U.S. marathoner in a generation, after he set an American debut record of 2:08:24 at the 2007 London Marathon. It's also a strange mantra when you consider the double play that Hall is hoping to pull off on October 10: to win the Chicago Marathon, becoming the first American-born man to take that race since 1982, and, while he's at it, smash the American marathon record of 2:05:38, set by Morrocan-born Khalid Khannouchi in 2002.
In other words, Hall hopes to secure a position as the greatest American marathoner since Frank Shorter, Bill Rodgers, Alberto Salazar, and Greg Meyer dominated the scene back in the Mustache Days of the seventies and eighties—proving that the U.S. can still produce great long-distance champions. (Joining Hall, of course, is fellow American Meb Keflezighi, last year's New York City Marathon winner, who immigrated from Eritria when he was ten.)
Yes, that sounds like "more" rather than "less." But Ryan Hall is a running contradiction. Consider his form. While the sport's leaders—mostly Kenyans and Ethiopians—move along with bowed lower backs and puffed-out chests, Hall, who's an inch shy of six feet and weighs 135 pounds, runs bolt upright, as if his lumbar has no curve. And then there's his long, relaxed stride: Hall is a loping wolfhound in a field of shuffling terriers. As Rodgers, winner of four New York City Marathons and four Boston Marathons, recently told me, "He runs kinda funny."
Hall talks kinda funny, too, tossing around words like dude, gnarly, and trippy in a low-decibel Southern California drawl. What's more, beneath the slow speech and the blond bro shag is a religious faith that's every bit as powerful as his motor.
God is indeed Hall's homeboy—"the God of the Bible, the God who created me, who gave me a gift to run," Hall tells me as he bites into a reheated fish taco at his parents' house in Big Bear. (He lives and trains in Mammoth Lakes, in the eastern Sierra.) But while God may have given Hall a gift, He has yet to deliver a career-defining win. Three years into his pro career, Hall's results are remarkable but not in line with the early hype: seventh place in London in 2007 (2:08:24, the fastest debut marathon by an American), first in the Olympic Trials in New York City the same year (2:09:02, a course record), tenth at the Beijing Games in 2008, third at the hilly Boston Marathon in 2009, and fourth in New York the same year. And at 28, he's in the prime of his career.
Still, the old guard believes. "He's only been in seven marathons," says Rodgers, "and his worst finish was tenth—at the Olympics! Most guys will have at least one slow race, but Ryan never seems to get tired. I think that makes him—along with Meb—a symbol of a new era of American distance running."
Trouble is, Hall doesn't seem to care. "I don't race to beat other people," he says. "I've got to be on that starting line and know I can handle finishing 100th."
So why does he race?
"I owe it to Him and to myself and to others to cultivate the gift."
The story of Hall's "gift" is right out of a church-camp movie. A decent 14-year-old ball-sports player, eager to emulate his dad—Mickey Hall was drafted by the Baltimore Orioles but decided to teach instead—is riding the bus to a basketball game. While staring out at Big Bear Lake, he feels an urge to run around it, all 15 miles, never mind that he hasn't run more than three in his life.
That Saturday, he laces up his shoes and, along with Dad, completes the loop. On the couch after the run, the boy's calves scream, and God speaks louder. Ryan, He says, run for me. Run for yourself. Run so that others may be inspired. And so he ran—to high school track stardom, to a scholarship at Stanford, and to Beijing, stopping to marry miler Sara Bei in 2005 and set up the Hall Steps Foundation, a nonprofit that helps the poor.
"I've been out on 22- and 24-mile runs with Ryan, and we've talked a lot about faith," says Keflezighi, Hall's neighbor, training partner, and top rival, who also leans on religion for success. "He has a respect for the distance and a healthy perspective of God that works well for him."
But can Hall and his "all will be revealed" approach kick ass in Chicago? Or would it behoove him to crank up some Slayer, trash a hotel room, and visualize victory rather than gracefully accepting defeat? Terrence Mahon, Hall's coach at the Mammoth Track Club, insists his athlete is dialed just right: "Ryan's faith takes the edge off his ego," he says. "He knows he's running for personal reasons."
Rodgers agrees. "Some people thrive on a lot of pressure," he told me. "I've seen guys swear at competitors or bad-mouth them in the media. I even did a bit of that myself. But Ryan thrives by keeping the pressure off. Because of that, I think he can win Chicago and beat the American record. He's got it in him to beat the best guys from Kenya and Ethiopia, too." Of course, what matters in Chicago is that Hall runs as he's meant to. But even though the route is low, flat, and fast, there's still the weather to contend with. "I could be in the best shape," Hall says, "but if there's a 30-mile-per-hour wind, it doesn't matter—no one's getting any records."
In other words, don't hold your breath, America. Hall may have the legs, the discipline, the maturity, and the spirit to make it happen, but, despite his goals, he knows better than to predict a victory like some Ali-esque smack talker. As he tells me before we part ways, "I leave room for a little bit of mystery. If you really want something, the way to get it is to let it go."