The Best Race Medals in Running
Heading out the door? Read this article on the new Outside+ app available now on iOS devices for members! Download the app.
"A soldier will fight long and hard for a bit of colored ribbon," Napoleon allegedly once said. Say what you will about his inherent cynicism, but the pint-sized conqueror knew what he was talking about. Today, runners continue to battle it out against themselves and others for bling, and races are stepping up their game in the prize department. Nobody knows that better than Daniel Solera and "Medal Slut" Rachel Pidutti Williams, two of the greatest running-medal curators on the Internet. Without further ado, we present Solera's and Williams' top 18 picks of hard-won bling from both sides of the Atlantic. 
2013 Disney Marathon
Solera: With these races' exorbitant price tags, you can bet that Disney will invest in top-notch hardware. The 20th anniversary of their biggest running event delivered with a regal, heavy, and incredibly elegant medal. The center spins with Mickey Mouse's modern incarnation on one side and his original Steamboat Willie version on the other.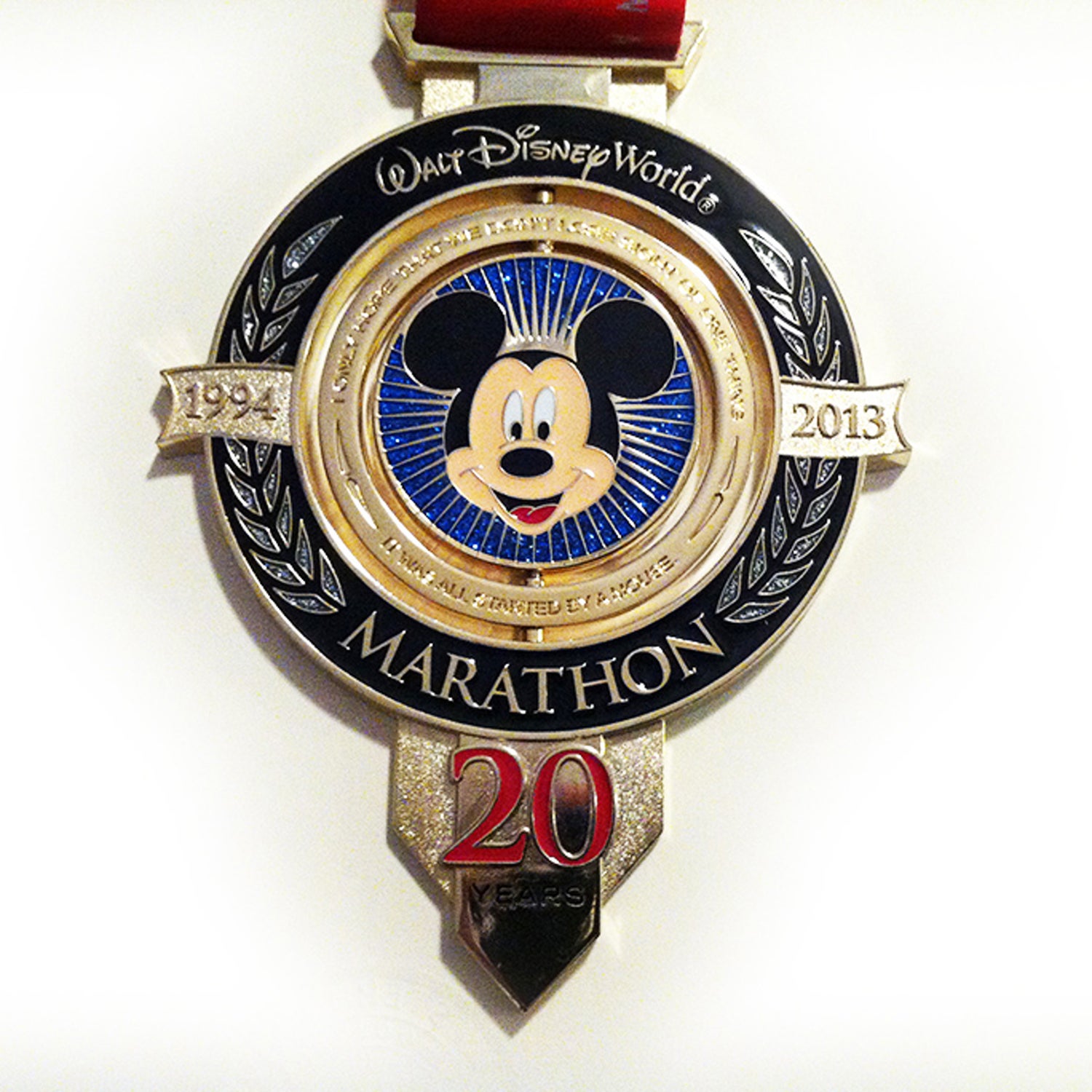 ---
2009 Chicago Marathon
Solera: There's personal bias here, as this was my first-ever marathon. Nostalgia aside, this medal is a statement. Its shape resembles a shield or a crest, the embossed footprint design is emblematic of the physical struggle, and the ribbon is suitably colorful. An excellent medal for the best race in the world.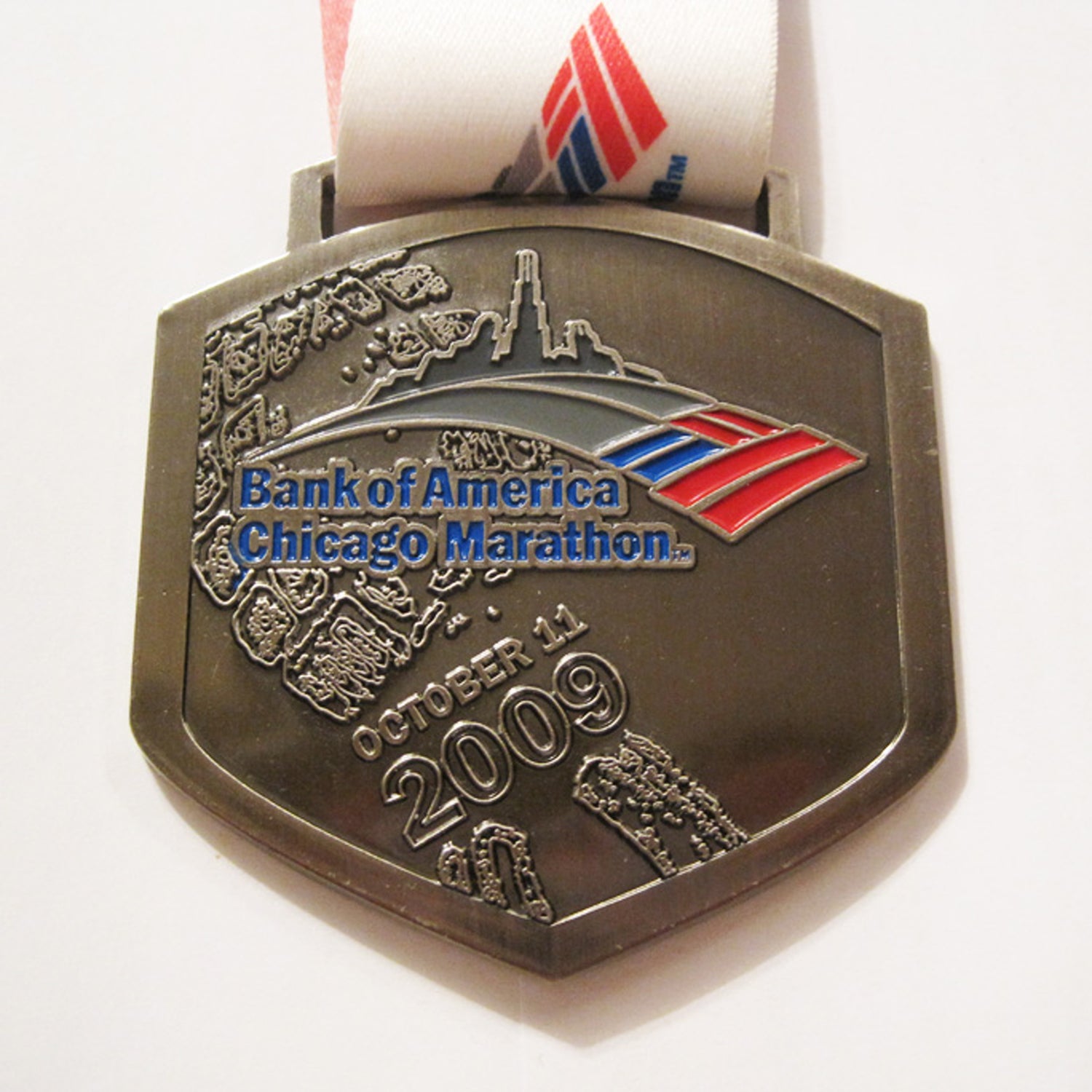 ---
2012 Oak Barrel Half Marathon
Solera: With so many medals made of its homonym, it's refreshing to see one made of wood. Sponsored by Jack Daniels, this event gives each finisher a medal that looks as if it were dipped and aged in whiskey. Burnt edges and a leather strap give this memento a lot of Southern charm and character. In keeping with the theme, age group winners received a wedge of a whiskey barrel.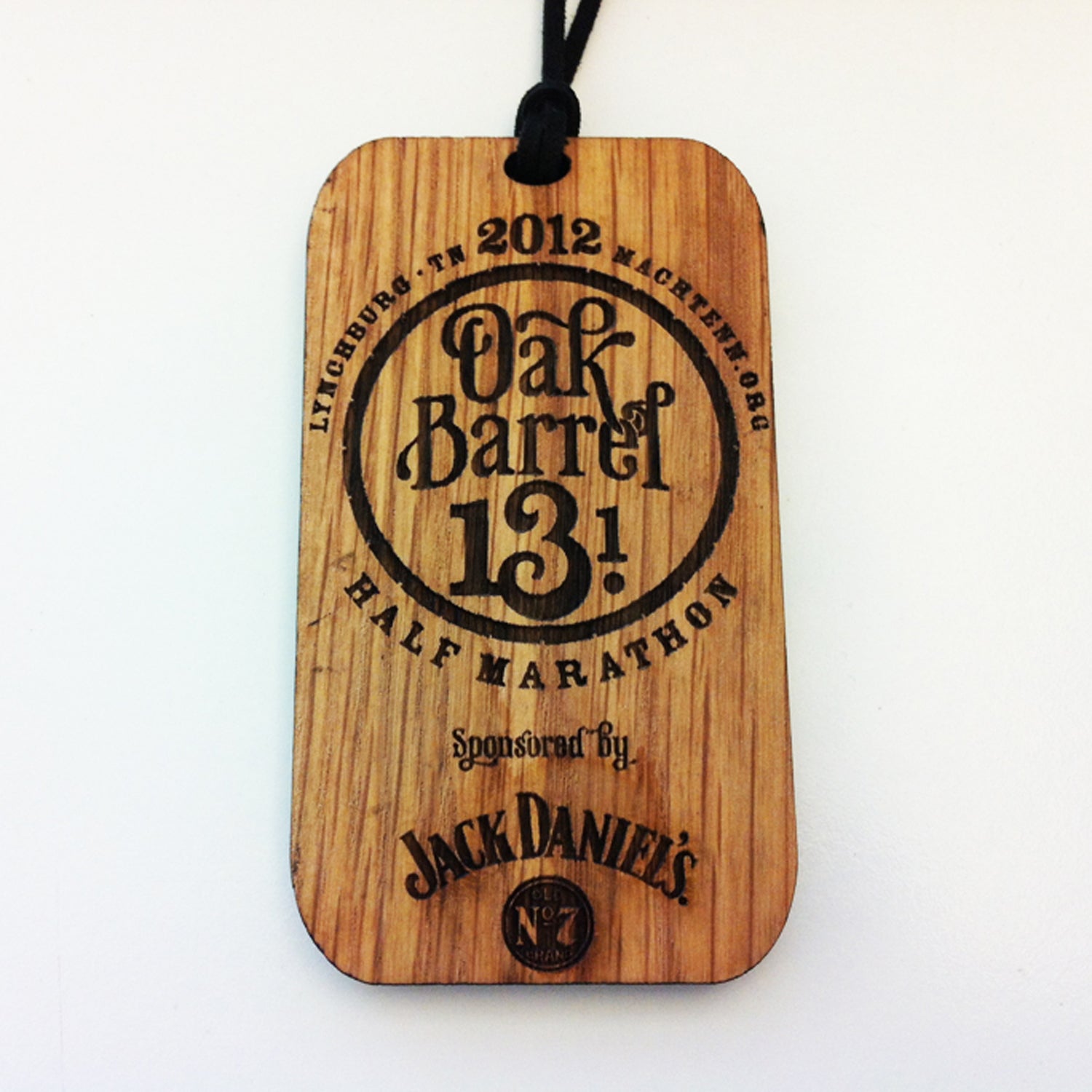 ---
2015 Lost Dutchman Marathon
Solera: It's fitting that a race that runs through the burnt reds and oranges of the southwestern desert under a perfect blue sky should have a colorful medal. Organizers ditched their usual subdued approach and went for a full explosion of color. As a novelty bonus, the sun's heat rays rotate.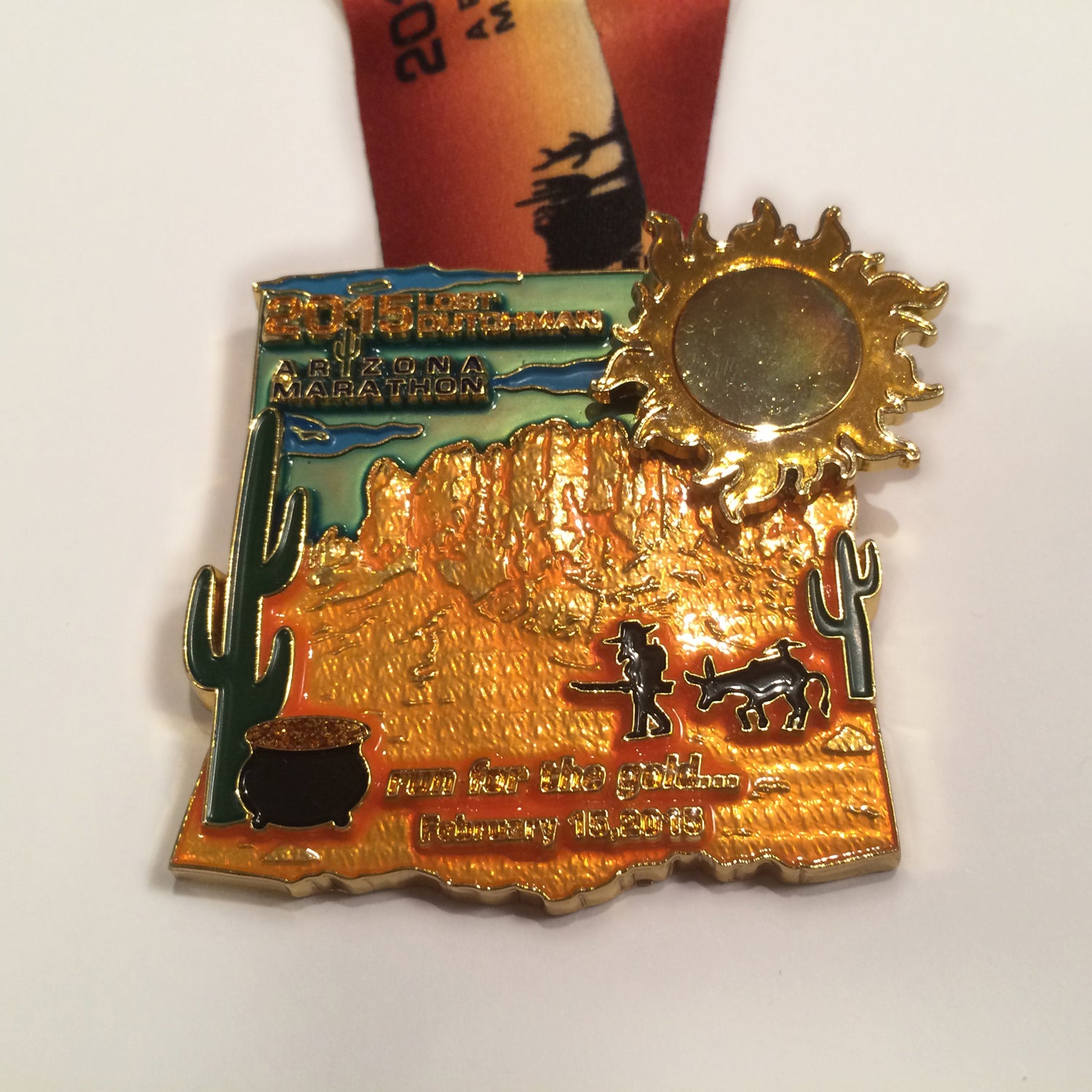 ---
2014 Miami Marathon
Solera: Miami went through a design streak from 2008 to 2013 where they kept adding tiny little additions to an already stellar design. By 2013, however, it was bloated and overdone. Keeping the ostentatious and opulent character of its host city, organizers tweaked the medal with a simpler, more sculptural design.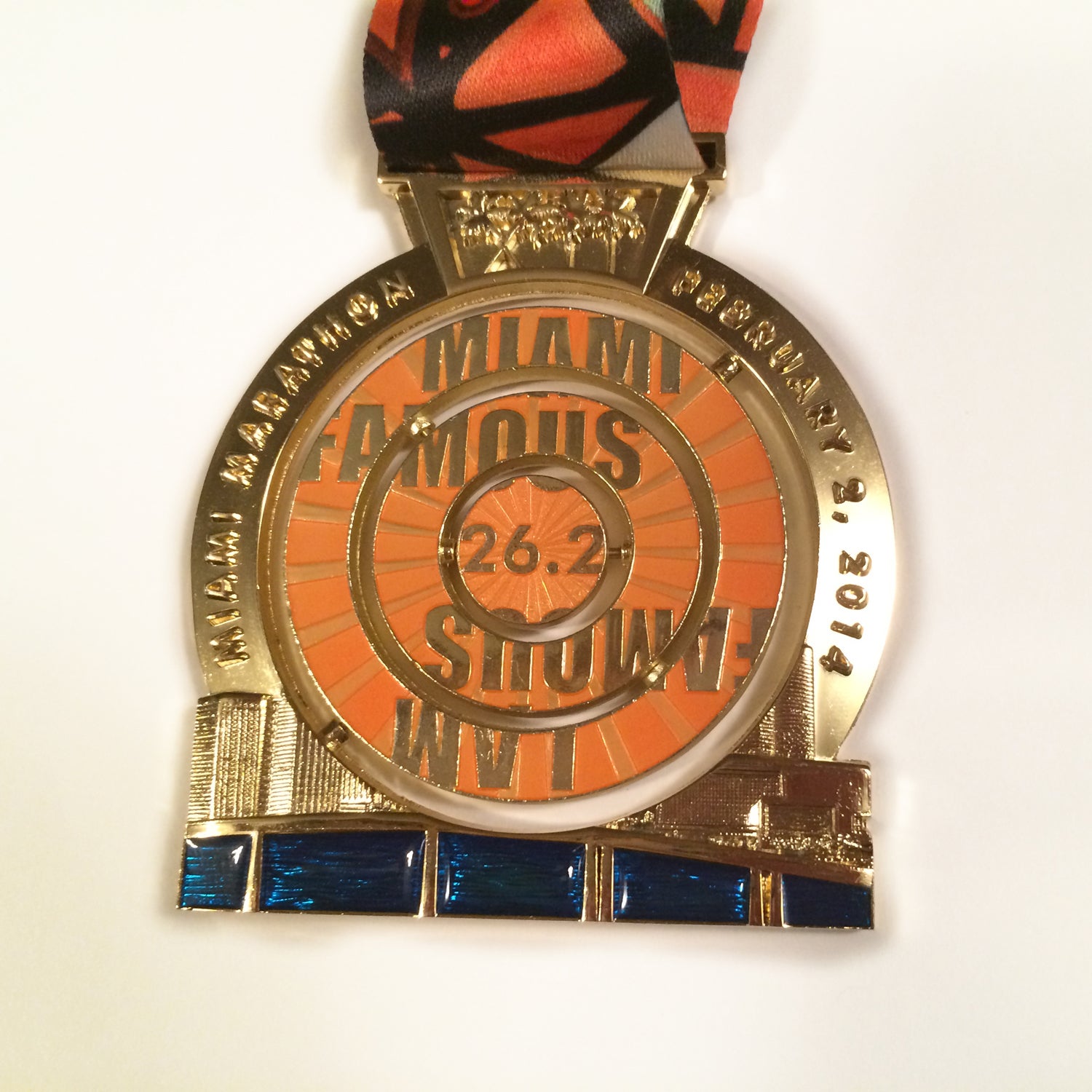 ---
2014 Rock 'n' Roll Chicago Half Marathon
Solera: Advertisers are always quick to feature the Willis and Hancock Towers on promotional materials, so it's refreshing to see other monuments make the cut. The 2014 edition of the city's largest half marathon featured Cloud Gate, more affectionately known as the Bean, and a short strip of Michigan Avenue.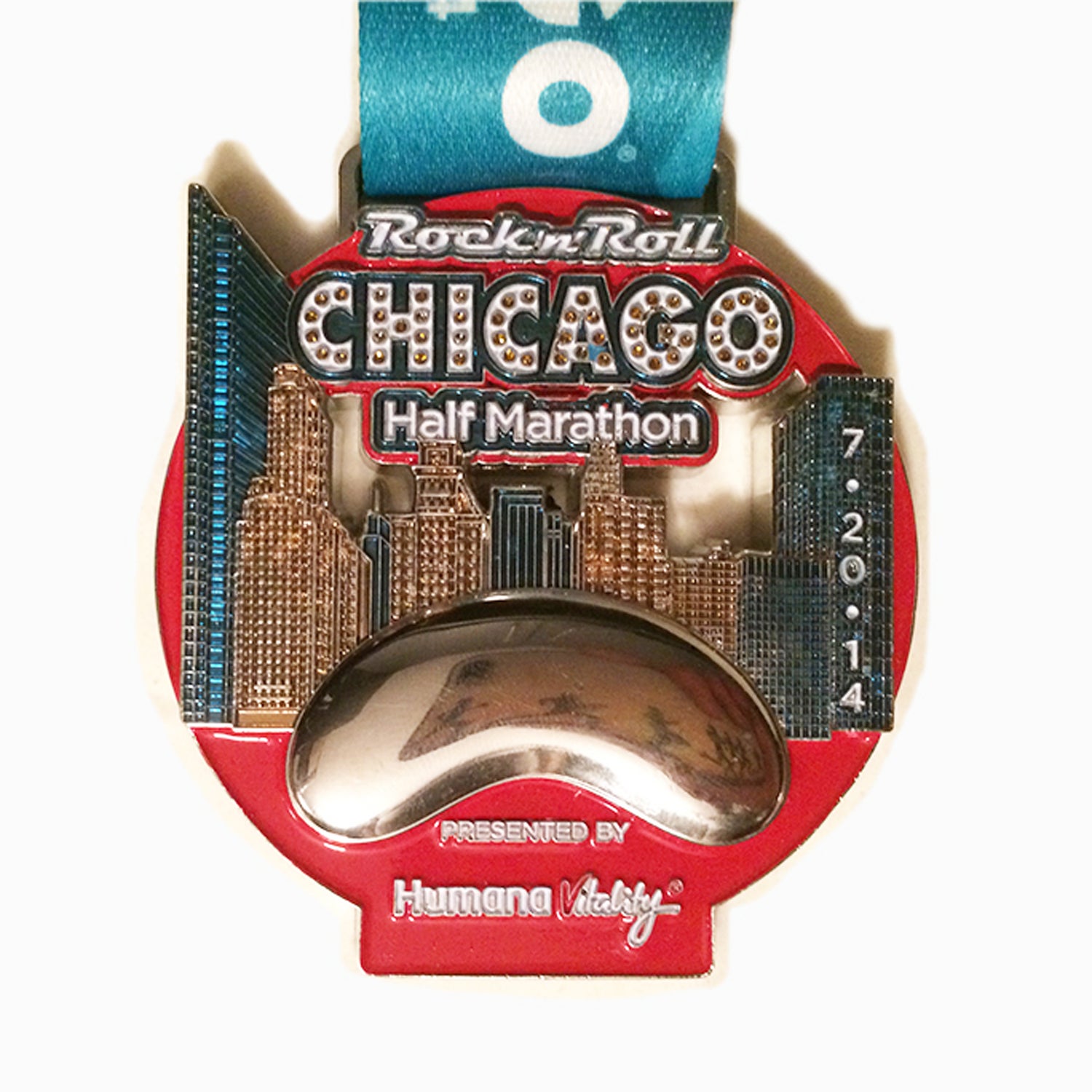 ---
2013 Portland Marathon
Solera: This race is famous for giving their runners a bounty of goodies. From commemorative coins to potted plants, no one leaves the finishers' chute without an armful of memories. And yet, among the many takeaways, the medal does not get lost. Every year, organizers design a historically significant coinlike prize that would not look out of place on a military uniform.
---
2012 Run Crazy Horse
Solera: I love this medal's grit and chiseled shape, even though the design borrows very heavily from the Big Sur International Marathon medal. It features the event's titular sculpture, with Crazy Horse himself pointing forward, as if directing runners to follow the 26.2-mile path to glory. Made from clay and featuring a hand-tied leather strap, you might suspect your medal was the only one made.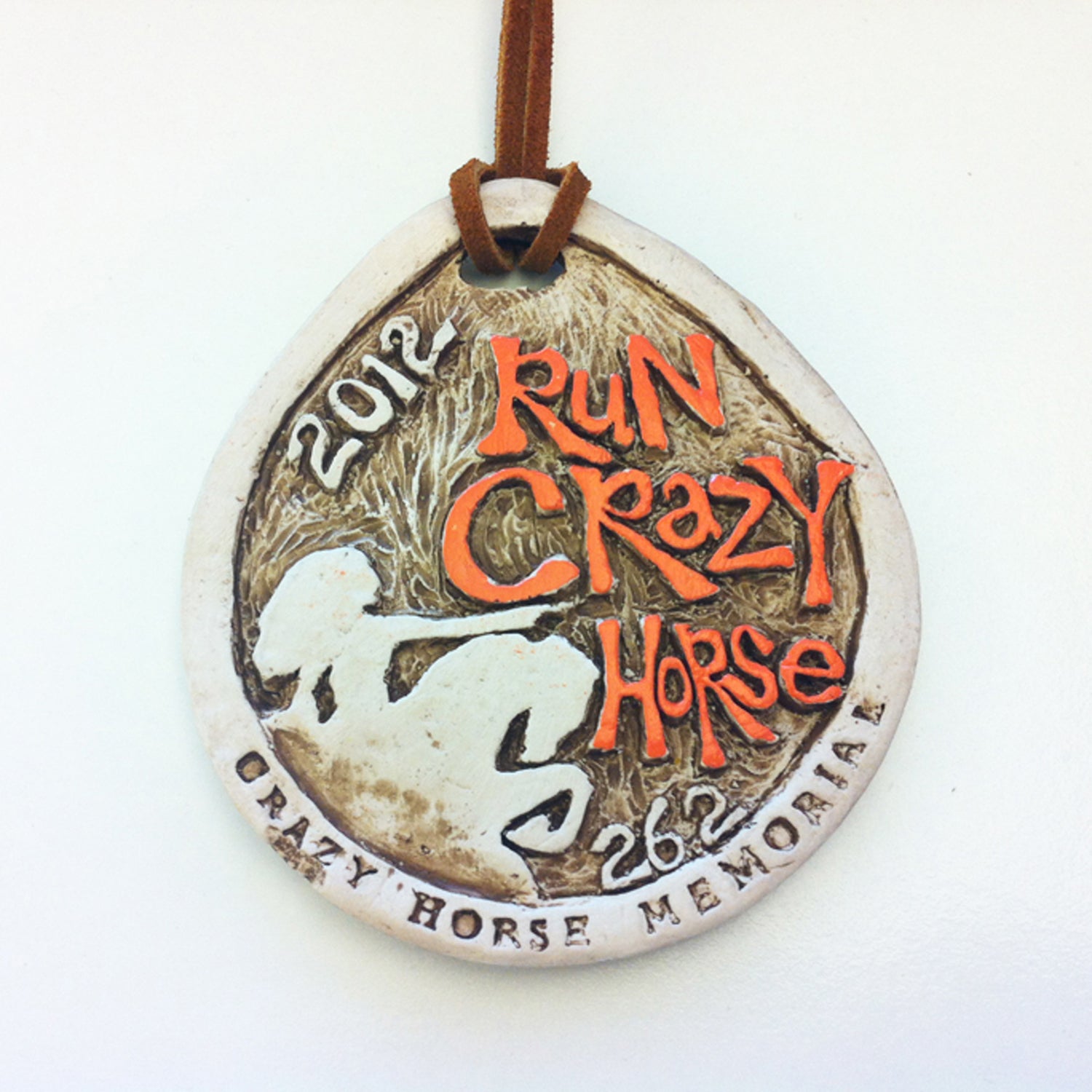 ---
2013 Ice Age Trail 50k
Solera: Runners who finish the Ice Age Trail 50K are given a tiny keychain. The true hunks of metal are given for the event's 50-mile distance. However, upon close inspection, you can see tremendous amounts of detail, along with a lodgelike frame. Add to all that a woolly mammoth in midstride and you have an excellent keepsake.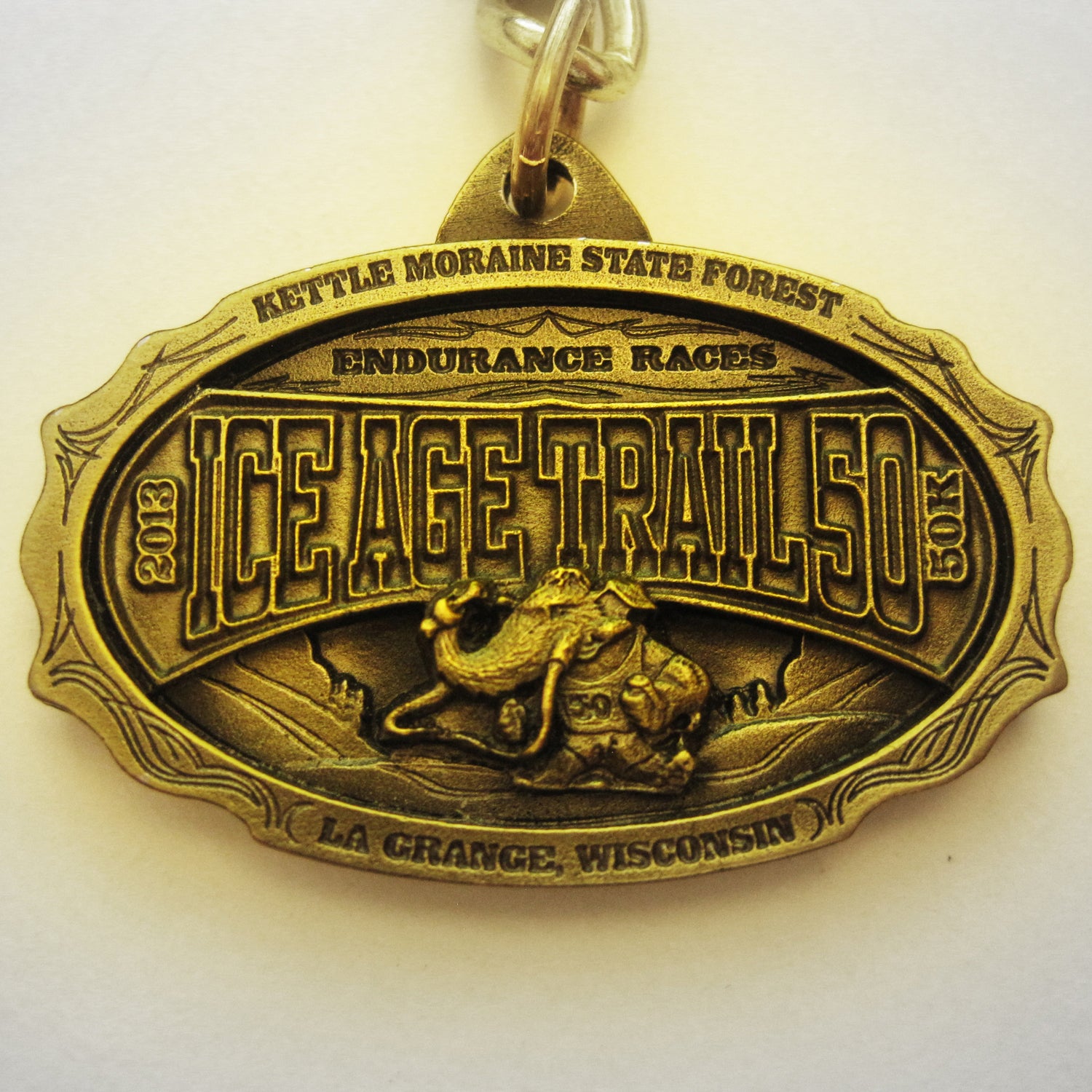 ---
2014 Air Force Marathon
Solera: Nothing says raw power like a fighter jet. Every year, the Air Force Marathon features a different military plane on its medal and promotional materials, and every year the medal is a crowd favorite.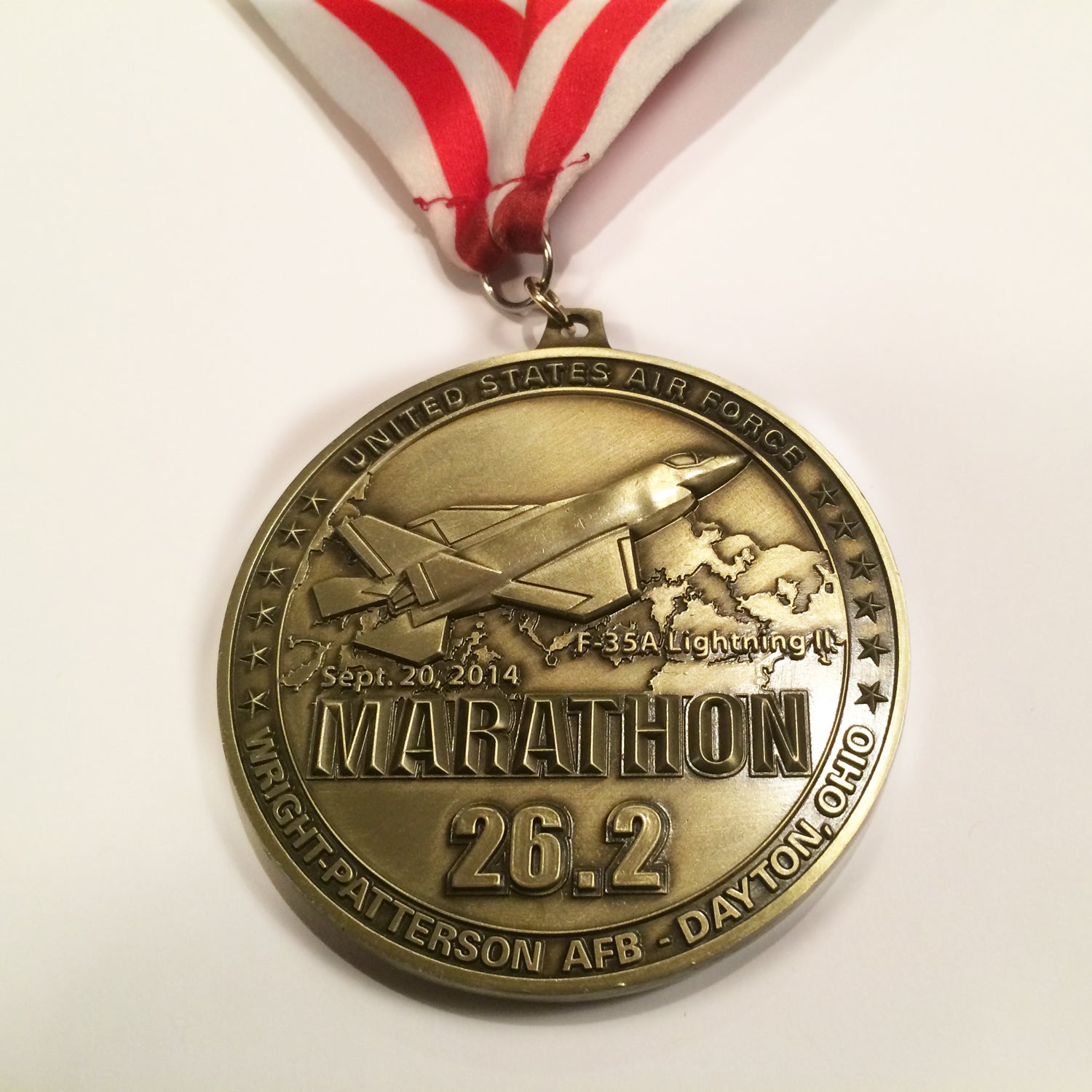 ---
2014 Texas Marathon
Williams: I don't think I really need to explain why. The fact that it's touted as the weightiest marathon medal out there at the moment makes it a winner. (The Little Rock Marathon medal comes in ever so slightly behind, I believe.) I'm actually amazed I got through airport security with that thing in my hand luggage, because during the security checks, the staff joked that it could be used as a weapon.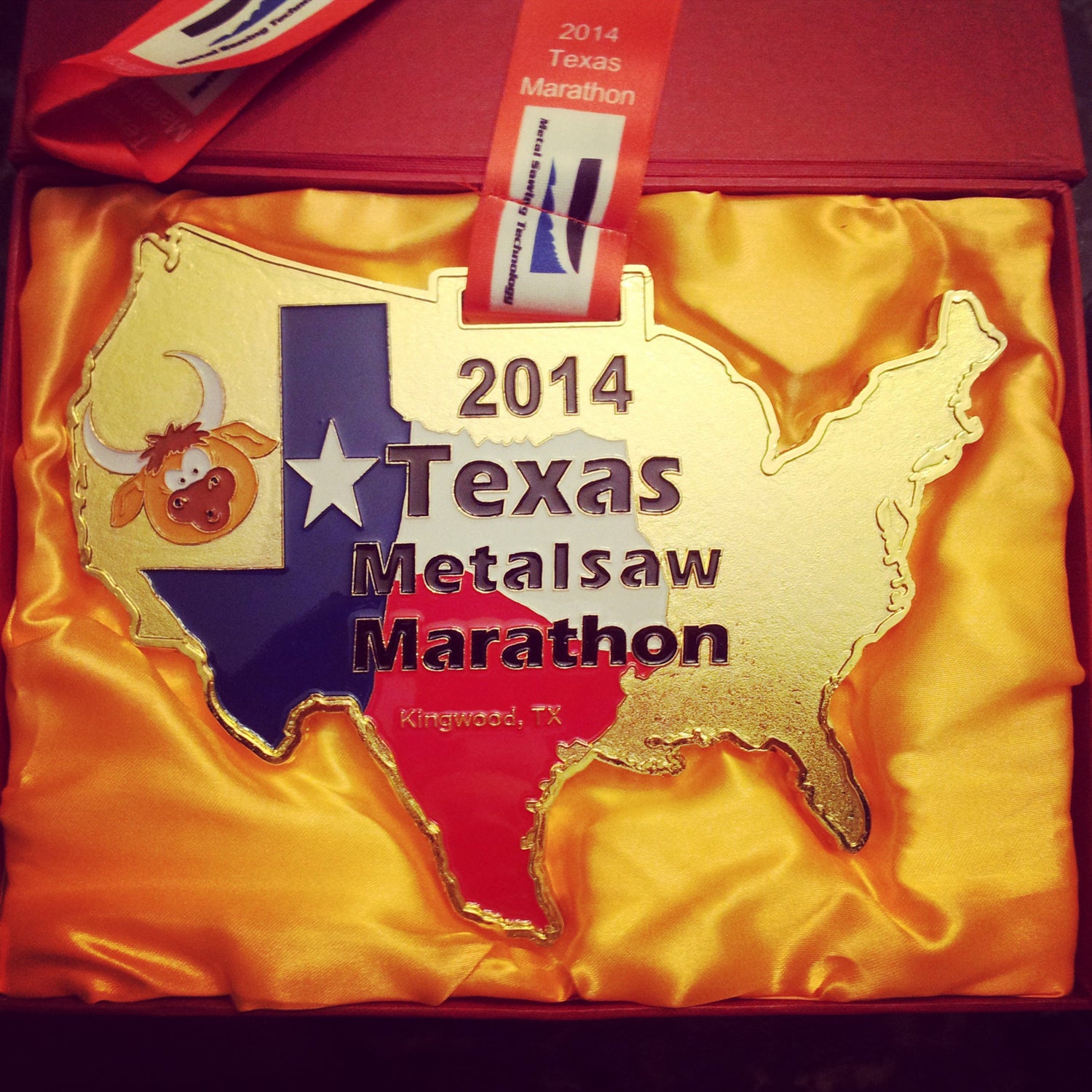 ---
2013 Edinburgh Half Marathon
Williams: The reason behind this is juvenile, admittedly. Clearly the overall shape of the medal was overlooked during the planning stage, because although the front of the medal looks respectable enough (the letters "emf," for Edinburgh Marathon Festival), once you flip the medal over, it resembles male genitalia.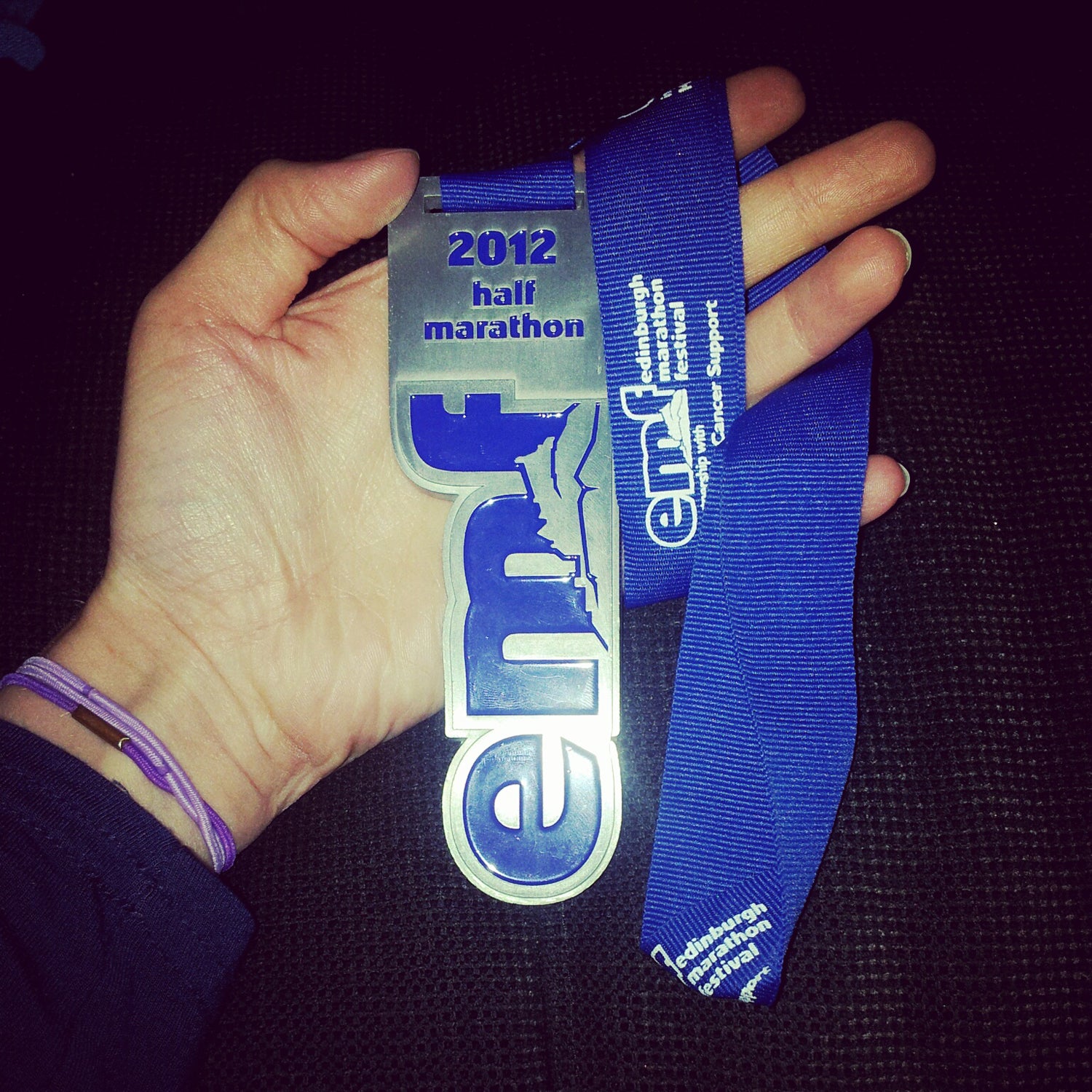 ---
2014 Giant's Head Marathon
Williams: Speaking of male genitalia, the next medal was fabulous enough to make me sign up for the (slightly long) marathon despite it's hellish elevation profile. The Giant's Head Marathon, in Dorset, takes place in the beautiful English countryside, including the historical Cerne Abbas Giant, a giant chalk drawing on a hillside. The Cerne Abbas Giant features prominently on the medal, including his prominent member. It's also a weighty piece of hardware and a challenging day out. Bonus: At (roughly) 20 miles, there is a "Love Station," which features tray bakes, cake, sandwiches, cider, and flavored vodka.
Fun fact: The weekend was so filled with innuendo that I genuinely asked for the "spicy penis sauce" instead of the spicy peanut sauce the following day in a restaurant.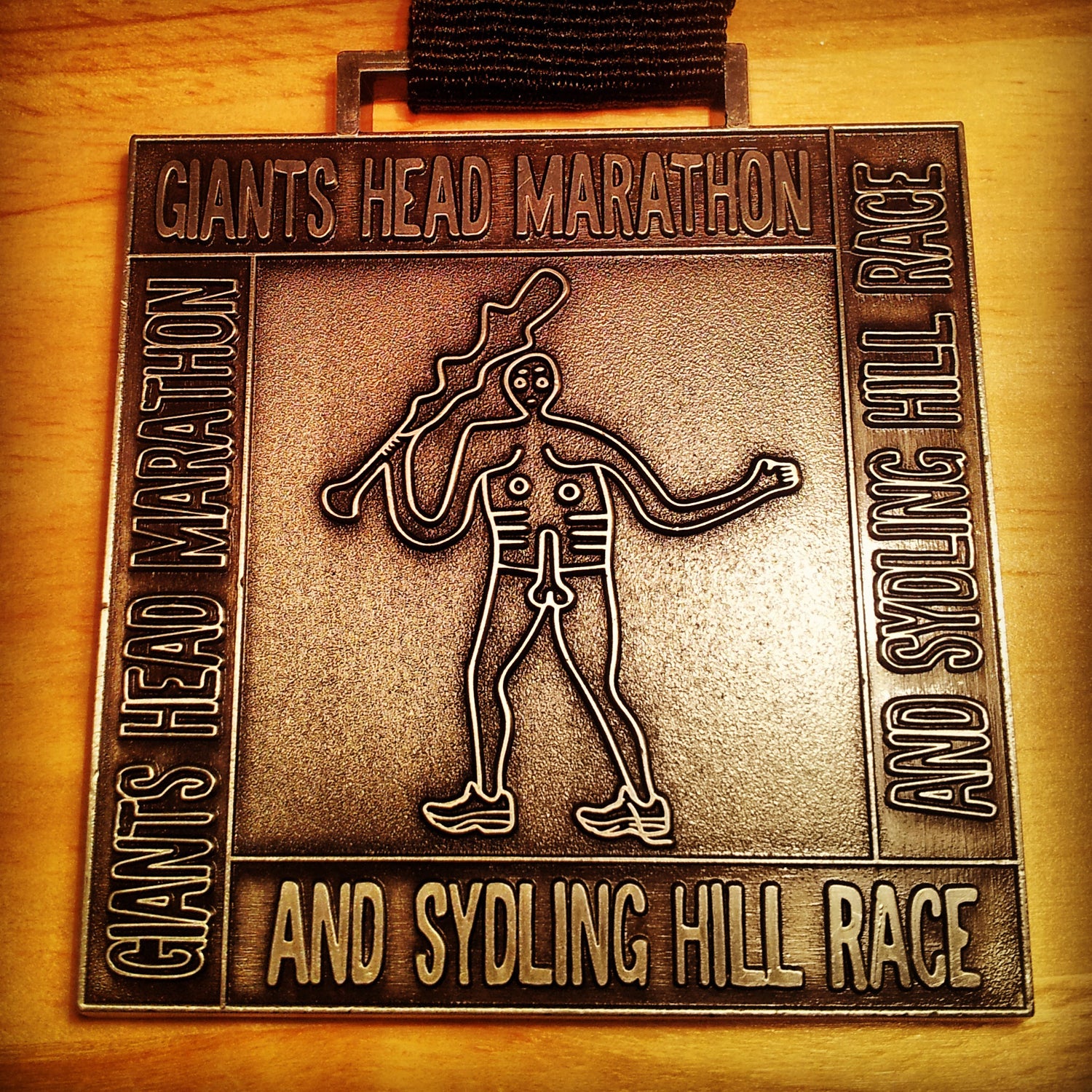 ---
2014 Speyside Way Ultra
Williams: 36.5 miles. Simple. Chunky. Nice. A race nestled in beautiful scenery with a suitably "traily" medal.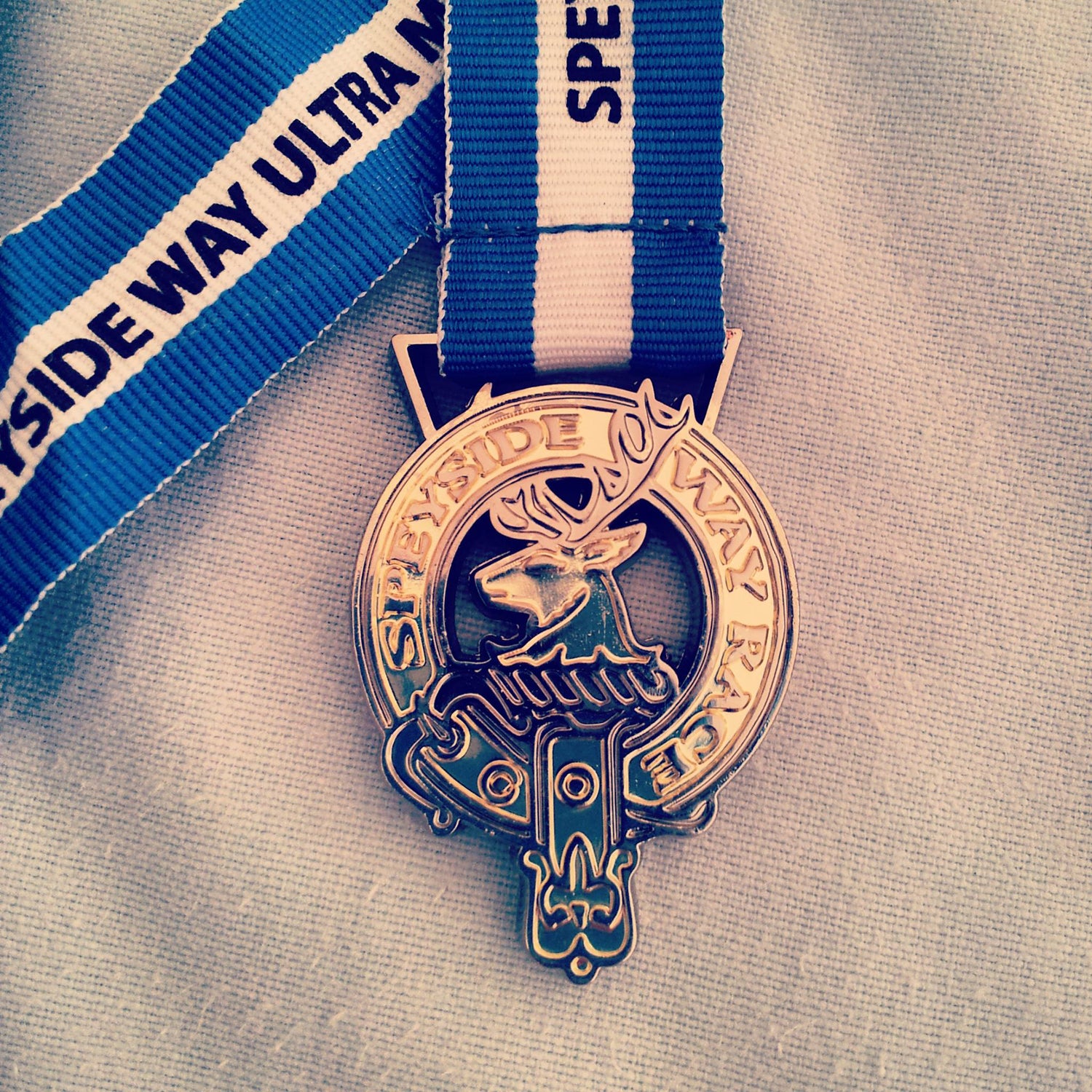 ---
2013 Skye Half Marathon
Williams: OK, so technically not a medal, but for finishing this beautiful race, you are presented with a shot glass and a miniature of local whiskey. Apparently they now do bog standard medals, but I'm still in love with the custom canvas bags they handed out for the 30th anniversary run.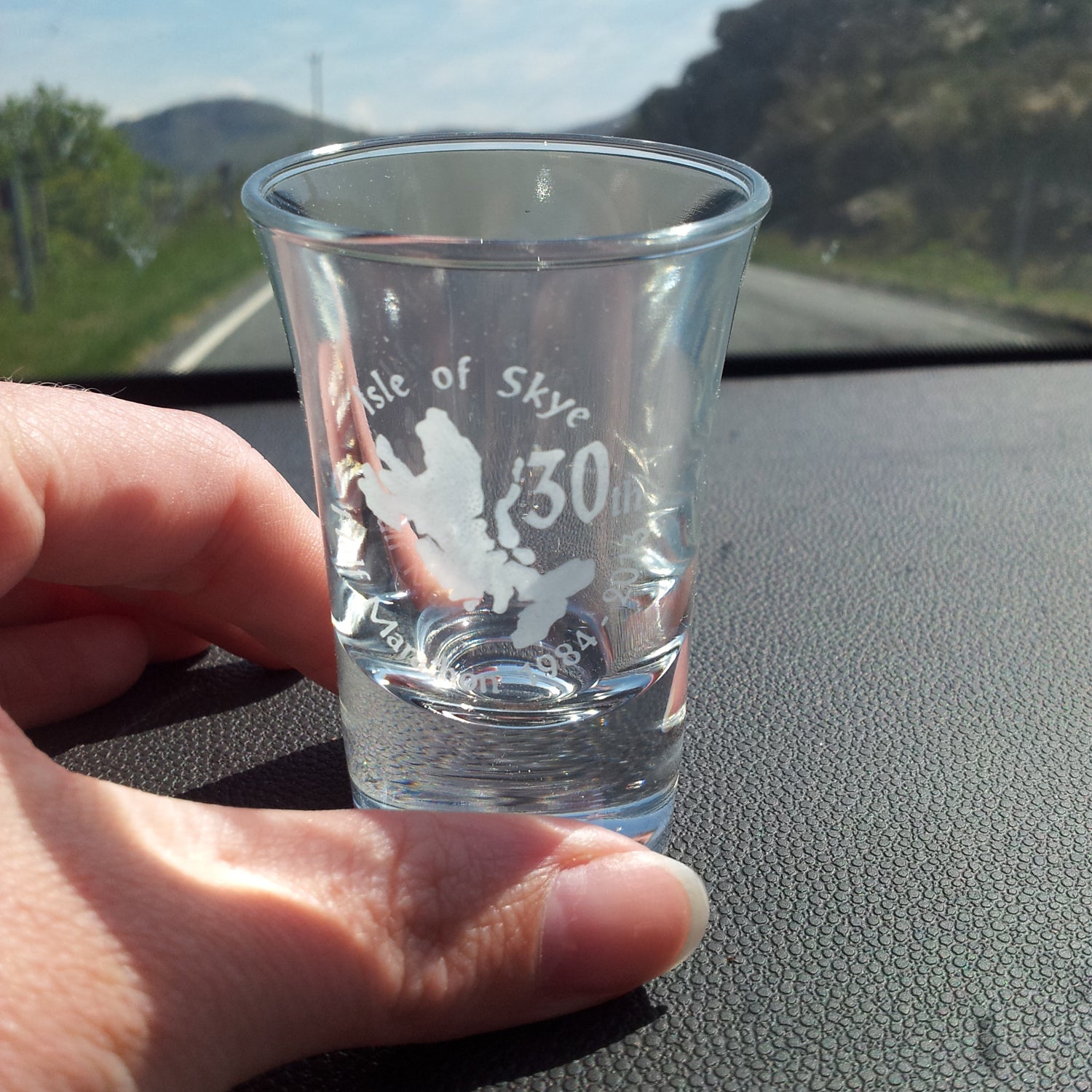 ---
2012 Run Balmoral Races
Williams: The running festival has a 5K, a 10K (notorious for a killer hill in the middle), and a 15-mile trail run. All of the medals are just plain, simple, and classy. I also appreciate that they vary the colors and don't stoop to cheap ribbon. Plus, you get to run in the Queen's backyard!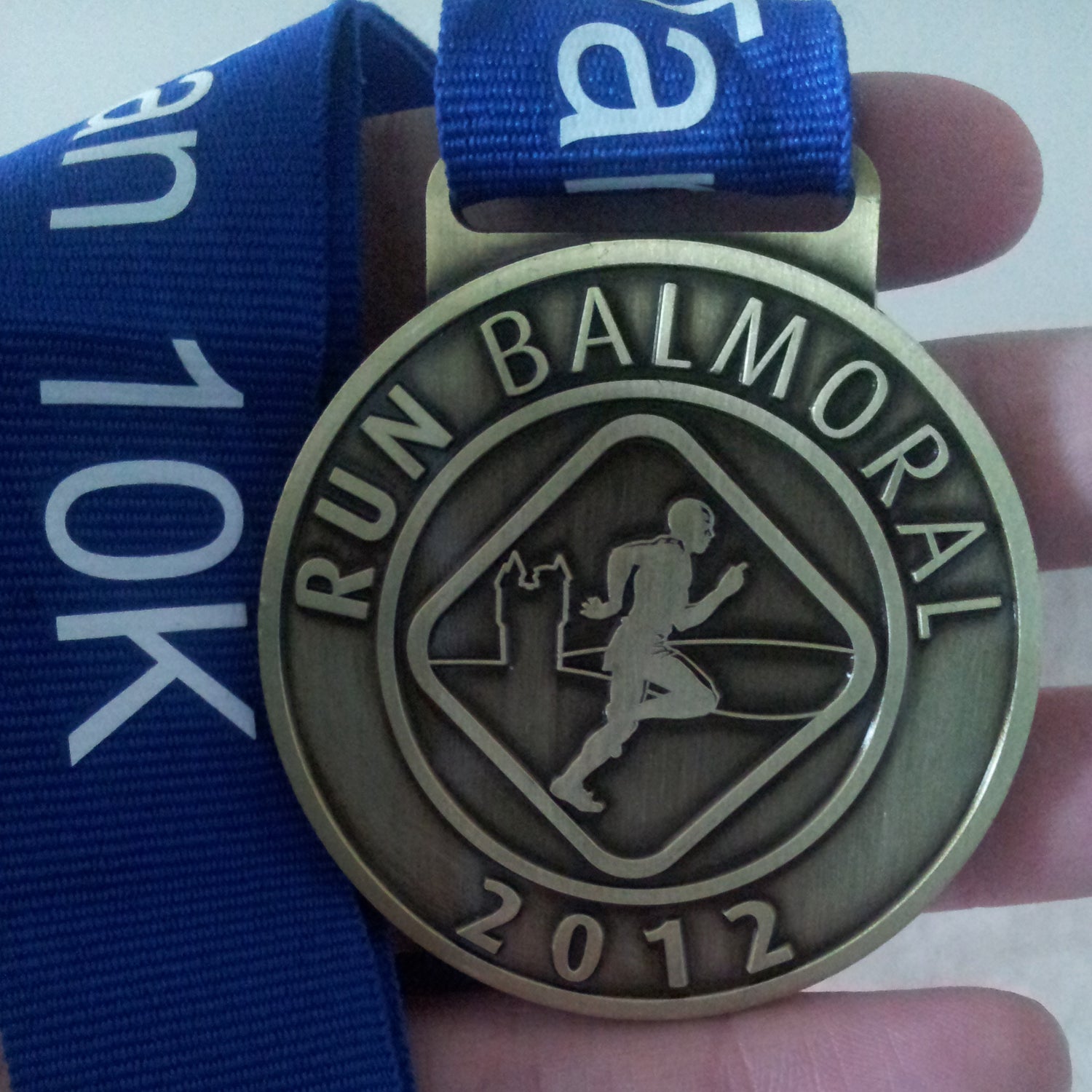 ---
2014 D33 Ultra Marathon
Williams: From the start, this 33-mile race has had a different medal every year, handcrafted by a friend of the race director. It's a small, local race, and the medal reflects the laid-back approach. Simple but effective.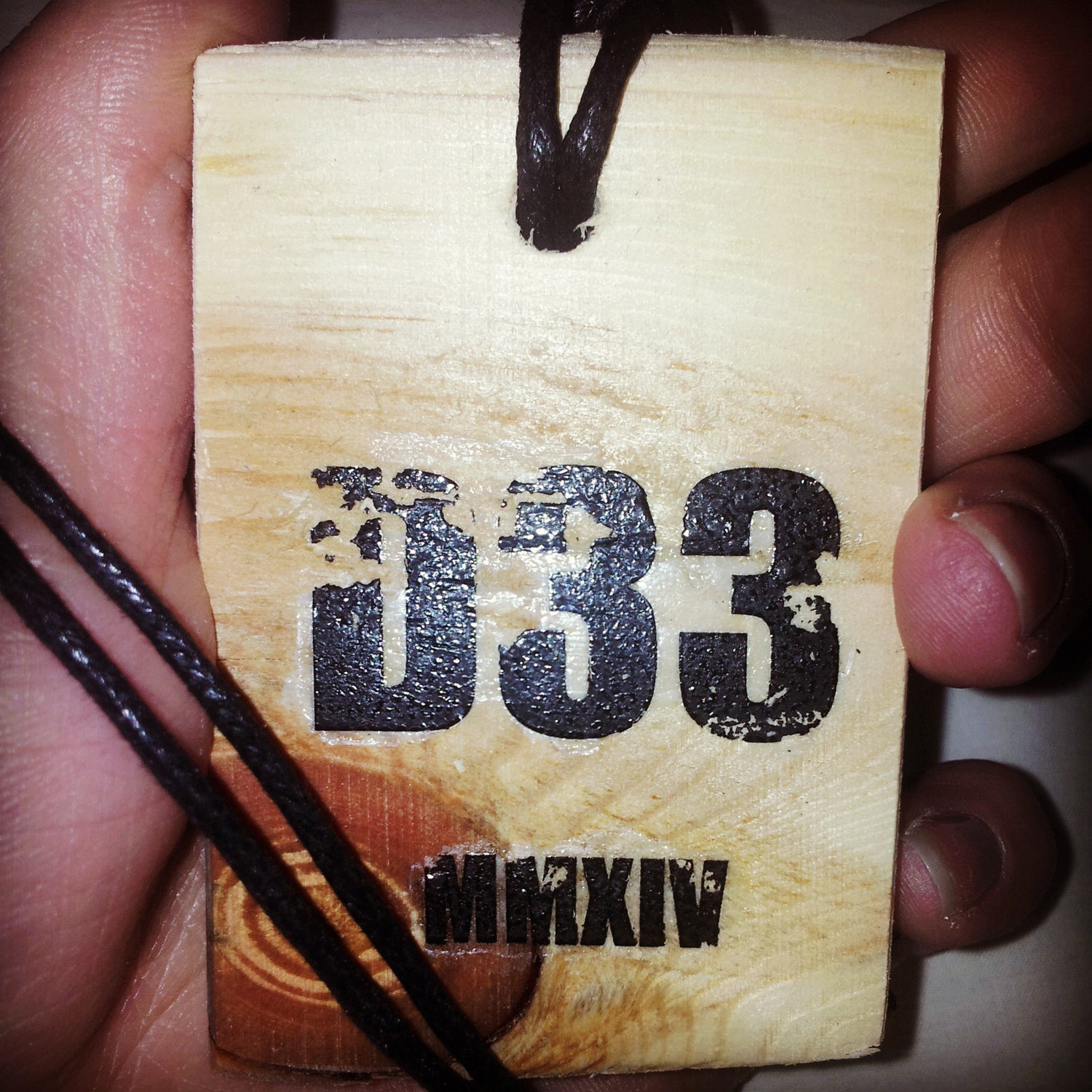 ---
2014 Glenmore 24/12
Williams: I took part in the 12-hour race, but again, the simplicity of this medal with the rugged terrain of the trails reminds me of a race that I absolutely loved for the atmosphere. There is a themed party the night before, most of the competitors camp the night before and after, and the volunteers even sing for you at the water station! Although this is the race that broke me, I still love it—and the medal.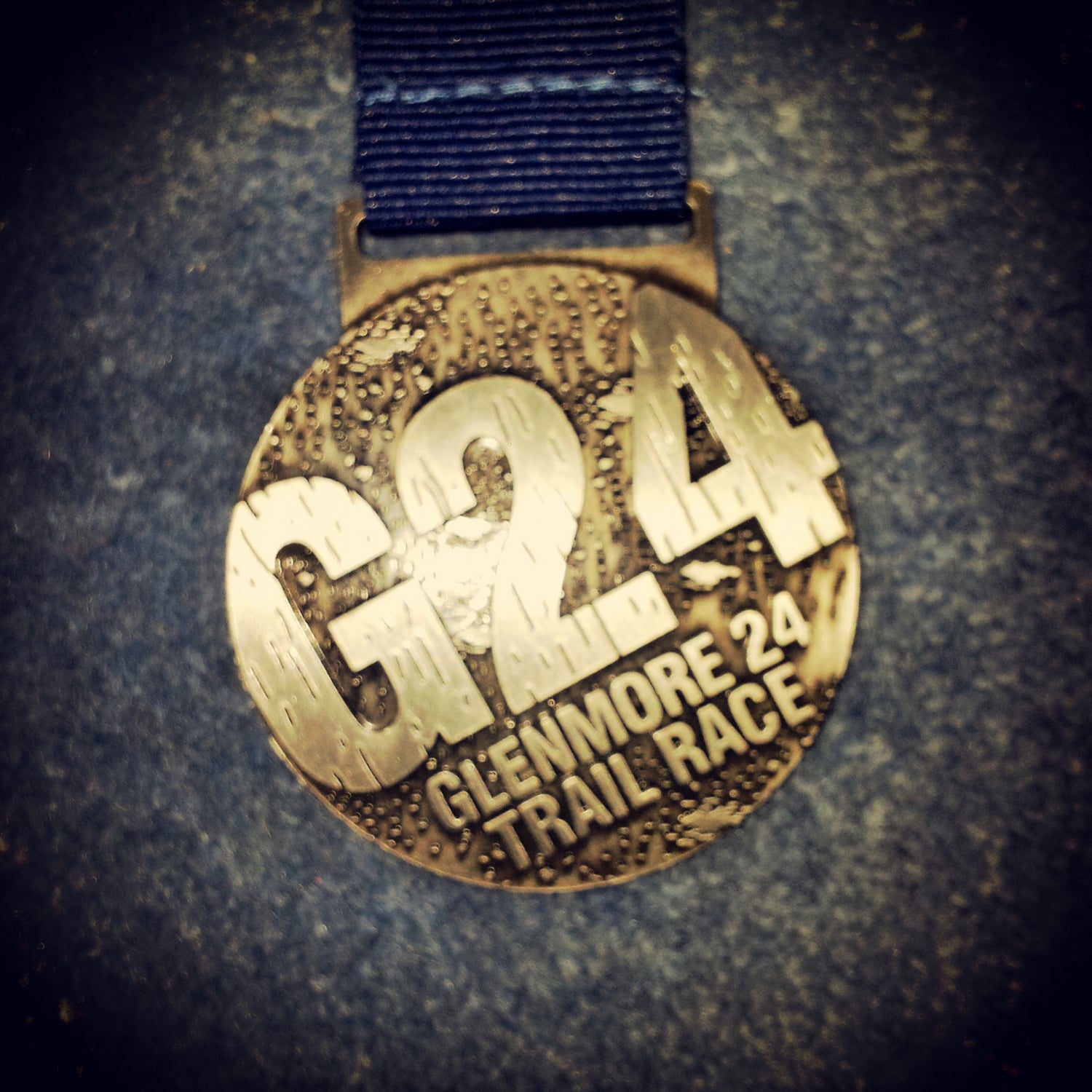 Lead Photo: Daniel Solera