Australian Runner Erchana Murray-Bartlett Just Ran 100 Marathons in a Row
And her world-record attempt won't stop until she reaches Melbourne at 150 marathons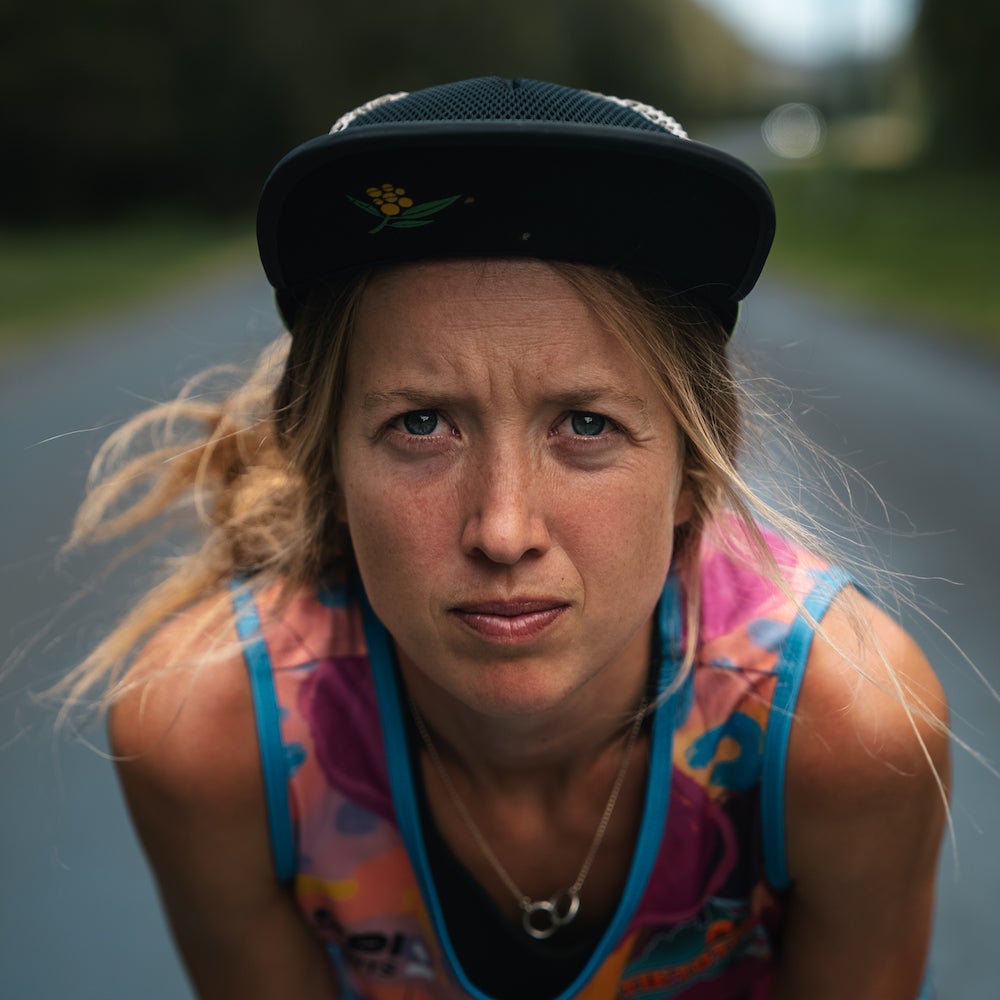 Courtesy Erchana Murray-Bartlett
Heading out the door? Read this article on the new Outside+ app available now on iOS devices for members! Download the app.
This past weekend, 32-year-old Australian runner Erchana Murray-Bartlett finished her 100th consecutive marathon. This week, when she hits 107, she'll be the proud holder of a shiny new Guinness World Record.
But she doesn't plan to stop there.
Murray-Bartlett, who began her Tip to Toe journey on August 20, 2022, in Cape York, Queensland, intends to run into Port Melbourne, Victoria, on January 16, 2023, after completing a marathon every day for 150 days in a row. And chances are good she'll still be smiling – especially if she reaches her goal of raising $62,000 AUD (that's $10 per kilometer she's run) for The Wilderness Society, to put a spotlight on Australia's extinction crisis. Considering she's close to breaking $50,000 AUD (or $33,205 USD), that seems within reach.
For those of you doing the math at home, yes, that means that she'll still have 43 more marathons to run, even after she's officially broken the current record. And that's not by accident.
"If you look at the history of this [record], it was 94 by an American lady, and then it was broken at 100, and then 104, then 106. And these are all relatively recent," she says. "I thought, 'Alright, so if it's 150, I'll have some breathing room so it doesn't get caught. Somebody could be running right now, going for the same record!"
Hitting 107 marathons is her top priority, but getting to Melbourne is a close second. "To be honest," she says, "I think I would almost crawl it in."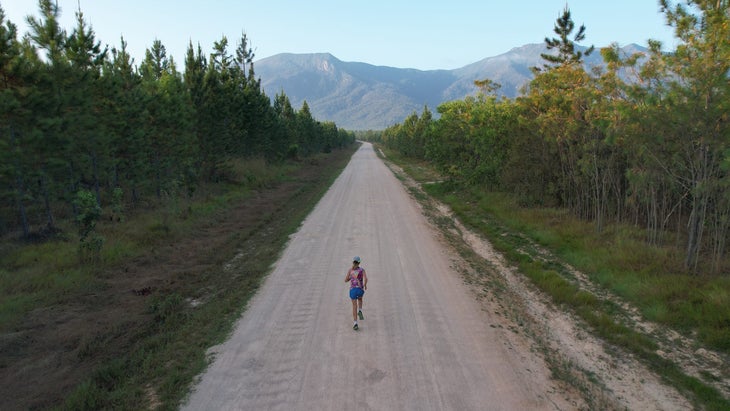 A Big Run—and Bigger Dreams
Big dreams and long runs are nothing new for Murray-Bartlett, who's completed plenty of marathons, including a few attempts at an Olympic qualifying time.
"I've always wanted to cross the country on foot," she says, "but the real kicker started when I watched a documentary of Beau Miles running 650 km (404 miles) through the Australian Alps when I was stuck in hotel quarantine during the Covid pandemic."
She started planning, finding local and sustainable sponsors when possible; her shoe sponsor, Tarkine, uses recycled materials and returns profits to environmental causes, as does Amble Outdoors, who makes her shorts and sports bra.
The final piece came together a couple months after that, when she met her partner, Ryan, who she describes as "an all-in type of human," who wanted to use his filmmaking background to tell a personal story. "It's Ryan who has turned my humble run into the bigger affair," she says.
If her only goal was to run from the top of Australia to the bottom of the mainland, Murray-Bartlett could run along 3,800 km (2,361 miles) of highway and make it happen. Instead, she's winding inland, along the coast, and over ranges to increase that distance to over 6,000 km (3,728 miles).
"I want to highlight the extinction threats in as many different regions as possible," she says. "I've been able to see the most remote parts of Australia – the waterfalls, the valleys, the corrugated roads, places you can really only access on foot because they're so remote."
From miles of beaches and trails to long stretches of red dirt and busy main roads, she's covered just about every type of terrain imaginable – other than snow. Because she's running back-to-back, she's attempted to avoid elevation whenever possible, but that will change once she reaches the Australian Alps. This is considered some of the most rugged terrain in the country, with peaks reaching over 7,000 feet. "It's going to get very remote, very steep, and very picturesque," she says. "And I am very excited."
Running through the Daintree Rainforest in far north Queensland was one of her top highlights so far. "The Daintree Rainforest is this amazing World Heritage site, where literally the roots of the forest go into the ocean, to the Great Barrier Reef," she says. "That was hands-down one of the prettiest places to run through. Just mind-bogglingly beautiful. And it's also quite remote, with lots of wildlife." She's seen goannas, bush turkeys, wallabies, and countless other critters, some of which she's shared on her Instagram account.
"I want to highlight the extinction threats in as many different regions as possible. I've been able to see the most remote parts of Australia – the waterfalls, the valleys, the corrugated roads, places you can really only access on foot because they're so remote."
The water of the creeks she crossed there was so clear that she could see every pebble – but that's not all. "You do have to be careful, because there are crocs. Lots of crocs," she says. She also spied plenty of sea life, including enormous bull sharks swimming just offshore, and lots of small creatures that aren't found elsewhere in the world – including venomous snakes like death adders and taipans.
Little wonder, then, that she's an ambassador for Australian Bites and Stings and spends some of her post-run afternoons at primary and secondary schools talking about her run and safety in the outdoors. "One of the components of Tip to Toe is educating school children on how to be prepared in case of an encounter with a creature that could bite or sting you," she says.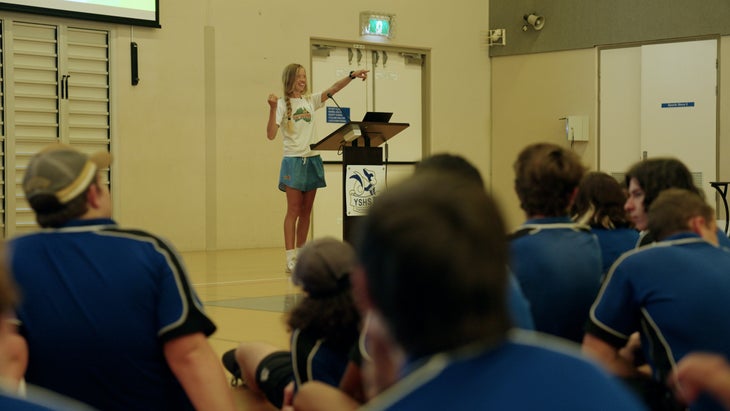 A Marathon-Worthy Mission
Unfortunately, one of the animals she'd hoped to see in that region was a no-show. "I really wanted to see a cassowary," she says. "They're these beautiful Australian birds that have this bright blue head, and they're kind of like an emu or an ostrich. They're really, really striking." They're also endangered, so their absence wasn't a huge surprise.
After all, that's exactly why Murray-Bartlett is making such an effort to raise money for The Wilderness Society. After extensive research into environmentally focused charities, she chose The Wilderness Society because of their two-pronged approach. "One division is called Movement for Life, which immediately grabbed me," she says. "It's a volunteer-run organization where they get people involved in local volunteer activities that are sustainably focused, all through Australia."
That might mean local trail maintenance groups, or opportunities to care for wildlife. The other division is top-down campaigning. "They spend a large chunk of their time campaigning our federal government to protect National Parks through law," she says. "We have a big issue here in Australia with mining National Parks," including sensitive areas like along the Great Barrier Reef.
Highs and Lows of Tip to Toe
One hundred marathons in, Murray-Bartlett doesn't take a single finish for granted. "I'm so proud and kind of astonished that I'm this far in. 150 has always been the goal, but I've just been stoked to do whatever I can, and every day I do run another one, I'm like, Wow, I've done another day. I've ticked it off," she says. "The marathon is a bit of a beast. You have to respect it."
Even if she hadn't gone in with that mindset, she would've gotten there quickly. "I had a pretty severe calf injury within the first two weeks of running," she says. Getting to a healthcare provider would've taken two days because she was so remote, so she simply changed her running technique, added in some walking, and pushed through it.
Unsurprisingly, changing her form and continuing to run a marathon a day led to an inflamed IT band and an overuse injury on her quad that were so painful, she wasn't sure she'd be able to run through it.
"Because it was so early on, there's the mental anguish in knowing you've done so much preparation. We've got sponsors, I'd quit my job, my partner had quit his job," she says. "You put all this effort in, and then to derail within the first two weeks of a six-month expedition would have been too much to bear. The extinction threat to Australian Native animals is at crisis level, and if we don't act now, it will be too late. Knowing there is an urgency around my 'why' spurred me to keep running, even when it sometimes feels unbearable."
At this point, her body is holding up pretty well – constant fatigue aside. Adding to the large amount of running, she's also participating in community engagements and interviews along the way.
"Networking, editing videos, sharing the stories – it all takes effort," she says. "Even the logistics of setting up camp, you know? We're staying in an off-road trailer (Trackabout donated an offroad 4×4 camper for the cause), so we're setting up camp every night, but you still have to cook, clean, wash your hair. It's all stuff that has to fit into a day."
And that's when everything actually goes to plan.
Eastern Australia, specifically from southern Queensland and New South Wales down to Northern Victoria, is currently experiencing massive flooding, which has sometimes impacted her ability to follow her planned route. Lack of phone reception has also made it more difficult for Murray-Bartlett to rendezvous with her support team for food and water at the end of the run. In one instance, she ended up having to hitchhike – twice – to find camp, arriving after 6 p.m. And more recently, a coil in the engine of their car broke and required repair.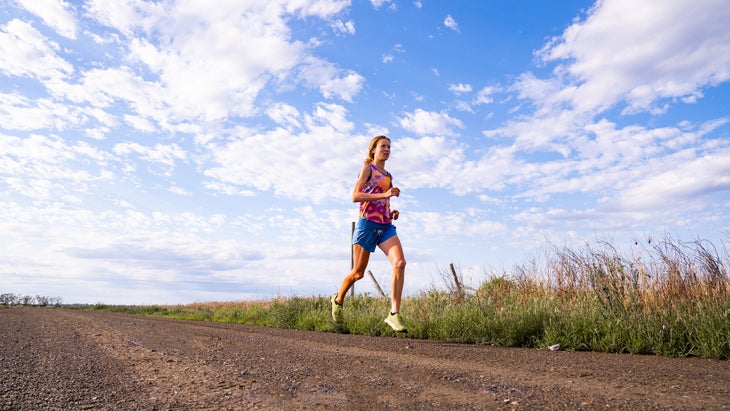 The Community Connection
But with the bad also comes the wonderful. For example, when they had car trouble, "We had people reach out and offer their car to finish the journey," she says. "The support from this global community has been so humbling, so heartwarming."
Although she's run about three quarters of her mileage solo, she's also had the chance to run with people who reach out to her as she passes through their town, and her partner sometimes joins her, either on foot or on bike to capture the scenery on camera. "The best part is when a town knows I'm coming through and organizes the local club to arrange a group run for me," she says.
Murray-Bartlett acknowledges that running solo comes with certain risks, especially as a woman, but she also notes that the instances of serious attacks on women, like we've seen recently in the U.S., are very rare in Australia. "I feel safe enough in Australia to run solo in pretty much any town or city," she says. "I would rather live my life as I believe I should and maneuver a situation if it arises."
For now, she's just appreciating the opportunity to be on this adventure. "It's been amazing to travel my own country like this," she says. "It almost reconnects you."
Follow Along
The best place to follow Murray-Bartlett's journey is on Instagram as @tip_to_toe_2022, where she posts daily updates. You can learn about the run, her mission, her sponsors, and more at the Tip to Toe 2022 website. And, if you'd like to sponsor her for a few miles, and do your part to help slow the extinction of Australian animals, you can do so here.
Lead Photo: Courtesy Erchana Murray-Bartlett
Trending on Outside Online