In Stride
Des Linden Always Keeps It Real
Since Linden began her career, there's been a dramatic shift in how professional runners promote and present themselves to the world. We caught up with her about her new podcast, the expansion of running media, and how she decides whether to fire off a spicy tweet.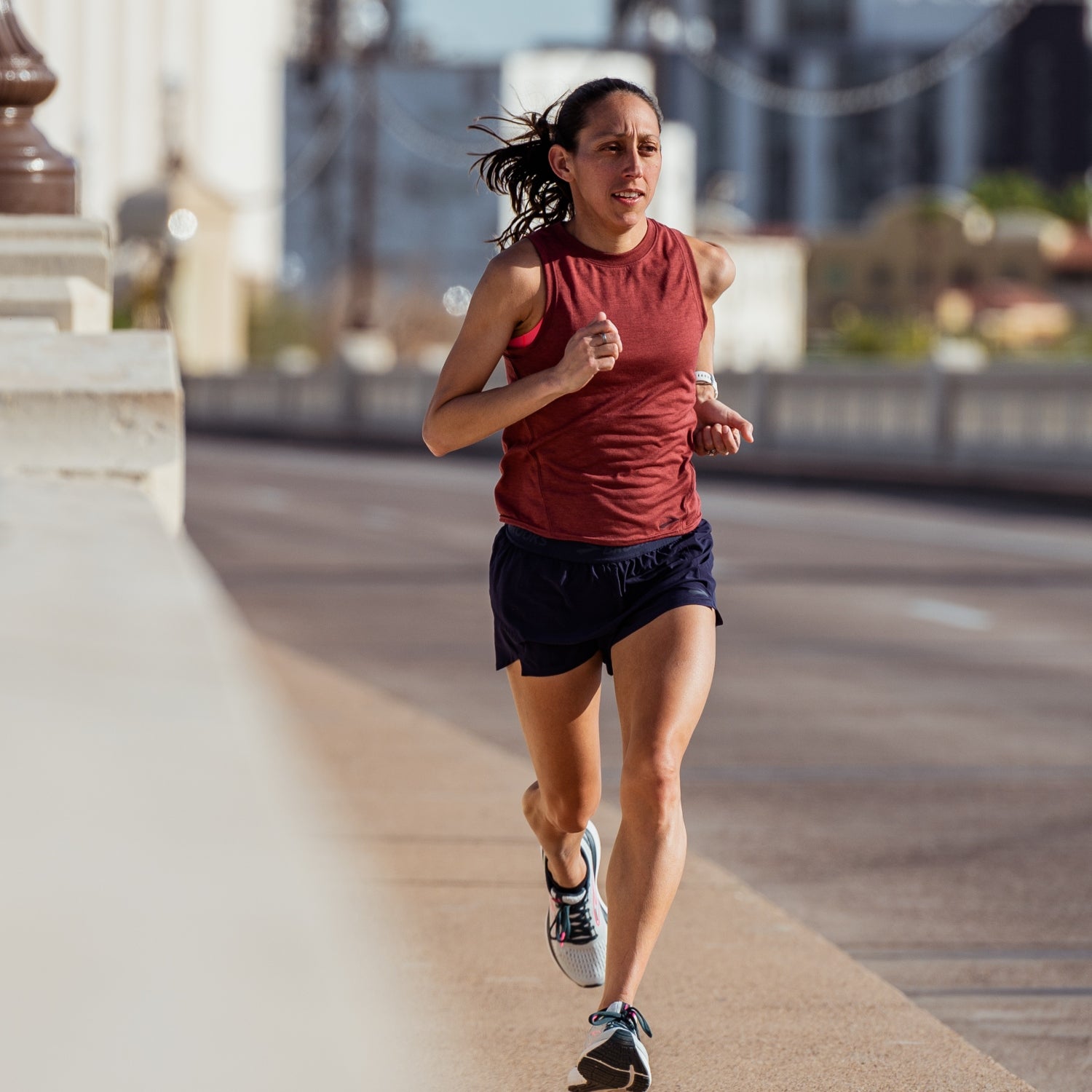 Heading out the door? Read this article on the new Outside+ app available now on iOS devices for members! Download the app.
It's a busy time to be Des Linden. In a few weeks, the 39-year-old veteran of the professional marathoning scene will be lining up to once again compete in the Boston Marathon, the race she won in 2018. Although she was already a two-time Olympian, breaking the tape on Boylston Street was a career-changing moment that garnered her a level of celebrity and industry clout that most runners can only dream of. In a sense, Linden is still basking in the afterglow of that victory five years ago; the offers for speaking engagements and appearances at running event expos continue to roll in. Her memoir, Choosing to Run, comes out next month. She recently launched a podcast with Kara Goucher.
The charmed trajectory of Linden's career has come alongside a vast proliferation of running media which, in turn, has impacted what it means to be a professional athlete in the sport. When she turned pro with minimal fanfare in the mid-aughts, social media was in its infancy. Now, it's a ubiquitous, de facto obligation for (almost) every elite runner who wants to earn a living wage. What does that transition feel like from the perspective of a professional marathoner? I spoke to Linden to find out.
OUTSIDE: You've witnessed the sport change pretty dramatically since you turned pro. It's a change that feels particularly manifest in running media, broadly defined. There's just so much of it now. Endless podcasts. Books. Newsletters. Athletes with YouTube channels. Do you think these changes are a good thing? If you compare what things were like at the beginning of your career versus today, how have your obligations as a professional runner changed?
LINDEN: It's definitely been an evolution, but I think it's great for the sport that there are so many ways to get eyeballs on content and get new fans interested. I think, as an athlete, I've been fortunate. When I started out I wasn't in demand and I didn't really have any media obligations at all because I wasn't making a splash in the running scene. It's really kind of grown as I've grown up. I gradually got better and better and with that came more obligations and learning how to manage them. It sort of built up naturally. After winning Boston, the running part is almost the thing I squeeze in among other obligations of being a professional runner. Whereas it's obviously the most important part when you are just starting out. That said, the running is still the thing that sustains the career. If you have poor performances, it all kind of goes back downhill.
You'd already had big moments in your career before winning Boston, but that win was obviously pretty transformative. What are some of the specific ways in which it changed your professional obligations?
In 2011, I finished second at Boston by two seconds. And it was a little bit of change; there was an increase in recognition, but winning was a whole different world. So, that two-second difference between second place and breaking the tape just leads to a totally different experience. After the victory in 2018, I think I was fortunate that I was far along enough in my career that I could really put all the other stuff first and just let running take a pause and celebrate the accomplishment. To me, it was important to get that moment out to as many places as possible that maybe wouldn't normally cover running. Some of the obligations were just bizarre stuff—like handing out an award at the Billboard Music Awards. And certainly the speaking opportunities became a lot broader. I think I did something with Kellogg's and other brands that you wouldn't typically think of as supporting runners. I did something at the parade in Detroit where it was like: "Can you come in and ride on a float and then go to the Lions game?" And I was like, "Yes, I can absolutely do that.'
When I spoke to you after you won Boston, you had this attitude of, "From here on out, it's all gravy." There was a sense that a weight had been lifted and that, after pulling off a major win like that, you would no longer have any anxiety about not having fulfilled your potential as a pro. Do you still feel like that? How are you approaching this stage of your career from a mental perspective?
I think it's still pretty similar. I always felt that I was capable of winning a Major and I got so close in 2011. So to punch through is just really rewarding. It was like a weight lifted. So I still do approach stuff now thinking that this is the gravy side of it. I'm fortunate to still be running as a professional; I'm turning 40 later this year. I'd love to have a couple more really great performances, but it's balancing whether to play it safe, or to see if I can do something outside myself and surprise myself. It's a fun place to be in that I realize is rare.
Your book, which comes out early next month, is one of several women's running memoirs to come out recently. Lauren Fleshman and now Kara Goucher both had books that made the New York Times bestseller list. This interest in women's running also seems to speak to a change in the running landscape since you began your pro career. Would you agree?
Yeah, I think it is a little bit different now. And so much of that goes back to the pioneers in the sport. Like, Joanie's story was always a little more intriguing, I think, than other athletes at the time. And Deena's medal was such a big moment that inspired so many people. And then there was the generation of Kara, Shalane, Amy Cragg and myself. So, yeah, we just keep kind of gathering momentum. It's a really unique sport where we've had a ton of opportunities and a ton of heroes that have really promoted it well, so I think everyone feels almost a sense of obligation to keep pushing the sport forward and I think that's what you're seeing now.
From my running media bubble, it sometimes feels like the women's running scene is currently much more robust than the men's side, at least here in the United States. Do you think that's true?
That's a good question. It does really appear that way. We did have the Meb story, but I think that the women are really just sharing their story a little bit more and perhaps that's about having the opportunity to use social media in an engaging way. On the roads, you have this built-in potential fan base that you can connect with and I think that women have really tapped into that community and connected to them and made professional running relatable for everyone else who is in the pack behind them.
Social media is obviously a big part of the pro running scene today. How do you feel about that? Are you happy, annoyed, or generally indifferent about the ways it seems to have affected running media?
I personally have always found it to be a useful tool. I'm not super tied to a schedule, where it's like these are the things I have to post and these are the brands I have to be elevating. There's so many different platforms now, too. Maybe, if I'm on Twitter, it'll just be my thoughts on the workout in the moment. There's so much universal stuff about running and people who are training for the same race or event can relate to it, and be like, "These are the pros and they are just like us." I can totally respect an athlete who feels like they don't want to do that and think that it shouldn't be part of the job. But I think it's a lot harder to be a professional for a long time and be paid a living wage without engaging with social media in some way—unless you are having amazing races every time.
You haven't been shy from firing off a more provocative tweet on occasion. You were public about your disappointment when Hansons-Brooks signed Dathan Ritzenhein. More recently, you had some thoughts about the implication of unsponsored runners in supershoes taking top American honors at Boston. Do you ever agonize or deliberate about posting something for fear of potential repercussions? Or are you at that stage in your life and career where it's more just, like, this is what I think and I'm going to say it?
Yeah, it's a little bit of a blend. Usually, I know when I have the one that's going to piss off a lot of people and I'll screenshot it and send it to my agent and ask: "Is this OK?" And he'll shake his head and be like, "Well, it's stupid, but I'll figure it out." He's kind of the filter. And even with the filter, sometimes I'll just be, like, "Who cares? What's the worst that can happen?" But I try to be thoughtful and not just say things to be provocative.
You recently launched a podcast with Kara Goucher. Two runners gabbing, about what are often fairly personal issues, contradicts the stereotype of the distance runner as the solitary introvert. Do you enjoy podcasting? What do you think the medium, and your show in particular, adds to the running media space?
Yeah, it's been really fun. I think it's a unique running podcast in that Kara and I are still just finding our voice and figuring out exactly what we want it to be. But, yeah, I've really enjoyed our conversations. It's been fun to get to know Kara. We've competed against each other for a long time, but we really don't know each other that well. I think between our respective experiences in the sport there's a lot of knowledge packed in there that we haven't been able to share before. So hopefully those stories and conversations are helping out younger pros, or people who are navigating the college running experience. Or just fans of the sport who want a peek behind the curtain.
We are seeing this in other sports as well—pro athletes and former pro athletes interviewing each other. Often there's a palpable sense of connection and trust that seems to make for more interesting, vulnerable conversations than when it's someone from the running media world interviewing an athlete. Do you agree?
Yeah, I think it's just different because you get past that surface layer question and we get to points that the outside world maybe doesn't even know about or think to ask about since it's so in the weeds. I think with Kara we go right into this meaty stuff that people wouldn't even realize is going on. I think there's a respect and relatability in that we've been in this world and have seen it from many different angles.
In one of your podcasts you had some interesting things to say about the current mania for record-breaking performances. You suggested that a continuous pursuit of faster times wasn't the most sustainable way to keep the sport interesting, and floated the idea of pro races without a clock. Do you think that could work as a way to engage more people? Would it be more like cross-country, or a "slow" marathon where the times are less relevant, like New York City?
Yeah, I think that is exactly it: it brings the racing and the competition to the forefront and it doesn't matter what the splits are. You're just trying to put yourself in the best position to break the tape. Again, I think it's just this kind of thing that the spectators and the fans don't necessarily see. They get the splits. They get the pacer. They get that they are trying to go fast, but they don't necessarily get the motivation to run fast times. It's so driven by contracts. Even if you're third, but you run a really fast time, you are making money—and people don't always understand that that's happening. So part of the race within the race isn't accessible to the fans. They don't understand the "why" behind it. So, if you put the premium and the money on places, and that becomes the more important aspect, I think you would just get really fascinating racing. Dynamics. Tactics. That whole thing. And then you could explain those to the audience that's watching.
In the wake of the Naomi Osaka controversy surrounding her refusal to participate in press conferences at the French Open, there was a lot of hand-wringing in the media about whether the press conference itself was kind of an archaic institution. Do you think post-race press conferences still have a function in the running world?
I think it's incredibly important. This is where you get the real questions asked. These are questions that need to be asked. If left to our own devices, you're going to get a polished, perfect picture that isn't real. Not every question has to be easy. And then you'd have to go to Kara and my podcast to get the real version.
Do you think the problem of "access journalism" is also an issue of running media, where people like myself are sometimes a little too chummy with the athletes?
I think there are examples here and there for sure. You look at the partnerships with the brands and, as a person who is consuming the media, you have to ask questions. And I think that's just something people have to do in general. To ask themselves: Is this a marketing piece or is this journalism? And I think it becomes more important than ever before to really ask those questions and understand what you're doing. There are still people who have "old school" journalistic values. But, I also think, in running, we have to take what we can get. So in that sense any media is good media.
Lead Photo: Courtesy Brooks Running and Ryan Sterner