The Most Inspiring Moments in Running and Multisport from 2022
Read the brightest highlights of the year in marathon running, trail running, triathlon, and the athletes that delivered the inspiration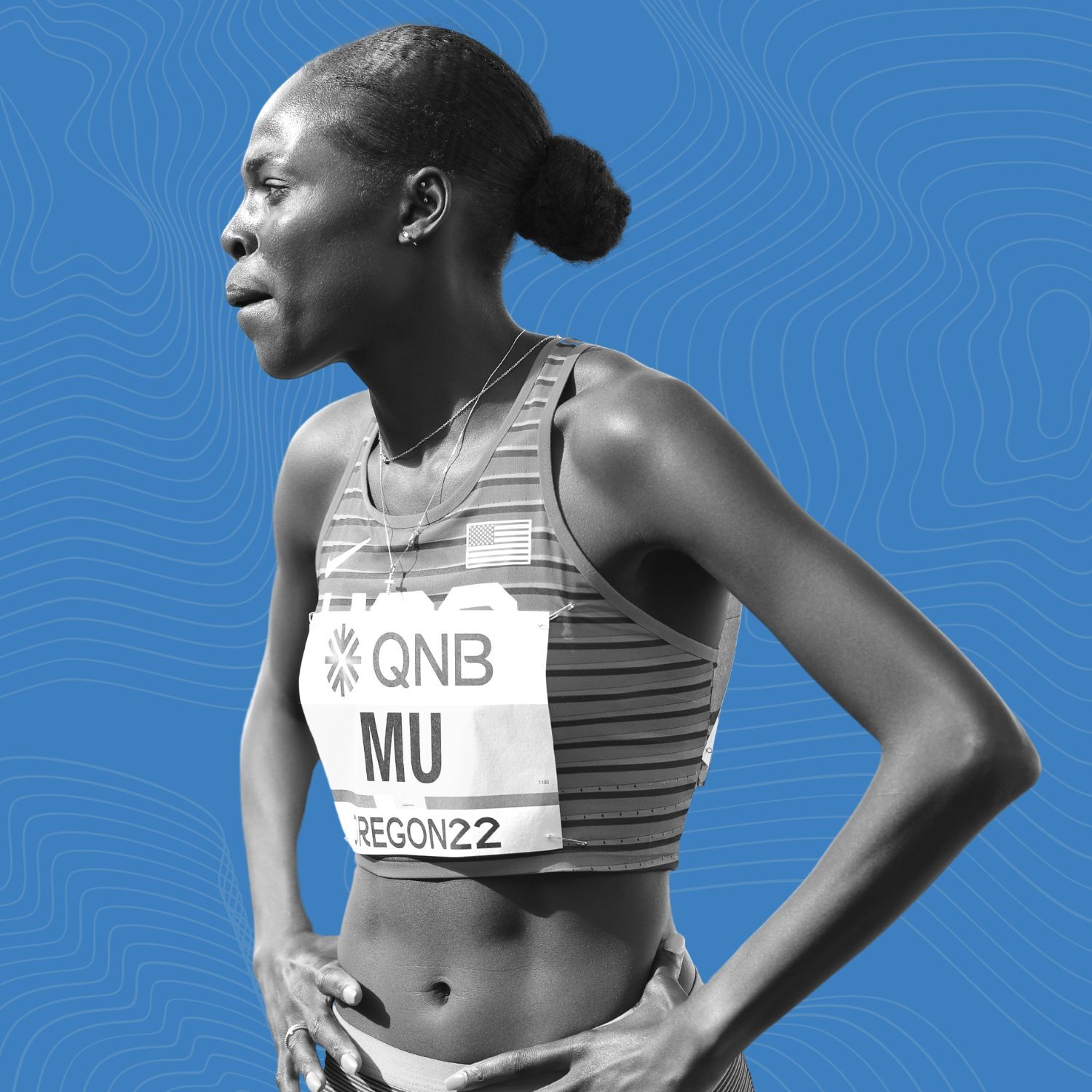 Outside/Getty
Heading out the door? Read this article on the new Outside+ app available now on iOS devices for members! Download the app.
After two years of marathon racing, trail running, triathlon and track and field being under the grip of COVID-19, running came back with enormous force in 2022. Here are some of the brightest highlights of the year.
Once and Forever the G.O.A.T.
Stop if you've heard this one before, but Eliud Kipchoge is still the king of the marathon. The 38-year-old Kenyan continued his near-flawless record at 26.2 miles, by winning both the Tokyo Marathon (2:02:40) in March and the Berlin Marathon (2:01:09) in September. Those wins boosted his career total to 15 victories (in 17 races) and his Berlin time shaved 30 seconds off his own world record that he'd set four years earlier on the same course. In an event where so much has to go right on race day to achieve success, Kipchoge has been nearly untouchable since he transitioned to running marathons in 2013. In the two races he didn't win, he placed second in Berlin in 2013 (2:04:05) and eighth in London in 2020 (2:06:49).
If you count the two time-trial exhibitions he ran in 2017 in Monza, Italy, (2:00:25) and and 2019 in Vienna, Austria, (1:59:40) it gives him eight 26.2-mile efforts at 2:03:05 or faster. With two Olympic gold medals under his belt and wins in London and Chicago, the only thing that remains is winning the Boston Marathon (which he'll be trying to do on April 17) and winning the New York City Marathon (which could very likely be on his agenda come November). He might still become the first person to run a sub-2-hour marathon in a race, but his legacy is already secure, no matter what happens in 2023.
Moms in Motion
In many sports, having a child has, unfortunately, often signaled the end of a professional athlete's career. However, there's a growing trend in endurance sports of high-profile women athletes pushing back against the trend, in part because sponsoring brands and event organizations have changed maternity policies to become more supportive. At the 2022 New York City Marathon, six of the top nine finishers were moms with young children. Lonah Salpeter (Kenya/Israel), Viola Cheptoo (Kenya), Edna Kiplagat (Kenya), Hellen Obiri (Kenya), Aliaphine Tuliamuk (Kenya/U.S.) and Jessica Stenson (Australia) who finished second, fourth, fifth, sixth, seventh, and ninth overall showed their all very strong, very fit and very fast moms. It all seems perfectly appropriate in a year when the New York City Marathon went out of its way to support new mothers before, during and after the race. In partnership with the &Mother non-profit, the New York Road Runners set up private lactation stations at different locations throughout the course, as well as at the race expo earlier in the weekend.
On the track, Jamaica's Shelly-Ann Fraser-Pryce won the 100-meter dash at the World Athletics Championships — her 11th international medal since giving birth to son Zyon in 2017. The best racing mom of the year? Undoubtedly, that was Chelsea Sodaro, who won the 2022 Ironman World Championships just 18 months after giving birth to her daughter, Skylar.
RELATED: Who is 2022 Ironman World Champion Chelsea Sodaro?
They Set the Track on Fire
After waiting nearly 40 years for the U.S. to host the world championships of track and field for the first time and then waiting an extra year because of a delay due to the COVID pandemic, the world's best runners, jumpers and throwers put on an amazing show during the nine-day World Athletics Championships in Eugene, Oregon, last July. With three world records and 13 championship records broken, it at least equaled — and in many ways exceeded —the 1984 and 1996 Olympics among the best track meets ever held on U.S. soil.
While the gold-medal performances of American stars Athing Mu (800 meters), Fred Kerley (100 meters), Noah Lyles (200 meters), Michael Norman (400 meets), Katie Nageotte (pole vault) and Ryan Crouser (shot put), among others, as well as those of Jamaica's Shelly-Ann Fraser-Pryce (100 meters), UK's Jake Wightman (1,500 meets), Norway's Jakob Ingebrigtsen and Brazil's Alison Dos Santos (400-meter hurdles) were electrifying, it was the world-record efforts from the USA's Sydney McLaughlin-Levrone (400-meter hurdles, 50.68), Nigeria's Tobi Amusan (100-meter hurdles, 12.12) and U.S.-born Swedish star Armand Duplantis (pole vault, 6.21 meters or 20 feet, 4⅜ inches) that provided the most dramatic fireworks. And there was no better way to end the event than with the final performance of American track legend Allyson Felix, who capped her record-setting career by winning a gold medal with the USA's 4×400-meter relay.
American Prodigy Continues to Soar
After shining as a teenage phenom in high school and as a collegiate runner at Stanford, Grant Fisher has continued to progress to the level of one of the best American distance runners in history and he's only 25. Even though he didn't win a medal at the world championships in Eugene, Oregon, in July, his tenacious fourth-place finish in the 10,000 meters was something to behold. For 23 laps of the 25-lap race, the rising American star went stride for stride with a dozen or so of the best distance runners in the world and didn't give an inch. During an all-out sprint around the final lap, he dug deep and finished just 0.71 seconds behind gold medalist Joshua Cheptegei (27:27.43) of Uganda and just 0.31 seconds from becoming the first American man to earn a medal in the 10,000 meets at the world championships. Even though he was fourth, it was a memorable moment to be sure.
After placing fifth in the 10,000 meters and ninth in the 5,000 meters at the Tokyo Olympics in 2021, Fisher improved to fourth in the 10,000 meters and sixth in the 5,000 meters at last summer's world championships. He also won a fast U.S. championships 5,000-meter race and set a new indoor American record in the 5,000 meters (12:53.73) and a new outdoor American record in the 10,000 meters (26:33.84), the later of which ranked number one in the world in 2022 and is number seven on the all-time world list. He'll be a runner to watch at the 2023 world championships in Budapest and 2024 Olympics in Paris, although he might not truly be in his prime until the 2028 Olympics in Los Angeles.
Solo Sensations
Trail runners, hikers and mountaineers spent 2022 ripping a lot of speedy solo efforts on trails, ridgelines and peaks enroute to setting new fastest known times. Known as FKTs, they're essentially the records for any given route out in the wild. The crew at Fastest Known Time, which documents those marks, culled 49 efforts out of the thousands of new marks set this year for consideration as the best FKTs of the year that will be announced on December 30. Four of the very best include American Jack Kuenzle rewriting Kilian Jornet's FKT for the Bob Graham Round, covering that historic 66-mile route with 42 high points and 27,000 feet of vertical gain in the English Lake District in 12 hours, 23 minutes, 48 seconds.  Others included Swiss runner and ski mountaineer Remi Bonnet running up Colorado's Manitou Incline — a grueling 0.90-mile stair climb route below Pikes Peak — in a lung-burning 17-minute, 25-second effort, Jason Hardrath tackling the little known Norman's 13 line — a 106-mile route with 13 peaks higher than 14,000 feet in California's Sierra Nevada Range — in three days, two hours and 22 minutes and Colorado's Andrea Sansone lowering the women's mark and recording the second-fastest time on Colorado's 100-mile Nolan's 14 line of 14 peaks above 14,000 feet in 45 hours, 52 minutes.
RELATED: Jack Kuenzle Is Coming for Your FKTs
Marathoners on the Move
After 16 years of American women chasing Deena Kastor, a couple finally caught her. Heading into 2022, Kastor's U.S. women's record in the marathon (2:19:36) had lasted for nearly 16 years. But then Keira D'Amato, a reality and mother of two ran a superb race at the Houston Marathon and lowered the American record to 2:19:12. Nine months later, Emily Sisson shattered the time at the Chicago Marathon, lowering it to 2:18:29 enroute to her second-place finish in the Chicago Marathon on October 9.
"I'm so happy," Sisson said after the race, when she was joined by D'Amato, Kastor and previous American record-holder 1984 Olympic gold medalist Joan Benoit-Samuelson. "It's amazing. The women standing here today, they've all accomplished so much. To be among them is an incredible honor."
As further evidence that women's distance running is on the rise in the U.S., Sara Hall (fifth, 2:22:10), Emma Bates (seventh, 2:23:18) and D'Amato (eighth, 2:23:34) combined to be the best national trio of runners in the marathon at the 2022 World Athletics Championships in Eugene, Oregon.
RELATED: Emily Sisson Lowers American Marathon Record to 2:18:29 in Chicago
Crazy-Fast Super Shoes
Running shoes got cushier and faster in 2022. Shoe brands ushered in a new crop of speedy racing shoes enhanced with hyper-responsive foams and carbon-fiber propulsion plates, led by the Nike Air Zoom Alphafly Next% 2 ($275), Adidas Adizero Adios Pro 3 ($250), and ASICS MetaSpeed Sky+ ($250). Under Armour burst on the scene with its first carbon-plated racer, the Flow Velociti Elite ($250) as Kenyan runner Sharon Lokedi made it an auspicious debut by winning the New York City Marathon in a pair of them. Hoka's Rocket X 2, although it won't officially launch until early 2023, made waves at several marathons as well as the Ironman World Championship.
Carbon-fiber plates have also become prolific in trail running shoes, including the Craft CTM Carbon Trail ($260), Saucony Endorphin Edge ($200), and Hoka Tecton X ($200), the latter of which features a set of parallel carbon-fiber plates in each shoe to enhance stability, protection and propulsion. Meanwhile, 2022 Ironman world champion Gustav Iden of Norway ran a new marathon record of 2:36:15 at the event's return to Hawaii in October wearing a prototype pair of On's Cloudboom Echo carbon-plated model with a midsole stack height in excess of 50 millimeters. Although those shoes would be deemed illegal in a marathon according to World Athletics standards, those rules don't apply to Ironman triathlons.
RELATED: The Running Shoes We're Most Excited to Try in 2023
Nonbinary Acknowledgement and Inclusion
As the running world continues to manage the challenges of fairly and respectfully including nonbinary athletes into competitive events, there was plenty of progress made in 2022. The Chicago, Boston and New York City marathons all continued to move forward with discussion and structure of nonbinary racing divisions. More than 200 road races throughout the U.S. have opened up in similar ways, according to a database organized by nonbinary runner, Jake Fedorowski. The New York City Marathon went so far as to offer $9,000 in prize money to the top nonbinary runners at this year's race on November 6. Jacob Caswell, a 25-year-old runner from New York City, was the fastest of 46 entrants in the nonbinary division in 2:45:12, which netted the $5,000 top prize.
A week earlier, 27-year-old nonbinary ultrarunner Riley Brady earned a hard-to-get Golden Ticket to the 2023 Western States 100. What made it possible was that Brady ran a stellar race at the Javelina Jundred 100-miler in Fountain Hills, Arizona — placing seventh overall and second in the women's award category in 14 hours, 45 minutes—and also because the race allowed runners to register in male, female or non-category gender categories, while still competing for either male or female awards divisions.
Meanwhile Kirsten Beverley-Waters, a 37-year-old queer, nonbinary trail runner (Kirsten uses both "she" and "they" pronouns) completed 22nd straight days of running 50 km (31 miles) in late June as a means to raise awareness for The Trevor Project, the world's largest suicide prevention and crisis intervention organization for LGBTQ+ young people. Although that effort surpassed both the previous women's mark (11 days) and men's record (21 days), Kirsten's achievement was later recognized as a nonbinary record by Guinness World Records.
"They agreed that if they could offer nonbinary as a category in profile it should also be something they honored in records," Beverley-Waters said. "I had pointed out how more major races are also offering a nonbinary category and that the change for them would reflect the progress we are making in the running community. It feels good to see the record reflect me authentically and more importantly let other nonbinary athletes know that even in records space is being created for us. It feels like a big win for the nonbinary community."
Trail Running Goes Global
The two-decade globalization of trail running came full circle in 2022 with the first combined World Mountain and Trail Running Championships, the expansion of the new UTMB World Series and Golden Trail Series and the increasing trend of ambitious runners everywhere traveling to explore trails and races around the world. More sponsorship money and bigger cash prizes have followed, helping the sport's best athletes—Kilian Jornet, Courtney Dauwalter, Jim Walmsley, Francois D'Haene, Grayson Murphy, Joe Gray, to name a few—become global stars who earn a full-time living in the sport. But it's also created a desperate need for a unified governing body and more consistent drug-testing as the concern about doping becomes more real.
At the world championships in Chiang Mai, Thailand, athletes from 49 countries competed in five events, ranging from an 8.5K uphill mountain race to an 80K ultra race. Among the top highlights included American Allie McLaughlin earning gold (8.5K mountain race) and bronze (10.5K up-down mountain race) individual medals and helping the U.S. women to team gold and bronze medals, and countryman Adam Peterman running away with the 80K race and helping Team USA to gold.
While most notable American races—the Western States 100, Pikes Peak Ascent and Marathon, The Dipsea, Hardrock 100 and Chuckanut 50K—are still great events with compelling allure, there's been a continued shift to a more globally competitive sport since the early 2000s and the new epicenter sits squarely in Chamonix, France. The 171K Ultra-Trail du Mont-Blanc (won this year by Catalan legend Kilian Jornet and American Ph.D candidate Katie Schide) has long been a de facto world championships of ultra-distance trail running in the mountains (along with its 100K CCC and 54K OCC sister races) as well as the ultimate test for tenacious middle-of-the-pack runners, too. Although the expanding UTMB World Series makes it slightly more challenging to earn a spot in Chamonix, with 34 qualifying events around the world, the sport's increased international focus is as much about cultural interaction as it is about the universal language of running,  an appreciation for the natural environment and the joy and freedom of running on trails.
RELATED: Kilian Jornet Isn't the G.O.A.T. of Trail Running Just Because He Wins Big Races
Pushing the Pace Even Longer
Camille Herron is one of those runners who found a marathon to be too short. And good for her, because she's definitely found her niche as one of the world's best ultra-distance runners. In a year punctuated by fast ultra-distance efforts, Herron was one of the best and most relentless in the pursuit of unfathomable records.
In February, the 40-year-old runner from Warr Acres, Oklahoma, seemed to have set a new women's 100-mile world record after she was the outright winner of the USA Track & Field 100 Mile Road Championships—beating all of the women and men in the field—at the Jackpot Ultra Running Festival 100-miler in Henderson, Nevada. She finished the race in 12 hours 41 minutes 11 seconds—a 7:37-per-mile pace—and beat the second-place finisher and first male athlete, Arlen Glick, by nearly 30 minutes.
After the course was remeasured twice—including haphazardly during the race in February and again in October — it was determined that the course had been slightly altered and was short by 716 feet. As a result, a USA Track and Field committee wouldn't ratify the record. That's despite Herron's GPS watch data reading 100+ miles, as well as those of runner-up Arlen Glick's (100.70 miles), third-place finisher Alex Nichols (101.94 miles), fourth-place finisher and second woman Nicole Monette (101.53 miles), and fifth-place finisher Mark Hammond (100.92 miles).
Although that frustrating matter might still be pursued through litigation, Herron has continued to do her thing. She set 11 new  records at the Desert Solstice Track Invitational on December 11 in Phoenix, including improving her own women's American record for 100 miles on a track (13:02:16 or 7:49 mile pace). She also set new records for 50 miles (5:57:46) and 100K (7:35:50), along with multiple age group records before tapping out. (Marisa Lizak, a 43-year-old runner from Marina del Rey, California, was the overall winner of the 24-hour race with an impressive 156.7-mile effort.)
Among the other incomprehensible highlights of 2022, Lithuanian runner Aleksandr "Sania" Sorokin set new world records for 100K on a track (6:05:41), 100 miles on road (10:51.39) and 24 hours (319.61K, or 198.59 miles), while Belgium's Merijn Geerts and Ivo Steyaert ran 421.1 miles in the World Backyard Ultra Championships by running 101 "yards" (loops of 4.17 miles) over 101 consecutive hours October 15 to 19.
RELATED: How Aleksandr Sorokin Ran 100 Miles at a 6:31-Mile Pace
Lead Photo: Outside/Getty