The Daily Rally
Lori Fox Runs with Gratitude
When the schoolteacher had a stroke, her doctor told her to stop running. Instead she embraced the sport with a newfound joy.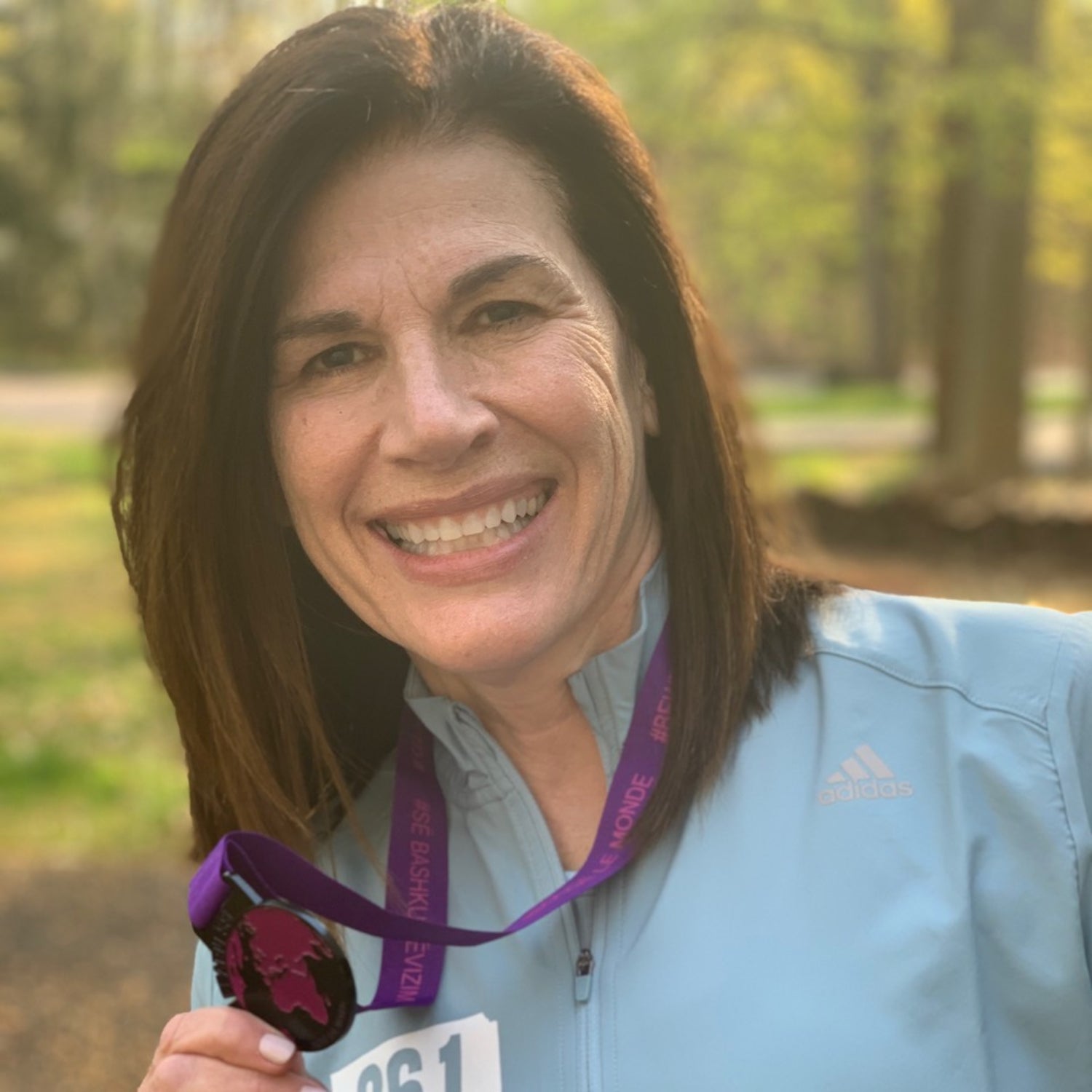 Courtesy Lori Fox
Heading out the door? Read this article on the new Outside+ app available now on iOS devices for members! Download the app.
Lori Fox told her story to producer Tanvi Kumar for an episode of The Daily Rally podcast. It has been edited for length and clarity.
When I was in the hospital, my neurologist sat down to talk about what my prognosis was. I remember saying to him, "Am I gonna run again? Can I run again?" And he put his hand on mine in a very grandfather-ly way and said, "Let's just start with walking." And I thought, I don't think so. I thought, No, I'm gonna run again. I definitely am.
I just retired from teaching. I was a speech language pathologist for 39 years. I'm a mom, a friend, a sister, a daughter, an aunt. I am a master coach as well.
Interestingly, I never considered myself an athlete. I never considered myself to be a runner. I grew up in the age before Title IX, so I never had that opportunity to be part of a sport. I thought it was just something that was not going to be a part of my life.
In 2011, a couple of weeks before my son was to graduate from high school, my husband at the time sat me down and said he wanted a divorce. So after he left and my son was at school, I found myself in this place that I didn't want to be in. I didn't know how to navigate it. And I knew I needed something for myself, not just for my physical being, but for my mental health. I felt like I was so untethered, and I needed something to ground me.
I saw a learn to run group, so I decided to join them. Running was so scary and I thought, I'm in a scary place. How much more scary can it get? So, I decided to run.
I considered myself at that time to be kind of an introvert, so having to go somewhere on my own and say hello to both men and women was so exhilarating, and I thought myself so powerful. I thought, Oh, this is what athletes feel like. The first run, I know we didn't run a mile. We did mostly walking, but I just felt hardcore at that point.
I was 55.
Community was the biggest and best thing I got from running because these people, especially the women that I've met through running, have become my running family. We've been through so much together, and always feel like we're coming out the other end stronger and more empowered.
I got to the point where I thought, How do I share this with other women? How do I give back? That came with becoming a coach for 261 Fearless Running.
261 was founded in Austria, and the goal is to really empower women through running and socialization. It's a non-competitive group, and many women come to us, probably the same way I came to running: With fear and nervousness and doubt and judgment about themselves.
My motto is I never profile anybody in a run group. You don't know what they come with. You don't know their story. To see a woman run her first mile and break down in tears with happiness like she never thought she could, I'm so grateful for that.
I was training for my first marathon, in 2015. I was sitting at home, I was reading, and my hand felt funny and I thought, Did I sit on my hand, that pins and needles feeling? Well, it was not that, I had a stroke.
I remember coming out of the MRI, and I was very emotional. I was teary and I thought, Knock it off, Lori, you are alive. You are in such a better place than you could be. Just pull yourself together, put big girl panties on, and let's just go forward.
My neurologist sat down to talk about what my prognosis was, what I could look forward to in terms of rehab over the next few months. He was this kindly doctor, and he had this really warm face with these beautiful wrinkles and these beautiful eyes. He had that old-fashioned black doctor bag.
I remember saying to him, Am I gonna run again? And he said, "Let's just start with walking." And I thought, I don't think so. I'm gonna run again. I definitely am. I had gained not just inner strength, but mental strength. A running coach told me, "Running is between your ears." It's how you think about it. It's how you attack the course. It's how you get in a mindset that puts one foot in front of the other. So I just relied on what I had learned in running, that mental strength to think, No, I'm gonna run again.
I did have physical therapy. I started by doing laps in the hospital, just going around the nurse's desk. After they released me, I stayed with my mother, and she had this big Victorian house. I would just go up and down the stairs, and not wanting any help. Learning that I had to celebrate small steps. That if I could make it around the block once without stopping, walking, that was my marathon.
It was putting different expectations on myself and different goals. And just constantly saying to myself, One day at a time, one step at a time, one day at a time, one step at a time.
I learned that I'm more resilient than I thought I was.
I am in training right now to run my first marathon this October. It's been a while, and my body's ready. I've been prepared. Scared, but excited. I think only 2 percent of people in the world run marathons. Before the stroke, I always wanted to be in the top three in my age group. I never wanted to walk at all during a run.
And now I realized the actual joy of just running. And if I want to stop at one point and look at a waterfall for 30 seconds and then keep on running, I do that. Before, my runs were running to get to the end. Now my runs are running to enjoy what's around me. I run in gratitude that I am able to run.
We are so caught up in measuring ourselves. And I would say to other runners, take your watch off. Get into a head space where you are enjoying the beauty that's around you. Think about the fact that you have the ability to run.
Run in gratitude.
Lori Fox worked as a speech and language pathologist in a public school for 39 years, and began running in 2013. She became a 261 Fearless Coach in 2019, and master coach in 2022. She also participates in the annual Secret 3K, which helps build safe running environments for women worldwide.
You can follow The Daily Rally on Spotify, Apple Podcasts, Stitcher, or wherever you like to listen. Subscribe to our newsletter and nominate someone to be featured on the show.
Lead Photo: Courtesy Lori Fox
Trending on Outside Online