In Stride
Why We Have No Choice But to Root for Eliud Kipchoge, the Marathon King
Otherworldly talent has its own irresistible magnetism. We can't help but be seduced.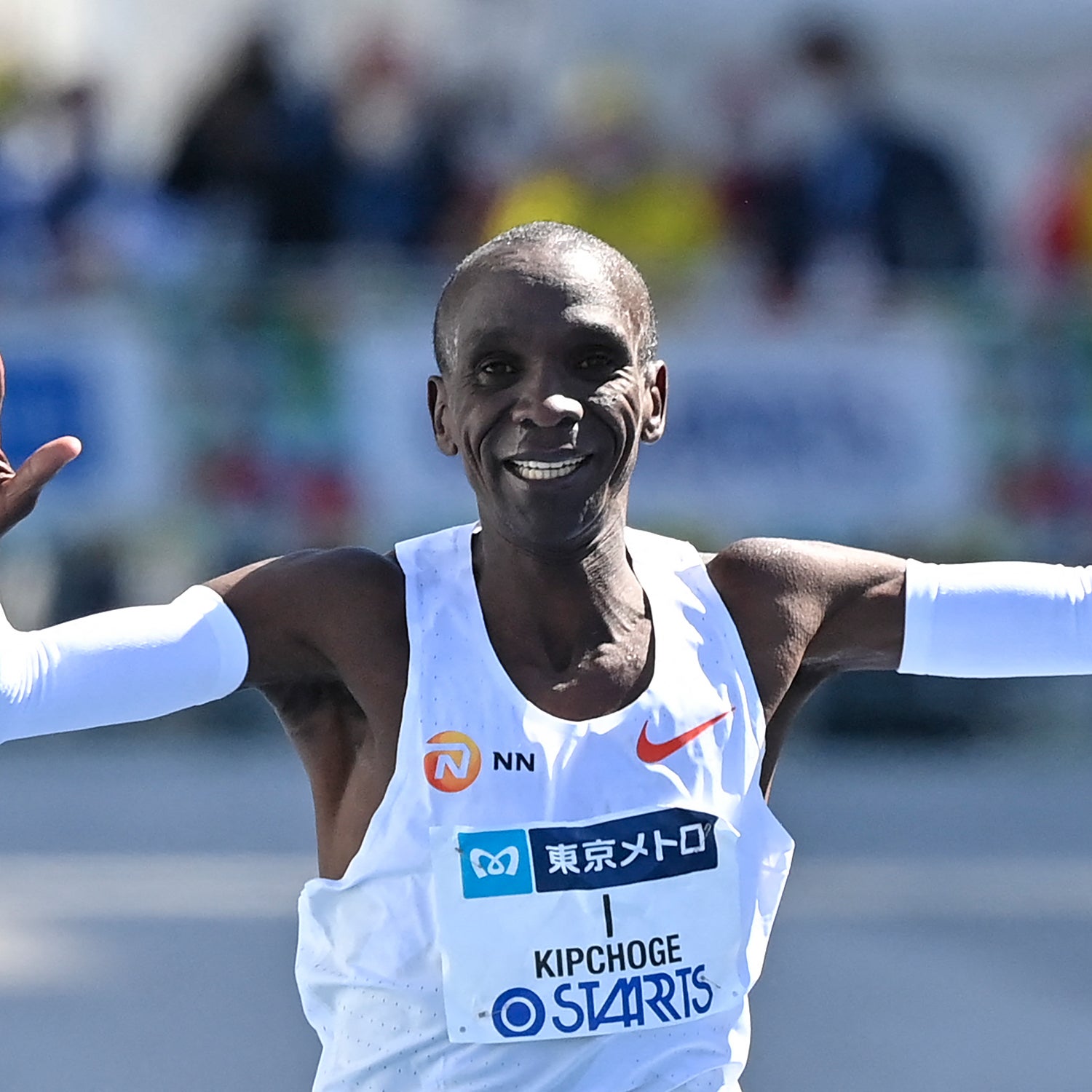 KAZUHIRO NOGI/POOL/AFP/Getty
Heading out the door? Read this article on the new Outside+ app available now on iOS devices for members! Download the app.
Eliud Kipchoge, the greatest marathoner in history, does not race very often. Since winning the 2016 Delhi Half, he has focused exclusively on the full marathon. He only competes twice a year—if you count his sub-two exhibitions, which weren't "races," strictly speaking, but something more along the lines of corporate-sponsored performance art. Like a champion prizefighter at the height of his fame, he has the luxury of being able to pick his bouts. "Tune-up" races are for lesser men. Kipchoge also turns 38 this year. Running fans would be wise to savor each and every one of his semiannual displays of athletic mastery.
Which is why I'm all the more annoyed that, due to poor planning and technical difficulties, I failed to watch the livestream of Kipchoge in last Sunday's Tokyo Marathon. Somehow, not having my support didn't seem to affect him in any noticeable way. He ended up winning handily, in a time of two hours, two minutes, and 40 seconds. In doing so, he improved his career marathon record to 14 wins in 16 races. Absurd. It sometimes feels like the running media world has given up on trying to find new ways to contextualize Kipchoge's dominance in a notoriously unpredictable event; in the same way that he drops his rivals in the latter stages of the marathon, Kipchoge has outlasted our ability to find new words to extol his brilliance. (This has led to what my colleague Alex Hutchinson recently referred to as "Kipchoge fatigue.")
With Tokyo, Kipchoge has now won four out of six World Marathon Majors. He has stated that he would like to become the first person to win them all, so there is some expectation that he might make his long-awaited debut at the New York City Marathon this November and in Boston next spring. It feels ludicrous to suggest that Kipchoge's competitive resume is somehow incomplete, but it's been pointed out that the maestro has yet to contest a "hilly" marathon. A win in Boston or New York would put that to rest.
If Kipchoge does line up at the NYC Marathon this fall, I will certainly want him to win, even though he will be the overwhelming favorite and has, at this point in his career, garnered more fame (and, presumably, wealth) than any distance runner in history.
Such is the magnetism of a once-in-a-generation athlete; we can't help but be seduced. As a 2018 New Yorker profile on Mikaela Shiffrin put it: "There's something about transcendent talent that causes people to root for it, no matter their allegiances or their usual embrace of the underdog. Excellence creates its own weather."
It cuts both ways of course. Our enthusiasm for transcendent talent makes us feel irrationally let down in those rare moments when it falters—as will inevitably happen. After Simone Biles and Shiffrin each had poor showings in their most recent Olympic appearances, a number of people sounded disproportionately upset. While to be a sports fan is always to be emotionally invested in the outcome of a trivial competition, much of the dismayed reaction to Biles's and Shiffrin's respective flameouts seemed to come from having to acknowledge the rather obvious fact that these sports gods were mortal after all.
At least that's how I felt after the special edition 2020 London Marathon where Kipchoge, felled by atrocious weather and a mysterious aural blockage had his streak of ten consecutive marathon wins snapped and ultimately finished in eighth place. Any sane person would have expected it to happen sooner or later and yet at the time, I couldn't help but see it as further proof that, in 2020, everything was cursed.
There's a difference, I think, between actively rooting for excellence to assert itself and deriving a sense of comfort from it. After missing the live broadcast of the Tokyo Marathon last weekend, I checked the results the next morning. When I saw that Kipchoge had won, the emotion I had was less one of joy than of relief. I remember feeling the same way whenever Usain Bolt—whose flashy demeanor is about as different from Kipchoge's as it gets—would reaffirm what everyone already knew: that the greatest sprinter of all time was unbeatable.
Until, of course, he wasn't. In the final individual race of his illustrious career, Bolt finished third in the 100-meters at the World Championships in London. What's more, Bolt was beaten by Justin Gatlin, a man whose previous doping suspensions had earned him a villainous reputation in the pro track world. To make matters worse, in the final of the 4X100 relay, Bolt cramped up on his leg and couldn't finish. While nobody could seriously claim that ending his illustrious career in a DNF would tarnish his legacy, one couldn't help but wish that he had retired the year before, after his triple gold medal performance at the Rio Olympics. Then again, at the time nobody wanted him to retire.
Kipchoge acolytes are in a similar bind; the laws of aging would suggest that with every half-year interval between marathons, Kipchoge's odds of winning would decrease. If he retired today, the illusion of invincibility would remain intact, the 2020 mishap in London dismissed as a freak accident. But which marathon fan in their right mind would want a chance to see Kipchoge ripping through Central Park, or blazing down Boylston? The only thing worse than seeing Kipchoge lose, is not seeing him race at all.
Lead Photo: KAZUHIRO NOGI/POOL/AFP/Getty