Lessons from the World's First and Greatest Run Streaker
Ron Hill, who ran every day for over 52 years and was a world-class champion, is a role model for each of us to be better runners and people.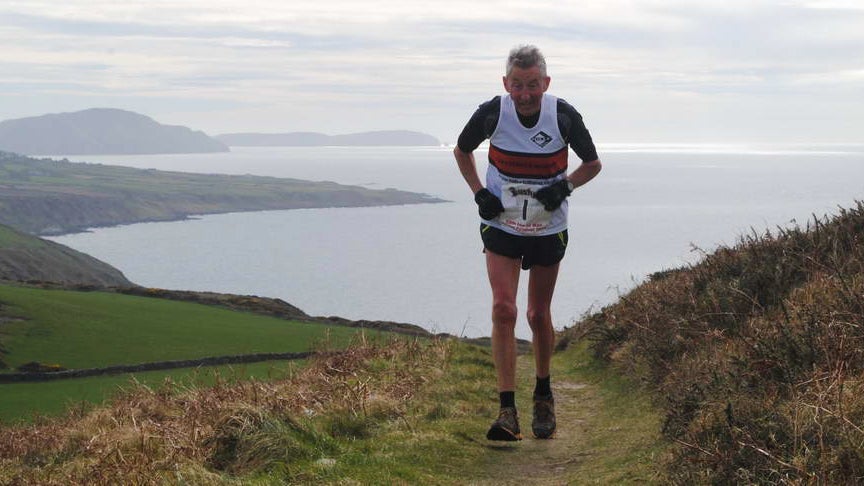 Heading out the door? Read this article on the new Outside+ app available now on iOS devices for members! Download the app.
Ron Hill is history's first and greatest streak runner: 52 years 39 days without a break, to the day when his 78-year-old heart gave him notice to quit in 2017. Ron Hill was also Boston, European, and Commonwealth Marathon champion, all in big records, a multiple world-record breaker, a winner who shaped his era, the 60s and 70s. How do we explain this astounding double life? How does the patient daily plodder going quietly out his door every morning fit the fiercely competitive racer blazing to victory in front of acclaiming crowds? What can we learn from him?
Discipline Delivers Success
The first lesson is that Hill's two lives are opposite sides of the same apple. He is driven to make a mark, and he is deeply dissatisfied at what he perceives as failure. He began his streak on December 20, 1964, in a mood of disillusionment, after failing, as he saw it, at the 1964 Olympics, where he was eighteenth in the 10,000m, nineteenth in the marathon. He was 25, still a graduate student, improving dramatically as a runner.
Many a young runner would have enjoyed his first Olympic experience, taken a Christmas break, and moved on and upward. Not Hill. He needed even more rigor, he thought, not only the intense sessions of intervals/repeats and the long hard Sunday runs, but something that imposed a discipline on himself that would leave nothing to chance, that would permit no cracks at the edges of his commitment.
So set himself to run every day. That is, every single day. No excuses. No dodging for pre-race rest or post-race recovery, for travel, family duties, for completing a PhD and managing an entrepreunial apparel company, for injury, illness, heart-ache. He ran around airports, and he ran from his hospital bed.
Congrats to Ron Hill who today celebrated running everyday for the last 50 years @Ronhill_UK @runbritain @Runfitmag pic.twitter.com/n8x23rLU8x

— Mark Shearman MBE (@AthleticsImages) December 20, 2014
It wasn't done to set a streaking record. There was no such thing as a streaking record. There was no such word as streak. It was purely a private discipline, like a monk at his early morning prayers, with no public watching. But Hill, a scientist who always recorded everything, put it in his diary, and so laid the foundation for a new kind of running challenge, and today, a new opportunity for running celebrity for those who follow him.
(Another Ron Hill lesson: Keep a running diary. Maybe you are doing something like his Streak that will one day be seen as pioneering. If not, you will learn from it anyway.)
Fall Short? Push Harder
The pattern began even before The Streak. When I first knew Hill, he was a little-known student runner, a dedicated trainer, who at age 23, halfway through his PhD thesis, unexpectedly won the British six miles track championship, equaling the national record. A year later, he ran more than twenty seconds faster, but was outsprinted by half a second for the title and the record. Both those races left him with a sense of failure and frustration.
Most student runners would be ecstatic to win their first national title, share a record, earn selection for the Olympics. Not Hill. He only shared the record. He was beaten for the title. The momentum of his character accepted no half measures.
"When I have a bad race, I go out for a hard twenty miles next morning to punish myself," he told me. Defeat in Hill's mind was never more than temporary. When he fell short of his aspirations, he pushed harder. That is the second lesson we can take from Ron Hill. It's a tough one.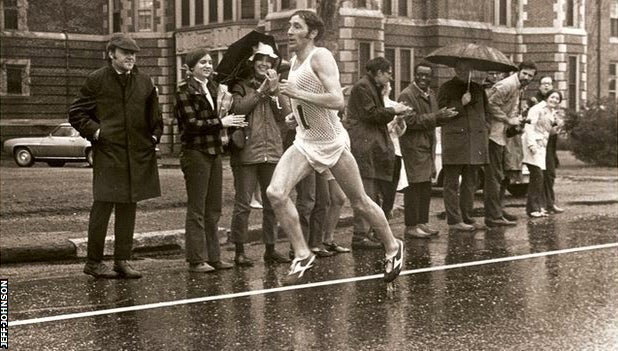 There is a wider context. Hill was a man of his generation. In my new book When Running Made History, I discuss the psychological forces in the 1960s that drove a wholly unpaid generation of runners to commit themselves to training regimes that have never been surpassed. I argue that "our postwar generation had, more than any generation in Western culture since, the willingness to work to improve." We had inherited a world of misery and destruction, one that we were impelled at some subconscious level to improve, and rigorous running was one way to do it.
Be Original
Another lesson to learn from Ron Hill: be an original thinker. When he started The Streak, no one else had thought of it. Someone soon will break Hill's streak record, and will get fame for doing it, but they will be decades behind him in the idea.
Never think of Ron Hill as a mindless automaton, or a follower of other people's ideas. For sixty years, he has been one of the most original and innovative thinkers in running. Four decades before the minimalist craze, Hill raced track and cross-country barefoot, and even experimented with barefoot road racing and, yes, marathons. He trained in heavy shoes or boots.
He used his scientific PhD in textile chemistry to design light-weight white mesh tops for hot days, and overlapping "freedom shorts" to give ease of movement. For a generation, the name Ron Hill meant the most comfortable and efficient performance apparel on the market.
With The Streak, Hill was ahead of the game in yet another way. He was the first of the legions of modern runners who find significance and satisfaction not by winning or racing fast, but by devising a new challenge, a new formula—Fifty Staters, Six Continents, the Marathon Majors, a marathon a week, six continents in six days, run round Australia or across Antarctica. Hill was a pioneer in that satisfaction, too, the first to collect races in more than one hundred countries.
Be Complete
Hill in fact—another good life lesson—has lived a balanced life, combining intellectual creativity, business success, different kinds of sporting accomplishment, and a good marriage. You could miss this balance, if you know about only The Streak, or his competitive excellence, but you would not get the man right or learn the lessons he can offer.
Even now, finally retired from running and showing signs of early Alzheimers, Hill is pushing the envelope again, insisting on openly discussing that illness, sharing the experience, helping others.
Ron Hill has been a restive force in our lives for half a century. If you take him as your role model, don't expect an easy ride. The deepest lesson you can learn from him is always seek new challenges; be pleased when you succeed; but never too pleased.
Roger Robinson ran for England and New Zealand at the world level, and set masters marathon records at Boston and New York, with a best of 2:18:44, at age 41. He is the author of  When Running Made History, a first-hand account of 60 years of significant moments in running history, acclaimed as "the best running book of all time" by Amby Burfoot.
From PodiumRunner