Daydream Yourself to a New Personal Best
Research shows that recalling an exercise memory, be it positive or negative, can help you suit up for your next run.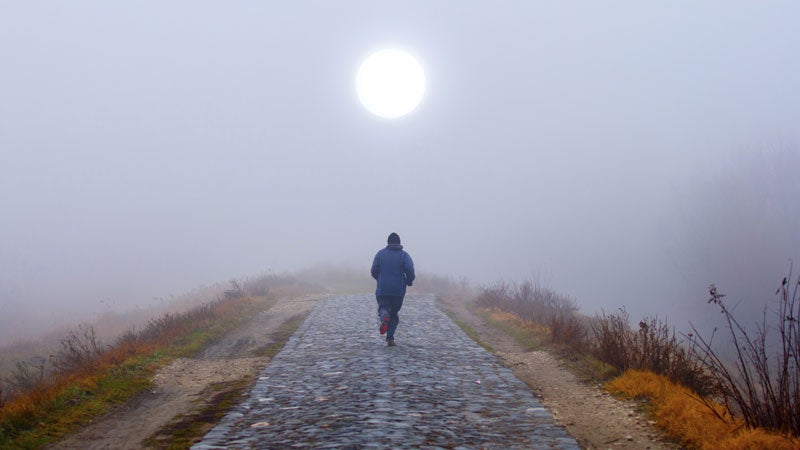 Heading out the door? Read this article on the new Outside+ app available now on iOS devices for members! Download the app.
It's six in the morning on a Saturday and your alarm is blaring. Will you sleep in or get after it? According to the latest research from the University of New Hampshire, daydreaming about your last hike will get you out the door.
In a study published by ScienceDaily.com, 150 students were asked to recall either a positive or negative memory about past exercise. A third group of students were not asked to think about a motivating memory. A week later, all of the students were surveyed to take a look at their exercise adherence in relation to the type of memories they recalled. 
The verdict? Thinking about positive memories, like that time you crushed your marathon PR, serves you best when it comes to getting outside. Negative memories—surprisingly—weren't far behind. "The act of thinking about exercise, whether it's positive or negative, means you're already engaged in the concept," says Jonathan Katz, sports psychologist and managing partner at High Performance Associates. "Not thinking about it is a way of distancing yourself psychologically from the activity as much as possible."
To make the most of your memory motivation, Duncan Simpson, Ph.D., sports psychologist, says to make a "success list" about previous exercise successes such as your first triathlon or favorite trail run. To rein in each memory's power, use vivid imagery to play back the exercise experience "story" in your mind. "For this technique to be most effective, the image must be vivid (incorporate as many senses as possible), and control the image in terms of timing and realism," says Simpson.
Lead Photo: Getty Images/iStockphoto/prudkov