In Stride
The New Kipchoge Documentary Is a Superfluous Delight
Running nerds won't learn anything new from 'Kipchoge: The Last Milestone,' but it's still a feast for the eyes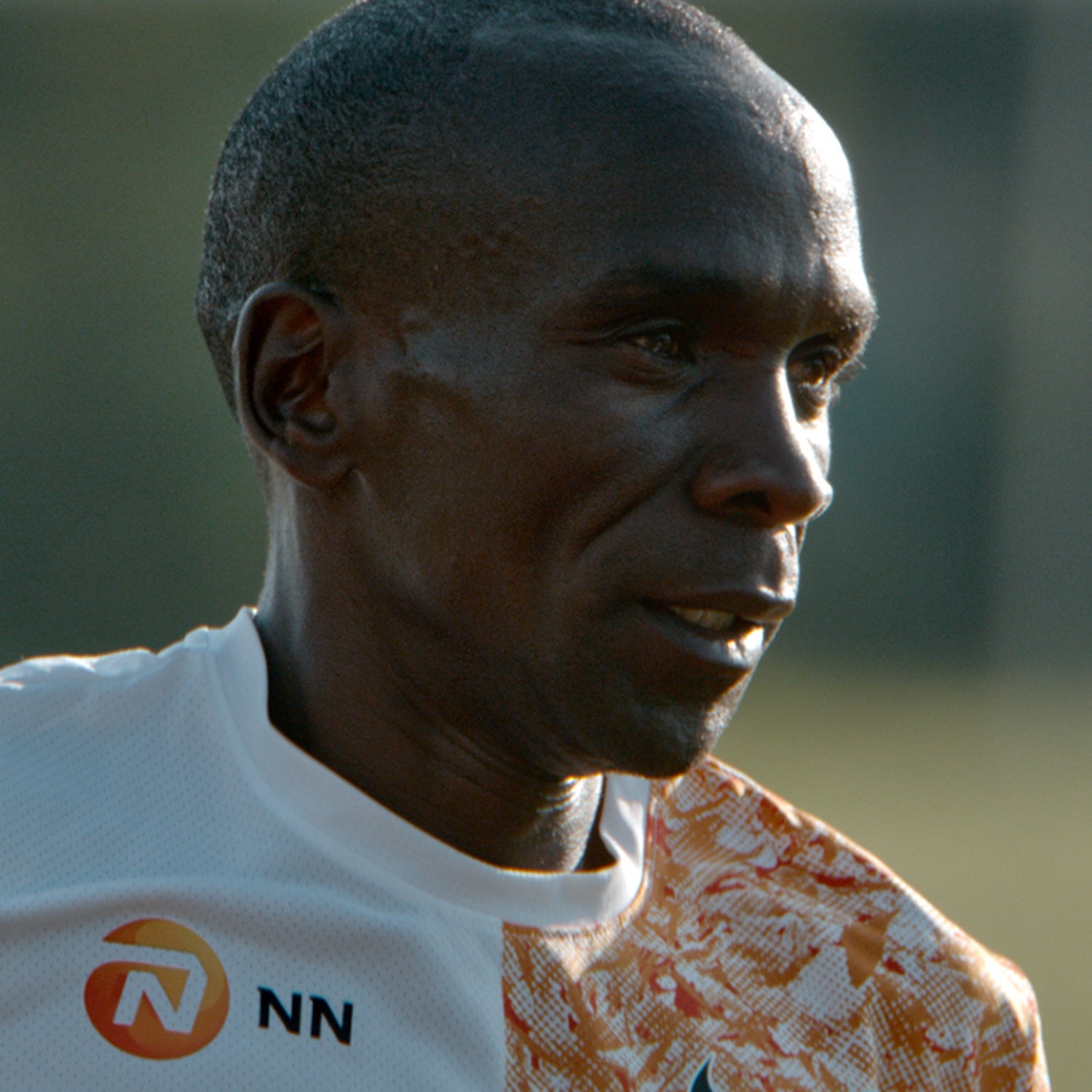 Heading out the door? Read this article on the new Outside+ app available now on iOS devices for members! Download the app.
Earlier this month, after Eliud Kipchoge defended his Olympic title, it felt like we'd finally run out of superlatives for the most accomplished marathoner in history. Even before his victory in Sapporo, the 36-year-old Kenyan had a marathon resume that defied comprehension: 12 victories in 14 starts. An absurd new world record—2:01:39—set in 2018 in Berlin. A sub two-hour marathon one year later that wasn't a race so much as a display of Platonic perfection. By the time he trounced his competition at this summer's Games, Kipchoge's GOAT status was already long affirmed, prompting LetsRun to keep things economical with their headline: "The Greatest Ever x2." When it comes to burnishing the Kipchoge legend, is there anything left to say?
That's the central dilemma for Kipchoge: The Last Milestone, a new documentary that will be available to stream on multiple platforms in the United States on August 24. The film is directed by Jake Scott and offers a behind-the-scenes look at the Ineos 1:59 Challenge, where Kipchoge, flanked by a rotating crew of pacemakers and shod in the latest iteration of Nike super shoes, clocked 1:59:40 for 26.2 miles in Vienna and became the first human to break the two-hour barrier. Whether this performance did, in fact, constitute the "last milestone" in professional athletics, or deviated too much from the standard marathon format to earn such a distinction, remains up for debate—although not according to this film. Borrowing a motif from the original, Nike-sponsored Breaking2 project, The Last Milestone opens with a reference to Neil Armstrong's moon landing, lest you had any doubt about the significance of Kipchoge's achievement.
To be fair, the question of whether the two-hour barrier can only be broken in an official world-record eligible race is ultimately far less interesting than the phenomenon of Kipchoge himself. No matter how artificially optimized the conditions may have been, no sane person would deny that what Kipchoge did in Vienna was astonishing. Not just the fact that he ran 26 consecutive miles at 4:34 pace, but the fact that he was able to do it under an unfathomable level of pressure where dropping out really wasn't an option. Imagine having 41 of the best runners in the world flown in for the sole purpose of pacing you to glory, and a vast team of logistics savants dedicating years of planning to help you succeed on the day. In the film, we learn that Kipchoge woke up at 2 A.M. on race day and couldn't fall back asleep. I don't blame him.
Small humanizing moments like these have been largely absent from the recent Kipchoge mania. My hope for this latest project was that it would help make the guy seem a little more, well, human. There's another scene, early in the documentary, where the camera slowly pans across Kipchoge's personal medal rack. It appears to be mostly adorned with finisher medals from major marathons—the same ones that you or I might have stuffed into our desk drawers, or displayed in the living room to shame our more sedentary friends. But there, dangling among his participation prizes from London and Berlin, is an Olympic gold medal. (Kipchoge: He's just like us, but also not.)
For the most part, The Last Milestone is happy to perpetuate the notion that Kipchoge is distance running's ascetic holy man, possessed by an immense self-discipline and uninterested in all that material crap. We are reminded of his humility and penchant for Spartan training conditions—traits that are of course essential to his monk-like image, an image that certain purists want to see maintained at all costs. One of the stupider mini controversies in running media in recent years was when GQ ran a feature on Kipchoge in 2020 that included a photo shoot of Mr. Austerity decked out in Ermenegildo Zegna and some people freaked out on Twitter, as if the Boss Man wearing cool, expensive clothes were evidence of some irreversible corruption. It was enough to make me hope that The Last Milestone would reveal some heretofore unknown Kipchogian vice, be it a collection of vintage Porsches, or a secret addiction to Oreos.
Alas, no such luck. Instead, the film includes a lineup of Kipchoge admirers describing his greatness in the same lofty, but ultimately vacuous terms that we've heard a thousand times before. Whether it's World Athletics president Seb Coe ("He almost floats") or David Brailsford, the CEO of the 1:59 Challenge ("Eliud has an incredible mind"), it seems to be very hard to find original things to say about one of the most successful athletes on the planet. For his part, Kipchoge has a fondness for certain maxims ("At the apex of the pain, that's where success is") that sound profound coming from him, but which would make you nervous if you heard them from your kid's Little League coach or, heaven forbid, your dentist.
Perhaps the most ambitious thing that The Last Milestone tries to do is to answer the question of why Kipchoge (and, by extension, so many other legendary runners from the Kalenjin tribes in East Africa) is so damn good. According to the man himself, the answer is that he grew up in an environment where competitive distance running has long been treated with reverence and seriousness; it's a profession, in other words. In a similar vein, Patrick Sang, Kipchoge's lifelong coach and mentor, attributes Kenya's dominance to a tradition of excellence that dates back to the great Kipchoge "Kip" Keino, whose athletic career blossomed in the sixties when Kenya achieved independence from Great Britain. As Sang has it, one of the few positive legacies from the British regime was that Kenya's successful participation in the "Empire Games" (now known as the Commonwealth Games) gave the nation an athletic identity that persists to this day.
Is this colonial history relevant when thinking about the 1:59 Challenge? I suppose one could come up with some grim theory by framing the entire thing as an elaborate vanity project for Sir Jim Ratcliffe, Ineos's founder and CEO, and insisting that he is exploiting Kipchoge's stupendous talents to display the supremacy of a different kind of empire. (Ineos is one of the world's largest petrochemical companies and has a fondness for sponsoring splashy sports projects.)
But what's the fun of that? Indeed, to dismiss the latest sub-two spectacle as a pure marketing stunt is to deprive oneself of the rapturous pleasure of seeing Kipchoge in motion—a sight that can make all the clichés feel justified. He does seem to float, whether it's along Vienna's Hauptallee or at altitude on the red dirt trails around Kaptagat. I learned nothing new from The Last Milestone, but those soaring drone shots of Kipchoge and his crew logging miles in the Rift Valley mist are irresistible. How can you be a runner and not love this stuff? Ditto the slow-motion footage of Kipchoge beating his chest as he crosses the finish line in Vienna. Or, for that matter, his latest marathon masterpiece in Sapporo.
We may have seen it before, but we still can't look away.
Kipchoge: The Last Milestone
Lead Photo: Courtesy