In Stride
Behind the Scenes of a Unique FKT Attempt in Kenya
With races canceled, Enda challenged its sponsored athletes to set a record on Mount Kenya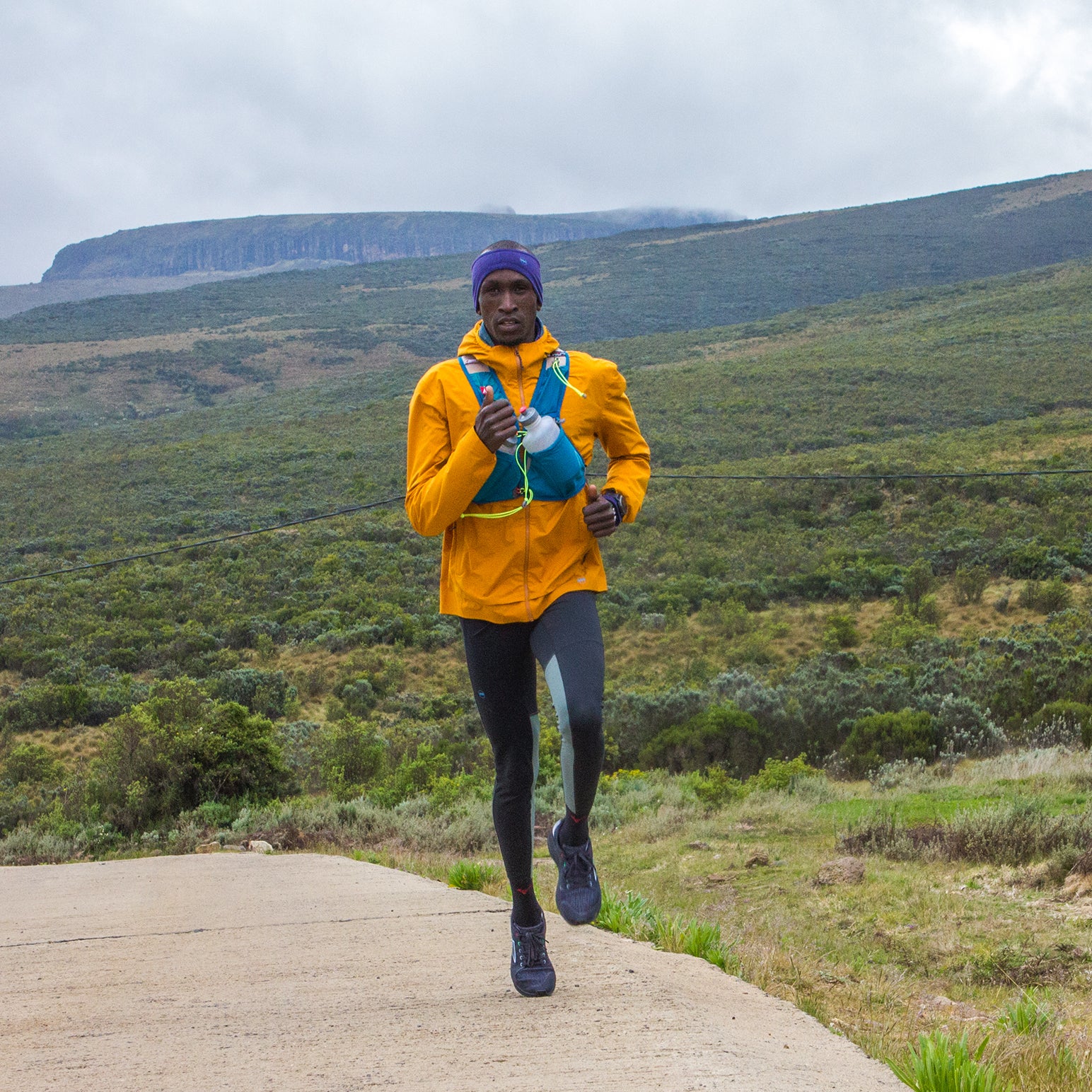 Heading out the door? Read this article on the new Outside+ app available now on iOS devices for members! Download the app.
You've heard of Kilimanjaro, but what about Mount Kenya, which stands at a proud 17,057 feet? Owing perhaps to its subordinate status, Africa's second highest peak has not been as romanticized in Western culture as its Tanzanian counterpart—at least if Toto lyrics and Hemingway fantasies of moribund masculinity are anything to go by. The discrepancy also applies to the realm of high altitude long distance running. If you look up "Kilimanjaro" on the website fastestknowntime.com, you will find a number of athletes, including a certain dauntless Spaniard, who have targeted the mountain for an FKT attempt. When it comes to Mount Kenya, the list is more modest. In fact, until this week, it only included only one name: Fabio Meraldi—a retired ski-mountaineer and "skyrunner" from Italy. Meraldi's Mount Kenya FKT dates back to a 1995 International Skyrunning Federation race, and doesn't appear to have any GPS data to back it up. In effect, an "official" Mount Kenya record has yet to be run.
That is, until last Friday. On the morning of November 20, two Kenyan athletes named Kenneth Kemboi and Susy Chemaimak set men's and women's unsupported FKTs for the out-and-back trek from the Sirimon Gate entrance to Mount Kenya National Park (elevation: 8,694 ft) to Point Lenana, which, at 16,354 feet, is the highest accessible peak on the mountain that doesn't require a multi-pitch, roped climb. Kemboi came home in 7:00:40, while Chemaimak ran 7:50:07. (Both had the distance at around 48.5 kilometers, or 30 miles, on their GPS watches—almost seven kilometers more than what Meraldi had run back in '95.)   
Unless you happen to be the most obsessive running fan on planet Earth, neither Kemboi or Chemaimak's name is likely to ring a bell. By the otherworldly standards of Kenyan distance running, they are third-tier athletes, at best. Which means that they are still good enough to demoralize the competition in some of the more low-profile races around the globe. Last year, for instance, Kemboi won the Palermo Marathon, in Sicily, by running 2:14:20; the Amazing Thailand Bangkok Marathon (2:16:07); and Thailand's Buriram Half Marathon (1:07:26). Winning these races earned him $1,350, $6,000, and $1,500, respectively. But his biggest payday of 2019 came against his toughest competition; at the Eldoret City Marathon, he finished third (2:15:43, at 7,000 feet, no less) and made $10,000. 
If being a journeyman professional distance runner was a rough way to make a living before, the pandemic has made it virtually impossible. In a world with no races, it's rather difficult to stay afloat when your primary source of income is from prize money. As a wave of event cancellations made this niche economy obsolete, Kemboi reached out to his sponsor with a simple yet urgent message: he was broke and needed help. 
Alas, Kemboi's benefactor was not a behemoth corporation with endless cash reserves, but a small startup named Enda, manufacturers of "the first Kenyan-made running shoe." The brand was co-founded in 2015 by Kenyan lawyer Navalayo Osembo and British American social entrepreneur Weldon Kennedy. As its website unequivocally states, Enda is "Kenyan founded, Kenyan led, and with majority Kenyan investment." It also makes a point of sponsoring local runners, like Kemboi, Chemaimak, and 30-year-old Joan Cherop, who won the women's race at least year's Detroit Marathon (prize money: $4,000). 
"We aren't a big company," Kennedy told me. "We don't have big contracts with these athletes. We pay a little bit, but it's definitely not enough for them to live on."
So Enda dreamed up a short-time solution to promote its brand while helping to ease some of the financial burden on its few sponsored athletes: a series of paid FKT attempts up Kenya's tallest mountain. (To help drum up financial resources, Enda recruited several co-sponsors including apparel maker Janji, the GPS-watch brand Coros, and the hydration pack company UltrAspire.) Among other things, the concept was consistent with Enda's Kenya-first ethos. Osembo has said that the inspiration for the brand was that the country known to produce the fastest distance runners in the world should also be producing its own running shoes. In a similar vein, it only felt right that Kenya's most symbolically significant FKT should also be in Kenyan hands. 
For his part, Kennedy maintains that, rather than a mere PR stunt, Enda's FKT project was meant to also reignite a perpetually intriguing debate on the competitive ultra scene: What would happen if sub-elite Kenyan athletes began taking part in marquee races? He believes that it would be transformative for trail running—not just in terms of elevating the competition, but by making the sport more of a global phenomenon. 
"I think there is a growing recognition for the need for inclusivity and greater diversity within the trail running space," Kennedy told me. "I really hope that more race directors seek to invite and include more diversity from their running populations."
But is the economic incentive there? As I've written before, the lack of diversity in the elite trail running world probably isn't a consequence of race directors not being inclusive enough, so much as the fact that there really isn't that much money to be made in the sport—even compared to the modest sums of lower-tier road racing. Competitive trail running, and, for that matter, the fevered pursuit of random FKTs, remains largely the prerogative of affluent amateurs with enough disposable income and time to spend their weekends endlessly gallivanting in the Marin Headlands. With very few exceptions, even the best athletes do not make their living from a pursuit where many of the most ballyhooed events offer no prize money whatsoever. I can't imagine Kemboi would be super stoked to fly halfway around the world to race Western States for the chance to win a belt buckle.
Kennedy concedes that the absence of big paydays means that we are unlikely to see the same kind of East African depth on the trails as we do on the roads. In his opinion, it would be naive to expect a prospective influx of Kenyan runners in trail running to mirror the ascendance of the Kenyans in road racing during the '90s and 2000s—a time when a surge in popularity of big city marathons saw a massive increase in race fields and cash prizes.
"The money in trail running isn't 50,000 people on the road behind you," Kennedy says, alluding to the fact that the sport's limited field sizes mean that it can't make millions of dollars in entry fees. "The money in trail running is in hundreds of thousands of people shopping for products."
Maybe so. But it remains to be seen whether this potential uptick in consumer spending on trail running gear will actually benefit athletes trying to make a living in the sport. FKTs are nice and all, but they don't pay the bills.