Runners vs. Boston's Downhills: A Brief Love-Hate History
The Boston Marathon's course writes the script. Runners simply enact its strenuous narrative year after year. A brief history of tragedy and triumph.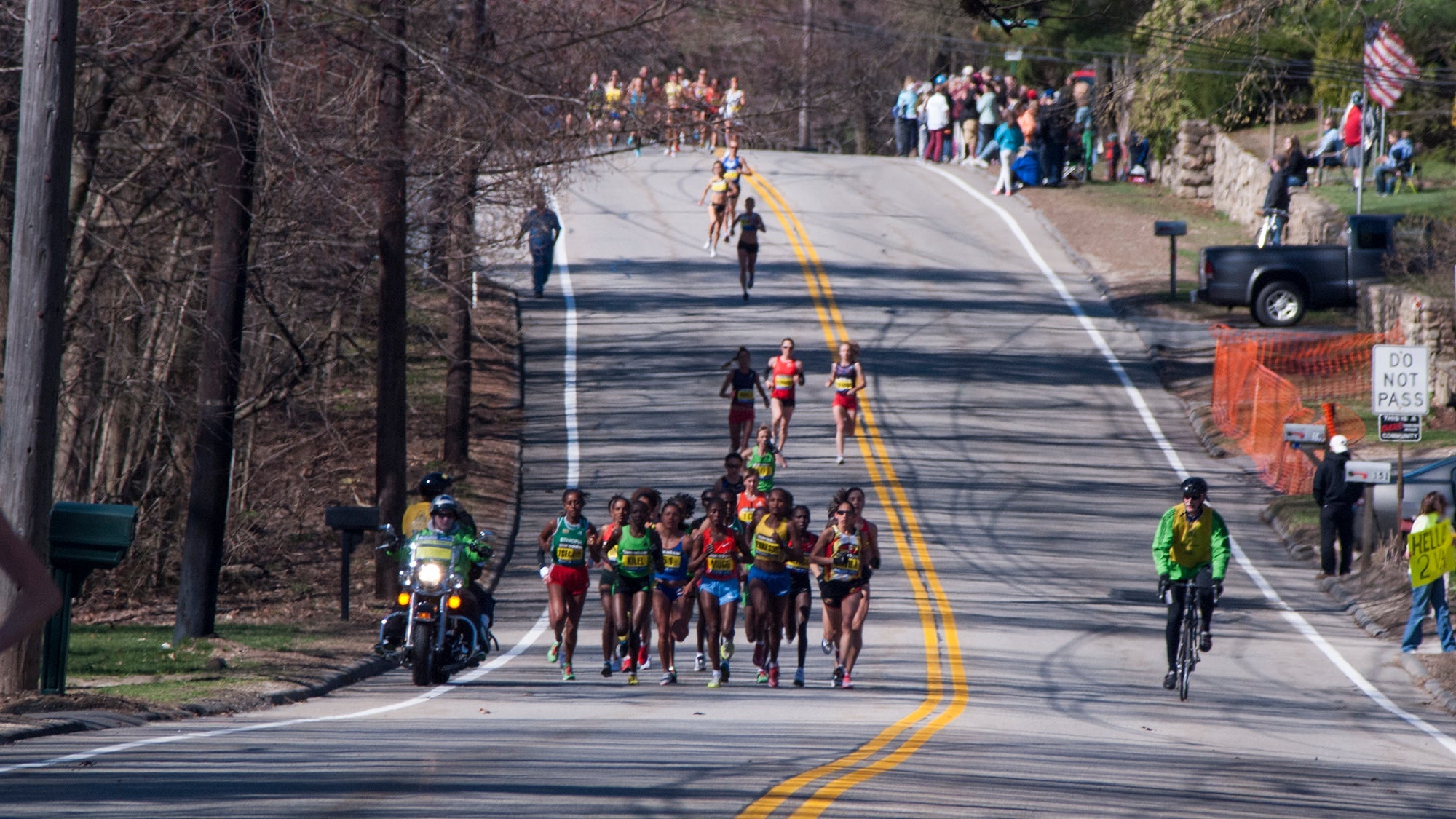 Heading out the door? Read this article on the new Outside+ app available now on iOS devices for members! Download the app.
When I ran my Boston debut, the first mile was my fastest of that year.
"Whoop! Whoop! Pull up!" the pilot's warning system blares when a plane is in danger of crashing on the terrain. Boston should have loud-speakers warning innocent runners along the first mile, that deceptive downward incline. "Whoop! Whoop! Slow down! You will pay later!"
The first ten miles, in fact, are mostly, yet almost imperceptibly, downhill. If you doubt me, try running the course in reverse some day. The temptation to get ahead of schedule, to have some "time in hand" at halfway, is almost irresistible. On that day of all days—Boston!—we all want to believe that we're running the race of our life. The early splits on those user-friendly slopes seem to tell you exactly that. They lie.
They do not warn about the uphills that lurk ahead, and will pounce on you while the cheers of the Wellesley College women still ring in your ears.
"It's just that there are so many hills," confessed Japan's Toshihiko Seko, slightly more scrutable than usual, when he was beaten at Boston in 1979.
Hills, he said, not uphills. There are more downs than ups. You climb 700 feet but descend 1,100 feet. Few runners admit to that important Boston fact. How many practice downhill racing? The ups may break your heart but the downs have equal dangers. Legs get pummelled if you run those early miles even a fraction too fast. Calf muscles become fragile as a wine-glass that can splinter on the many later downhills.
Ask Kim Smith. In the wind-assisted year of 2011, she had the race won, leading by more than a minute, flying the middle miles alone, feisty and confident, until one step on a Newton downhill sent her soleus muscle into spasm, and her race was over. That slight injury can heal in a few days. But if the few days begin when you're leading the Boston Marathon, your life is changed.
Boston is often won and lost on the downhills. Allison Roe in 1981 and Rob de Castella in 1986 set records by their skill and strength downhill. It doesn't always show. In 1984, when I set a 2:20:15 masters record in cold wet headwind, I calculatedly eased at the top of Heartbreak, resisting the temptation to surge. I settled for slower but safer until my chilled leg muscles adjusted to the longer stride and greater impact of running downhill. Shuffle, I told myself.
In forty years of running Boston and writing about it, I become ever more convinced that it's the ancient land that really matters on Marathon Day, not all our razzamattaz. Go out there some quiet day prior to the race, as I like to do, and try to find the earth's structure under our era's surface clutter of cars and commercialism. Look beyond the stone walls and you will find big primeval moss-covered rocks littering timeless rugged hillsides, a landscape that has been there since before Pheidippides ran to Sparta.
It's the land, the course profile, that dictates everything.
One year, I was in less than marathon shape but thought I felt good. Here is my sad story. The early downhills tempted and deluded me, the hidden uphills rebuffed me and broke my heart, the last miles seemed to relent and sooth me, but only to deepen my suffering when I was most vulnerable, with more unexpected uphills, more heartbreak; eventually, as if in pity, I was allowed to finish.  It's like the plot of some novel, or opera, of temptation, seduction, folly, and misery. Boston's course wrote the script. I was merely one of thousands to have enacted its strenuous narrative.
Sometimes, not every year, a runner comes along who can defy the course, or outsmart it, and who knows how to run downhill. Meb Keflezighi did that in 2014, when he won with a masterpiece of running craftsmanship. His pace was impeccable (a six-second negative split), he pattered every downhill without over-stretching, he cut every tangent, his breathing was controlled, his cadence metronomic, his focus unwavering. However many strides that marathon took, Meb never put a single foot wrong. That's what it takes to run a great Boston.
—
Roger Robinson set the masters record at the 1984 Boston Marathon, running 2:20:15. He is the author of  When Running Made History (2018) which includes three Boston chapters.
—
More on the (Down)Hills of Boston:
Elite Secrets to Nailing Boston's Downhills
Boston's 3 Most Legendary Downhills, Named
From PodiumRunner
Trending on Outside Online